THE HISTORY OF
KDNT RADIO
IN DENTON, TEXAS
DUSTY MEMENTOS
Here's the place where you can find old commercial rate cards, station licenses, coverage maps, correspondence, AND the 'best of the rest' of the photos supplied for this project by listeners, former employees, and especially Harwell V. "Sandy" Shepard II, son of longtime KDNT owner Harwell Shepard.
.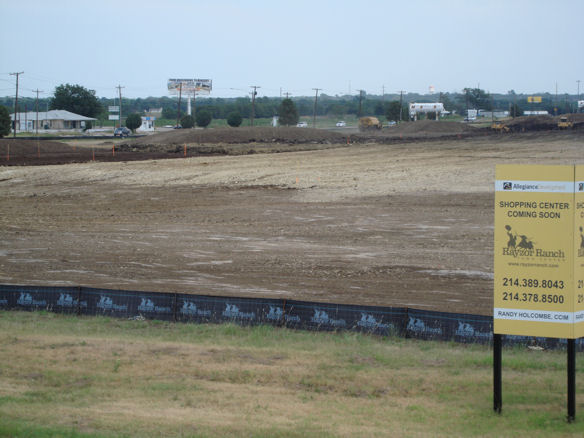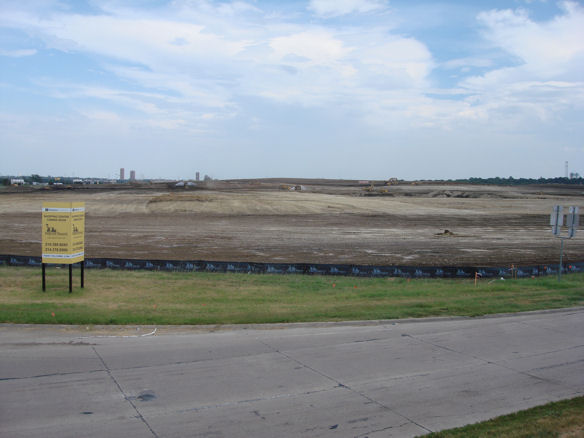 .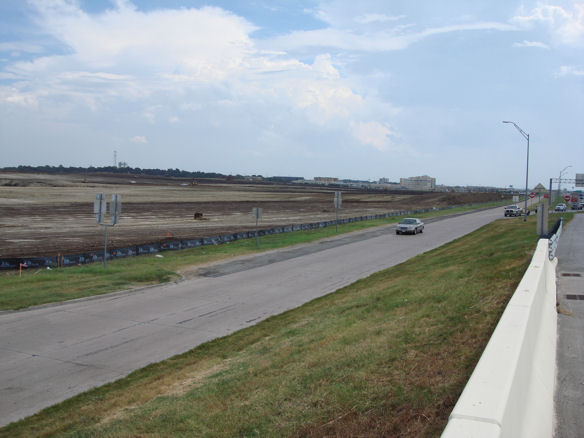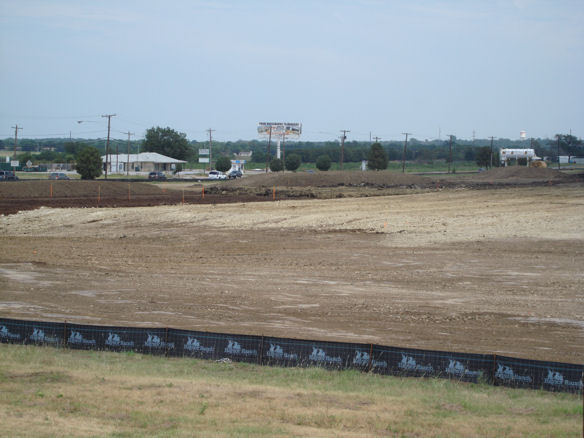 .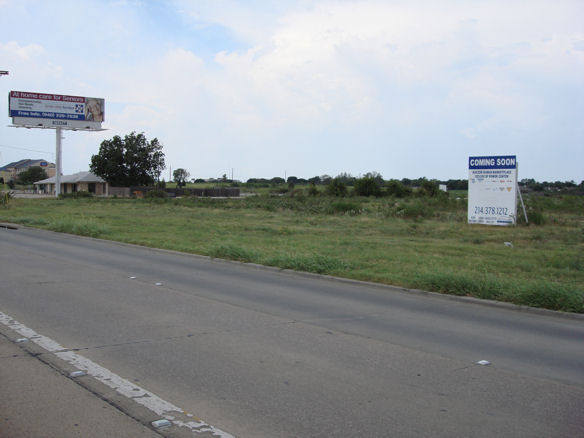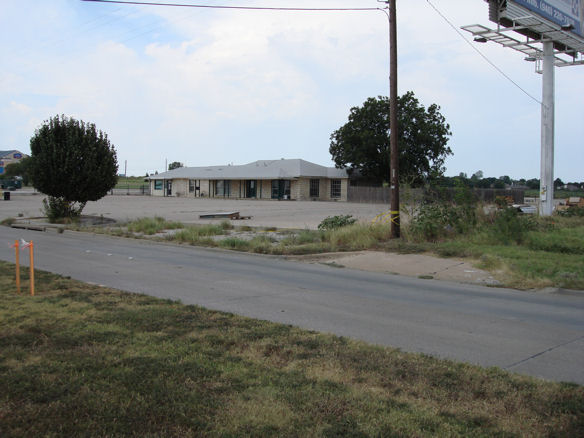 .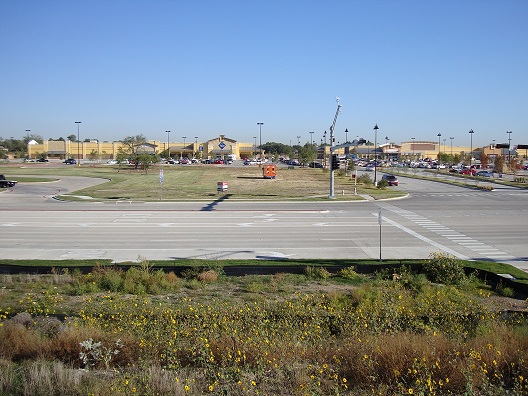 KDNT's transmitter and studio property on University Drive near Interstate 35 during the 1950s and early 1960s,
as it looked in 2007. The bottom right photo shows the retail center that covers most of the property as of 2010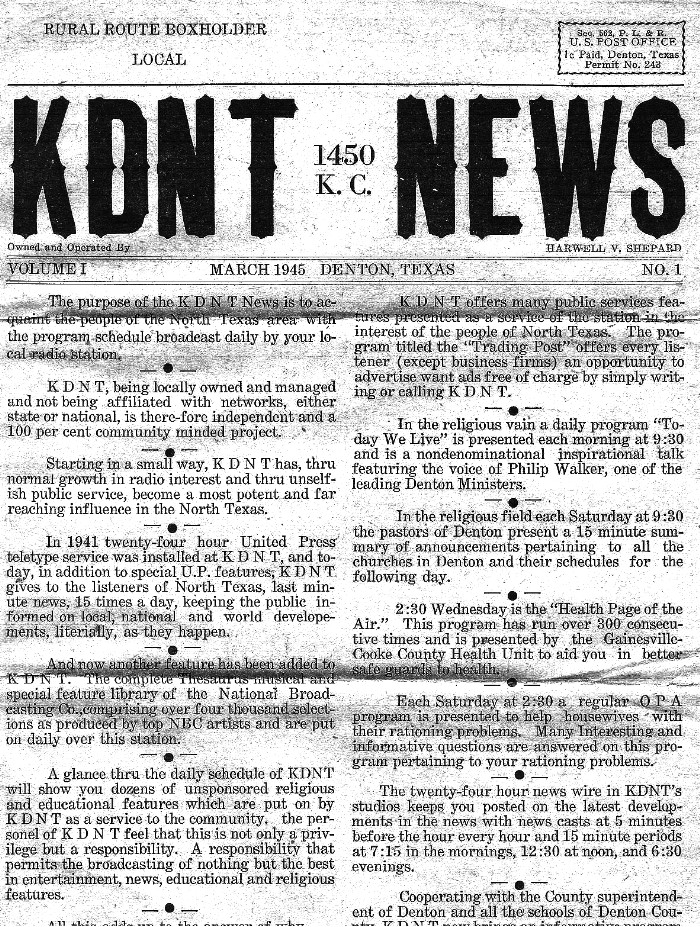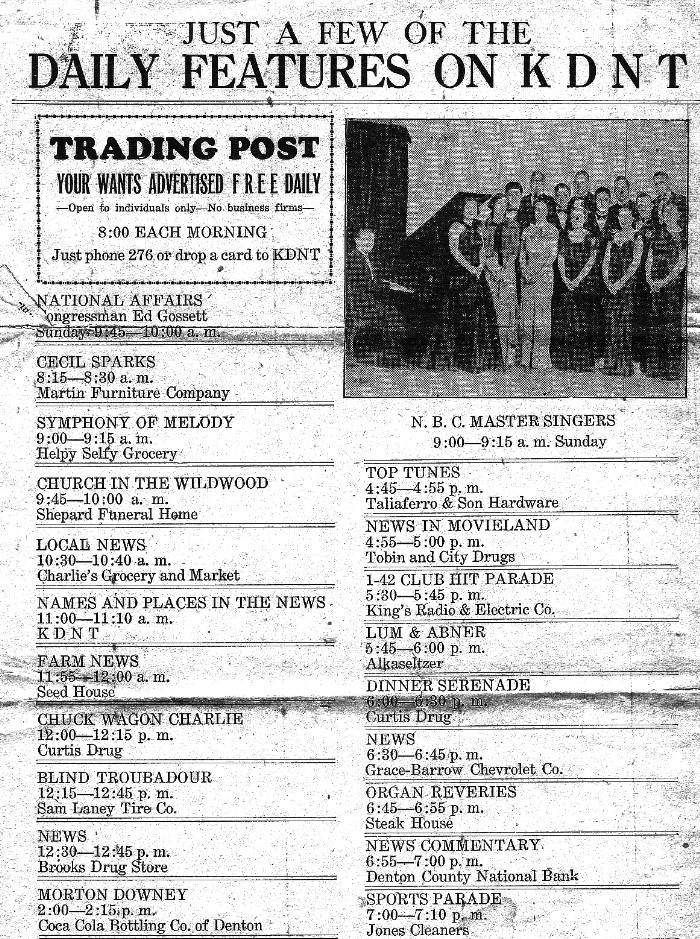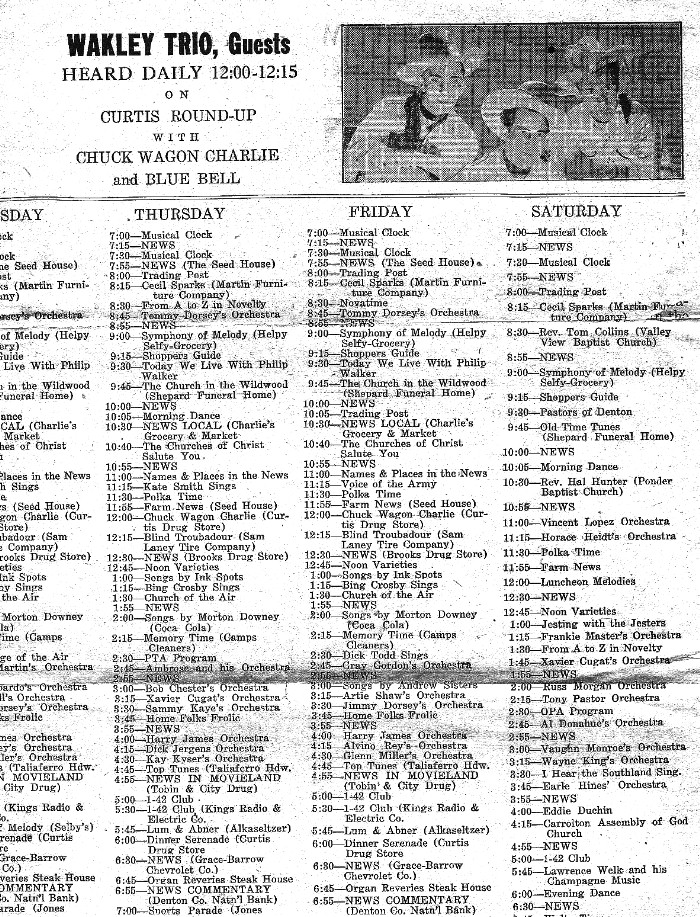 A KDNT newsletter from March, 1945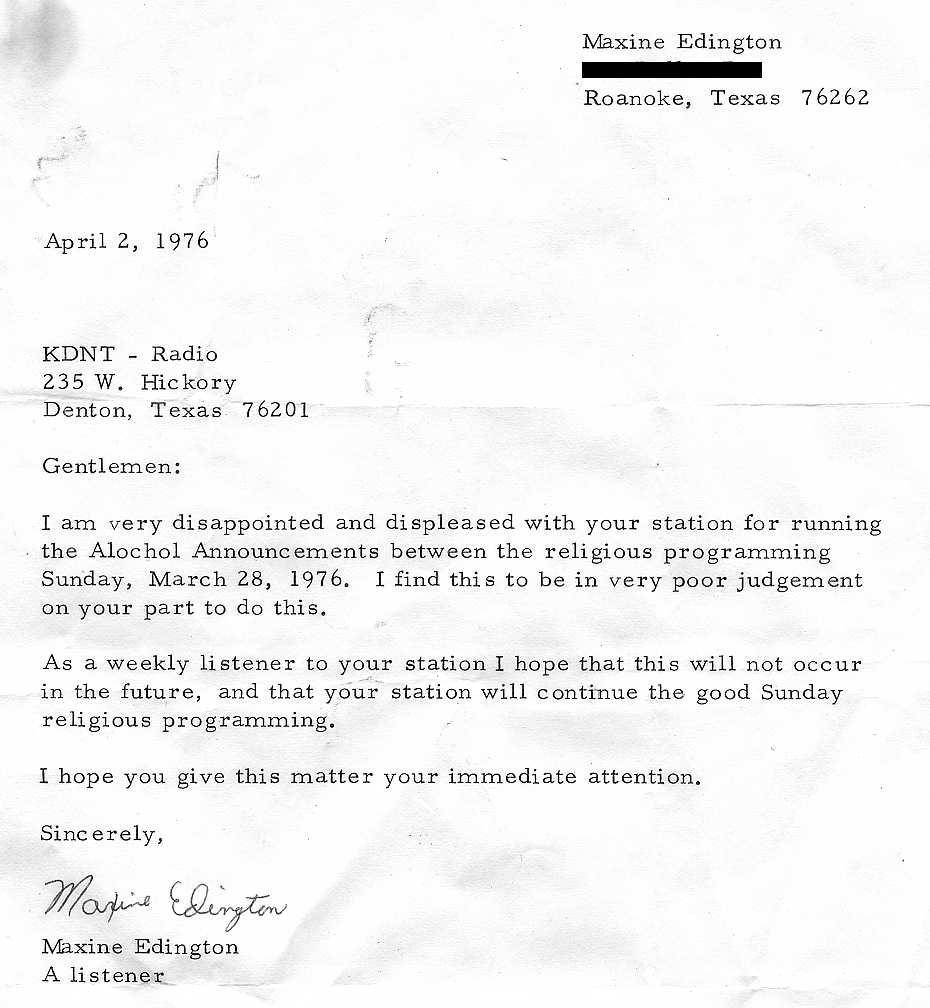 Say it isn't so! Alcohol ads during religious services?


Harwell Shepard was president of the Denton Centennial Commission in the late 1950s.
This was one of their big events that celebrated Denton's 100 years of existence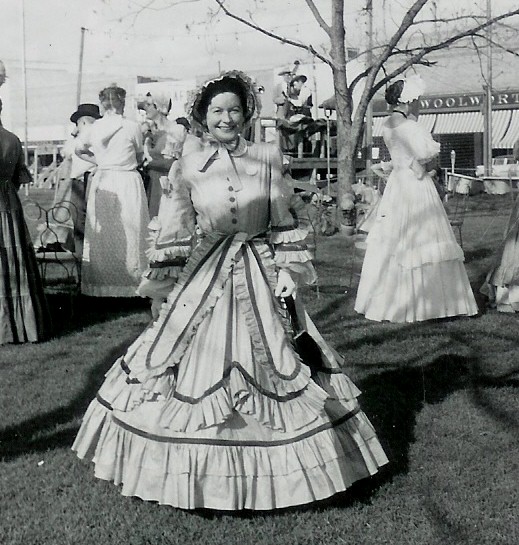 And, as part of the Denton Centennial celebration, Harwell's wife Mary
and others dressed up in period-piece dresses for one of the events.
This photo was taken April 21, 1957. The Shepards divorced the following year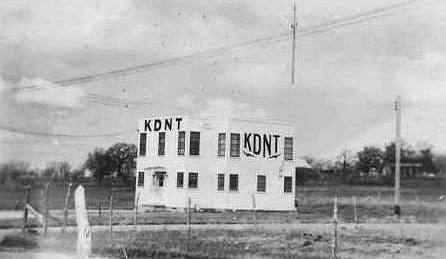 KDNT's transmitter building, next to the Ross Street studios from 1938-51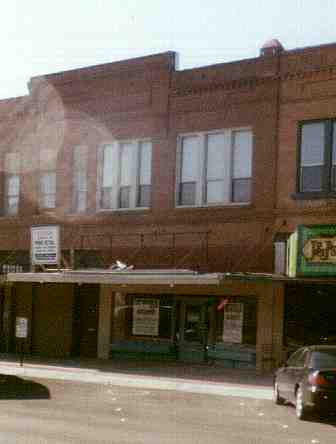 KDNT's temporary home during testing, 1937-38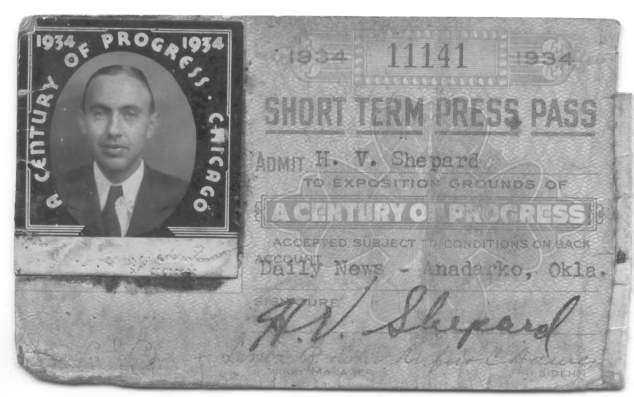 Harwell Shepard worked for the Daily News in Anadarko, OK while in college at OU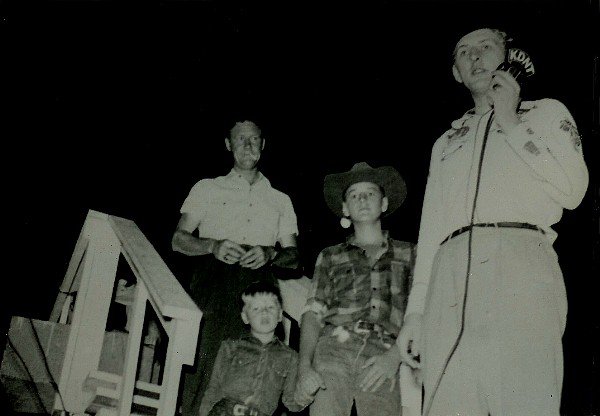 An unidentified KDNT remote broadcast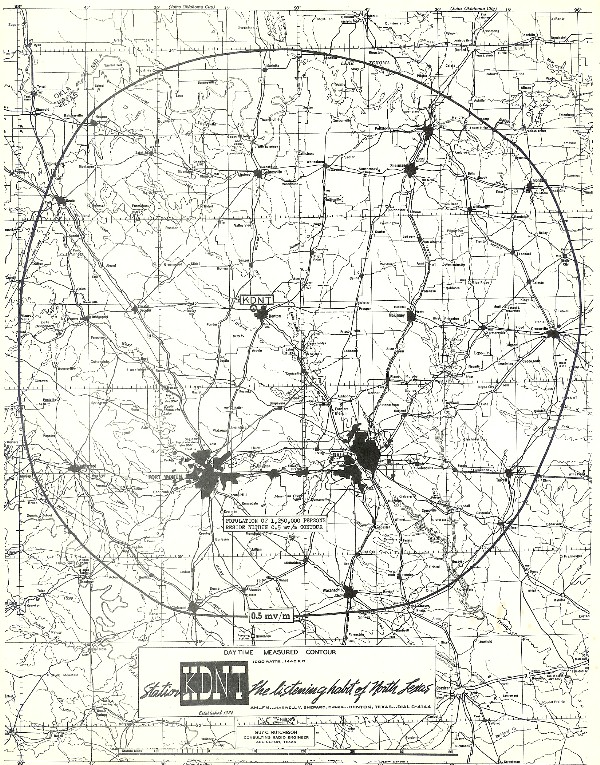 Daytime coverage map for AM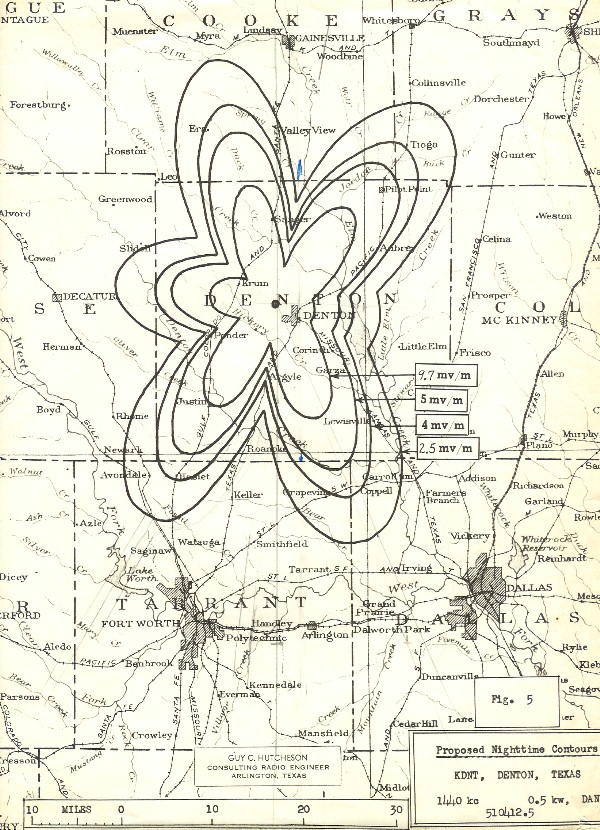 Nighttime coverage (directional) for AM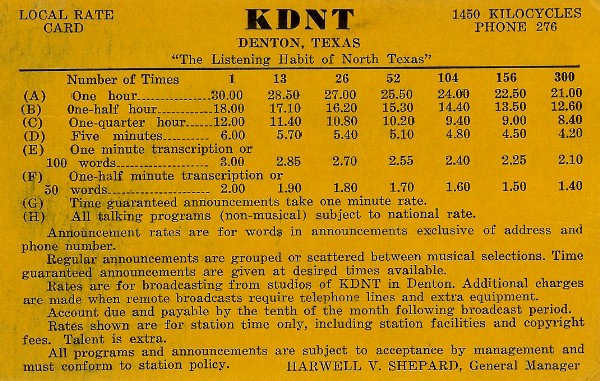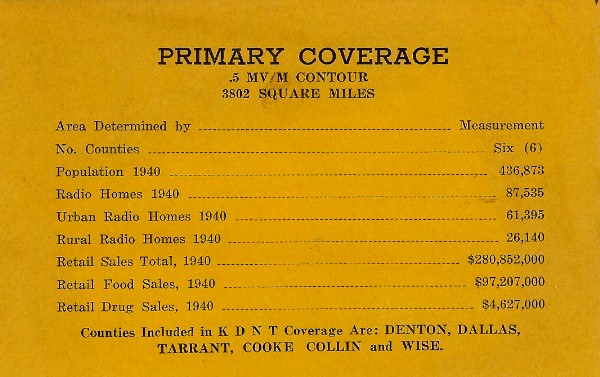 Early commercial rate card (front and back)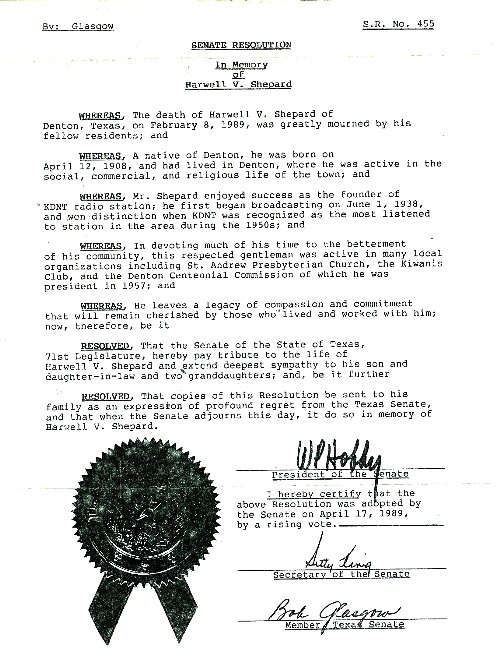 Texas Senate Resolution honoring KDNT owner Harwell Shepard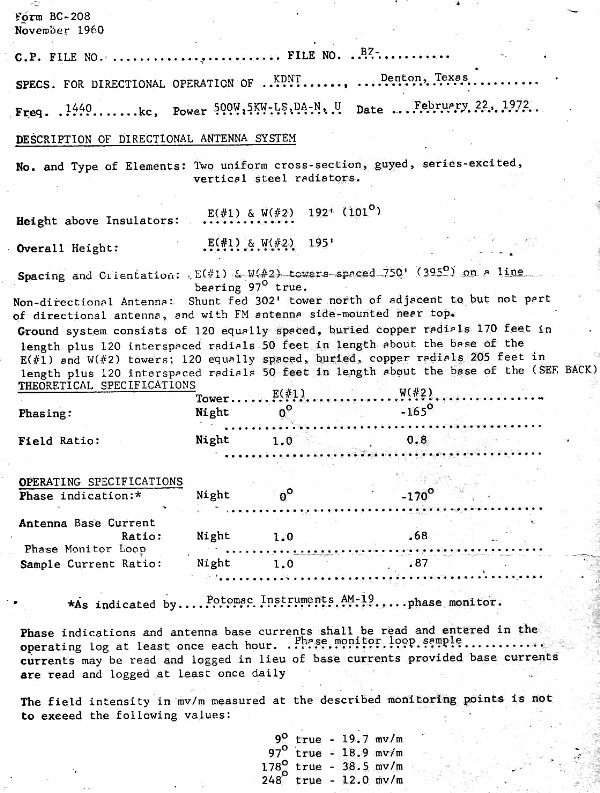 AM antenna specifications dated 1972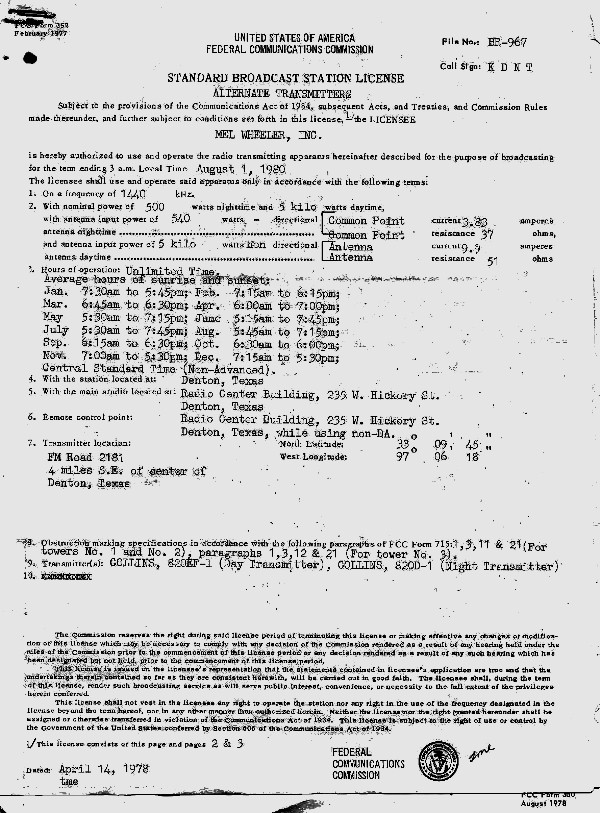 Broadcast license for alternate transmitter dated 1978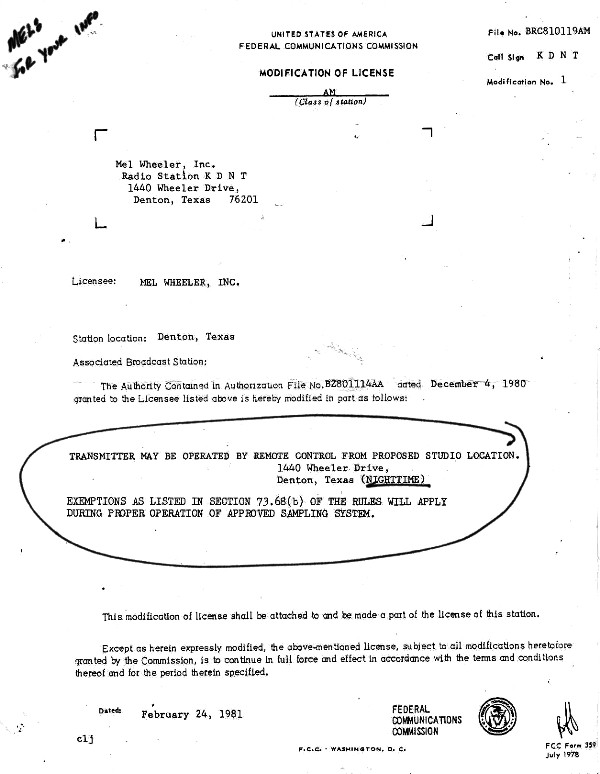 Modification of license dated 1981. Note "Proposed studio location" at the Teasley Lane property,
legally announcing the station's relocation from Radio Center in downtown Denton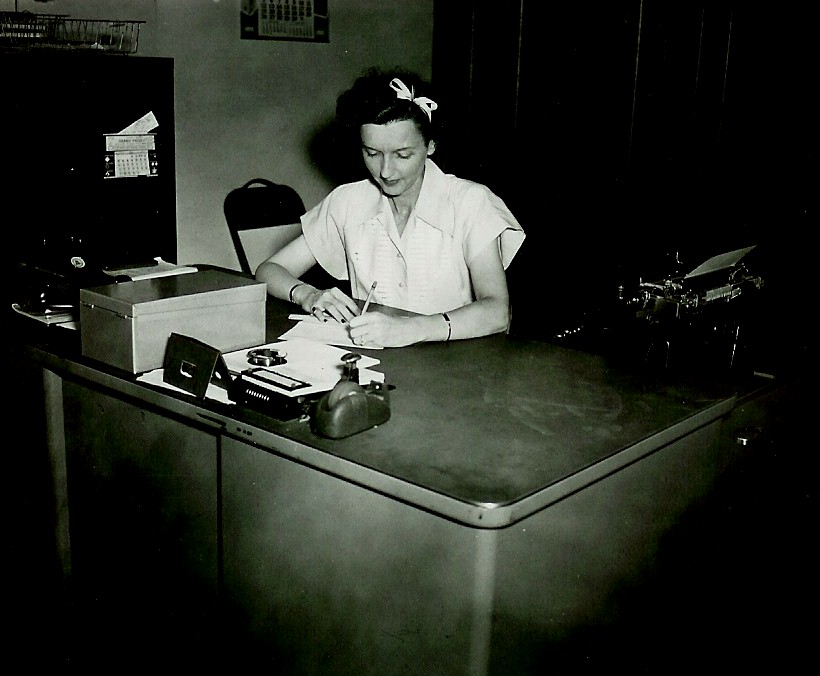 Polly Plummer, KDNT secretary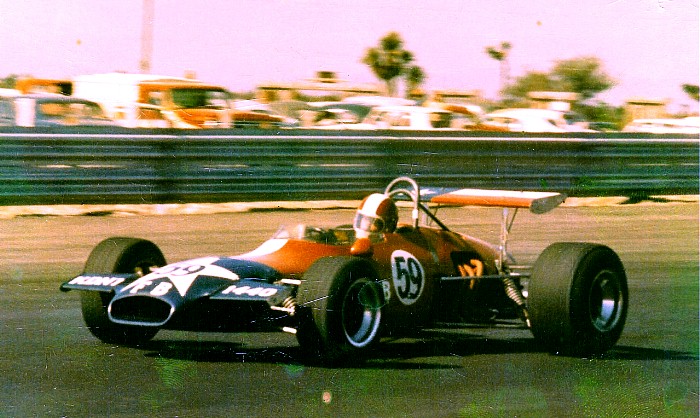 Sandy Shepard races his Brabham BT-29 at the Monterrey, Mexico, Gran Prix in December, 1970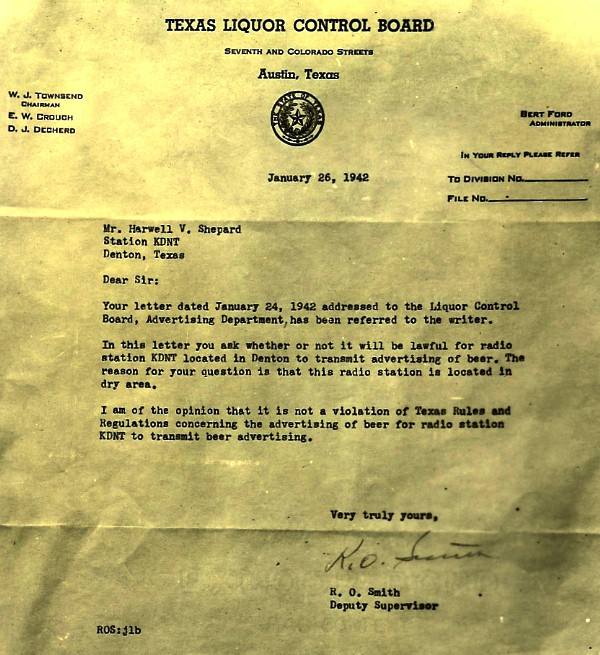 Let the suds flow over the airwaves! KDNT is given the green light
for advertising beer, despite Denton being a dry area
---
SHORTCUTS
PART 1 - 1938-46
PART 2 - 1947-63
PART 3 - 1964-71
PART 4 - 1972-83
PART 5 - 1984-93
PART 6 - 1994 and beyond
A "WHO'S WHO" OF KDNT
RADIO CENTER STUDIOS INSIDE-OUT
PHOTO ESSAY
---
TERMS AND CONDITIONS OF USE
This entire website and its contents are copyright 1984-2023 Mike Shannon. Images are copyright of their respective owners. If you feel your copyright is being infringed upon by its appearance in this website, please email me and it will be removed or credited properly. I am not responsible for errors, omissions, incomplete information, misrepresentations or dead links. Information was gleaned from newspapers, broadcasting yearbooks, magazines, personal recollection, recollections of others and the like. Copying of any or all information or images for use on other websites, in print or for other purposes, is prohibited without permission. Links are provided for the user's convenience; I claim no responsibility for the contents, accuracy or relevance of other sites that may be linked to from this site. This entire website is considered a not-for-profit "fan site," to be enjoyed for entertainment and informational purposes only. Usage of this site and/or any sites, sub-sites or pages or images contained within, however accessed, constitutes your agreement to these Terms and Conditions. If you do not agree to these Terms and Conditions, click here and you will be taken elsewhere. Proceeds from advertising & duplication services are directly used for site maintenance, hosting fees and research costs.