THE HISTORY OF
KDNT RADIO
IN DENTON, TEXAS
PART 1: 1938-1946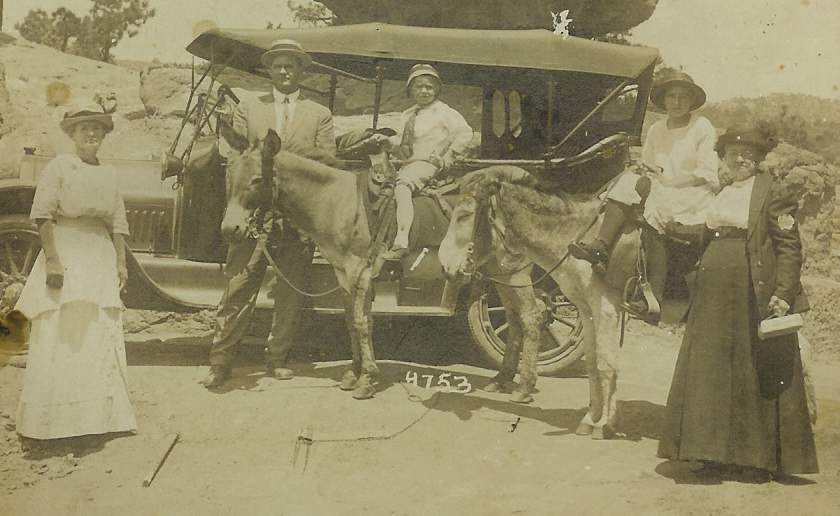 A young Harwell Shepard (center, on mule) on vacation with family in Balance Rock, Colorado, 1914
KDNT owner Harwell V. Shepard was born in Denton, Texas, on April 12, 1908 at his parents' home on Bolivar Street. Shepard attended Denton schools and the University of Oklahoma, but dropped out of college in 1934 to help his father with his funeral businesses, Shepard Chapel and Shepard Funeral Home, which were founded in 1893. "Shep was out of money for school, and returned from OU to help the family (business) during the Depression, sometimes burying a person for a chicken or some beans or sometimes nothing at all," Shepard's son, Harwell V. "Sandy" Shepard II, says. During his time at OU, Harwell worked for the Daily News in Anadarko, OK, honing his 'news hound' skills that would soon be put to use in radio.
While back in Denton, Harwell went to school to get his embalmer's license. Virgil William "V. W." Shepard, Harwell's father, was a carpenter by trade, and was frequently called upon to build wooden coffins. It wasn't V. W.'s intention to go into funeral services, but it turned into a long-term, lucrative family business and partnership known as "McGill and Shepard Furniture and Undertaking." The business was first set up on the west side of the Denton town square (where the Fine Arts Theater is now located,) and was later known as Shepard Furniture and Embalming, then Shepard Funeral Home. (V. W. Shepard, by the way, was a member of the very first graduating class of Texas Normal College, now known as the University of North Texas!)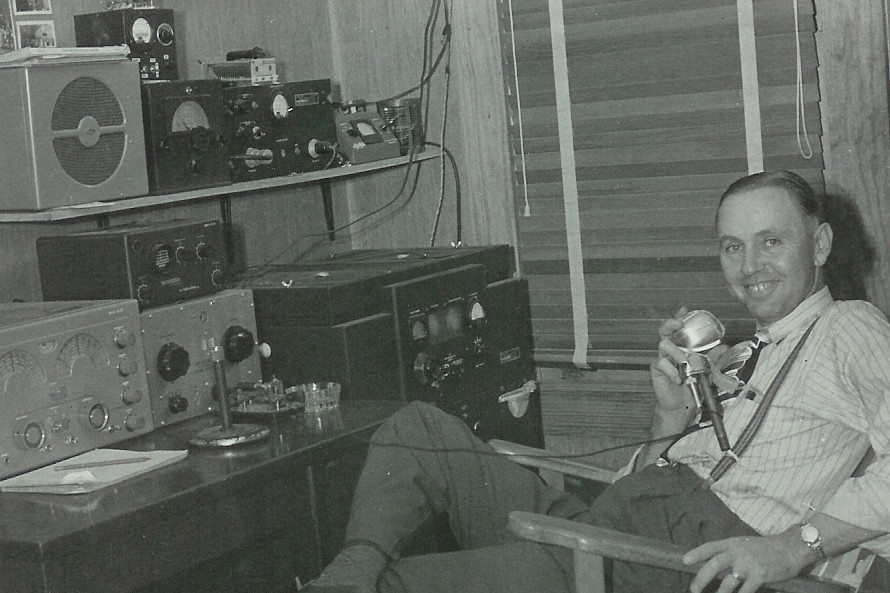 KDNT owner Harwell Shepard in the 1930s with his ham radio setup. His call sign was W5CC.
"About five of my high school friends and I got into ham radio at the same time," Harwell said in 1988
In 1930, Harwell Shepard, a ham radio enthusiast since age 15, decided to enter the commercial radio business and applied for an AM station, but was denied by the Federal Radio Commission (FRC, predecessor to the FCC) as the allotment of stations was full at the time, and regulations for dial placement were still being worked out. The Communications Act of 1934 opened up more allotments, and, in the fall of 1937, Shepard's application for KDNT-AM was approved by the FCC. Harwell traveled to Washington, DC, on his own accord, to deliver the application firsthand and to attend a hearing, where new FCC regulations required him to prove the need for a new station. Shepard set up temporary studios in downtown Denton at 116½ Oak Street (at the Kimbrough Building [aka Jackson Building] above the former Cadenhead-Denmon Hardware Store) while he prepared a permanent home for the station on the north side of town. (Other sources say he moved the studios there from their first home on Ross St and before moving into the station's most familiar digs on Hickory Street downtown.)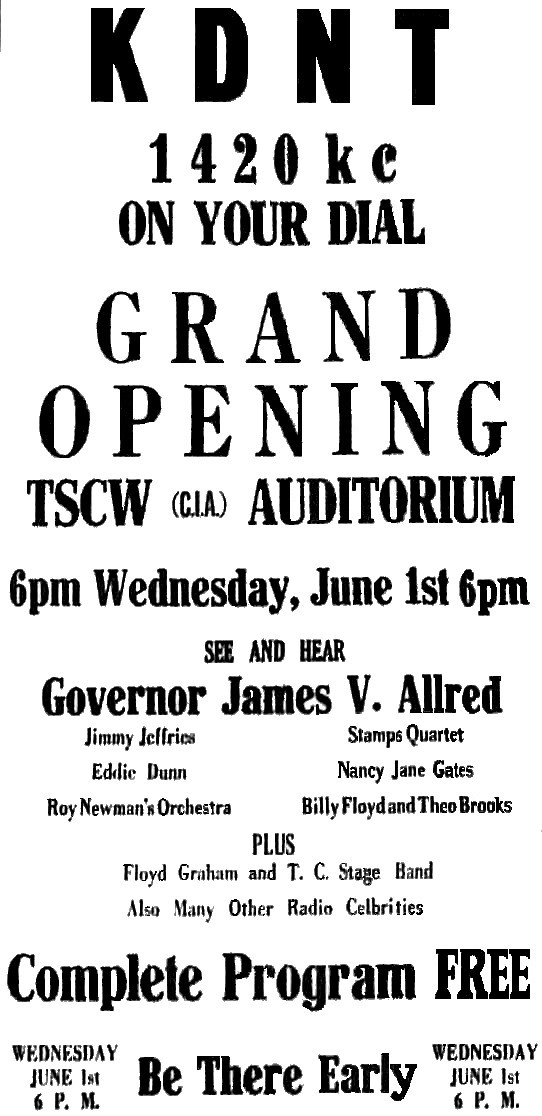 .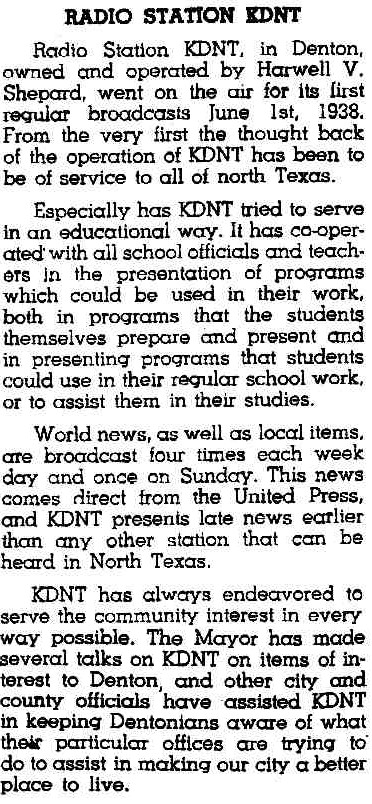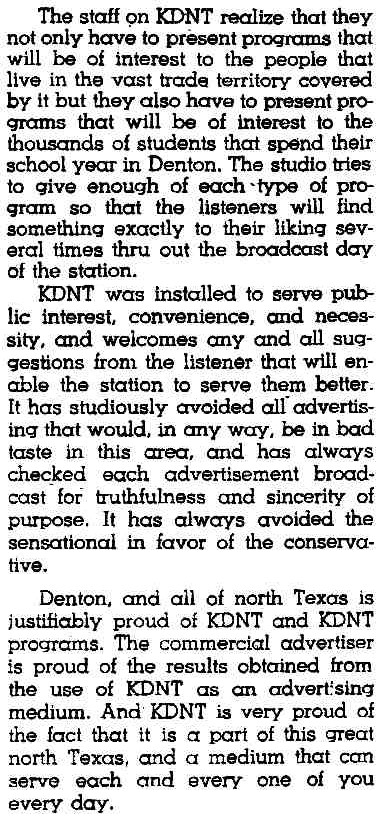 (L) Advertisement announcing KDNT's premiere and kickoff party, including an introduction to KDNT by
Texas Governor James V. Allred; (R) A description of KDNT from 1939, as published in Denton's city directory
On June 1, 1938 at 6:00 PM, KDNT-AM signed on the air. It was established with a mere $6,000 investment as a daytime-only station at 1420 kilocycles with 100 watts of power, located at 400 Ross Street, just off Denison Street (Shepard also lived on the property.) A single 160' radio tower was constructed next door to the studio on a lot that Harwell reportedly paid just $5 for! "A well digging company put up our first tower," Shepard explained in a 1988 on-air interview with KDNT's Dale Olson for the station's 50th anniversary. "It fell at first. They tried again and it stayed. Eventually (in 1951,) we replaced it with a 300' tower." The FCC classified KDNT as a "Class IV" station.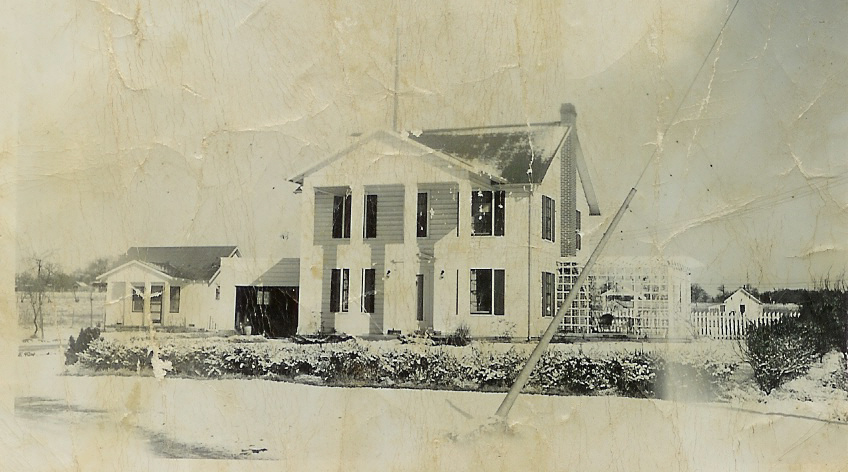 .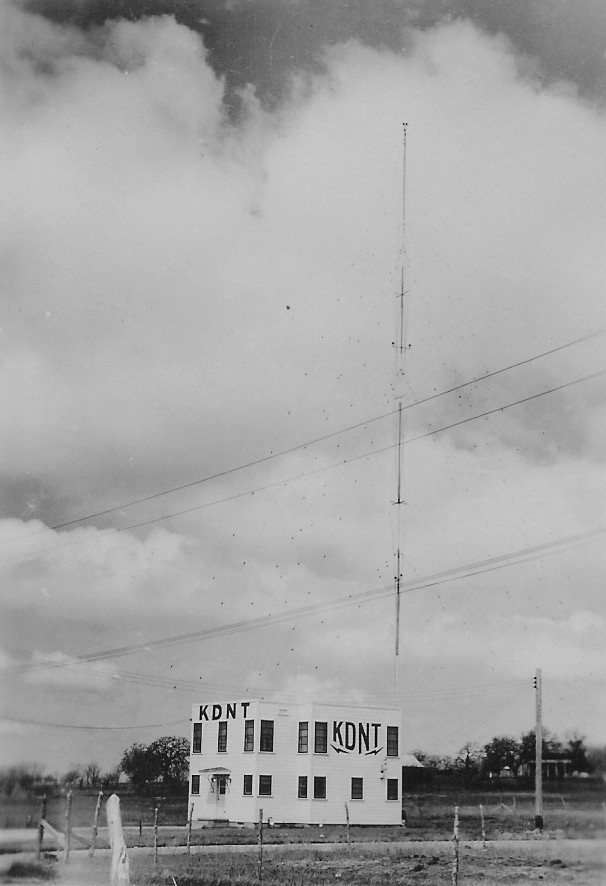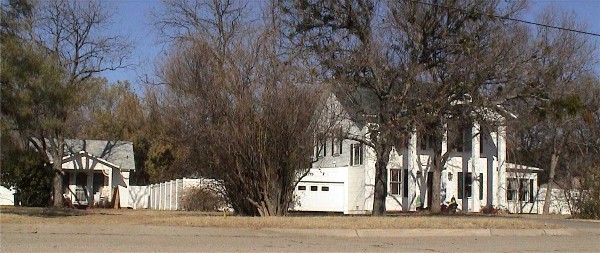 (Top left) KDNT's Ross Street studios; (top right) KDNT transmitter and tower at Ross Street; (bottom) Ross Street, today.
With radio still in relative infancy, Shepard couldn't simply buy everything needed to start a radio station; he had to make much of the
equipment himself from scratch. He also did most of the finish-out work at the new Ross Street studios himself.
Like most radio stations of the times, KDNT was home to an entertainment and public service format, and owner Harwell Shepard was the official 'morning man' on the station from 1939-44. Sandy Shepard explains the station's purpose: "My father always wanted this station to be community oriented by broadcasting local sporting events, community programs, news reported instantly by mobile units, weather coverage from different parts of town with these same mobile units, and keeping an eye on the local politicians. You see, our main competition for advertising dollars was the local newspaper. My father believed that, if something was happening in Denton, all the citizens had to do was tune to KDNT and we would be right there to report it right then." To accomplish this, Harwell regularly reinvested his profits back into the station to add personnel and to upgrade equipment.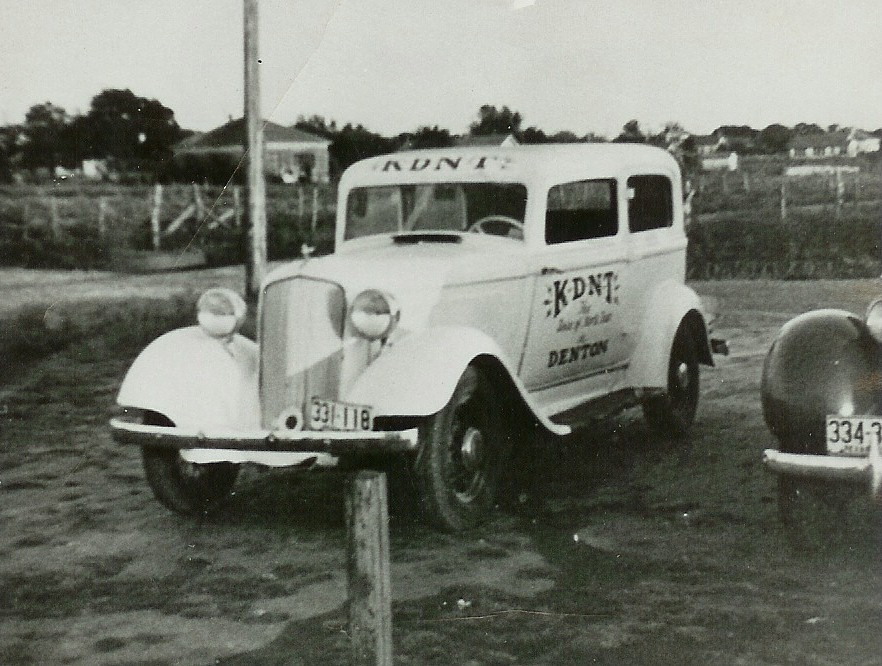 KDNT's original Mobile News Unit, a 1932 Plymouth
And Harwell did indeed pursue those advertising dollars: "I hired three to four salesmen initially. Everything went good for about 20 months, then dried up. I started selling thereafter," he said in 1988. Shepard traveled the town in a well-labeled mobile advertisement, a 1932 Plymouth with white and red trim, with large, red "KDNT" letters painted on the side.
Sandy continued: "He didn't try to program for one particular group, except on Saturday night with country music, and on Sunday with church programming. The rest of the time, it was modified Top 40 that people could use as background music at work or wherever. There were just too many choices within our listening area."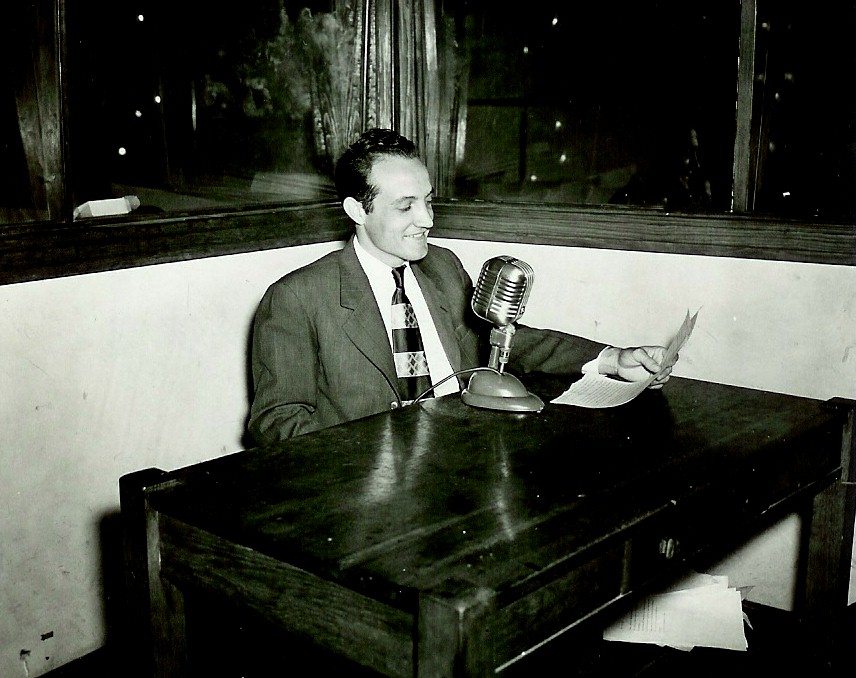 Announcer Walter Richardson
Other programming included live broadcasting of the "Saturday Night Stage Show," from the campus of nearby North Texas State Teachers College (now the University of North Texas) with Floyd Graham as director. The band, "Farris Wilson and the Noveleers," appeared regularly on the air, and was reportedly the first musical group featured on the station (Wilson became a builder thereafter, and died in Denton in 1986.) Another was the "142 Club Hit Parade," hosted by Walter Richardson, which aired weekday afternoons beginning in November, 1938 ("142" was derived from the station's dial position, 1420.) It was broadcast 5-5:45PM, and offered variety programs and song requests. Also, programs designed to be teaching aids for Denton area schools were implemented, world and local news was aired four times daily, and the Fort Worth office of the Weather Bureau would call in with information. Shepard's small staff included Chief Engineer B. B. "Bill" Honeycutt, who eventually moved into a similar role at KRLD-AM and TV in Dallas.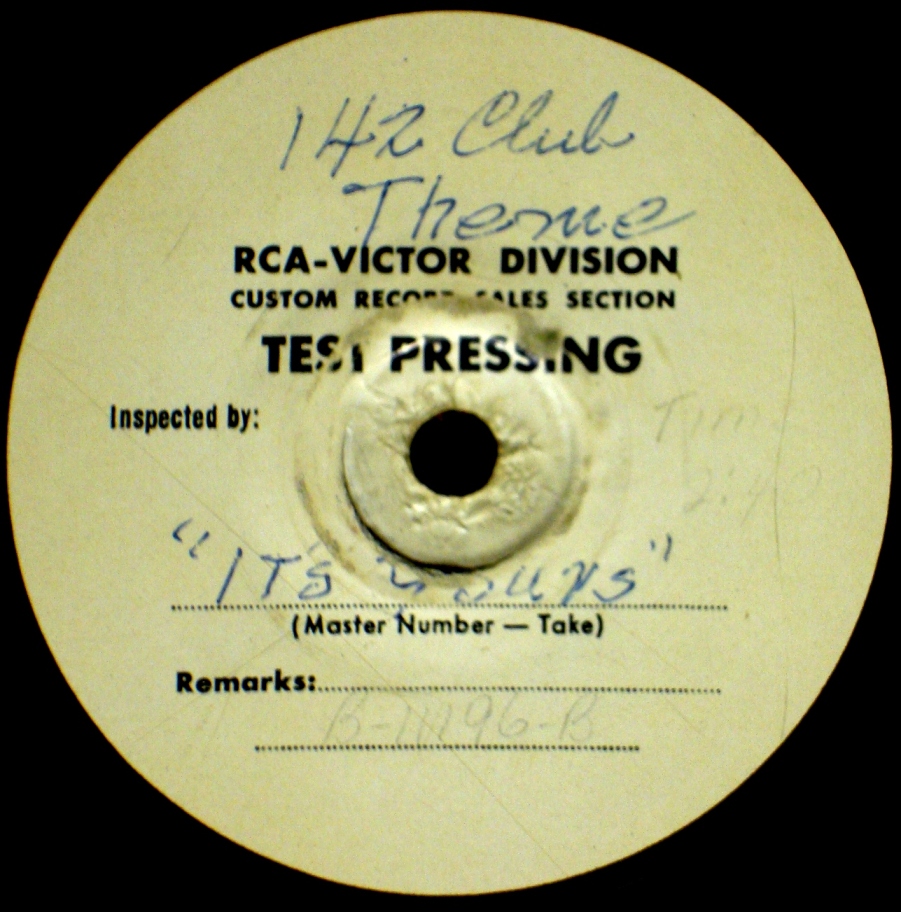 Label from a 78 RPM record of "It's Yours," the "142 Club" theme song
Click HERE to listen to it!
On December 6, 1939, the station received approval for nighttime broadcasting, and was set up for a 100 watt output for both day and night broadcasts. The station's on-air schedule became 7:30AM-9PM (then 7AM-9PM in 1939,) seven days a week. Around that time, the station eased out of its use of a transcription service (prerecorded national programming shipped to the station on records) and started playing its own records in 15-minute blocks of each artist ("It might be 15 minutes of Bing Crosby, then 15 minutes of Perry Como," Harwell explained in 1988.) And, initially, every program on the station was live: "You had to be live," Shepard said in 1988, "or you were dead!" (Later, the station invested in a wire recorder bought from war surplus for around $500.) And the hillbilly shows on Saturday nights brought out bands from all over North Texas and beyond, hoping for a chance to perform live on the station. They would line up around the entire perimeter of the Ross Street studio. It was not unusual to see Grand Ol' Opry acts there, or national talent like Hank Snow, or local musicians like Pete Burrows. Sometimes, when the crowd of musicians really overflowed, the weekly event was moved to the Denton High School gymnasium.


Frank Barrow, KDNT announcer
and onetime mayor of Denton,
in later years
Future Denton mayor Frank Barrow worked for KDNT as an announcer during 1938-39 while a student at Denton High School. Frank was only 15 at the time, and, after graduating school early and attending North Texas, he left at age 17 for an announcing job at WWDC in Washington, DC. Frank returned to Denton in the 1940s to help his father run Grace-Barrow Chevrolet. Barrow was mayor of Denton from 1958-62, and was involved with local philanthropy work until his death in 2006.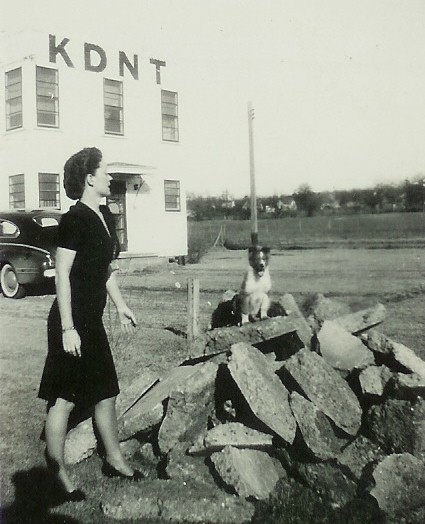 Harwell's wife Mary "Red" Shepard with dog Snuffy, standing in front of the
newly-built building at 400 Ross Street. Harwell and Red were married on April 13, 1935
Changes in the engineering department of KDNT came as a result of World War II. G. C. Hollowwa explains: "B. H. Dennison, a longtime schoolmate of mine from Lake Dallas, was chief engineer (from 1939-1940.) B. H. left for the Army Signal Corps and service in England as a non-combatant prior to US entry into WWII. I was chief engineer thereafter (1940-1941) until I left for the Army Air Corps. I worked downstairs from Harwell and his wife 'Red' (aka Mary Shepard, who was the bookkeeper.) We had to keep the front door locked 'in case enemy agents wanted to take over a local radio station' (as he was told by management!) Red let me read her entire collection of Zane Grey books. What else could you do besides enter the meter readings into the FCC log every 30 minutes?"
Hollowwa shared some other memories of the early days of the station: "My first experience with KDNT was after they had moved the studio from the transmitter to downtown. They were (still) working in the vacant studio (at the transmitter) on a control room desk for the downtown studio...'they' being B. H. Dennison. I had followed in his footsteps at the only radio repair store in Denton (Martin's Radio Shop,) and now that I had a First Class Radiotelephone Operator license, I followed him to KDNT (while concurrently a student at the North Texas State Teachers College [now UNT.]) One of the two of us had to do an FCC 'frequency check' at 2:00 in the morning. At this hour, we had a 'clear channel' so that some location in the Midwest could measure our frequency and quality of transmission. To pass the time until our appointed hour, (Dennison) and I went to the Denton Airport and spot-lighted and shot jackrabbits!"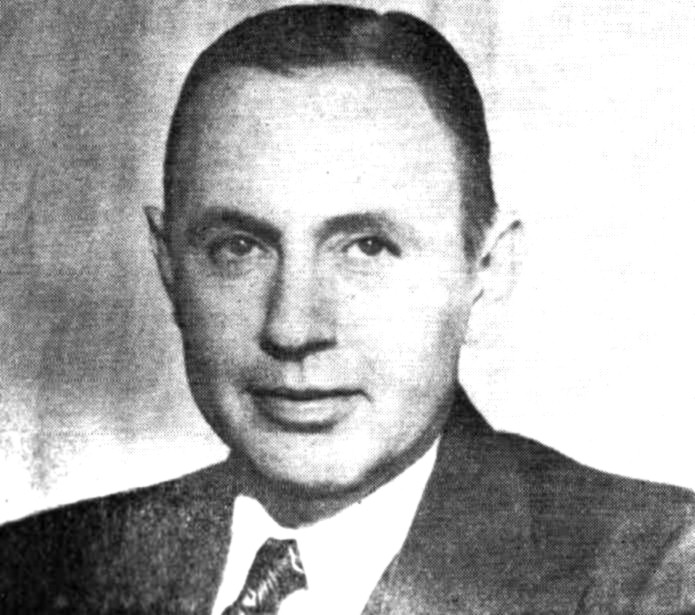 Owner Harwell Shepard in the 1940s
In 1940, Harwell hired a program director, Grace Smith, and more variety programming was added to the station's schedule. One popular show was "Shopper's Guide," a 30-minute program promoting local businesses; a business could be listed in the on-air guide for a mere $1.95 per week. 50 to 60 businesses participated regularly. The morning program, hosted by Shepard, was called, "Yawn Patrol." Walter Richardson's "142 Club Hit Parade" was now the most popular radio program of the time across north Texas and southern Oklahoma. Another daily segment was the local interview show, "Man on the Street," presented live from the Courthouse square each weekday at 12:30PM. Joe Pat Crenshaw hosted the program, "Dramalogues," starting in November, 1941. Other programming consisted of record-playing shows and school kids' shows. Remote studios were set up at North Texas State and at Texas Women's University so that school events could be easily broadcasted.
On "National Moving Day," March 29, 1941, a day designated by the FCC to perform a mass relocation of stations and frequencies across the dial and across the nation that were located above 730 AM, KDNT was forced to move from 1420 AM to a lesser-used dial position at 1450 AM. Months later, Shepard asked the FCC to approve an increase in power from 100 watts to 250 watts (during the daytime.) Also in 1941, United Press teletype was installed at the station, and KDNT increased its news coverage to 15 newscasts a day.
The following year, on January 28, 1942, Harwell Shepard's father, V. W. Shepard, died, and Harwell was pressed into service running the family's funeral home business concurrently with the radio station. On October 22, 1942, Shepard filed a request with the FCC to move KDNT from 1450 AM to 1400 AM, and was granted a hearing on December 12; the FCC decided in Shepard's favor, but in October, 1943, Harwell asked the FCC to drop that request, but to still consider his plea to increase the station's wattage instead.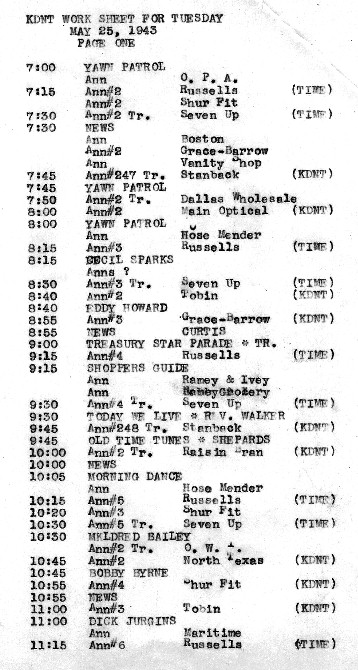 .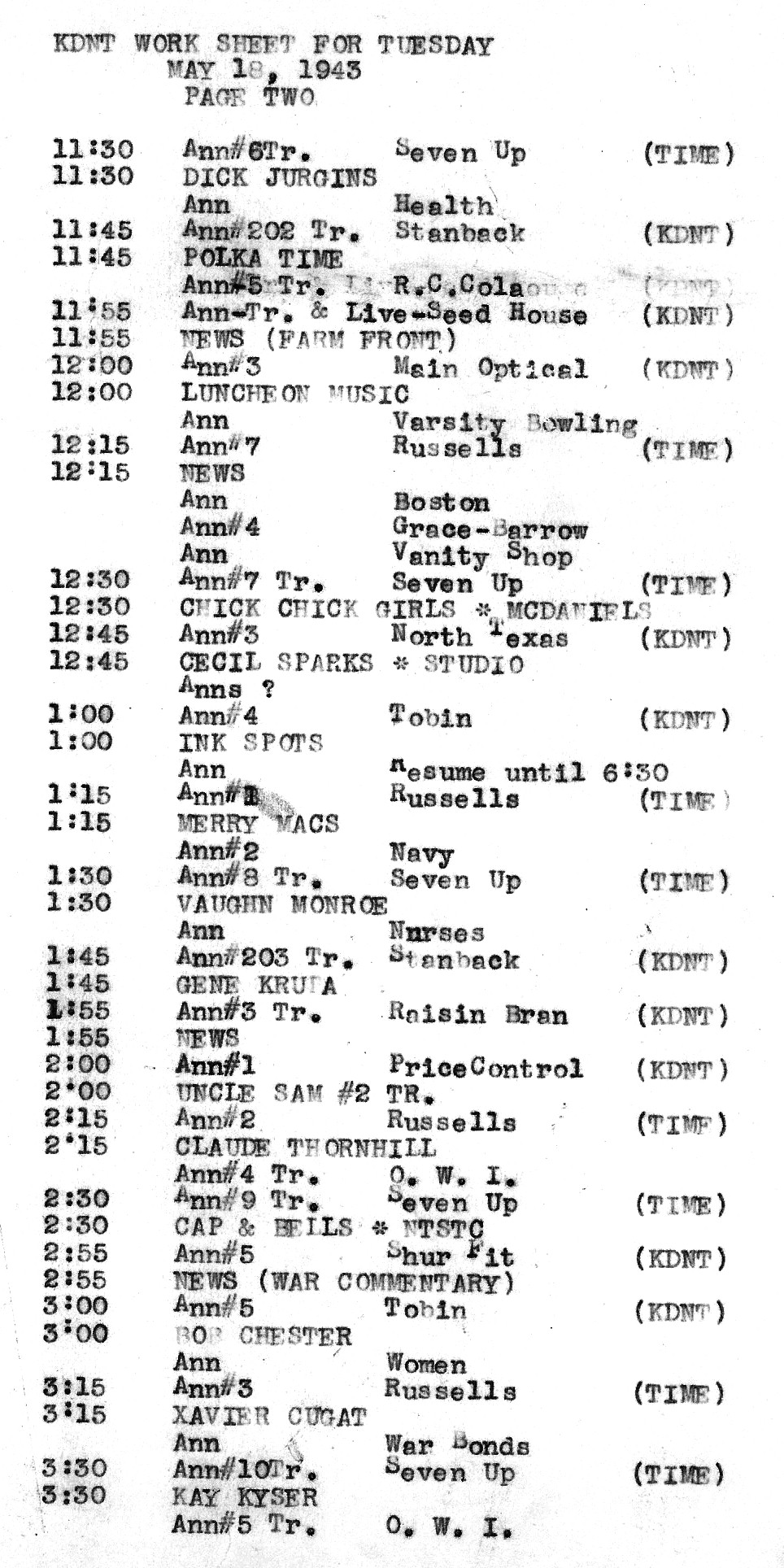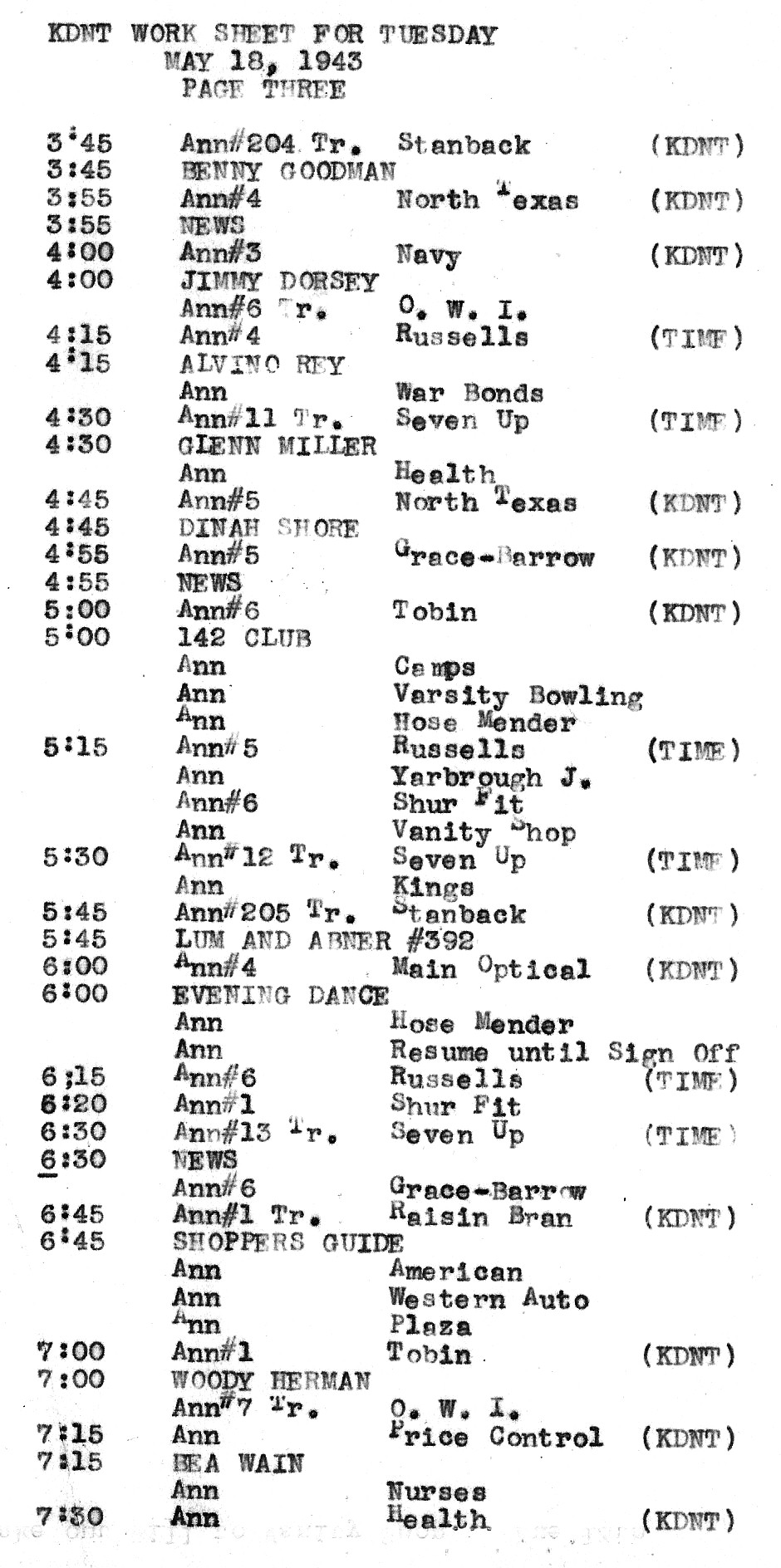 .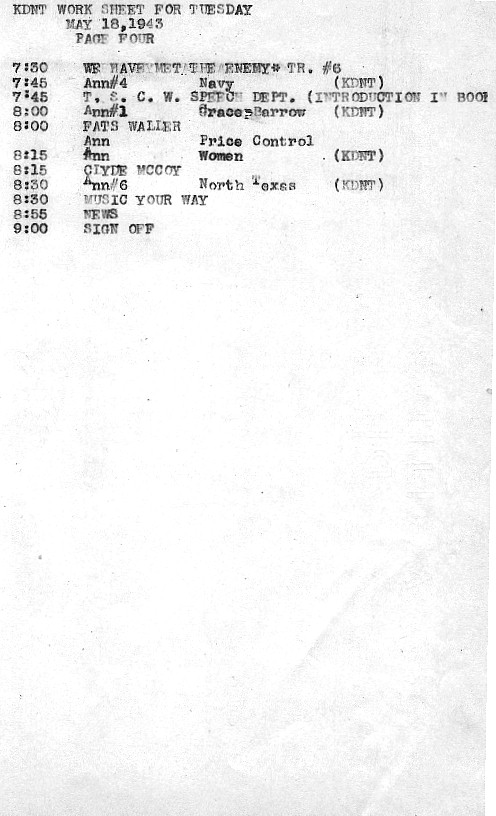 An actual KDNT program log dated May 25, 1943
Listener Phil Potter recalls visiting KDNT in 1943: "I was stationed at Camp Howze, TX. A couple of buddies and myself used to visit area radio stations, as I had been an announcer prior to entering the Army. My distant memories recall our visiting KDNT one evening. We attended a live country music/hillbilly broadcast on the upper floor of an office building. In addition to the country performers, there was an engineer sitting at a remote board at a table, and piles of hay strewn around to give the program a true country flavor. At the time, I thought the setting was the entire station location, but on reflection, I guess it was a country-fied Studio A!"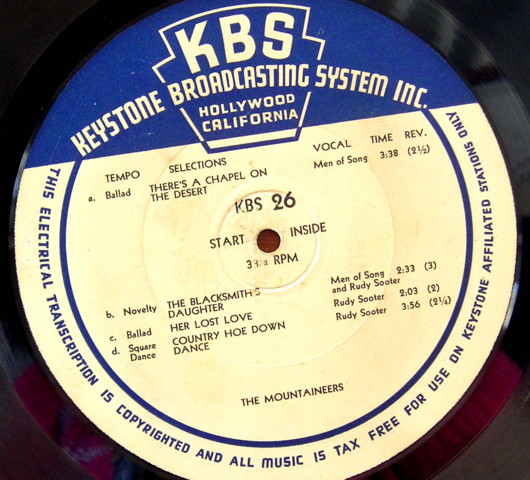 A transcription record from KBS.
Credit: www.gobeyondnow.com
Also in 1943, KDNT signed on as an affiliate of the Keystone Broadcasting System (KBS.) This was a transcription service that provided enough recorded programming to fill 28 hours of radio airtime per week. KBS had over 200 nationwide affiliates in 1943. Although Shepard had discontinued use of another transcription service at the end of 1938, pledging that live radio was much better, the assumption is that he was handling many of the airshifts himself (considering that most men were overseas or elsewhere, fighting in WWII) and simply grew weary of handling most of the operational and technical duties alone. But the affiliation with KBS gave listeners access to national programming they would not hear elsewhere. In fact, no Dallas-Fort Worth stations were affiliated with KBS, but others in North Texas were: KAND/Corsicana, and later KGAF/Gainesville, KTAN/Sherman, KSST/Sulphur Springs, KMWT/Mineral Wells and KGVL/Greenville.
1943 also marked the beginning of KDNT's longest-running program, the weekly services of The First United Methodist Church of Denton, which were broadcast each Sunday for more than 50 years (until the station was sold and flipped to a Spanish format in 1993.) Listener Daryl Stephens said, "I was told that this was the longest continuously-running religious radio program in the country."
Dr. Billy Bob ("B. B.") Trotter worked for KDNT from 1944-1949. He was not able to attend the station's 75th anniversary event in 2011, but shared his remembrances by phone: "I think I wasn't quite 16 (when I started at KDNT.) I'd gotten my Third Class Radiotelephone Operator license and worked on the transmitter, which was on Bolivar Street. I just logged the transmissions all day, which was a boring job. Then a little while later, my voice changed...(and) Harwell Shepard asked me if I would like to be a radio announcer. It was 1944 and all the (adult) men (had been) called into the armed services."
"Don Wilson, who was a freshman at North Texas State, worked at the station and helped me a lot," Trotter continued. "It was very tough for a 16 year-old to open up a radio station every morning. Then I went fulltime in the summer of 1945. (I remember that) we played the Star-Spangled Banner for the opening song each morning. When high school started back, I worked (at the station) parttime. I also worked there during college, until 1949. It was better than working for my father, who was a bricklayer and had a very hard job. Don later became a lawyer in Abilene. He died several years ago."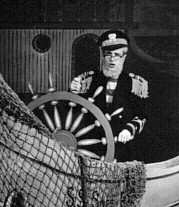 George Nolen as "Captain Swabby"
at KFJZ/KTVT-TV in Fort Worth
North Texas radio and TV veteran George Nolen started his broadcasting career at KDNT in 1944: "In those days, a lot of the men were off at war, so they would hire kids. My voice changed one day, and I went to work in radio the next day. I was born in Texarkana and grew up in Denton. I started on a station in Denton, KDNT, 100 watts. We covered both blocks!" Dr. B. B. Trotter was a friend of George's, and got him the job at the station. Trotter and Nolen worked together frequently. Trotter recalled, "The one time George and I got to ad-lib was on V-J Day (Victory over Japan, in August, 1945.) Harwell was out of town. There were these big 16" recordings called "Thesaurus" that had advertisements and sound effects. We pretended that George was on the courthouse lawn, and I would make the crowd noise. I would ask George, 'How are the crowds reacting?', and he would make up something, and then I would make more crowd noises. Another time, we took a microphone and a teletype machine and put them in a closet. When we were doing the news, I would run and turn the teletype on so that it would sound like we were in a big newsroom."
Nolen was later known as "Captain Swabbie" on KFJZ-TV/KTVT-TV Channel 11 in Fort Worth in the late-1950s, and played multiple roles on the station's long-running kid's show, "Slam Bang Theater."


Smoke anyone? Light your fire with a KDNT matchbook
Photo credit: Steve Eberhart
Dr. Trotter shared some additional remembrances: "During the war, we could not take telephone requests for songs...We had to take postcard requests and keep them for 10 days. In those days, our signal could sometimes be heard all the way out to Port Arthur or Beaumont. We had to hold the postcards for that long because the military was afraid that we might receive a request that was in code, telling someone to sink ships in Port Arthur or Beaumont!"
"We had a stack of 78s," Trotter continued, "This was before recording devices existed. No tape, not even a wire recorder. We got the weather report out of the Denton Record-Chronicle and would read the forecast over the air. The news came from teletype from the Associated Press at 55 minutes after each hour, and it would be a five-minute newscast--designed to be read that way. You would get a glossary of terms every morning of (possibly difficult) words that would be used that day. That way, you could practice pronouncing them."
In an often-heard disc jockey stunt, one of Trotter's fellow announcers "set fire to my news while it was in my lap. He'd walked over with his cigarette lighter and just set it on fire! So, I had no news to read, and you can't have dead air, so I started ad-libbing the news. I made up all these places and generals in China and spoke for about three minutes. I didn't even get one phone call from anyone saying I was wrong!"
"Harwell Shepard was a tough boss," Trotter concluded. "He fired me twice and hired me three times. He told me that there was a 'T' in 'DenTon' and that I needed to pronounce it."

Unidentified swing band appearing on KDNT
Photo credit: www.westernswing.com
On December 1, 1945, KDNT received approval from the FCC to upgrade its daytime signal from 100 watts to 250 watts daytime (but remaining 100 watts at night.) The station's slogan became, "The Listening Habit of North Texas." Also, the station began subscribing to the musical and special features library of NBC, which would comprise much of KDNT's daily programming from that point forward. The station also began airing a local daily program, "Trading Post," which offered listeners a chance to air their own want ads, free of charge. Also, once the station began using a wire recorder, announcers would go to the bus station and interview people from out of town, to be played back later on KDNT on the "Howdy Neighbor" show. Religious programming became another staple on the station, with the daily "Radio Bible Class," hosted by Ike T. Sidebottom; C. L. Hunter began a similar program in May, 1948.
KDNT also began employing two-way mobile radio units the same year, something that had always been on Shepard's wish list, but were not available during wartime. Mobile units were installed in Shepard's car, along with everyone's vehicles in sales and engineering, so that any employee in the field could be easily dispatched to a breaking story. (KDNT's two-way radio callsign was KC2252.)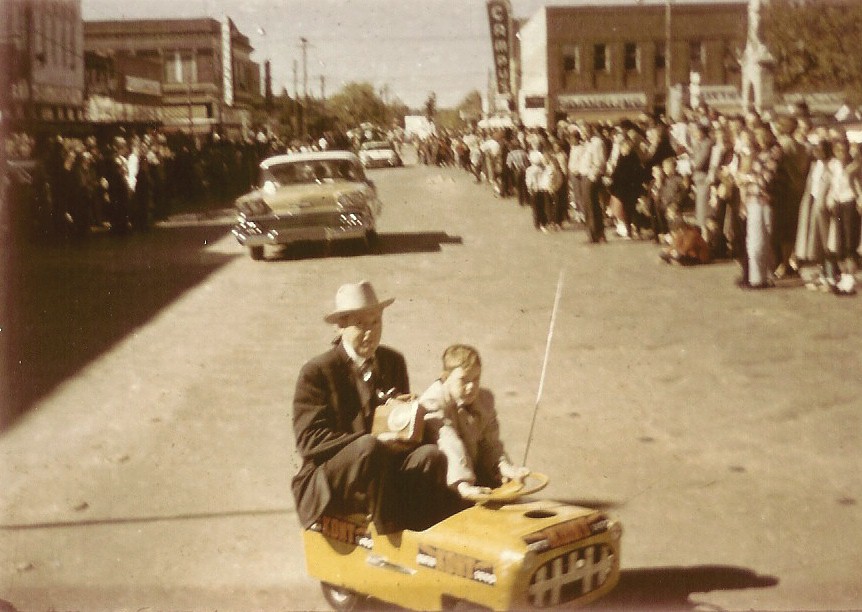 Harwell and son Sandy tool around in "Mobile Unit ½" at a Denton town square parade in the 1950s
In 1946, Shepard applied for an FM license at 101.7 mHz. It was one of the earliest applications for an FM station in North Texas. That August, 38 year-old Harwell and wife Red became first-time parents to a son, Harwell V. Shepard II, nicknamed "Sandy." Red then turned over her bookkeeping duties to raise her family.



COMING UP IN PART 2, 1947-63: KDNT moves to new digs in downtown Denton; the 1957 tornado outbreak makes for tense moments in town; Pat Boone and Willie Nelson pass through the doors of KDNT; KDNT-FM signs on; and the death of a president in 1963 prompts an unwelcome on-air satire! Click HERE
---
SHORTCUTS
PART 2 - 1947-63
PART 3 - 1964-71
PART 4 - 1972-83
PART 5 - 1984-93
PART 6 - 1994 AND BEYOND
A "WHO'S WHO" OF KDNT
DUSTY MEMENTOS
RADIO CENTER STUDIOS INSIDE-OUT
PHOTO ESSAY
---
TERMS AND CONDITIONS OF USE
This entire website and its contents are copyright 1984-2023 Mike Shannon. Images are copyright of their respective owners. If you feel your copyright is being infringed upon by its appearance in this website, please email me and it will be removed or credited properly. I am not responsible for errors, omissions, incomplete information, misrepresentations or dead links. Information was gleaned from newspapers, broadcasting yearbooks, magazines, personal recollection, recollections of others and the like. Copying of any or all information or images for use on other websites, in print or for other purposes, is prohibited without permission. Links are provided for the user's convenience; I claim no responsibility for the contents, accuracy or relevance of other sites that may be linked to from this site. This entire website is considered a not-for-profit "fan site," to be enjoyed for entertainment and informational purposes only. Usage of this site and/or any sites, sub-sites or pages or images contained within, however accessed, constitutes your agreement to these Terms and Conditions. If you do not agree to these Terms and Conditions, click here and you will be taken elsewhere. Proceeds from advertising & duplication services are directly used for site maintenance, hosting fees and research costs.