THE HISTORY OF
KDNT RADIO
IN DENTON, TEXAS
PART 3: 1964-1971
Harwell Shepard's son Sandy joined the family business in August, 1964. He just graduated from Denton High School and had gotten his FCC 1st Class Radiotelephone license over the summer. Sandy handled engineering duties for the next 6 ½ years, and started jocking concurrently in 1965 under the name, "Clyde Sebastian." For an initial wage of $1.65 per hour, Sandy also wrote copy and handled transmitter readings.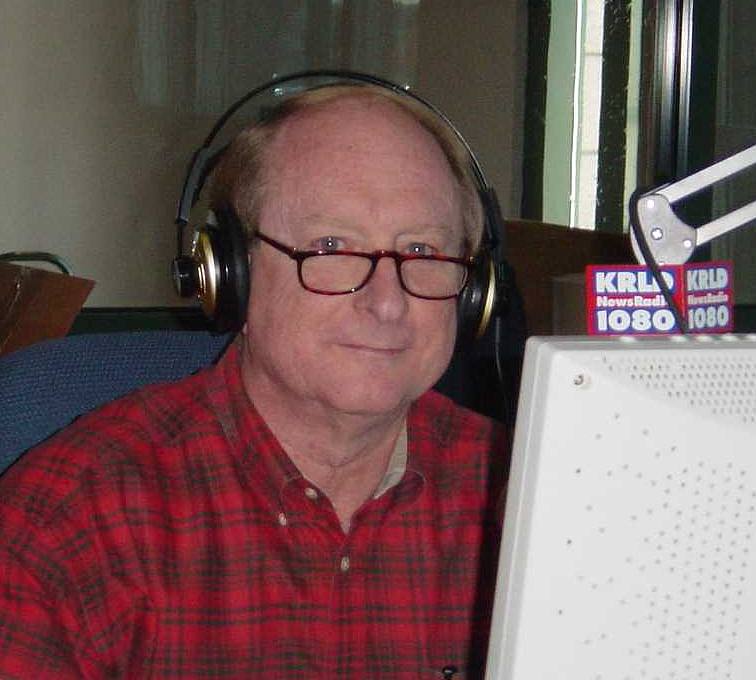 Jay Weaver, today
Joe Fuchs, known professionally as "Jay Weaver," who was one of two jocks who used the air name, "Con West" (Frank Haley was the other,) got a reality check during his brief time at the station in 1965: "I remember meeting two girls outside the station one afternoon after work and I told them I worked there...that was what we now call a 'turn-off'...One of them said, 'You mean that's how you make your living?' I was working there for experience and to get into (the) Fort Worth (market)...and I stayed there no longer than I had to...I had no idea if radio was really for me or not."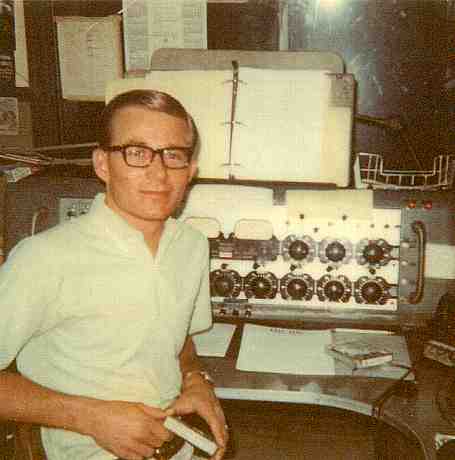 Mike Ehrle at the KDNT studios, 1968
Mike Ehrle worked at KDNT as "Mike Ward" from 1964 to 1973, and most recently was a police dispatcher in Pampa, TX, and a newscaster for radio stations KGRO/KOMX in Pampa. He also wrote a weekly column for the Childress [TX] Index. Ehrle published his reflections of those years at KDNT in an article for the Index on March 8, 2001:
"Thirty-five years ago, while a student at North Texas State University in Denton [TX] [now The University of North Texas,] my place of employment was at radio stations KDNT and KDNT-FM, owned by the late Harwell V. Shepard of Denton.
"Harwell had established KDNT-AM in 1938 and its 100 watts of power in the early days had eventually been increased to 5000 watts days and 500 watts nights, while KDNT-FM, which had gone on the air in 1948, broadcast easy listening music at 100,000 watts, the maximum power allowed by the Federal Communications Commission. Both stations penetrated the Dallas-Fort Worth Metroplex with primary signals, but Harwell had elected to target the immediate Denton County area audience with heavy local programming.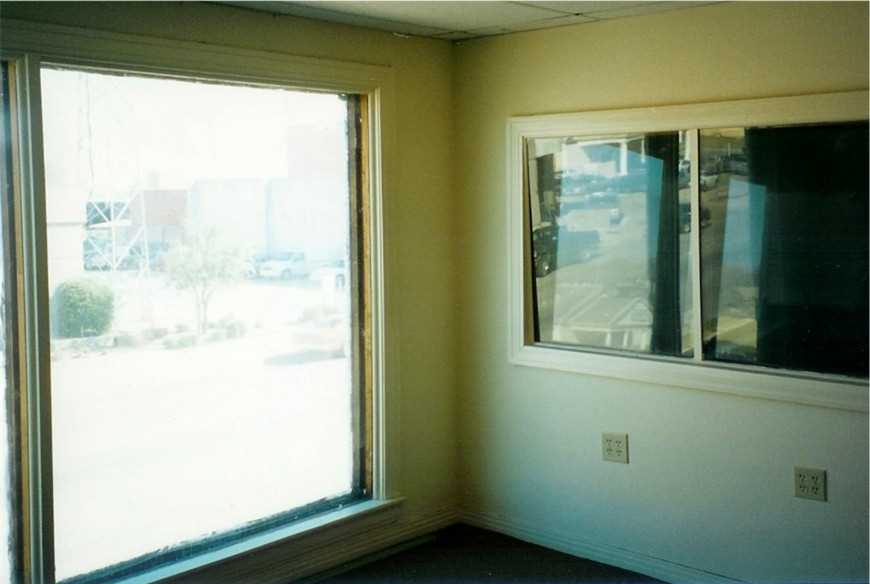 This large window facing Hickory Street allowed listeners to watch the DJ at work.
See many more photos of the Radio Center studios HERE
"The studios occupied the second floor of the Radio Center office building at 235 West Hickory, a one-way thoroughfare that fed heavy volumes of traffic from the busy west end and the university campus into downtown Denton. A huge glass window the size of the control room wall allowed passing motorists to view disc jockeys at work, and provided announcers with an unobstructed view of traffic on Hickory Street. An outdoor microphone/speaker system was near curbside and listeners would stop in the parking lane, visit with the disc jockeys and request their favorite songs.
"KDNT was unlike the larger stations in the Metroplex that catered to specific audience demographics. Carefully selected, easy listening rock music was blended in the mornings with time and temperature announcements, local news, weather, sports and farm reports, all key elements of morning and noon hour information programming. Sales staffer (and newscaster) Buford Harrell read the farm news and covered breaking local and area news in a mobile unit.
"The early morning show, entitled 'The Dawn Patrol,' was followed later in the day by other special programs, including one that was specifically tailored for women. 'Of, For & About Women' addressed cooking, sewing and other homemaking issues by a local hostess. Morning announcer Ken Rench gave money away to listeners during the daily 'Money Tune' promotion.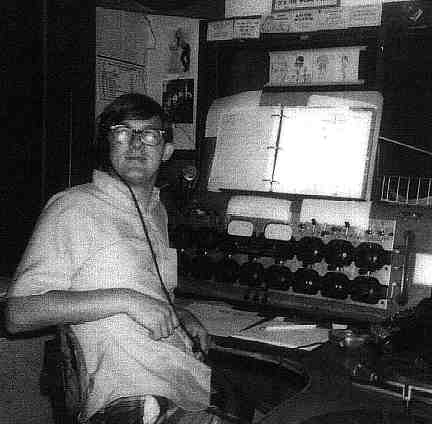 .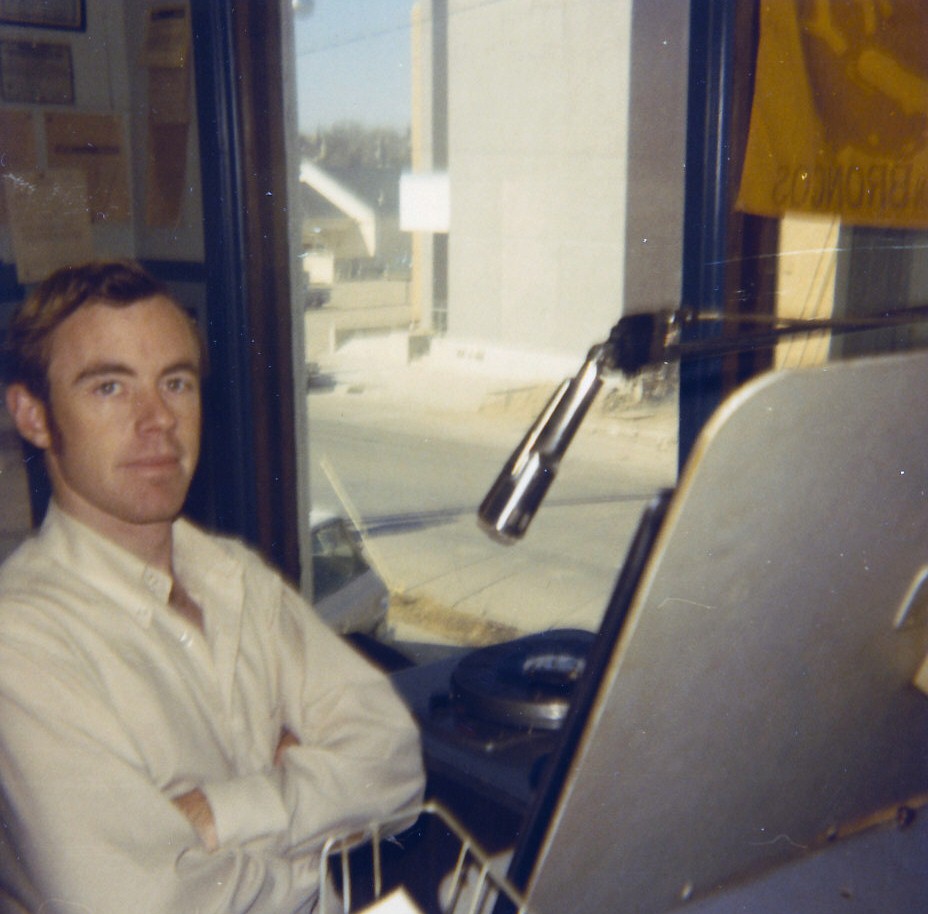 (L) Bill Orton, host of "Night Notes," in 1968. (R) Sandy Shepard (AKA Clyde Sebastian,) around 1970
"Harwell's son Sandy Shepard's golden oldies program (done under Sandy's air name, Clyde Sebastian,) aired early afternoons. At 3PM, the tempo picked up a bit with the '1440 Club' program (that one was mine,) the name of which had been coined after the frequency on which KDNT operated, 1440 kilocycles. At night, harder rock n' roll music was featured on the 'Night Notes' program that for years was hosted by another college student, Bill Orton. Bill's Thursday night requests and dedications program catered to a massive teenager audience.
"Saturday's programming copied that which aired weekdays, save for Saturday night when KDNT's most popular program hit the airwaves. 'Saturday Night Hoedown' with 'Country Cuz' (KDNT Chief Engineer Hal Whatley) catered to a vast country and western music lover audience.
"Hal's theme song was 'Orange Blossom Special' and it signaled to listeners every Saturday night at seven that their favorite program was on the air until midnight. Country Cuz accepted requests from listeners for their favorite songs, and visited with them live on the air. His sincere attention to his loyal listeners drew an incredibly huge audience for KDNT. Hal was a small, down-to-earth man. His slow, gentle manner was reflected in his popular show that aired through the 1960s and early 1970s.
"The end came in 1972 after both stations were sold. There were major format changes and all of the locally-flavored programming that had created KDNT's longstanding, special image in the community was eliminated in favor of a 'big city radio sound,' the wave of the future.
"And so KDNT's hometown, local identity vanished. It later experienced call letter and location changes and thus became part of the region's history--and just another radio station jukebox that blended in with hundreds of others that could be found up and down millions of dials across North Texas."
* * *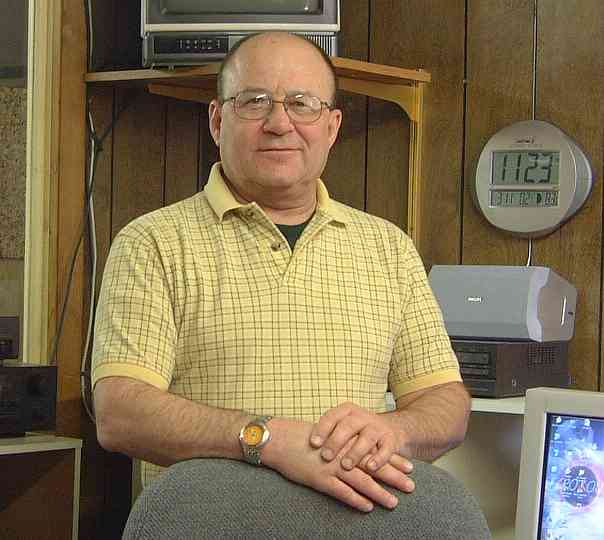 Mike Ehrle, today
Mike Ehrle, in a separate note, recalls the studio setup during the 1960s: "The KDNT control room overlooked Hickory. We had a large Gates control board, four Bogen Presto turntables mounted into a horseshoe-designed desk (with) two turntables on each side of the jock, and four Collins cart machines mounted above the turntables on the right, into a rack that held carts. A notebook that contained the day's live copy was on a rack (above) the board...Most spots were on cart, but some were read live. The AM control room was about 15' x 15'. Across the room were four reel-to-reel machines that could be started by remote control from the board. The FM side was automated with Schaffer equipment, (consisting of) four large reel-to-reels...another player for prerecorded time announcements, and a carousel (that) held carts for spots and PSAs." (By the end of the 1960s, the FM side had switched from middle-of-the road music to a "Golden Oldies" music package.)
The late Texas Radio Hall of Fame creator and North Texas radio vet, Larry Shannon, remembered KDNT fondly: "What a station! I loved the way the jocks and news buys enunciated the name of the town--both Den-TON and DEN-ton! I suppose it must have been around 1965 when I visited KDNT as a young and eager fellow from Irving who was hoping to get into radio. Never worked there, though, but I listened a lot during the daytime."
"I enjoyed that view from the KDNT studio window," Larry continues, "As I recall, I met Mike (Ehrle) and Bill (Orton) and Sandy (Shepard,) who gave me the grand tour when I visited the station. Nice guys, all." Shannon began his broadcast career instead at KSKY, then on to KBUY and KVIL before landing a major role at KFJZ in 1968.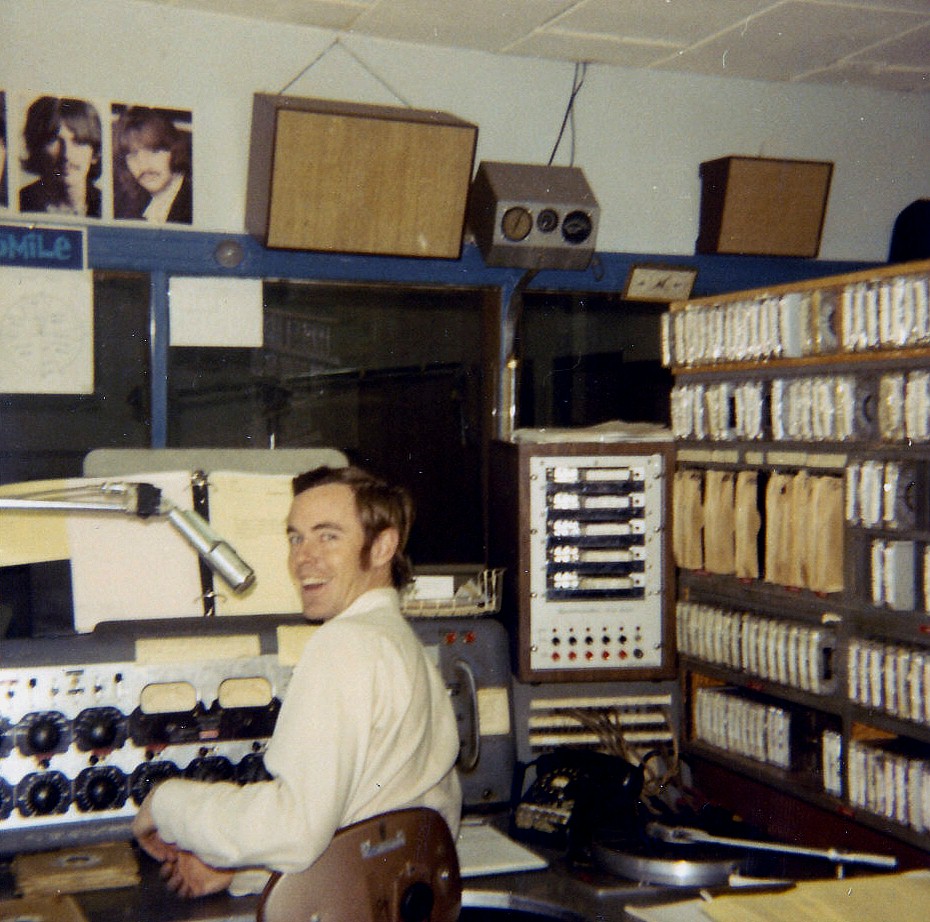 .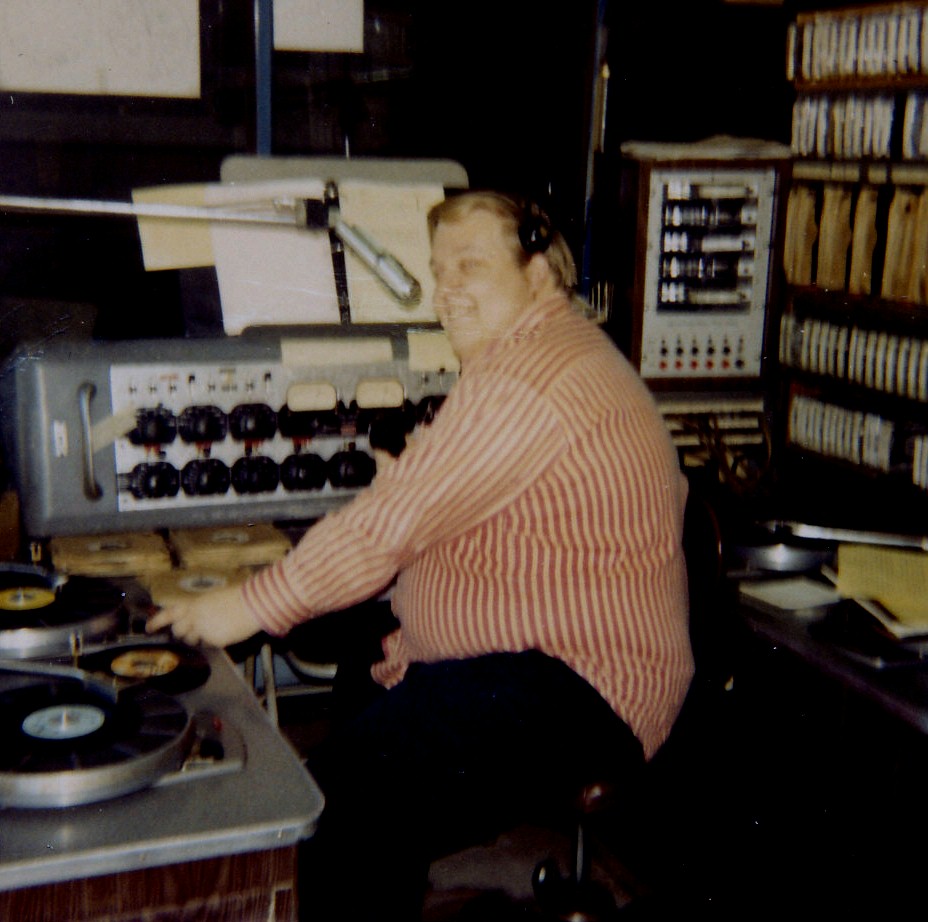 In the control room, 1970: (L) Sandy Shepard; (R) Scott Causey
In May, 1965, Harwell Shepard submitted an application to the FCC for installation of a new transmitter and antenna, as well as a change in wattage and antenna height. Apparently no action was ever taken by KDNT, but this may have been an early effort to consider beefing up the coverage of the FM side, as FM stations began dotting the dial in Dallas-Fort Worth by that time. Shepard saw the potential of moving KDNT-FM into Dallas, even during the late-1960s: "But it took the network (ABC, eventual owner of the FM station) to have to clout (with the FCC) to do that," Sandy Shepard recently said.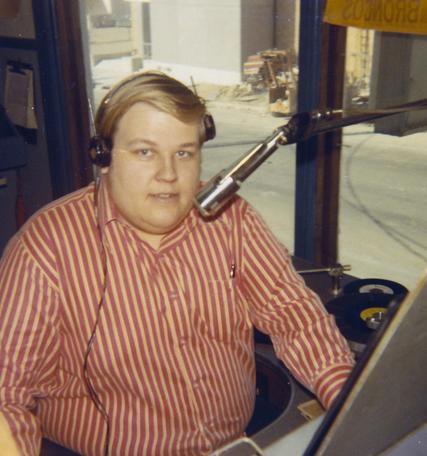 Scott Causey, c. 1970
Coming on board in October, 1967, was Scott Causey. Causey was first known on the air as "Cliff Scott," which lasted about a week before owner Shepard decided he didn't want the word "Cliff" (as in Dallas competitor "KLIF") used on his station! Causey became "Dave Scott" thereafter. "I started out on afternoons as a 17-year old freshman at North Texas State University," Causey recounted recently. "I would park my car outside of the biology building where my last class was, so I could hurry out at 2:45PM and drive down Hickory Street to the station in time to go on the air." He also remembered a tongue-in-cheek blooper that happened a few days into his tenure at KDNT, courtesy of mid-day personality Clyde Sebastian (AKA Sandy Shepard, son of the station owner.) "The last thing (Sandy) usually read coming out of the news was a short Buddies Supermarket 'slug,'" Scott mused. "The network news ended and Sandy opened the mic and said, 'Today at Buddies--Vine-raped tomatoes, 10¢ a pound.' It was my first experience with an on-air blooper happening right in front of me! But it sure wasn't going to be my last."
1968 was a peculiar year for KDNT. That spring, nighttime disc jockey Bill Orton got the scare of his life at the Hickory Street studios. Sandy Shepard explains: "Bill stayed late (after his evening shift) to finish a paper for school at North Texas. The air conditioner was off, so he had the backdoor open for ventilation. Bill heard big footsteps coming up the back metal stairs, then enter the back room. A few more footsteps, then he saw the barrel of a shotgun coming into the control room. Bill ducked down behind his typewriter, peeked under the desk, and watched these big, black shoes go past. He then summoned all of his courage and peeked over the typewriter. It was a Denton police officer. Praying he wouldn't be shot, Bill raised his hands above the typewriter and said, 'Don't shoot, I work here!' The officer spun around and said, 'Come outta there!' When the officer was satisfied that Bill belonged there, he told Bill that Denton still had walking patrols downtown because of break-ins, and to keep the door locked from now on." Orton, who was already a little spooked from seeing the Radio Center Ghost on several occasions over the years, "was finally able to sleep again a couple of days later," Sandy remembers.
In May, 1968, a faulty neon tube in the Radio Center building sign caused a fire in the ceiling and on the roof next to the front control room (nicknamed the "Golden Fishbowl.") The control room sustained fire damage, the studios had a hole left in the roof, and smoke damage spread throughout the rest of the building. "Bill Orton signed off at midnight," Mike Ehrle recalls, "and I had (just) completed production work for Buford (Harrell) and Aubrey (Jackson, salesman.) We both left the station about 12:30AM. Everything was fine. However, about 3AM, an alert Denton police officer on patrol noticed smoke seeping from the top of the large plate glass windows in the upstairs AM control room that overlooked Hickory Street. The Denton Fire Department responded and quickly extinguished the blaze. Ken Rench was able to sign on the air at 5:30AM as scheduled, but the smoky environment made it difficult to endure for extended periods of time."
Scott Causey didn't escape the bizarreness of 1968, either: "One afternoon while I was still on my first few months at the station, the front office buzzed the control room. When I answered, I was told that North Texas State alumni Pat Boone was on the phone, and that I should put him on the air and interview him! Talk about initiation by fire." A few years later, Causey was again surprised by an unannounced visit from a guest, but this time, it was actor Chill Wills, who merely walked into the control room and introduced himself. "I don't remember why he was there," Scott recollects, "but I do recall he was wsearing a buckskin jacket complete with fringe, and had to duck his head to come through the door."
Programming in '68 included a daily, morning religious program hosted by Rev. John McDuff; and an evening music segment known as "Backseat Music." (The name was resurrected in the mid-1970s for a music show at oldies station KWXI-FM in Fort Worth.)
Later in 1968, KDNT-AM morning man Ken Rench quit his early shift after nine years; and in May, 1969, DJ Bill Orton left KDNT after college graduation, ending his popular evening program, "Night Notes." After a brief period doing nights after Orton quit, Scott Causey moved to mornings 6-9AM, Monday through Saturday: "I got my good friend Terry Starnes (Terry Wayne on-air) hired to work nights," Scott explained. "Then I worked morning drive for the next eight years, until June, 1975. That's when I got married and went to work in communications for the Denton Police Department. After enduring the 1972 ownership change and three format changes, it was time to move on."
Causey got the best of Starnes one night just before the station signed off the air, and it couldn't have happened at a worse time: "I didn't know what news story (Terry) was in the middle of reading over the air, but it ended up being the weekly Vietnam casualty report that was released each Thursday. There was a table sitting in the big studio with a stack of 45 RPM records on it, just across a pane of glass from Terry in the control room. I grabbed a couple of 45s and hung one on each ear, not expecting much of a reaction. Well, it caught him off guard and he suddenly burst out laughing! Fortunately, he was able to close the mic (just in time.)" But that wasn't the end of it: "I yanked the records off my ears and looked away for several seconds. Terry finally composed himself and opened the mic to continue the Vietnam story. I breathed a sigh of relief. He then glanced up, saw me again and started laughing, but, again, caught the mic switch just in time." But the third time wasn't a charm: "I quietly walked to the control room," Scott continued, "but the slight creaking of the door opening up 'got' Terry AGAIN. He leaned forward to quickly kill the mic, but his chair didn't cooperate. Laughter poured out over the air. I froze. He froze. Finally, he punched up the station sign-off. We stood there for almost a minute as all the phone lines lit up. That was it (we thought)...our careers were over. One persistent caller hung on long after the others had given up. We knew it had to be (owner) Harwell Shepard. Terry finally answered with a meek 'Hello?' A young lady on the other end wanted to know what was so funny. He explained that it was a long story, and thanked her for calling. Neither one of us ever heard another word about it. Most of Denton was (probably) asleep by midnight, and, thankfully, that included Mr. Shepard."
The station's news presence on Denton streets got a little more stylish by the end of the 1960s: "In 1969, KDNT had been using a new mobile news unit, a fire-engine red 1968 Pontiac LeMans, a little bit souped up to suit Sandy Shepard's tastes, for just a few months," Scott Causey explained. "We got a call one day about a bad wreck out on I-35, nearly 10 miles out of town. Buford Harrell (newsman) and I took off to cover the story. He cranked the car up to about 75 MPH once we hit the highway. It was so hot at 75 that, when he hit the air conditioner switch, the engine immediately blew. We never got there."
An internet blogger, "Box," remembers KDNT's intense weather coverage in the late 1960s: "In 1969, my best friend and I go off to North Texas State. A month after arriving in Denton, it's hit with a 'tornado watch.' The tornado just hit Fort Worth, and was coming up I-35W to Denton. My dorm was on the edge of campus, right near the football stadium. My best friend and I pushed a bed over to (block) the window and we looked out towards Fort Worth. We were listening to KDNT. People were reporting on the radio giving updates of the path of the tornado. Being from New York, this was exciting…we had never seen a tornado, or been in a watch or a warning. Then we realized that these guys weren't using radar: KDNT had four cars reporting where the tornado was. 'Mobile One reporting…I'm on I-35, headed west [west?]—nothing here.' 'Mobile Two, I'm out on Route 26, nothing here.' They were in cars driving towards Fort Worth, looking for tornadoes." (Comments edited for continuity)


DFW callers get toll-free access to KDNT
Across town, North Texas State's campus station KNTU-FM signed on October 31, 1969. And, acknowledging KDNT's audience to the south, a toll-free metro line was added for Dallas-Fort Worth callers to use. Listening to KDNT-FM was sketchy at best inside the Metroplex. "Even with my Philco stereo tuner's antenna at full mast," said former KDNT employee Mike Shannon, "listening was staticky at best, even on the northeast side of Dallas in Garland."
Listener Joe B. Rice recalled some of the finer points of KDNT's success in the 1960s: "Like many teens in Denton, I cut my teeth on KLIF in Dallas, but when nighttime rolled around, we listened to KDNT. As a pre-teen, I remember my folks and grandparents listening to KDNT. I recall a mid-day contest called, "Shout That Slogan," which ran weekdays since the 1940s. My mother won the contest several times. I believe the payout was less than $5, maybe $4.40. As a kid, I called and bugged the DJs with requests, and I fondly remember listening to the Saturday night country show in the early 1960s."
Rice continued: "Of special note, I remember the KDNT Mobile News Unit #2...I bought it! That white 1964 Chevy II 4-door was my first car in 1966. I guess Harwell traded it in for a new one. I bought the car from Chester Morris Autos. The high school kids really gave me the business for rolling around Denton in that thing."
Rice pursued his interest in radio and got his first class license at Elkins Institute in Dallas. But, when he approached Harwell Shepard in 1971 for a job at KDNT, he was turned down. "(He) said I didn't have a 'radio voice,' but he would hire me to read meters out at the transmitter site. I told him, 'No, thanks,' and moved off to Kansas for my first paying DJ job." Joe did work at campus station KNTU, and later went on to have a long career as "Joe Martin" in Wichita Falls, Texas. "I credit KDNT for lighting the fire under me to get into radio," he recently said. "As a kid of about seven years old, I often would go downtown with my dad to Sears, which was across the street from KDNT. I remember one Saturday going up the stairs of the station and walking into the stage area. The DJ saw us and invited us into the control room. That was the day that radio got into my blood."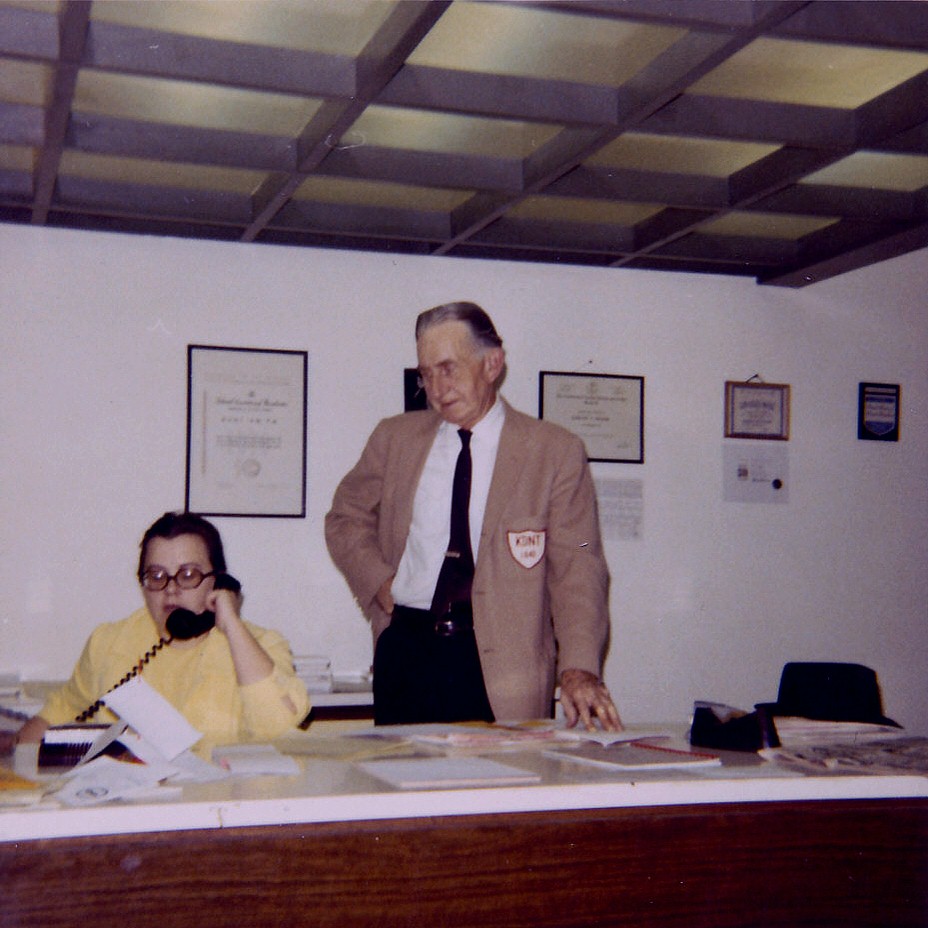 .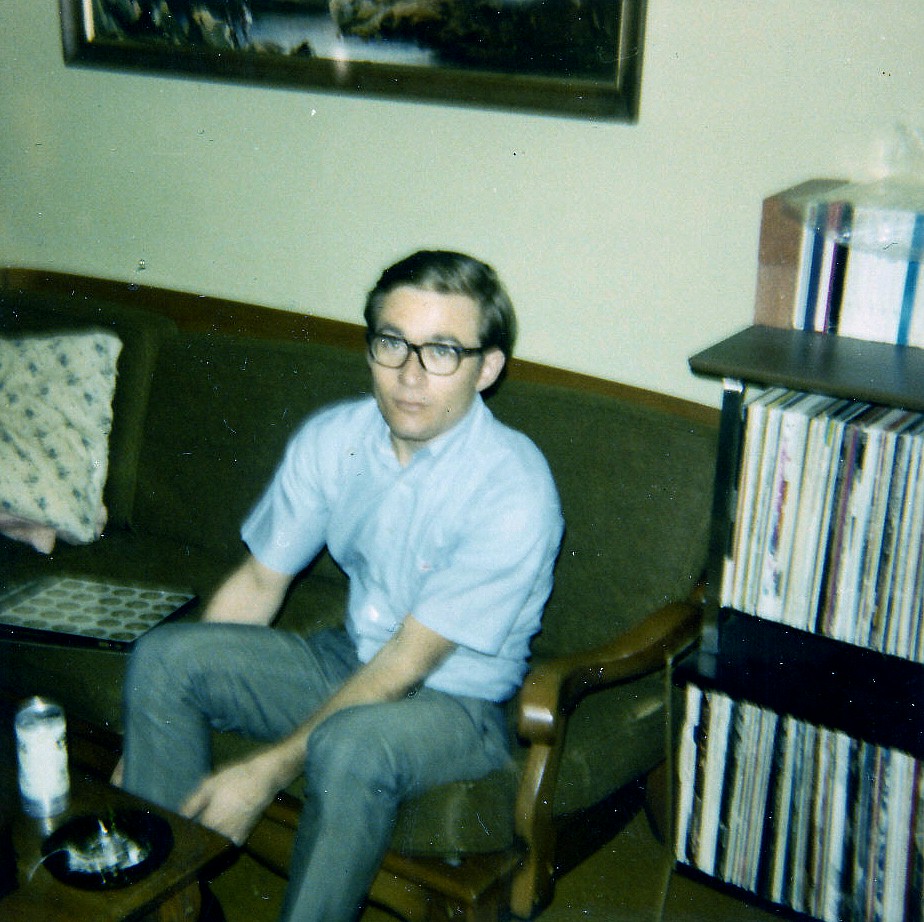 (L) Laura Skinner and Buford Harrell, 1970. (R) Mike Ehrle, 1970
Listener Daryl Stephens lived in Denton then, and was a fan of the station and "Shout That Slogan:" "My mom used to listen to KDNT for local news in the 1960s and 70s. Also, there was a show on in the mornings around 10:45 called, "Shout That Slogan." The announcer would pick five random numbers from the Denton phone book. If the person at the other end answered not with 'hello,' but with an advertising slogan they announced at the beginning of the show (such as 'Shop at Craven's and save,') the person would win money or a prize of some sort. If they answered with 'hello,' they got a consolation prize. That was back in the day when Denton only had two telephone exchanges (382- and 387-) and you only had to dial the last five digits...although the show was still on when Denton got the 383- exchange."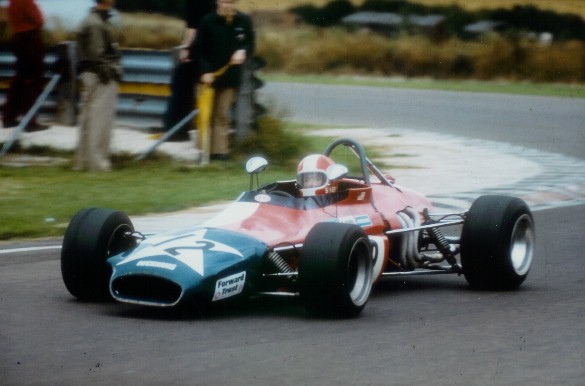 .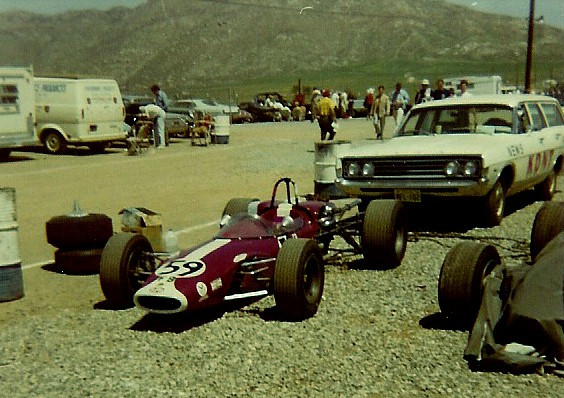 Harwell's son Sandy Shepard and two of his race cars: (L) A 1969 Brabham BT-28, raced in various locations across Europe in 1971;
(R) A Lotus 41-C raced at the 1968 American Road Race of Champions in Riverside, California. A later KDNT Mobile News Unit sits in the background
In February, 1971, Harwell's son Sandy left the station to pursue a racing career fulltime in Europe, and nighttime DJ Terry Starnes replaced him on the midday shift. (Sandy began racing go-karts as a child in 1959, drag-raced since 1967, and then retired from the sport in 1977.) While at the station, Shepard even found a way to integrate his racing interests with his radio career: "During the summer of 1968 at Green Valley Raceway, (we participated in) disc jockey go-kart and minibike races on a small track laid out on the front straight. DJ's from KLIF and KFJZ participated as well. Most people will agree with me that I was a much better race driver than a DJ." Indeed, KDNT's resident racer usually prevailed. Scott Causey didn't fare so well on one occasion: "As we were all driving back into the pit area, my go-cart got stuck with the throttle wide open," Causey remembered. "I couldn't stop, and the other guys couldn't figure out what I was up to. When they finally grasped my predicament, Sandy yelled to start turning into a tighter and tighter circle. He then jumped on the back of my cart and pulled the ignition cable from the spark plug. Thankfully, we both lived."
One of Sandy's favorite memories from KDNT is what he terms the "Teasley Lane Gran Prix:" When he worked from sundown to midnight at the transmitter (as FCC regulations at the time required two transmitter readings per hour, plus reduction of power at sundown,) he would often make good use of the lightly-traveled, two-lane asphalt road to the transmitter known as Teasley Lane, often enlisting a group of friends to tag along at racetrack speeds along the winding road!
Joe Rice, quoted earlier in this section, recalled a racing story about Sandy recently: "(Sandy) was about five years older than me. I knew who he was, but I'm sure he didn't know me. I always envied him for the 'cool' cars he had. I remember his T-Bucket, but the story I really remember was when he had his 1965 Corvette. In about 1967, I remember hanging out at the local burger joint one night when someone said a drag race was going to take place north of Denton. Sandy was there with his 'Vette. Sandy and one of his buddies jumped in the 'Vette and looked at me. 'What are you waiting for...get in!' they said. I asked where I was supposed to ride, and he told me to crawl in the back and lay under the rear window. I will never forget that night!"
Scott Causey was at the losing end of an on-air bet with Sandy, about "something to do with cars," Scott remembered. "I should have known better," he said, "I had agreed to wash his race car in front of the KDNT studios with a Q-Tip if I lost...which I did. Fortunately, I figured out an easy way out: I wrapped old t-shirts around each end of a sawed-off broomstick, and proceeded to give his car a spotless finish in a matter of minutes. Sandy didn't say what size the Q-Tip had to be!"
Picking up the midday shift after Sandy Shepard's departure was Larry Lee. "Larry was one of our most popular DJs," Scott Causey opined recently. "He had an alter ego named 'Johnny Flash,' an old-man character who was KDNT's version of 'Granny Emma' from Ken Dowe's morning show on KLIF-1190 in Dallas. 'Johnny Flash' made numerous appearances on my morning show during the last half-hour. I played the 'straight man' to some pretty funny stuff...at least we thought so back in the 70s."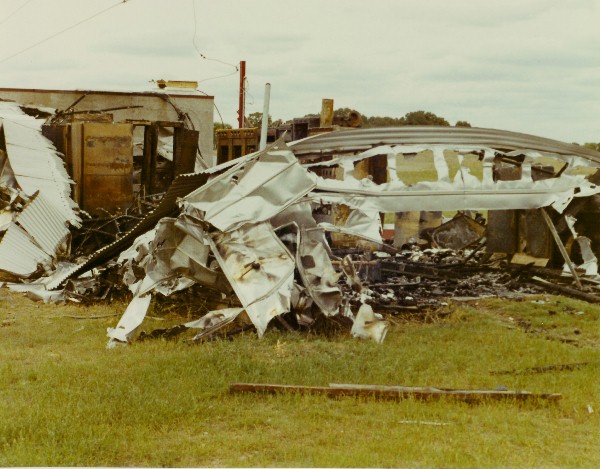 .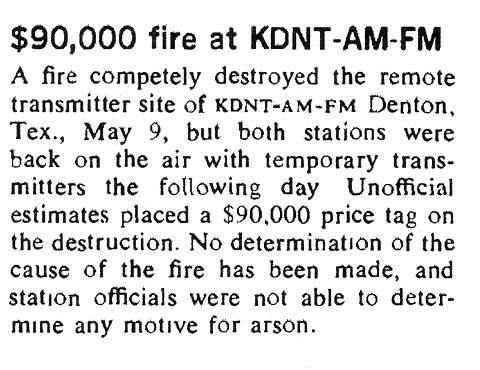 .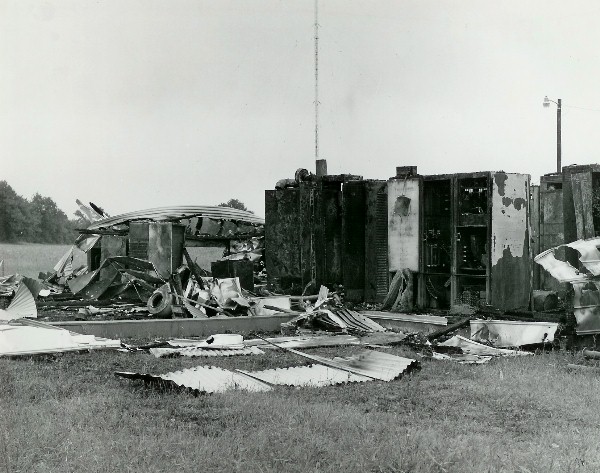 Two angles of the transmitter fire at Teasley Lane in 1971: (L) Looking north; (R) Looking south; (C) Broadcasting Magazine reports on the fire
On May 9, 1971, yet another fire struck KDNT; this time, at the transmitter shack on the Teasley Lane property. According to Mike Ehrle, "Only the concrete floor remained. It was an extremely intense fire because of the heat generated by the FM equipment. Both stations went off the air about 8:30 that evening, and the jock could not raise the transmitters by remote control. He called Hal (Whatley, chief engineer) who went to the transmitter and discovered the disaster." Station personnel couldn't contact Harwell Shepard, who was en route by plane to Norwich, England to watch son Sandy compete on a European racing tour. They did manage to get hold of Sandy, who had to deliver the bad news to Harwell at the airport. Harwell wanted to return immediately to the States to start work on the rebuild, but it took another day before a flight out was available. In the meantime, he enlisted the help of his old ham radio buddy, George Marti (of KCLE-Cleburne,) who quickly took care of ordering and connecting replacement equipment in Shepard's brief absence, and had both KDNT-AM and FM back on the air the next day with temporary transmitters. Unfortunately, Shepard had recently accepted a contract to sell KDNT to Bass Brothers Telecasting, and it stipulated that a "working studio" was part of the deal. Since an agreement wasn't submitted to the FCC until that October, and financing wasn't complete until that November, Shepard was stuck with the $90,000 tab to rebuild the transmitter and shack and to replace all of the damaged equipment, out of his own pocket.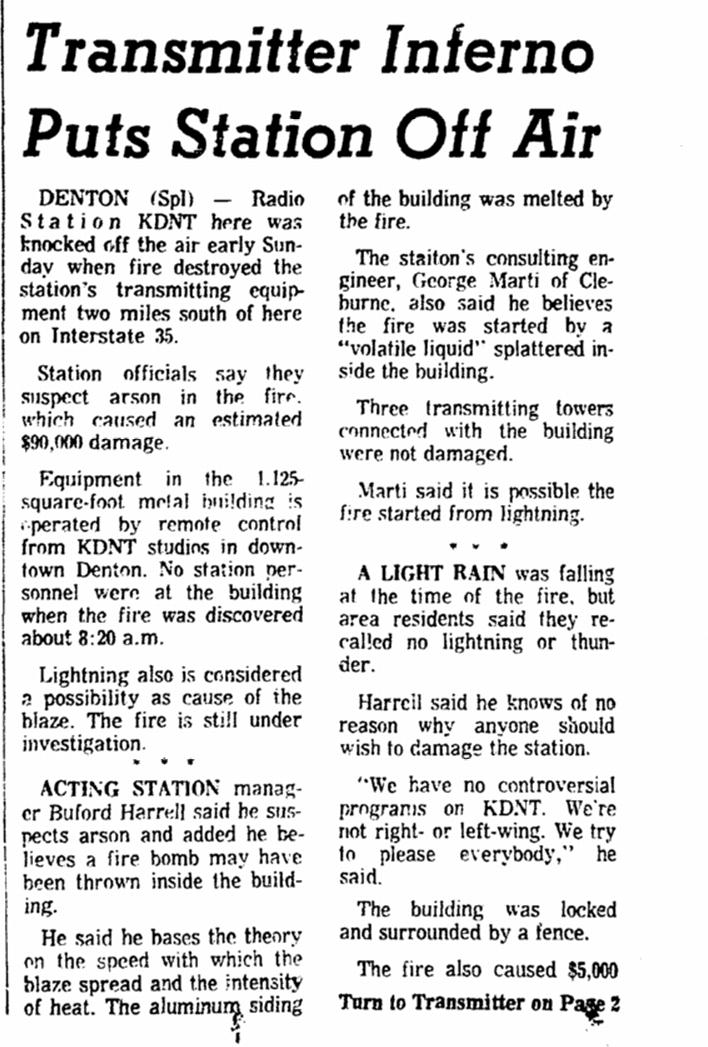 .


The Fort Worth Star-Telegram recounts the "inferno;" May 10, 1971
"I remember the day my phone rang and I was told the transmitter building had burned down and I didn't need to go in that night," recalled Doug Adams, former newsman and sportscaster for KDNT. "I lived in a mobile home park on Teasley Lane, so I went down the road to see it. The next day, I met George Marti there, and ran some errands for him to help get us back on the air." But the scare from the 1968 fire at the studios still remained: "I remember when I started work at KDNT, there was a fire extinguisher right on the console, next to the turntable. Buford (Harrell, newscaster and salesman) told me--with dead seriousness--'Use it if anything catches on fire,'" Doug said.
Chief Engineer Hal Whatley was usually fearless in the face of adversity, and was instrumental in keeping the stations running after each catastrophe over the years. But Scott Causey recalled when Whatley's tenacity was put to the test: "One night, the red beacon on top of the main tower burned out. Hal had a replacement bulb at the transmitter shack, so he decided he would climb the tower himself the next day to replace it. He put the bulb in a bag around his neck, and started up the tower. (But) by the time he got a hundred feet or so up, the wind began blowing fairly strongly...and the tower was starting to sway slightly. Undaunted, Hal went up a little further, and the tower began to sway harder...then a pack of cigarettes in his shirt pocket blew out sideways in the wind and disappeared. At that instant, he grabbed hold of the steel truss in front of him, and (recounted later that) he said, 'Lord, if you'll just let me get down this time, I promise not to ever come up here again!"
On November 10, 1971, the FCC approved a power increase for KDNT-FM to 100,000 watts. (Other sources say this increase happened in 1965 when a new 12-bay FM antenna was installed at the Teasley Lane towers; the 1971 date could possibly be when the FCC allowed the FM side to return to 100,000 watts once the transmitter was rebuilt after the fire.)



COMING UP IN PART 4, 1972-83: New owners take control of KDNT, the station finds new digs in a familiar place, Elvis and Ronald Reagan become hard stories to report, and "Jukebox Saturday Night" moves across town from KNTU. Click HERE
---
SHORTCUTS
PART 1 - 1938-46
PART 2 - 1947-63
PART 4 - 1972-83
PART 5 - 1984-93
PART 6 - 1994 AND BEYOND
A "WHO'S WHO" OF KDNT
DUSTY MEMENTOS
RADIO CENTER STUDIOS INSIDE-OUT
PHOTO ESSAY
---
TERMS AND CONDITIONS OF USE
This entire website and its contents are copyright 1984-2023 Mike Shannon. Images are copyright of their respective owners. If you feel your copyright is being infringed upon by its appearance in this website, please email me and it will be removed or credited properly. I am not responsible for errors, omissions, incomplete information, misrepresentations or dead links. Information was gleaned from newspapers, broadcasting yearbooks, magazines, personal recollection, recollections of others and the like. Copying of any or all information or images for use on other websites, in print or for other purposes, is prohibited without permission. Links are provided for the user's convenience; I claim no responsibility for the contents, accuracy or relevance of other sites that may be linked to from this site. This entire website is considered a not-for-profit "fan site," to be enjoyed for entertainment and informational purposes only. Usage of this site and/or any sites, sub-sites or pages or images contained within, however accessed, constitutes your agreement to these Terms and Conditions. If you do not agree to these Terms and Conditions, click here and you will be taken elsewhere. Proceeds from advertising & duplication services are directly used for site maintenance, hosting fees and research costs.