THE HISTORY OF
KDNT RADIO
IN DENTON, TEXAS
PART 6: 1994 AND BEYOND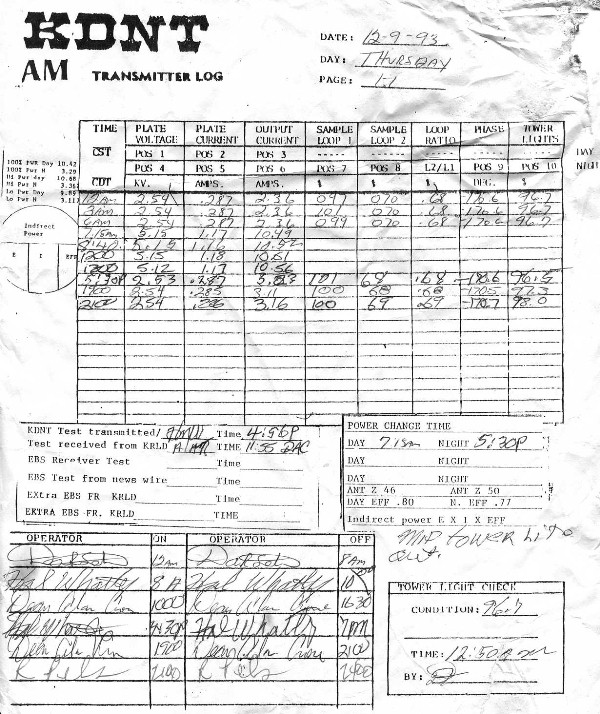 Transmitter log for KDNT's final day on the air (as an English station, anyway,) December 9, 1993
(another gem found amongst the rubble at the Teasley Lane studios demolition.) New owner
Rodriguez Broadcasting would keep the KDNT calls three more months before changing them to KICI
After 55 years of continuous service to the community, KDNT-AM was sold to Hispanic radio cluster owner Mark Rodriguez Jr. Broadcasting on December 1, 1993, for $650,000, and was soon flipped to a Tejano country "Kick" format. "Tough economic times forced me to sell," owner Galen Gilbert told the Dallas Morning News on November 10, 1993. "We gave it everything we had, but it became hard to make ends meet. For 10 years, though, we performed an awful lot of good service to the community." Most of the eight remaining KDNT employees retired, but three were transferred to Galen Gilbert's Community Service Radio Group in Sulphur Springs, TX. Gilbert, whose radio career began in 1939, sold off his last station in 2008. At one time, he had stations in 14 markets, including North Texas stations KSTV-AM/FM in Stephenville, KZEE-AM in Weatherford and KDXE in Sulphur Springs.
Talk show host Joe Dodd told the Dallas Morning News in 1993 that, with the city's loss of KDNT, the city's residents would no longer have a platform for their opinions: "It was the closest thing we had to a town forum. Not only do we lose a local forum, but we don't get anything in return to fill the void that will be left after KDNT is gone."
As mentioned in Part One, the ownership change at KDNT signaled the end of a long-running program, according to listener Daryl Stephens: "Another claim for KDNT is that they broadcast the Sunday morning services of First United Methodist Church (of Denton) for over 50 years, until the station sold and went to a Spanish format (in 1993.) I was told that this was the longest continuously-running religious radio program in the country."
Galen Gilbert still held the station's license for a short time thereafter, pending the FCC's final approval, and took advantage with a one-time-only resurrection of the station on December 9, to broadcast "The Alan Crone Talk Show." The show was brought back for one final airing to discuss important Denton ISD issues (the Denton Record-Chronicle's front-page headline read, "KDNT Not Dead Yet.")
On March 15, 1994, three months after the purchase and format change, KDNT-AM was officially renamed KICI and continued its Spanish broadcasting; the on-air operation soon vacated the Teasley Lane studios in Denton and relocated to the Dallas area. Mark Rodriguez sold it to Heftel Broadcasting on August 8, 1997, for $650,000, the same amount he paid for the station in 1993. "We felt (the station) added little compared to the hassles of operating it and staffing the point-of-presence studios and officers at Denton," said David Stewart, former VP of Engineering for Tichenor Media (part of Heftel,) recently. "The increase to higher power and move to Dallas was too little, too late, as far as we were concerned, but really good for a smaller operator like Mortenson." Longtime KDNT chief engineer Hal Whatley, along with his wife, Betty, worked for the new ownerships from May 24, 1994 until January, 1999, with Hal still handling engineering duties, and Betty doing collections (initially,) phones and filing out of the mostly-abandoned Teasley Lane studios. Once FCC regulations regarding main studio locations changed in late 1998, "some of our remote outposts were no longer needed," Stewart said. "The Whatleys were nice people and did what we asked for years."
Also in 1994, former KDNT talk show host Carl Martin died on November 14 of lung cancer at age 65. He had hosted the "Denton County Party Line" program on the station earlier in the 1990s.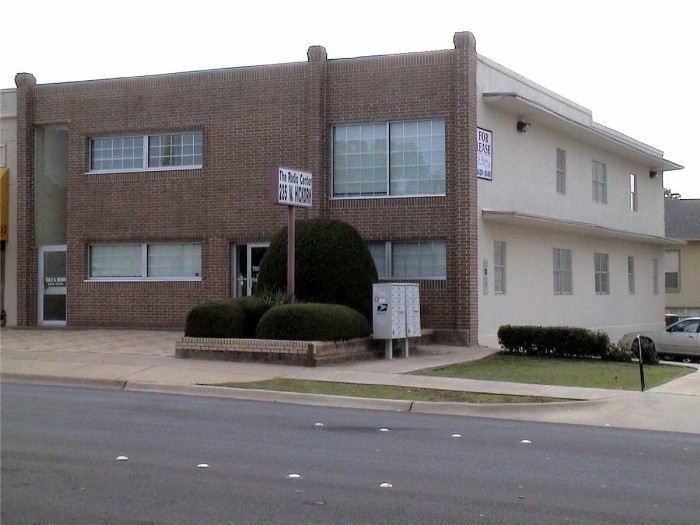 After more than a half-century as the hub of the Shepard family's businesses,
Sandy Shepard sold the Hickory Street building known as "Radio Center" in 1998
KICI became KINF on March 15, 1996, exactly two years after the KICI calls were activated. KINF became KTNO on July 11, 1997, broadcasting the "Radio Vida" format, consisting of Spanish religious programming. On August 6, 1998, Harwell Shepard's son Sandy sold the old Radio Center building on Hickory Street. Sandy says, "The basement still had all the old funeral home records (from the pre-1947 days of Radio Center being a funeral home,) as well as casket hardware and the old pump organ."
KDNT/KZRK-FM successor KDGE bailed out of 94.5's incurable weak signal and traded for the 102.1 frequency on November 10, 2000. Ratings went from #30 to Top 10 within six months, and 94.5's successor, KTXQ (later KSOC, owned by Radio One,) floundered immediately. Even a 2006 move to a new tower in Ethel, Texas, did not appreciably affect the signal into Dallas-Fort Worth.
In 2002, KTNO-1440 owners petitioned the FCC to move the station's city of license from Denton to University Park, Texas (an inner suburb of Dallas.) The request was granted, leaving Denton with campus station KNTU (relicensed to McKinney in 2001 to allow KHYI-95.3 to leave McKinney for Plano;) KHCK, which was Denton in name only, as it continued to serve a Hispanic-only audience as a multi-station simulcast patterned around Dallas-Fort Worth; and KSOC-94.5 (the former 1980s version of KDNT-FM,) which is exclusively used as a DFW rimshot station.
The KDNT call letters were reassigned for the first time on August 25, 2004, given to a low-power TV station near Durant, Oklahoma. The calls are now said to stand for "DuraNT."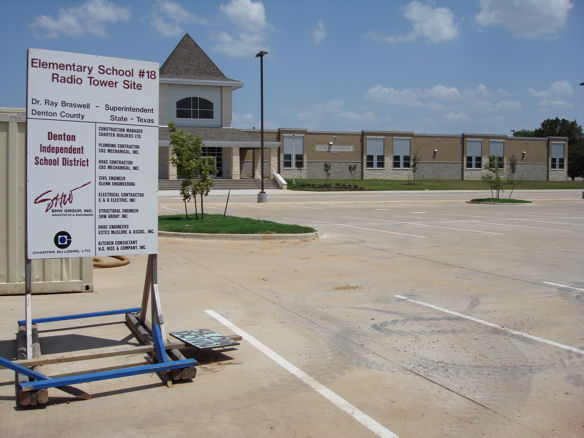 Construction wraps up on L. A. Nelson, Jr Elementary School.
Click HERE to see a progression of photos from the demolition of the
KDNT studios and towers, to construction and completion of the school
Early in 2005, Mortenson Broadcasting sold the Teasley Lane property to the Denton Independent School District. On October 25, 2005, the three towers were knocked down and disassembled (and an unintended final tribute to KDNT came in the form of a sizable grass fire caused by a cutting torch!) The studios were razed in January, 2006; construction of a grammar school commenced on the property a few weeks later. It was known first as "Elementary School #19," and now "L. A. Nelson Jr. Elementary School," under the revised address of 3909 Teasley Lane. (Nelson was an attorney and former mayor of Denton who died in 2006.) The school opened to students in August, 2007. The school district has already expressed an interest in assembling a permanent display at the new school that will honor the history of the property and KDNT.
EPILOGUE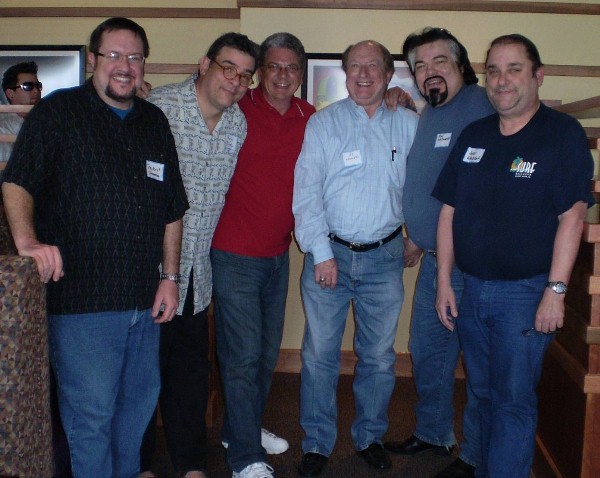 An unintentional reunion of KDNT exes happened February 29, 2008 at the quarterly
"DFW Radio Lunch Bunch" gathering in Irving, TX, representing three decades
of the station's history! L-R: Mike Shannon (1988,) George Gimarc (1977-80,)
Doyle King (1978-81,) Jay Weaver (1965,) Ray Whitworth (1977-79)
and Andy Waldrop (1977-79)
Aside from photographs, little physical evidence remains of KDNT's existence. The former Hickory Street studios still bear the name, "Radio Center," and, although the Wheeler Drive designation has been dropped at the Teasley Lane property, a new 167-acre housing development near the former station site has been named, "Wheeler Ridge."

Sandy Shepard proudly displays his 1923 Ford T-Bucket. He says, "This car was built by my dad and me from
1963 to 1966 with the help of Wayne Calvert and others...with a complete restoration done in 2010."
And, with the family businesses sold long ago, Sandy Shepard enjoys his retirement these days by maintaining an impressive array of collectible automobiles at his Denton area ranch with wife Pam, and still spends time restoring and rebuilding race cars. And Sandy still takes great pride in his father's accomplishments and contributions to the broadcasting industry and to the city of Denton, Texas.
---
BUT YOU'RE NOT AT THE END OF THE WEBSITE!
CHECK OUT THESE SPECIAL FEATURES:
A "WHO'S WHO" OF KDNT: former employees and where they are now
DUSTY MEMENTOS: photos, rate cards, coverage maps, letters
RADIO CENTER STUDIOS INSIDE-OUT: photos, floor plans, history
PHOTO ESSAY: Transforming a radio station into a grammar school
---
SHORTCUTS
PART 1 - 1938-46
PART 2 - 1947-63
PART 3 - 1964-71
PART 4 - 1972-83
PART 5 - 1984-93
A "WHO'S WHO" OF KDNT
DUSTY MEMENTOS
RADIO CENTER STUDIOS INSIDE-OUT
PHOTO ESSAY
---
TERMS AND CONDITIONS OF USE
This entire website and its contents are copyright 1984-2023 Mike Shannon. Images are copyright of their respective owners. If you feel your copyright is being infringed upon by its appearance in this website, please email me and it will be removed or credited properly. I am not responsible for errors, omissions, incomplete information, misrepresentations or dead links. Information was gleaned from newspapers, broadcasting yearbooks, magazines, personal recollection, recollections of others and the like. Copying of any or all information or images for use on other websites, in print or for other purposes, is prohibited without permission. Links are provided for the user's convenience; I claim no responsibility for the contents, accuracy or relevance of other sites that may be linked to from this site. This entire website is considered a not-for-profit "fan site," to be enjoyed for entertainment and informational purposes only. Usage of this site and/or any sites, sub-sites or pages or images contained within, however accessed, constitutes your agreement to these Terms and Conditions. If you do not agree to these Terms and Conditions, click here and you will be taken elsewhere. Proceeds from advertising & duplication services are directly used for site maintenance, hosting fees and research costs.