THE HISTORY OF
KDNT RADIO
IN DENTON, TEXAS
PART 4: 1972-1983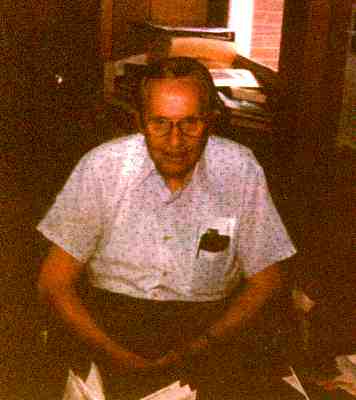 Owner Harwell Shepard in the 1970s
On March 15, 1972, with 63 year-old Harwell Shepard finished with the rebuilding and re-equipping of the transmitter, ownership of KDNT was officially transferred to Bass Brothers Telecasting of Fort Worth, headed by president Mel Wheeler. Shepard, who had simply decided to retire after 34 years, sold the AM/FM combo for $1 million. The Bass brothers were the multi-millionaire sons of Perry Richardson Bass; the Richardson and Bass families still own much of the property that comprises downtown Fort Worth today. Bass's early foray into broadcasting later expanded to several other stations scattered about the US; in 1987, they purchased KZEW-FM and KLDD-AM in Dallas from the Belo Corporation as part of the Bass's affiliation with newly-formed Anchor Media. Shepard, who really hadn't considered selling the stations beforehand, got an unsolicited visit from a station broker in 1971. Once the idea of selling out was on the table, Harwell first offered both stations to his son Sandy, but Sandy was already entrenched in a racing career. The broker then matched up Harwell and the Bass Brothers, who struck a deal together. Did Shepard have any regrets? "I wouldn't go back and do it again," Harwell admitted in 1988 about starting up KDNT in the first place. "I had to learn the hard way and make all the mistakes. I wouldn't take anything for what I did, but I don't want to do it again."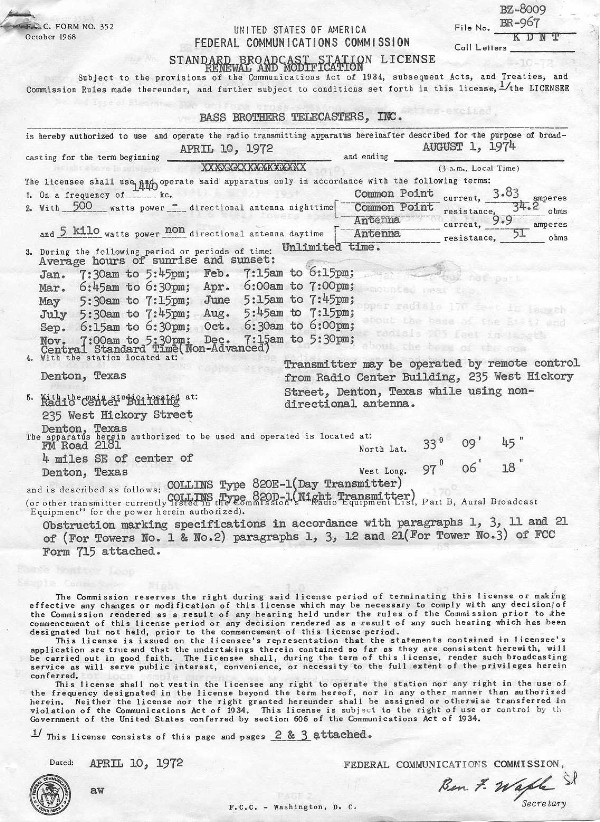 KDNT's license from 1972. This was found amongst the rubble when
the Teasley Lane studios were being demolished in 2005
Bass soon switched the AM format to hard Top 40, and the FM to Top 40 Gold. Both stations began broadcasting 24 hours a day (other sources say 24-hour broadcasting began after 1975.) Earle Rast and Hal Thompson (and, later, former KBOX-AM/Dallas GM Bob Bostian, who just came from a short stint at KLZ-AM in Denver) took over as co-general managers over the course of 1972-73. Rast and Thompson quickly alienated the station's advertisers by tripling commercial rates, while Bostian's big-market promotion and programming ideas fell on deaf ears. "Harwell was charging $9 for a 30-second spot," Mike Ehrle remembers. "When Bass took over, the first thing Earl and Hal did was to jack up the $9 rate to $27 and to notify all sponsors by letter that they would pay the increased fee or be taken off the air. So, right off the bat, they lost 99% of their advertisers. Those small businesses in Denton could not afford such a large increase in one whack."
"By the time Bob Bostian was brought in," Ehrle continued, "the damage was too extensive to fix with the amount of money and time it would have taken. And they (Bass) just didn't want to spend the money…Bob realized he was in a no-win situation."
Click HERE to hear some KDNT jingles from Christmas, 1972
Credit: Scott Causey
In 1973, the AM's Top 40 format was flipped to country music. Morning personality Scott Causey reflected, "It wasn't my favorite, but it did grow on me." A change on the midday shift was made the same year when longtime DJ Terry Starnes (Terry Wayne) departed the station. Mike Ewerz replaced him. "He was our resident 'hippie,'" Causey said. Starnes, by the way, married the girl who would call him every night on the request line while he was on the air. Today, they remain happily married and now have two grandchildren!
Meanwhile, Harwell Shepard, who spent time "loafing and traveling after the sale, including two trips around the world and visits to Australia, Hong Kong and Europe," as he explained in 1988, gave up on retirement in 1973 and purchased a station in Maui, Hawaii from owner Tenneco. He traveled back and forth to Hawaii every one to two months, and operated the station until 1981. He then sold it to the station's manager and sales manager, and retired to Denton fulltime thereafter.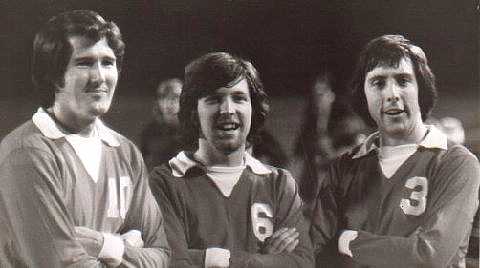 .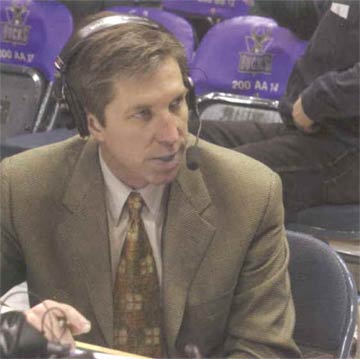 .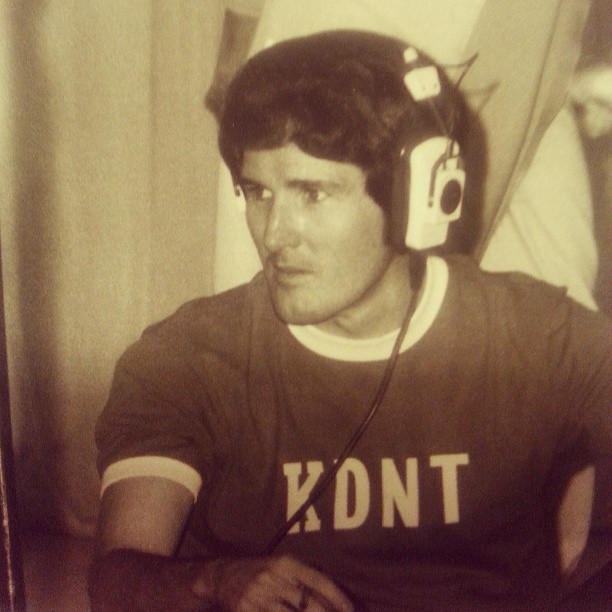 (L) KDNT News Director Roger Daniel, sportscaster Ted Davis and afternoon jock Terry Wayne (Terry Starnes.) This photo was taken at a celebrity soccer match between KDNT and the upstart Dallas Tornado. "It was awful," Daniel said, "as in an awful turnout and an awful attempt at soccer." (C) Ted Davis today, who started at KDNT at age 17, was later with KVIL in Dallas from 1978-88, and later did play-by-play for the NBA's Milwaukee Bucks. (R) Roger Daniel sports an official KDNT t-shirt!
Older talent like Buford Harrell was slowly phased off the air after the ownership change. By 1973, Roger Daniel became the news director and the one-man news department at the station: "It was my first broadcasting job, and I made $450 a month gross. Even in 1973, that was poverty wages. But it included the incredible perk of getting to drive the station's news car, a tomato red Pontiac LeMans with 'KDNT RADIO' in white, 18" letters on the side. I thought it definitely made me a babe magnet!" [Note: This is not the same LeMans that blew a motor in an earlier quote from Scott Causey!] By 1974, Roger finally got some help--with the hiring of Jay Ward, former newsman for WRR-AM, WFAA-AM and KFJZ-AM in Dallas-Fort Worth.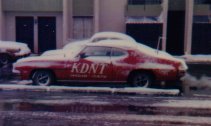 The KDNT Mobile News Unit of the 1970s, usually driven by
News Director Roger Daniel, even in the snow
"One night, it was pouring rain, and there was lots of flooding in town," Roger recalls. "I decided to hit the streets and do some live reports. My adrenalin rush for the hot story ended when I started down a flooded street, and my headlights began to disappear under water. At the same time, I began to feel the rear end of the car start to float. I put it in reverse and managed to get out without destroying the car!"
Click HERE to listen to jingles used by KDNT in spring, 1974
Credit: Scott Reese
Former employee Vernon Hartman remembers covering sports after the transition to the Bass Brothers ownership: "I was a KDNT employee off and on from 1971-74, doing on-air work, overnights and a lot of play-by-play, mainly of high school football and basketball [mainly Denton High School games, and often over 106.1.] When Ted Davis joined the station, I taught him how to use the board and set up remotes. We occasionally run into each other today, and I also stay in touch with Doug Adams, my frequent stat man and color man, who was later with TSN, NBC, and was the station manager for KXAS-TV in Fort Worth." (Adams is now director of the National Repertory Orchestra based in Breckenridge, CO.) Hartman later made his professional opera debut in Fort Worth, and has been with the world-renowned Metropolitan Opera for the last two decades. He also owns Impresario Productions in New York. "I have nothing but fond memories of the old upstairs studio downtown," he says today.
KDNT station manager Mel Wheeler, a longtime Denton resident, left his position at Bass Brothers Telecasting at the end of 1974 after nearly eight years with the company. He formed "Mel Wheeler Inc.," and started buying stations of his own in 1976. He approached his former employer about KDNT; the Bass brothers agreed, and sold the stations to Mel in October, 1976, for $427,000. (Bass also sold two Virginia radio stations to Wheeler, separately from the KDNT transaction.) Wheeler enlisted his family to help the station in various key roles: Wife Vinny handled accounting, son Clark was engineer (alongside longtime chief engineer, Hal Whatley,) and son Steve handled other duties. Another son, Leonard, joined the family business after college. Mel Wheeler owned a 70% share in the stations, with the rest divided between family.
A syndicated music show, "Soulsearchers," was aired during the mid-1970s on KDNT. Hosted by Willie Monroe (WBAP-TV/Fort Worth news anchor) and Roy Lee Johnson (KNOK-AM/Fort Worth jock,) the show was described as a black version of the contemporary Christian program, "Powerline." Handling sales during the summer of 1975 was Dave Garland, who went on to a very successful radio career in north Texas. These days, he runs his own company that brokers radio station purchases.
Harry Dierks, program director from 1976-77, recalled a strange promotion that disc jockey Charlie Tuna (Scott Reese) put together: a Pet Rock birthday party! About 25 of Tuna's listeners dropped off their Rocks at the studios for a week or so to celebrate. Reese recently wrote to say, "I can't believe Harry Dierks remembered my Pet Rock Party!"
But sometimes 'sales drives programming,' as is the case in radio today: former KDNT-AM employee Ray Whitworth recalls that GM Jim Boso "struck a deal with with a local Denton music store. He sold them 15 minutes of a live, local broadcast heard Monday through Friday at 4PM...playing nothing but ORGAN music. The station, of course, had a country music format. Not a great match, but it sold and made Jim money."
And Boso's tenure as GM generated some occasional hostility: CE Hal Whatley and morning personality Russ Campbell both used the nickname, "Bozo" (but not to Boso's face!) while former employee Ross Ramsey recalls, "Boso got mad about something and posted a famous memo telling us there was going to be a 'meating.'"
During the Wheeler ownership, the FM side was mainly playing Top 40 Gold via automation supplied by Century 21 Programming of Dallas, under the moniker, "K-106." The format was modified in early 1977 to soft rock/easy listening. However, Mel Wheeler's son Leonard had recently changed his own station in San Diego to an all-disco format, and it was wildly successful...so Mel decided to do the same. Century 21 did not have a disco library, but Mel and Leonard encouraged them to create one, which they did...and K-106 became the first station in the DFW market to format disco. KKDA-FM and KNOK-FM followed KDNT-FM's lead several months later.
While attention was slowly moving away from the AM side and towards KDNT's FM station, the AM still kept it "live and local," with frequent daily newscasts and even farm reports (as part of the Alamo Farm Network in the late 1970s.) And a couple of years earlier, in 1974, KDNT-AM had dropped the Hard Top 40 format in favor of "Cool Country."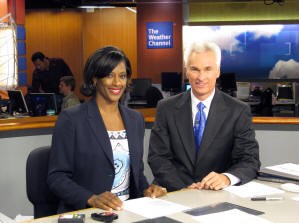 Local boy done good: KDNT's Nick Walker with
co-anchor Vivian Brown on The Weather Channel
Photo credit: The Weather Channel
During that era, an NTSU college student named Nick Walker did newscasts for KDNT. After graduation, and with several years of working in the broadcast trenches around the country thereafter, Walker joined The Weather Channel in 1999, and is one of the meteorologists that viewers have come to know very well over the last couple of decades!
Click HERE to listen to one of KDNT-FM's "K-106" jingles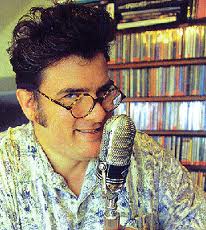 .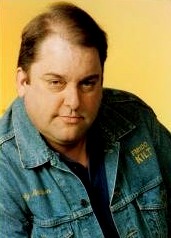 "Jukebox Saturday Night" on KDNT-FM featured co-hosts
George Gimarc (L) and Andy Waldrop (R)
In March, 1977, North Texas State University students George Gimarc and Andy Waldrop moved their popular oldies program, "Jukebox Saturday Night," from campus station KNTU-FM to KDNT-FM. The show had begun on KNTU in the fall of 1975. Gimarc would later become a successful radio programming innovator, creating the classic rock and alternative formats in the 1980s. Waldrop continued in radio as well, handling on-air and management positions in various markets across Texas, eventually landing as operations manager for NAVTEQ/Traffic.com in Houston. He also hosts an oldies program, "Solid Gold Sunday," on KSHN-FM in Liberty, Texas, near Houston.
Former KDNT newscaster Jeff Cunningham had the unenviable task of reporting Elvis Presley's death to listeners on August 16, 1977, as he reflected on a recent internet blog: "I was the newsman at KDNT (FM) in Denton, Texas. The jock on the air was a practical jokester. Harley (Balew) rang me up (in a nearby studio) and said, 'Have you heard Elvis died?' I started laughing and said, 'OK, what's the punchline?' I looked at him in the control room and he was crying. Suddenly, at that almost exact moment, the teletype rang what we called '10 bells.' The initial AP report said, 'The 47 year-old King of Rock and Roll, Elvis Presley, is dead.' I stood watching as it was typing off. I then ran to the news booth and broke the news to hundreds of thousands of people. Then, 10 bells more. This time, it corrected his age to 42. I kept every bulletin that came over the wire, and, about two months later, a janitor, thinking it was trash, threw them all away. Horrible day. On the 17th, the next day, I accepted a job in Texarkana, gave my 10 minutes' notice and left Denton radio forever." In a separate interview, Jeff also said, "After Elvis died, I sure didn't want anything to do with news anymore...I preferred playing 'Ricky Radio.' (Cunningham came from KXOL and ended up at KSCS in Fort Worth later, but put radio aside to become DR. Jeff Cunningham, a chiropractor based in East Texas!)
However…Andy Waldrop took a different approach to Presley's death during his and George Gimarc's weekly program, "Jukebox Saturday Night." Ray Whitworth, who was answering phones for the show, remembers that, after nearly a week of playing only Elvis songs and tiring of the relentless press coverage, "Andy took to the air with the following statement: 'Ladies and gentlemen, this just in from United Press International, dateline August 20, 1977, 7:30PM Eastern Daylight Time from Graceland in Memphis, Tennessee: The 'King of Rock and Roll,' Elvis Presley, is STILL DEAD. And he's valiantly fighting to remain dead.'" Needless to say, callers were enraged and some even threatened Andy's life!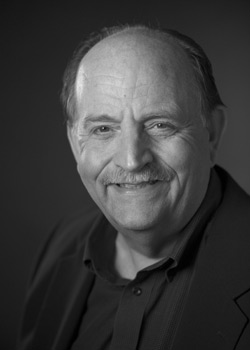 KDNT News Director Russ Campbell, today
In 1978, future station manager/faculty adviser for KNTU-FM/Denton, Russ Campbell, became the news director for both KDNT-AM and FM; he had been co-hosting the AM side's morning show with Norma Jean Bartholomew for the past year. Campbell and other KDNT employees Ray Whitworth, Andy Waldrop, George Gimarc and Sam Sauls had all been roommates at North Texas State, and all had worked at campus station KNTU as well.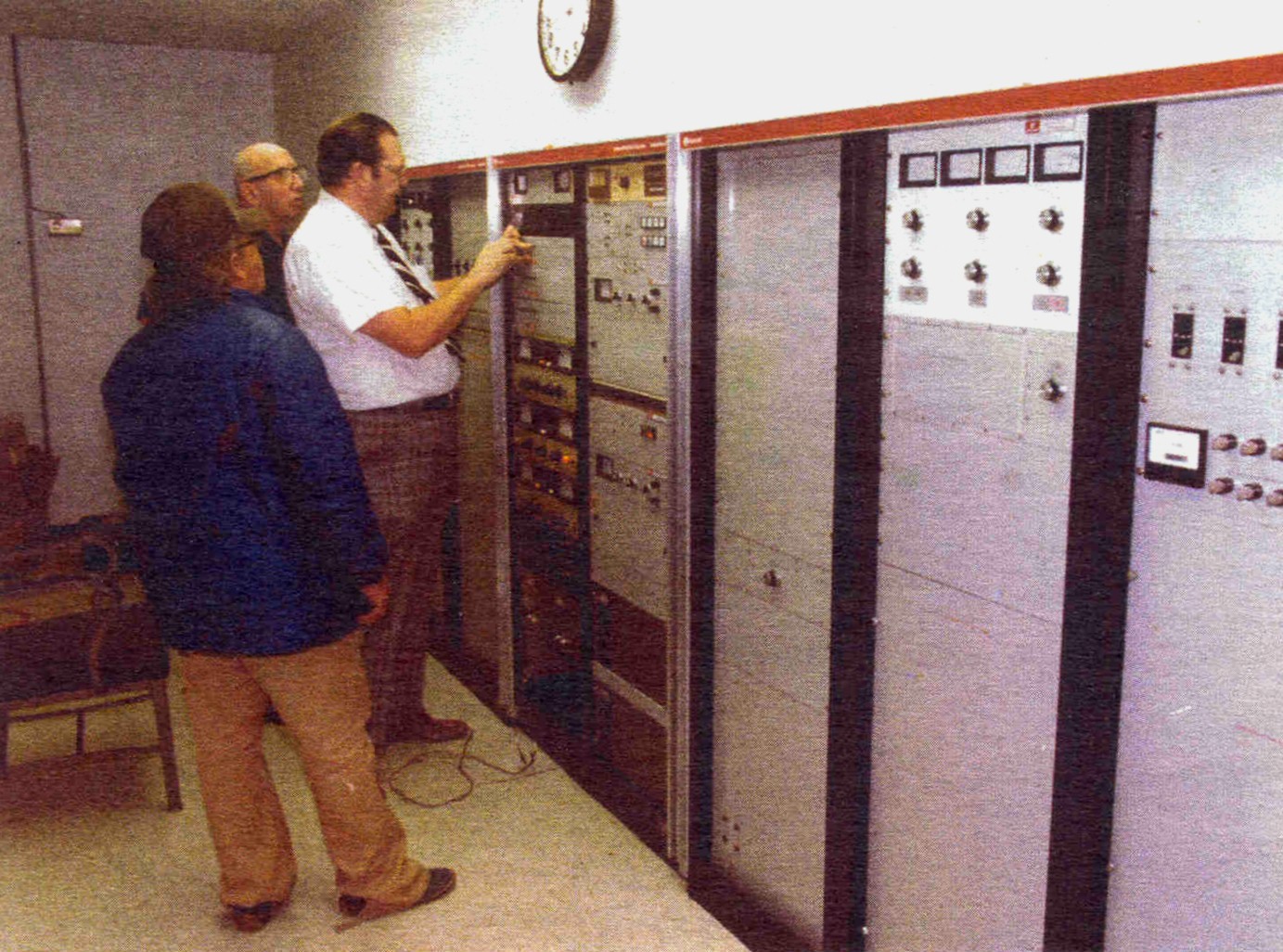 In 1979, KDNT Chief Engineer Hal Whatley (L,) contract engineer Glenn Callison (C) and
contract engineer Jack Sellmeyer (R) observe the new FM transmitter setup in Carrollton, Texas
Photo credit: Jack Sellmeyer via Radio World
During 1979, Mel Wheeler had a new FM tower constructed in Carrollton on I-35E at E. Trinity Mills Rd. His intention was to aim the station directly at the profitable Dallas-Fort Worth market, abandoning Denton in the process, so that KDNT-FM could eventually be sold at a premium. This idea didn't set well with former station sportscaster Fred Graham. Bill Mercer explains: "(Fred) approached the new managers of the station about putting UNT athletics on it. Fred was kind of put on hold, given the runaround about the plans, and then suddenly it was announced that the FM transmitter was moved into Dallas County and became a 'Dallas' station. Fred was so incensed that that he and I made contact with an FCC attorney, and, years later, (he and I) started station KJZY-99.1 FM (originally KWDC) which was a broadcast entity licensed to Denton."
Dave Scott, formerly CEO of Century 21 Programming (and not to be confused with Scott "Dave Scott" Causey of KDNT,) explains some of the logic behind the tower relocation: "The transmitter move close to Dallas was planned for a very long time. The Trinity Mills site was a zoning nightmare in the midst of some very high-dollar houses. But it was as far south as the transmitter could move and still be in Denton County (to technically remain a Denton station.) And the land was expensive, so only a short tower was put up...with hopes of buying more land and extending tower height later--or selling the station for big bucks, as Mr. Wheeler was getting up in age."
"(The later move of 106.1's tower to Cedar Hill in the 1980s) was more a result of Hicks and, later, ABC, having the time and money to take advantage of FCC regulations," Scott continued. "Other stations close to 106.1 on the dial had to be moved up or down frequencies slightly, or to other tower sites, to make the minimum-distance separations work. It was like a chess game with a lot of pieces moving at once. Once the FM transmitter moved to Trinity Mills, the other station moves were made possible, which, in turn, permitted the move to Cedar Hill."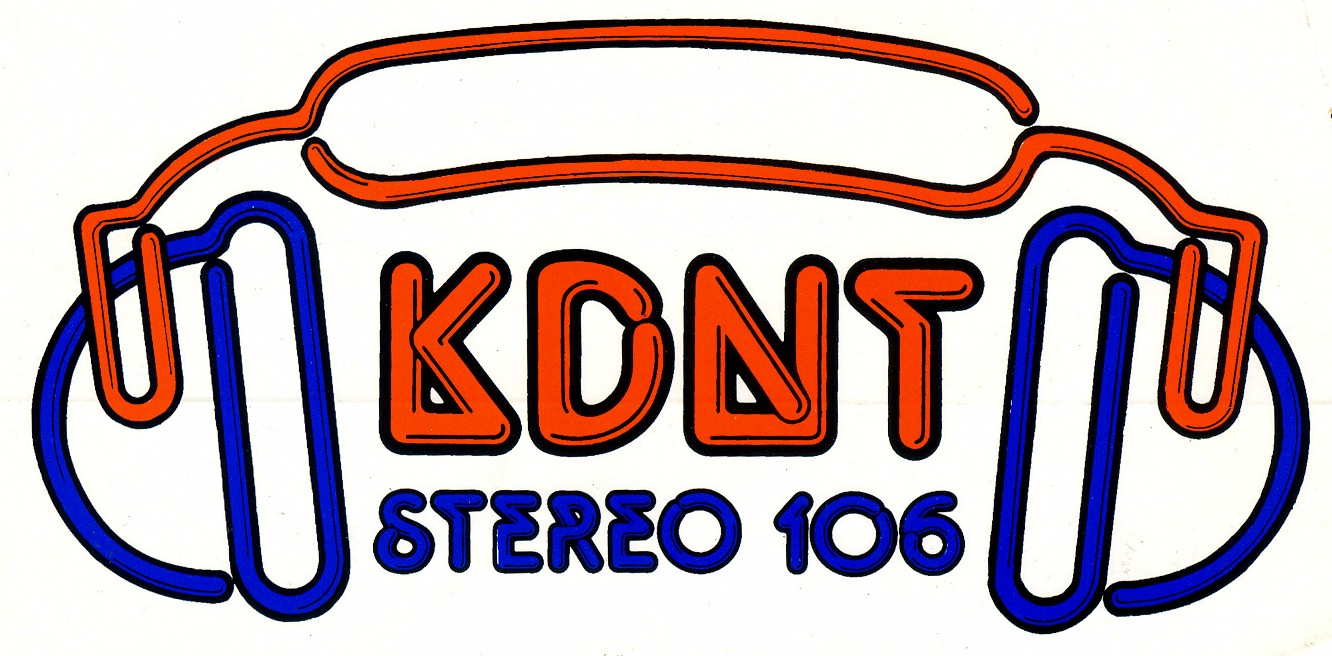 KDNT-FM logo from the late 1970s
Credit: George Gimarc
After disco's popularity waned in 1979, Mel Wheeler asked Dave Scott to make a recommendation for a new direction to take KDNT-FM--he suggested country. But while the change at KDNT-FM was pending, competitor KPLX-99.5/Fort Worth gave notice of an upcoming change from easy listening to country...and the decision was then made to return KDNT-FM to soft rock...which occurred December 6, 1979.
However, on the last day of 1979, Wheeler quietly sold KDNT-FM (on paper, at least) to a group composed of Steven Hicks (dba Hicks Broadcasting,) Summit Broadcasting and Jim Stansell (of KOAX-FM in Dallas,) for $4.6 million, who had plans to play country music. The sale was approved by the FCC and completed in July, 1980. In March, 1980, Hicks changed the calls to KDDC. In less than a year, it was rebadged KIXK, and, two years later, flipped to a classic hits format. (And the classic hits format wanted to shed its Denton heritage...as told by their 1982-84 station ID: "1-0-6...K-I-X-K, DentonDallas.")
Meanwhile, with FM quickly emerging as the preferred band, Mel Wheeler took some of his profit and, in the spring of 1980, reinvested in a cheaper property, KGAF-FM in Gainesville. He purchased the station for $1 million from owner Richard Klement of First IV Media, and revived the KDNT-FM call letters at 94.5. The process proved to be a poor decision for Wheeler, as Hicks sold Wheeler's former 106.1 for $9 million four years later in 1984 (other sources say $16 million,) and the subsequent owner, ABC, was able to aim the station (known by then as KTKS-"Kiss 106") into the profitable Dallas-Fort Worth market by relocating the towers to Cedar Hill (where most 'full-stick' DFW radio and TV station transmitters are located; other sources say that Hicks relocated the towers before the sale.) Before the radio station valuation balloon burst in the mid-2000s, the 106.1 frequency (now known as KHKS-"Kiss FM") could likely have fetched $60-$70 million.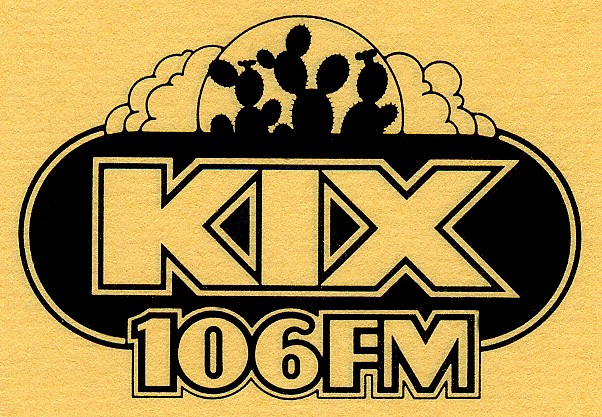 Logo for the new KDDC/KIXK-FM
Sam Whitmire, personality at KFWR-FM in Fort Worth and husband of popular DFW radio talent Debi Diaz, worked for KDNT-AM during the change: "It was KDNT-FM and became Kix-106. Mickey Ashworth was the new program director, brought in from San Antonio country station KBUC. The FCC had rules in place then that allowed you to broadcast remotely, away from your city of license, but you still had to broadcast live for a certain number of hours per week from your original city. This meant that (KDDC morning man) John Walton was in the studio at KDNT doing mornings for KDDC, aimed at DFW, across the window from me as I did mornings on KDNT-AM for Denton." (Meanwhile, the permanent studios for KDDC were now located at Preston Center [8235 Douglas Ave, Suite 300] in Dallas, as of December, 1980.)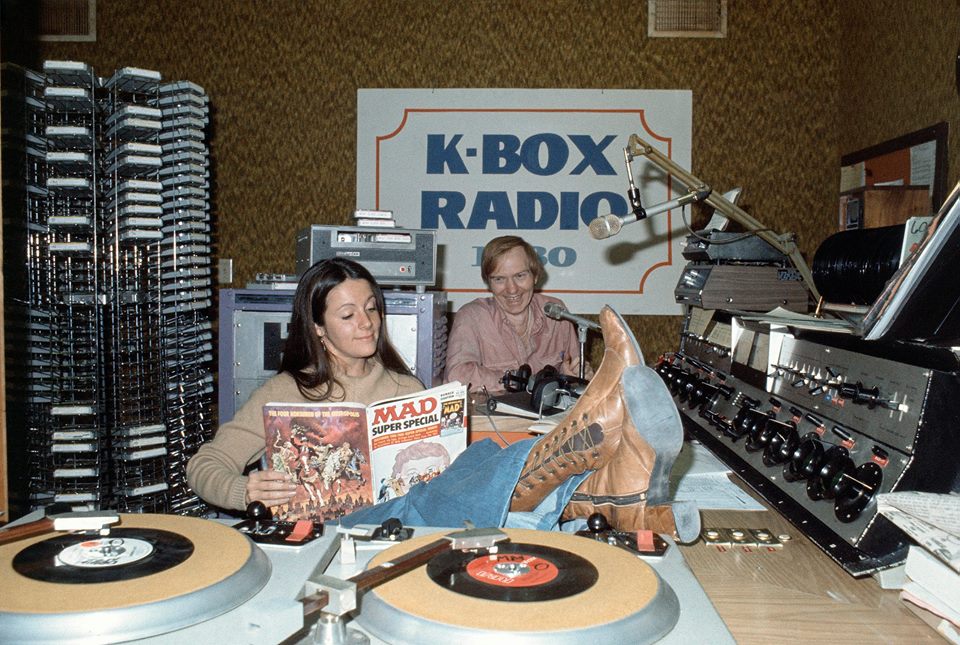 Penny Reeves and Allan Peck were the first male-female broadcast team
in radio. Peck made the move to KDDC in late 1980
KDDC also brought in heavy-hitter Allan Peck from KBOX, half of the wildly-popular "Peck & Penny"/"Peck & Peggy" morning show. "(Teaming with) Peggy (Sears) (at KBOX) worked until the end of 1980. Erosion of AM radio, KBOX's marginal signal, and time all came together then, when an offer to help start a new FM station was made...but only to Peck," Allan explained in 2004. "They wanted use of an established name; however, more music left little room for extensive personality. Kix-106...was officially the end of a decade of the most creative and enjoyable time of a now 45-year career in broadcast."
John Walton, by the way, went on to national success as half of the "Walton & Johnson" syndicated morning show, beginning in 1983. Their show continues today, and even carried 106.1 successor KTKS as an affiliate in 1986-87. Peck, meanwhile, still spins country tunes today, for KHYI-FM in Plano.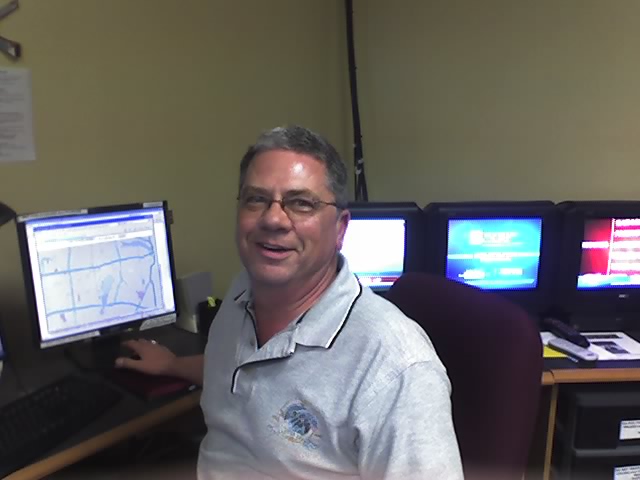 .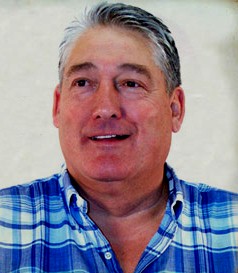 KDNT-AM personalities Doyle King and Sam Whitmire, today
But Mel Wheeler soon discovered that his new KDNT-94.5 was signally-challenged: Denton was covered well, but the Gainesville towers barely reached into the coveted DFW market—about a 70-mile distance. The frequency was basically landlocked between other stations that had FCC protection over their coverage areas, and subsequent power upgrades and tower relocations by later owners made little difference, even as late as 2002, 2006 and 2011. With the loss in revenue, the AM side was expected to pick up the slack, but Wheeler apparently grew impatient and fired most of the staff in December, 1980. Departing the station were Doyle King, Russ Campbell, Sam Whitmire and others. Whitmire says, "We played a mix of Texas artists, a slight mix of early rockabilly, some progressive country (Joe Ely, Willis Allen Ramsey, Jerry Jeff Walker, etc) and modern country. We pulled a one share in the Dallas Arbitrons (a radio ratings system.) Mel (Wheeler) fired me because he said we sounded too much like a Dallas station. He wanted the station to sound more local for Denton County. Looking back, he was right." During that period, Steve "Dusty" Rhodes did middays, while Dave Cooley (as "Cody Burk") held down the afternoon shift.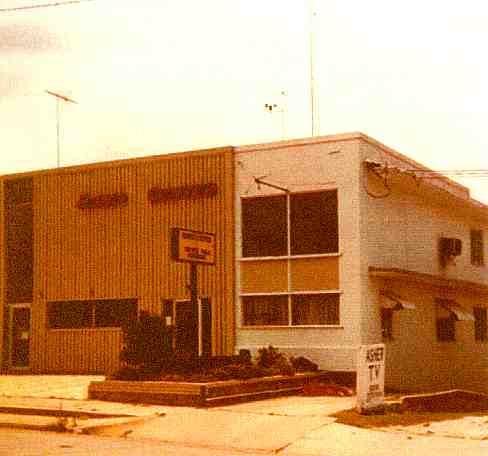 .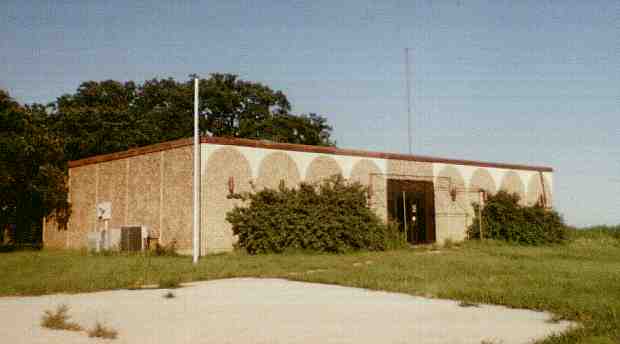 .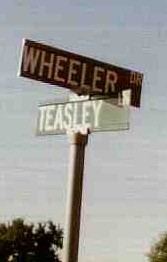 (L) Former KDNT Hickory Street studios in 1982; (C) Former KDNT Wheeler Drive studios in 2002;
(R) Sign showing "Wheeler Drive" designation
In February, 1981, owner Mel Wheeler moved the studios out of their longtime home in downtown Denton to newly-built studios on Teasley Lane. This property had been the home to all three of KDNT's antenna towers since August, 1960. Reportedly, Wheeler was tired of paying the ever-increasing expense of renting studios Downtown. But was it worth it? According to Chris Vochoska of the Center for Media Production at North Texas, "A few old-timers say that, when KDNT left the square for the new studios, south of town, they lost their visibility, and the rest is history." The property was given the new address of "1440 Wheeler Drive," in honor of owner Wheeler and the AM's frequency number.
The station's equipment in the 1980s, retained from the Radio Center studios, left something to be desired. Steve Eberhart, webmaster of The History of KLIF and a longtime radio pro in Dallas-Fort Worth, explains: "In the 80s, they used a McMartin 8-channel mono board. I never worked there, but had buddies who did (including former WFAA news anchor Michael Rey,) and would hang out there from time to time. They also used Gates CB100 turntables and ITC 3D cart machines." This was an improvement over the two Spotmaster 5-spot cart machines that were placed on either side of the board (similar to Dallas powerhouse station KLIF-1190) in the mid-1970s, where a total of TEN carts could be loaded at once!


Newsman Michael Main
Michael Main, longtime WOAI-AM/San Antonio newsman and managing editor, and a graduate of Denton's North Texas State, recalls the day in March, 1981, that a president was nearly assassinated: "For the record, when President Reagan was shot, I was the 'news department' of KDNT-AM radio in Denton. I had no national radio network, no TV, just a GIANT UPI wire machine. On that day, UPI provided me with the following information: 'SHOTS HAVE BEEN FIRED AT THE PRESIDENT!' That was it. For about two hours. I remember reading that a lot—tap dancing, ad-libbing—begging the DJ to play a really long song. I think I finally called someone who had a TV and asked them to give me information, any information so I could stop saying, 'Shots have been fired at the president!' I survived…so did President Reagan…(but) it's debatable who endured more suffering, though."
Main discusses the finer points of the KDNT operation in the early 1980s: "The station was located on the ranch of the owner, which was also home to several hundred head of cattle. Station employees often considered the cows were the more favored occupants, although many feared our fates would eventually merge."
"It was the epitome of small town radio," Main continued. "Initially, I started the day's broadcasts by reading off a list of dead people…not celebrities, just anyone who died in Denton County…with the exception of a very brief moment in time when I was forced to host an early morning agricultural show called, "Farm Out with Michael Main." Mercifully, that experiment in ignorance ended when, somehow, the show's only sponsor…realized the show went on the air so early in the morning that the station was still on low power, meaning, unless you were among the privileged bovines sharing the acreage with the radio station, your chances of hearing it were virtually nil. He pulled his commercials and my Farm Editor title vanished. I didn't mourn the loss, and the cows didn't seem to notice, either." (Credit: "The World According to Chuck" website)
In response to seeing his name and story on this website, Main wrote to say, "I think I'm most amazed that so many of us are still alive...and in radio!"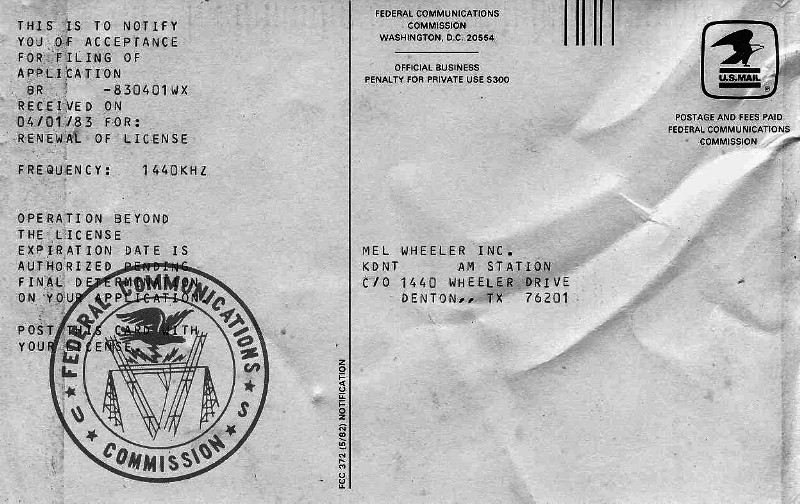 Good to go for another six years of broadcasting
(another gem found in the rubble during the Teasley Lane demolition)
Grant Koeller jocked overnights at KDNT-AM from May through December, 1983: "My shift was 12 midnight to 8AM four days a week, part time," he says. "Our catch phrase was 'You're in the Heart of Texas Country, KDNT-AM 1440 Denton.' We were a die-hard country station then. All the music was on carts, but I spun a lot of vinyl. They wanted me to play the country oldies from the 60s and 70s, but I slipped in some other stuff as well."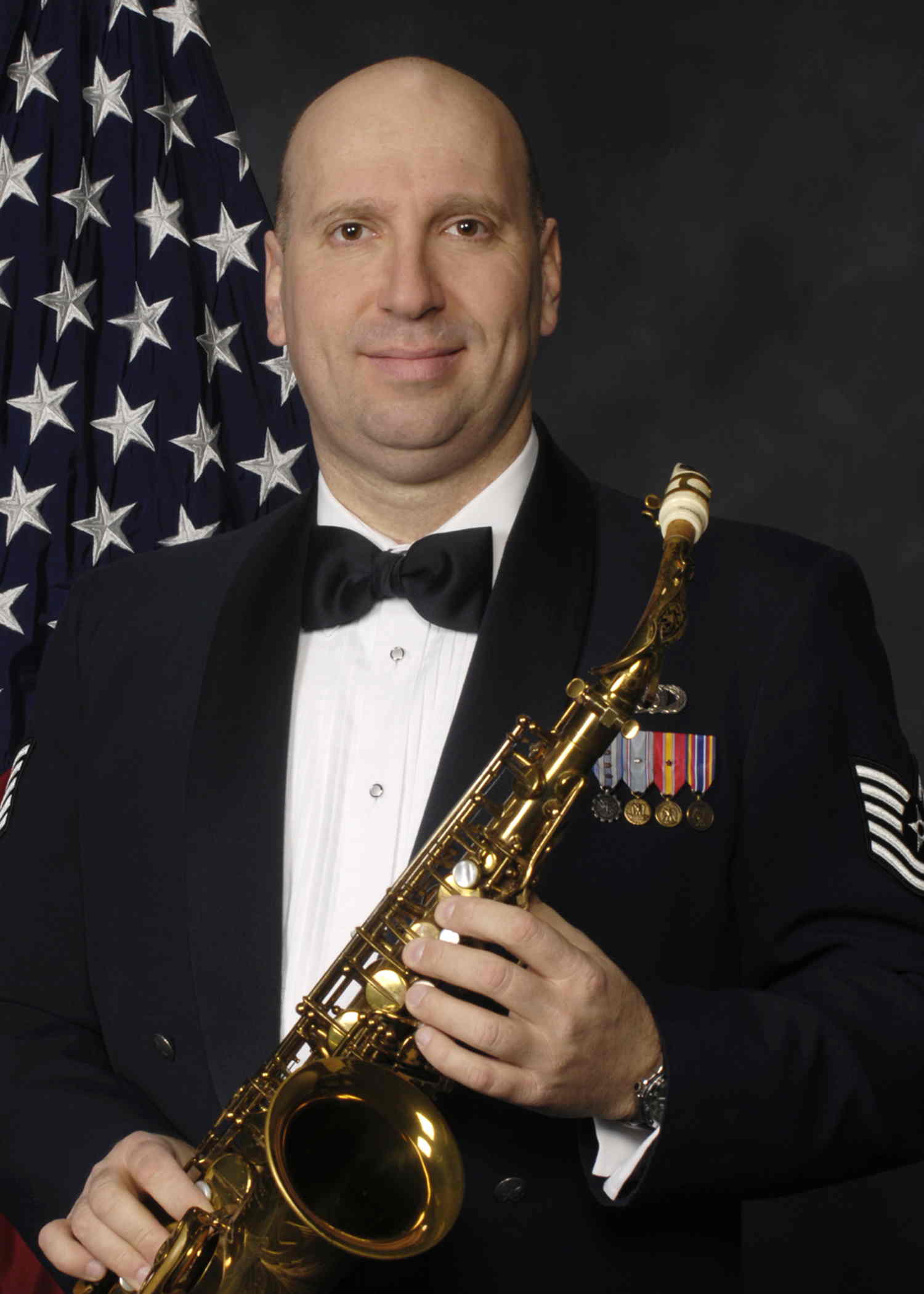 Grant Koeller, today
"During my graveyard shift," Koeller continued, "Station Manager Mel Wheeler probably was asleep, as was everyone else, with the exception of the truck drivers up and down I-35, (so) I never knew if anyone was really out there in Radioland." Koeller continued: "Every night when I came to work, the guy before me was a human smokestack…empty packs and cartons of cigarettes were everywhere, and the studio had to be aired out. I propped open the door to get fresh air, but the bugs came in! With only three carts worth of time (six to seven minutes,) to do anything (else) I had to plan all activities, including bathroom breaks. If a cart was messed up, I had the turntable all ready to go, cued up with Boots Randolph's 'Yakety Sax' (the 'Benny Hill' theme.) When I would come to work, I always found jazz records in the trash…I asked Mel (Wheeler) what was up, and he would say, 'Oh, those, you can have them if you want.' I couldn't believe it…free jazz records from a country radio station. Life was sweet."
Grant Koeller was a jazz studies music major at North Texas State: "A couple of times, I brought my sax to the control room and mixed the sax into the recordings live over the airwaves! Some trucker was probably saying, 'I never heard a sax solo of this Merle Haggard tune before…maybe it's a new version.'"
Koeller still cherishes his KDNT days: "All in all, I can say that those were the funniest days of my life, from putting a newscast together off the AP wire, to the reports of wildfires after the 4th of July fireworks. Even in '83, we still had a local flair to our programming, and tons of requests from all over North Texas. When my shift was over, I always came out of the control room, into the bright morning dawn sunrise, and was blinded by the light as I drove home listening to the morning farm report and pork belly futures." Today, Grant Koeller is a staff sergeant and jazz saxophonist with the US Air Force Band of the Pacific-Asia, living in Japan.
.
.
COMING UP IN PART 5, 1984-93: KDNT changes ownership again, headbangers take over the FM side with the Satellite Music Network's "Z-Rock," North Texas State football games return to KDNT-AM, and original station owner and founder Harwell Shepard dies at 80. Click HERE
---
SHORTCUTS
PART 1 - 1938-46
PART 2 - 1947-63
PART 3 - 1964-71
PART 5 - 1984-93
PART 6 - 1994 AND BEYOND
A "WHO'S WHO" OF KDNT
DUSTY MEMENTOS
RADIO CENTER STUDIOS INSIDE-OUT
PHOTO ESSAY
---
TERMS AND CONDITIONS OF USE
This entire website and its contents are copyright 1984-2023 Mike Shannon. Images are copyright of their respective owners. If you feel your copyright is being infringed upon by its appearance in this website, please email me and it will be removed or credited properly. I am not responsible for errors, omissions, incomplete information, misrepresentations or dead links. Information was gleaned from newspapers, broadcasting yearbooks, magazines, personal recollection, recollections of others and the like. Copying of any or all information or images for use on other websites, in print or for other purposes, is prohibited without permission. Links are provided for the user's convenience; I claim no responsibility for the contents, accuracy or relevance of other sites that may be linked to from this site. This entire website is considered a not-for-profit "fan site," to be enjoyed for entertainment and informational purposes only. Usage of this site and/or any sites, sub-sites or pages or images contained within, however accessed, constitutes your agreement to these Terms and Conditions. If you do not agree to these Terms and Conditions, click here and you will be taken elsewhere. Proceeds from advertising & duplication services are directly used for site maintenance, hosting fees and research costs.