THE HISTORY OF
KDNT RADIO
IN DENTON, TEXAS
PART 2: 1947-1963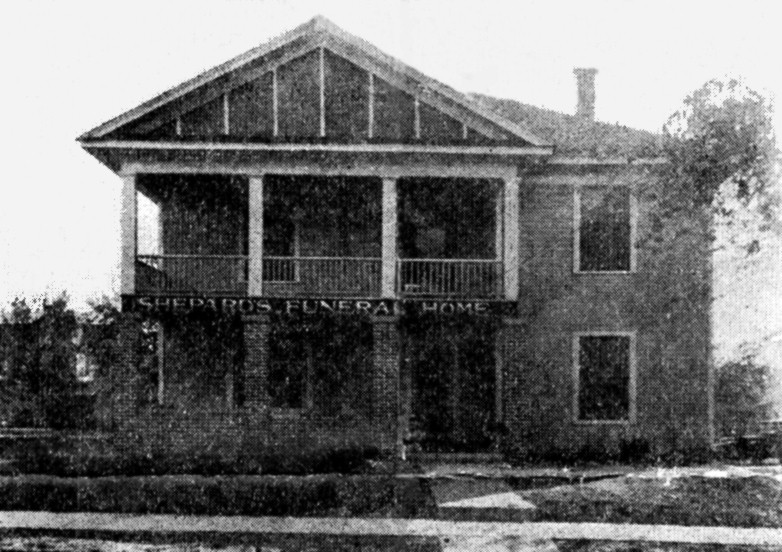 .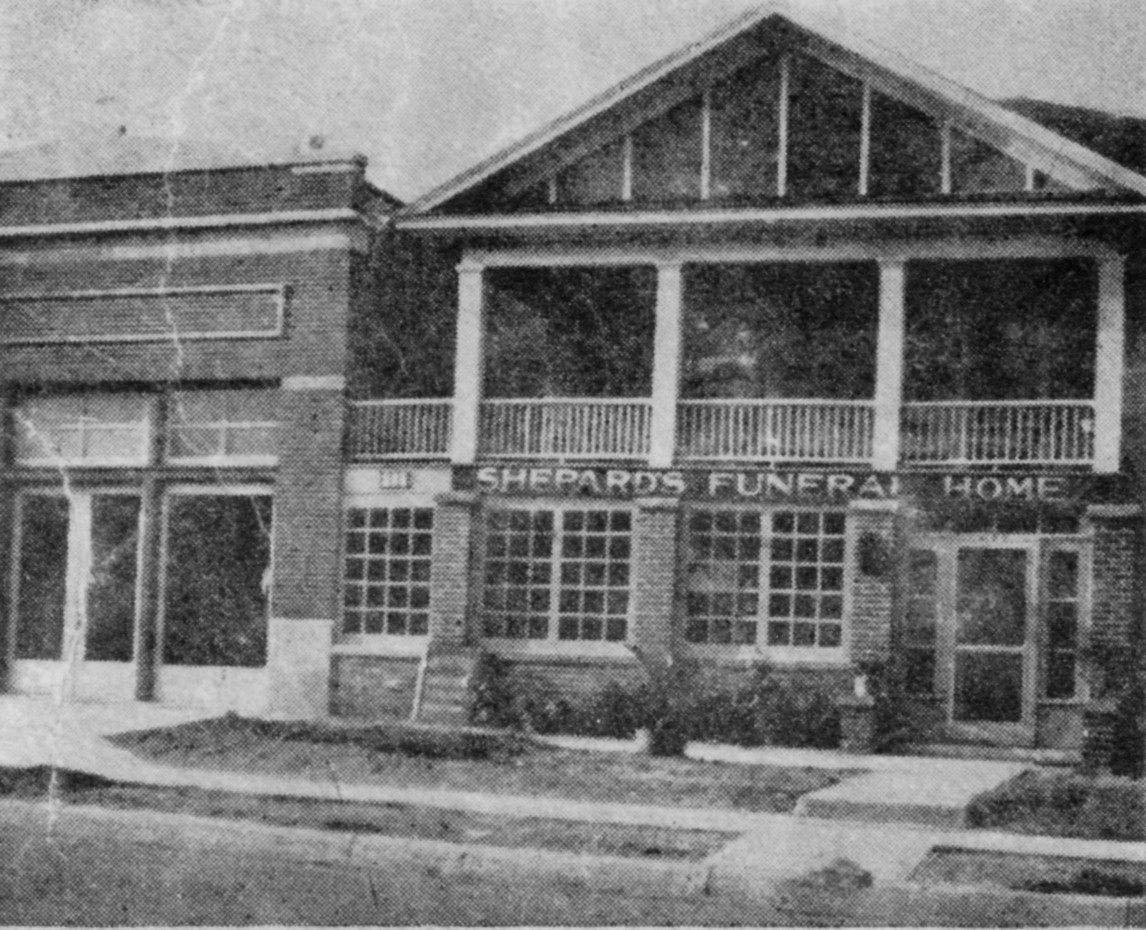 .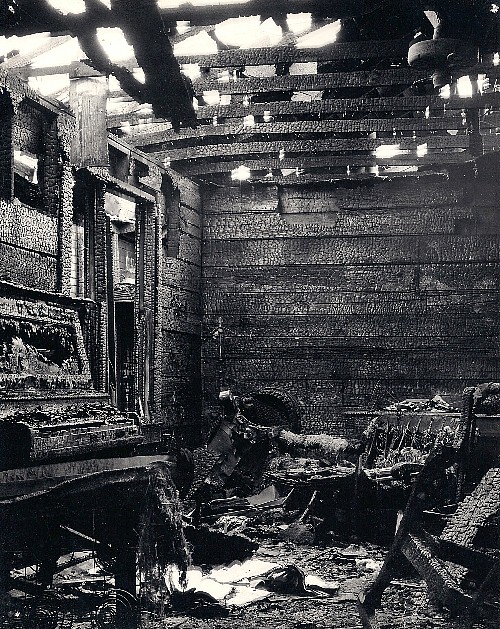 Radio Center then (1924, left) and later (1947, center;) damage to the future Radio Center from a October, 1946 fire (right)
In 1947, KDNT moved to the former site of Harwell Shepard's parents' funeral home and personal residence, 235 West Hickory Street. (The funeral home had operated on the first floor, while his parents' residence was upstairs.) The funeral home had burned earlier that year due to a gas leak after a rubber hose had been connected to a space heater; the second floor suffered most of the damage. Originally constructed in 1921, the Hickory Street location was rebuilt exclusively to house KDNT, and a new location for the funeral home was built nearby on Center Street (now Carroll Blvd) at Mulberry. 235 West Hickory was christened, "Radio Center" (and still keeps the name today, although KDNT has been gone from there since 1981.) A weather station was installed at the new location as well, mounted in a box in front of the building. Shepard retained both his personal residence, and the station's towers, on Ross St. KDNT initially shared Radio Center with a doctor, an insurance company, and the Selective Service Board. Shepard, proud of both of his business ventures—funeral home and radio station—once said, "I talk 'em to death, then I bury 'em."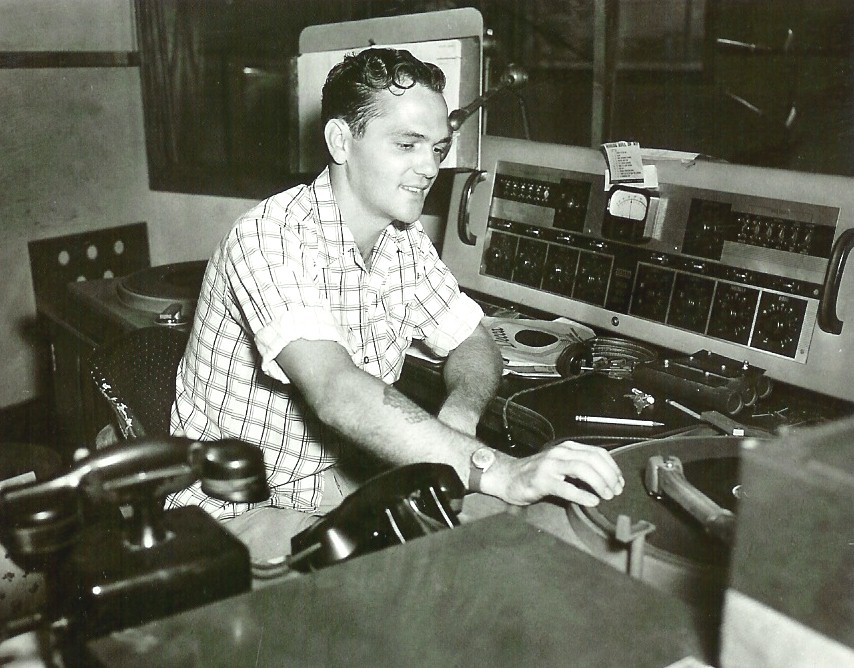 .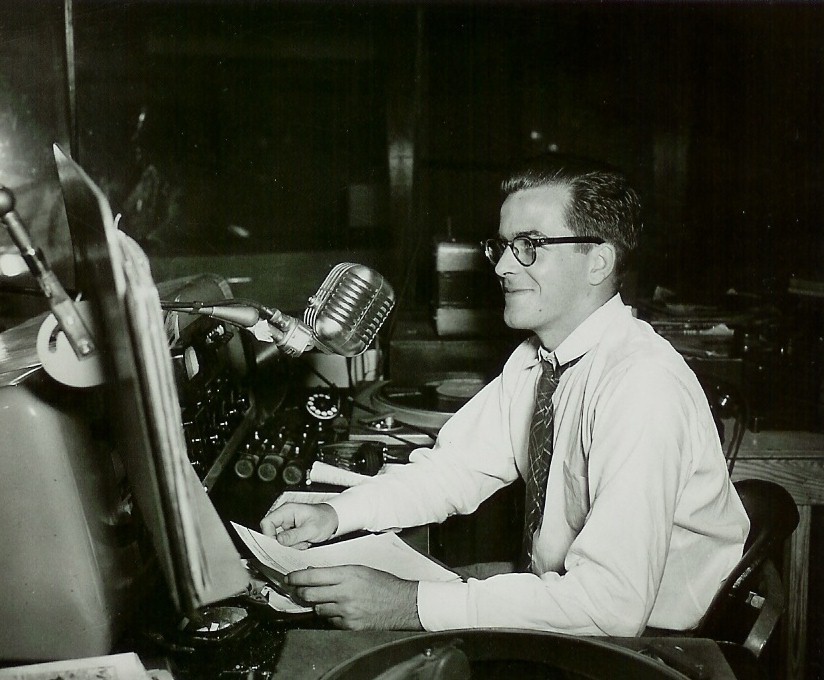 .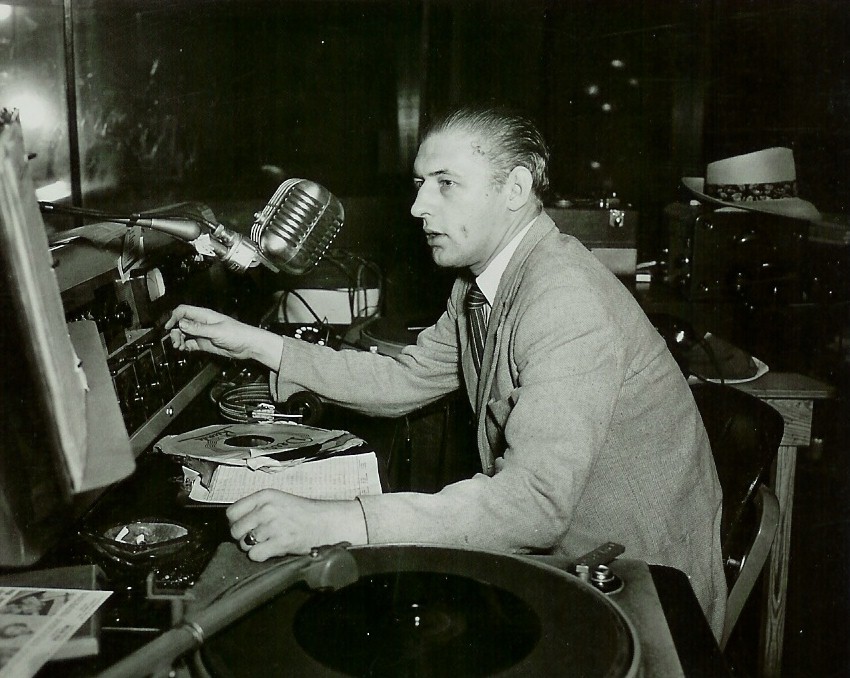 KDNT disc jockey staff: (L-R) Jerry McNatt, Dan Clark and Bill George
The Hickory Street studios were not without their share of excitement. Several former employees had encounters with a ghost at Radio Center. Betty Whatley, wife of late Chief Engineer Hal Whatley, explains: "(Hal) was working late one night at the console, probably doing his Saturday night program, when a young woman walked in. She was wearing a long, gray dress and a fancy hat, like those worn in the 1800s. Her perfume had a strong, terrible odor. As she crossed the room and approached Hal, she never said a word. As Hal was about to speak to her, she turned and walked away, then disappeared. Hal searched everywhere, but found that he was alone. He said she couldn't have come in from outside because all of the doors were locked." 1970s News Director Roger Daniel recalls the same: "My theory was that she was the original news director checking by to see if they were ever going to update the equipment! Although I did not believe in ghosts, I never saw her, but yet Hal had me so spooked (that) I'd be afraid to go to sleep at night." Even 1960s nighttime DJ Bill Orton reported seeing the same ghost several times around midnight.
Denton resident Anne Schulze thought the station needed a women's show, and persuaded Harwell Shepard to put her on the air in 1947 with a 15-minute women's news program five days a week. Her son, Miles Schulze, now a Dallas attorney, shares the terms of her agreement with the station: "My mother was paid $2 a program if she had no sponsor, and $4 if she had one. Two sponsors that I recall were Tennessee Dairies, based in Dallas, and Kibler Office Supply (across the town square from the station.) My mother left KDNT around 1954 to work at Kibler's, where the salary was somewhat better. I still recall her sitting at my dad's desk, with a Royal portable typewriter, typing her scripts each day. She strongly believed in not pulling stuff off the wire to read." Mrs. Schulze died in 1992 at the age of 90. Miles also shared some fond memories of the station's personnel: "I remember Buford Harrell (newscaster,) Brooks Holt (play-by-play for Denton High's football and basketball teams,) Walter Richardson (sports anchor) and Pete Burrows (disc jockey and musician) very well. Pete had a country music band called 'Pete, Art and the Range Riders.' I even sent some local sports news to Walter for his sports reports. I remember their broadcasts of Denton High football and basketball games. Buford and Walter even offered to take me with them to one of the out-of-town games, but we were never able to arrange one."
Indeed, sports coverage was a key element of KDNT's broadcast schedule. Harwell Shepard initially did the football game announcing for Denton High School. Eventually, Ken McClure (later known as "Ken Knox," who went on to a successful career on KLIF-1190, KMEZ and other Dallas-Fort Worth stations) tried his hand at calling football games, but Shepard had to pull him off the broadcasts due to listener complaints! Brooks Holt, who had been concentrating on calling Denton High School basketball games, eventually started covering high school football as well, as Miles Schulze mentioned above.
Brooks Holt's wife, Alice "Donnie" Holt, was a vital part of KDNT as well. She hosted a program at the station, but was better known in the community as a teacher and counselor at Denton Junior High and Denton High School. Donnie passed away in 2010 at the age of 93.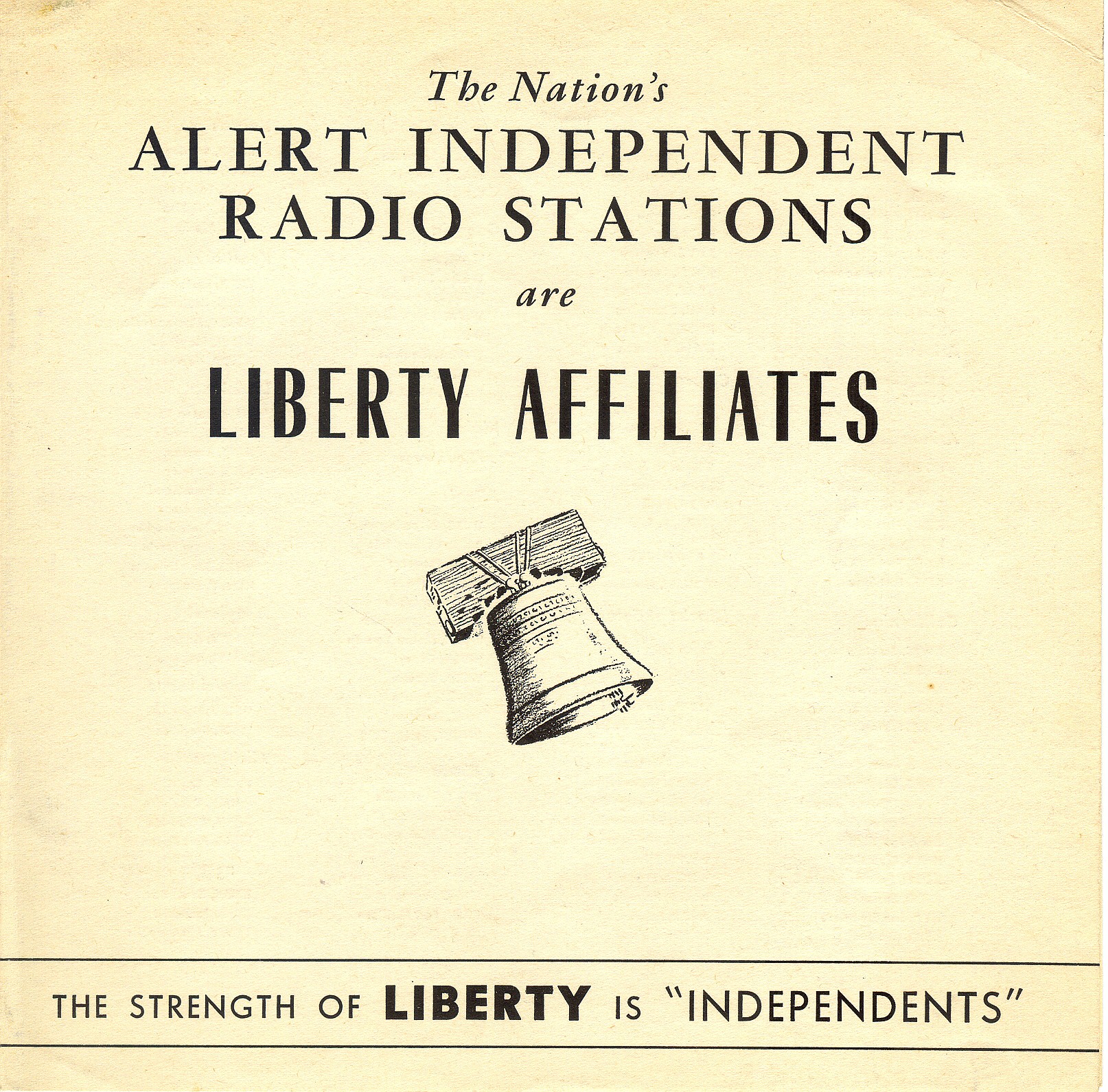 KDNT was an affiliate of the Liberty Broadcasting System
Also in 1948, KDNT took on a network affiliation with Gordon McLendon's short-lived Liberty Broadcasting System, and that August, Harwell Shepard helped form the Texas Independent Broadcasters Association (aka the Texas Independent Network.) It was an organization that created regional newscasts for its member stations (a la the Texas State Network.) Shepard served as treasurer, while president of the Association was KEBE-AM/Jacksonville TX owner Bill Laurie, who was the father of longtime North Texas newsman and traffic anchor Ben Laurie.


1950s station logo showing both KDNT-AM and FM
On June 8, 1949, after two years of construction and uncertainty over antenna placement, power and dial position, KDNT-FM signed on the air as one of the earliest FM stations in the country, and the 23rd FM in Texas. Shepard had first applied for the 101.7 frequency in 1946, with the intention of mounting an FM antenna to the top of the AM tower (which the FCC approved on May 16, 1947.) In June, 1947, a construction permit (CP) was issued to Shepard for 106.1 at a power of 3,000 watts. But being a pioneering FM station was time consuming; Harwell filed three extensions with the FCC during 1948, and the CP was allowed to expire that September. Undaunted, Harwell filed to reinstate the CP in March, 1949, and a consensus of records and filings from that time period indicate that June 8, 1949 was the FM's premiere date, but now at 106.3 at a power of 730 watts. By that August, however, the station moved to 106.1 (still at 730 watts,) and, in December, 1949, increased to 760 watts. In February, 1950, the FCC granted the OK to move FM transmitter locations and to change the frequency once again, this time to 104.9 FM at 1,000 watts. Finally, Harwell and the FCC settled on the 106.3 frequency at 760 watts, and KDNT-FM remained there until September 21, 1960...when it relocated to its permanent home at 106.1. The FM's format was originally easy listening, and often simulcasted KDNT-AM. The FM side broadcasted the same hours as the AM side, 5AM-12AM.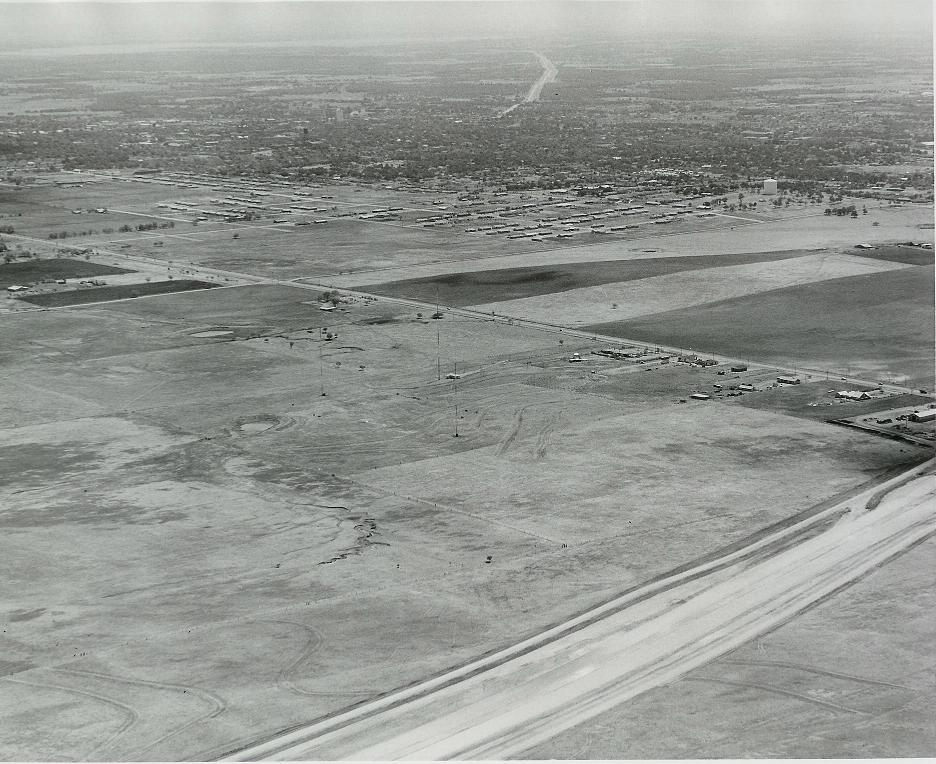 KDNT's new three-tower array (center of photo,) just west of town, c. 1959. The new Interstate 35 is in the foreground; the main road
running perpendicular to IH35 is University Drive/SH24/US380 as it heads east into town
On June 5, 1951, KDNT's transmitter was relocated to 2718 State Highway 24 (now known as US380 or University Drive) on the northwest section of town, per the FCC's approval in December, 1949. Towers were installed at the back of the property (which were subsequently moved to a new location on Teasley Lane in the summer of 1960; the old Ross Street tower was dismantled and sold to KRUN-AM in Ballinger, TX.) The need for more and taller towers was a result of the FCC's June, 1951, approval for KDNT-AM to double its power from 250 watts to 500 watts day and night, and to move from 1450 to 1440 AM. Three towers were constructed: one to handle the FM broadcasts fulltime, as well as AM daytime broadcasting (at a height of 300' tall;) and the other two were used for directionally-patterned, lower-power AM nighttime broadcasting (as other stations across the US were assured FCC protection of their signals at 1440 at night, given AM's incredible nighttime wave propagation.) Radio innovator and Shepard's ham radio pal George Marti installed one of Marti's earliest microwave transmitter systems for KDNT; the studios were "connected" to the towers by microwave instead of conventional telephone wire. Marti's model would become the standard for radio and television broadcasting, and is still used worldwide today.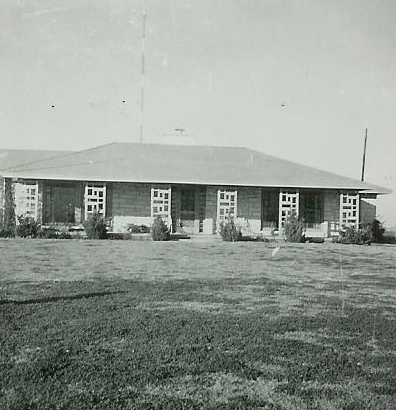 .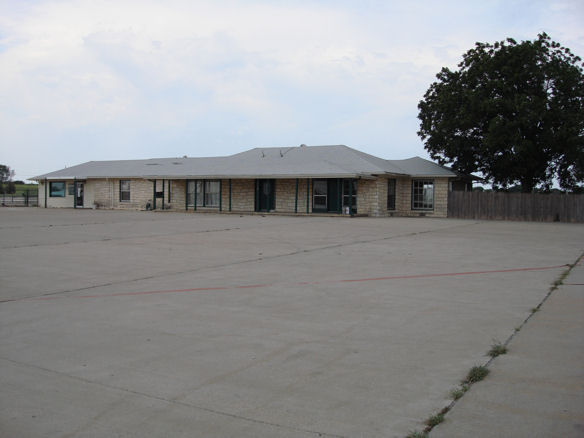 .

Then, later and now: (L) In 1951, the new KDNT transmitter site and home of the Shepard family; (C) Looking somewhat the same in 2006;
(R) As of 2010, a new Walmart, Sam's and Lowe's were built on and behind the old transmitter site
At the same time, Harwell Shepard relocated his residence to the new tower property on Highway 24 (where he and his family lived until 1956,) but the studios remained at Hickory Street downtown.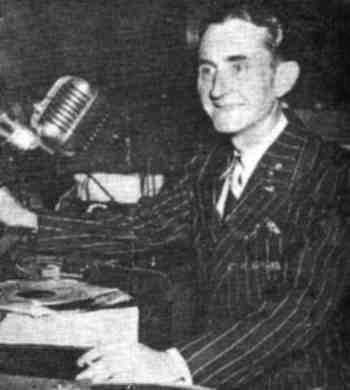 .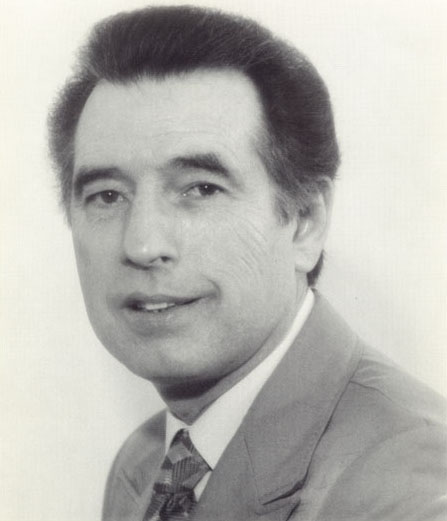 (L) Buford Harrell working the board at KDNT; (R) Jock and musician Davie Lee long after his KDNT years
Also in 1951, KDNT bought and premiered the very first PAMS jingle package ever produced, known as "Series 1." (PAMS, founded by musician Bill Meeks, was an early innovator of the radio jingle, and rose to prominence in the 1960s when major-market stations around the country built their imaging around customized PAMS jingle packages.) The same year, newscaster and salesman Buford Harrell started his 34-year stay at the station, and the station's popular "1440 Club" (formerly the "142 Club" and "145 Club" to reflect the dial position at the time) expanded from 45 minutes to an hour. Also in 1951, Davie Lee White, known professionally as Davie Lee, began his very first radio job at KDNT as a disc jockey, fresh out of Denton High School. Lee had already been featured on KDNT as a member of DJ Pete Burrows' Range Riders Country Band at age 13, beginning in 1947. In later years, Lee became "the most recognizable voice in St. Louis" from his work at WIL, KUSA, KHAD and (currently) WEW. He was a finalist seven times for top Major Market DJ by the Country Music Association, and was nominated for induction into the Country Disc Jockey Hall of Fame in 1999.
Click HERE to listen to one of KDNT's early jingles, featuring
legendary PAMS owner Bill Meeks on vocals.
By the early 1950s, KDNT-AM became the most listened to station in the area, capturing 52% of the listening audience. Advertising rates were comparatively cheap compared to listenership: a one-minute spot cost $6.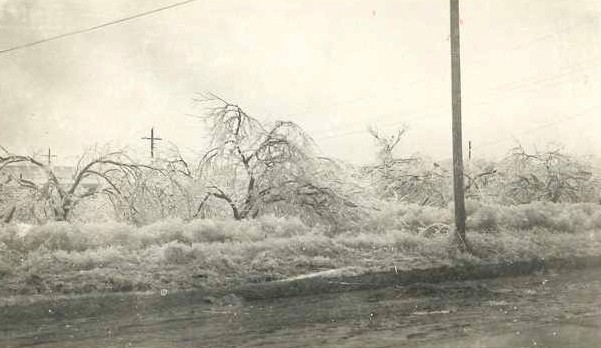 .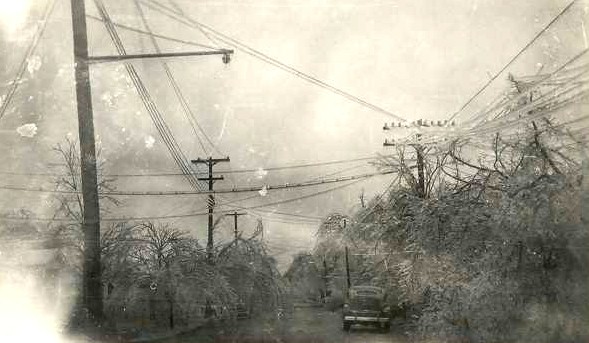 1953 Denton ice storm
Early in 1953, an ice storm paralyzed the city of Denton, and KDNT was not spared. "The power was off for three weeks at the station," Sandy Shepard recalled. "We used a war surplus generator to keep the stations on the air."
Part of AM radio's magic is its signal's ability to travel great distances. So Harwell Shepard was incensed when an application was filed by KPLT-AM in Paris, TX, on September 12, 1952: The owner wanted to move KPLT from 1490 to 1450 AM. Then, in early 1953, an application from W. W. Mangum dba Memorial Broadcasting Company was approved by the FCC to put a new AM station on the air in Commerce, Texas, also at 1450 AM. Although Paris was 96 miles away, and Commerce 69 miles, this was still too close for comfort for Shepard and his 1440 frequency. He filed a protest with the FCC against both entities in the summer of 1953. On August 31, 1955, the FCC finally relented and denied both KPLT's and Memorial's applications.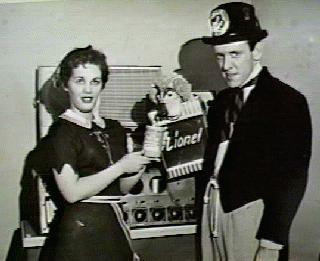 Lee "Woody" Woodward (right) and friends at KOTV-TV, Tulsa
Photo credit: Lee Woodward and TulsaTVMemories.com
Lee "Woody" Woodward, longtime Tulsa, Oklahoma weatherman at KOTV-TV, worked at KDNT in the mid-1950s, and explains his experience there and the station's connection to country singer Willie Nelson: "In 1954, while attending North Texas State College in Denton, Texas, as a vocal major, I walked downtown to visit a friend of mine who worked for a little 250 watt radio station. [Ed. Note: KDNT was actually 500 watts at that point.] KDNT was the station, and Charles Beard was the friend. I visited with Charlie while he emceed his show. He was informed after awhile that his relief DJ had not shown, and they were calling the evening DJ to come in early. Charlie then asked me, why I didn't audition for this guy's job, as he would be fired if he did show up. I had never been in radio in my life...so, I did audition for Harwell Shepard and was hired on the spot. The salary? Forty dollars a week. I stayed and watched Charlie run the board until his relief showed up, and was told to stay and work with this DJ."


A young Willie Nelson
"In due course," Woodward continued, "this young freckle-faced kid with a burr haircut and mottled teeth showed up to do his show. His name was Willie Nelson. Very nice, very pleasant and very helpful. He had these lively eyes behind this laid-back look that said, 'I'm not gonna give you anything unless you ask.' He was right off the farm and I think he may have worked one little station prior this one. We hit it off." Joe Nick Patoski, former editor-in-chief for Texas Monthly magazine who recently authored a book, "Willie Nelson: An Epic Life," wrote, "Willie came (to North Texas) in search of some place better than where he'd been. He put his salesmanship skills to use, picking up work selling Bibles, encyclopedias, Singer sewing machines and Kirby vacuum cleaners, enough to bring wife Martha and daughter Lana up from Waco. He talked his way into selling ads for KDNT…and hosting a country music program. Willie didn't stay at KDNT long, because he hustled another radio gig in Fort Worth (at KCNC-870 AM,) with a salary higher that the $40 a week he was making, and minus the expense of driving to and from Denton."
Lee Woodward also recalled some of the finer technical aspects of KDNT in the 1950s, published on the website, tulsatvmemories.com: "Each announcer was issued a certificate that made you some fifth-grade engineer so that you could write down two meter readings every hour or so. I have no idea what they showed, but if they dropped down, you were off the air and a bell rang! At that point, you were supposed to call the (real) engineer and he would go in and kick something."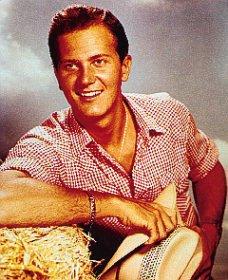 Pat Boone
Lee Woodward also had a connection to one of the more notable graduates of North Texas through his involvement with the station: "When I was learning the trade at KDNT, I was keyed in on the 'care' package that (disc jockey) Charlie Beard was giving once a week or so to Pat Boone and his wife Shirley. They were dirt poor at the time and had two or three kids. He was going to North Texas State College and had little income. This was also before him getting on the 'Arthur Godfrey Show.' What Charlie would do was to call Shirley ahead of time, and tell her what the title to a song was for that day's 'Piggly Wiggly' (grocery store) contest. That was good for all the groceries you could get into a couple of sacks. Charlie would also tell her what her name would be that day as the 'winning lady.' I know the Boones really appreciated this, and I don't know how many times Charlie did this for them, but soon afterwards, Pat's fortunes began to rise, and (the contest) was discontinued by the time I left to go to KCNC-870 (in Fort Worth.)"
Woody continued: "Pat Boone would come down to the studio on Saturdays sometimes and sing on an afternoon live show that we did. It was also populated by many of the jazz musicians from the 'NTSC Lab Band' (known later as the 'One O'Clock Lab Band.') Sometimes Willie Nelson would run the board (or I would set the board and just go out and sing, and come back when I was done.) Many of these guys went on to play with the Stan Kenton Band and well as others. The only two whose names I remember were a bass player named Val Kollar, and the pianist, Joe Dabney. Those studio gigs were super-informal, as you might imagine, and open to about anything. My jazz singing might be followed by a country group. I know on the cut of 'Blue Moon' I sang, a girl that was in the studio delighted me by dropping her bottle of Coke! On the recording, it sounded like I was being shot! It was a great learning experience, and sitting in with great jazz players was a trip. Over the years, I have run into many musicians from NTSC who did gigs at KDNT, or were there when I was."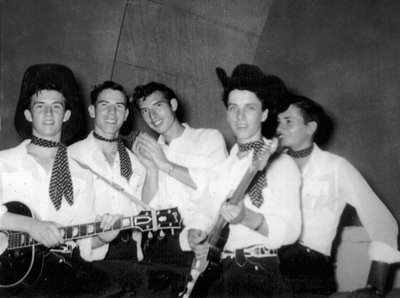 Sid King and the Five Strings often rocked the airwaves of KDNT
KDNT disc jockey Richard Pitzinger had a radio show at the station beginning in 1952. He approached a local rockabilly band, "Sid King and the Five Strings," and had them appear on his show in 1954. (The Strings also featured band co-founder and former KDNT jock Davie Lee.) Pitzinger's show already had its own band, "The Western Melody Makers," and eventually Sid took over that band. In January, 1956, singer Roy Orbison (who had recently left college at North Texas to return to Odessa, Texas, and had known Sid King since 1954) approached King about a song Orbison had just recorded, "Ooby Dooby," and gave King an acetate of the recording session. Columbia Records wasn't interested in Orbison's version of the song, so Orbison gave the song to Sid to record. Not long thereafter, Sid and the "Strings" went on to national popularity, and even played alongside Elvis Presley. And that acetate of early Roy Orbison? Sid kept it for 36 years, selling it to a collector for an undisclosed price in 1991, and, seven years later, it was bought at auction by Roy Orbison's estate. "Ooby Dooby" still became a hit for Orbison, who shopped it around and found a taker in Sam Phillips at Sun Records.
A compilation CD of Sid King and the Five Strings, "Rockin' On the Radio," was released in 1996; the two-CD set includes a recording of the band playing over KDNT in 1954 (reportedly recorded off the radio by Sid's mother!) The group disbanded in 1958, but their music still endures among rockabilly aficionados today. King and his brother continued to play thereafter, even into the 2000s, although Sid spends his days cutting hair as a barber in Richardson, Texas.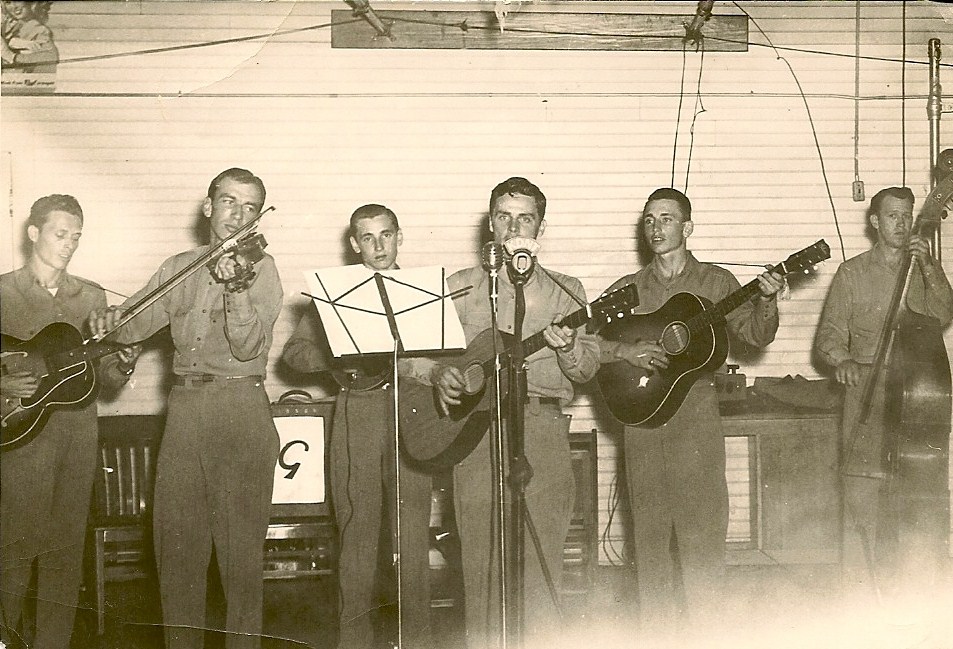 The Burrows-Borth Brothers, playing over KDNT. Note the microphone badge bearing the KDNT call letters
Photo credit: Rheba Rippey Marshall
Disc jockey and musician Pete Burrows also featured up-and-coming country acts during his airshift. An article published in Billboard Magazine on October 1, 1955, said, "KDNT, Denton, Texas now has seven deejay shows a week featuring folk and western music, and any artist who sends platters (acetates or records) to the station can be assured of getting them played, according to Pete Burrows, KDNT deejay. Burrows' programs, 'Western Round-Up' and 'Hillbilly Jamboree,' are heard daily from 1-2PM and each Saturday from 2-4PM. Artist and recording companies are asked to send their new releases to Burrows at KDNT. Any questions concerning the numbers will be answered, he reports." Billboard also reported in January, 1956, that Burrows had been permitted to call his Monday-through-Saturday afternoon shift, "The Pete Burrows Show."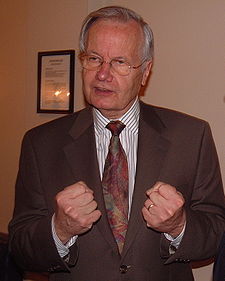 Newscasting legend Bill Moyers
worked for KDNT in the 1950s
Music was not the only means of future stardom for KDNT employees: The news department in 1954 had its own rising star, Bill Moyers. Bill, going by the name "Marshall Bill Moyers" (in deference to his hometown of Marshall, Texas) worked as a reporter at KDNT while attending school at North Texas. Later, he became Deputy Director of the Peace Corps under President Kennedy, and was White House Press Secretary under President Johnson. He returned to news reporting thereafter, working in on-air positions at NBC, CBS and PBS, and, most recently, hosted "Bill Moyers' Journal" on PBS. He retired from broadcasting in 2010.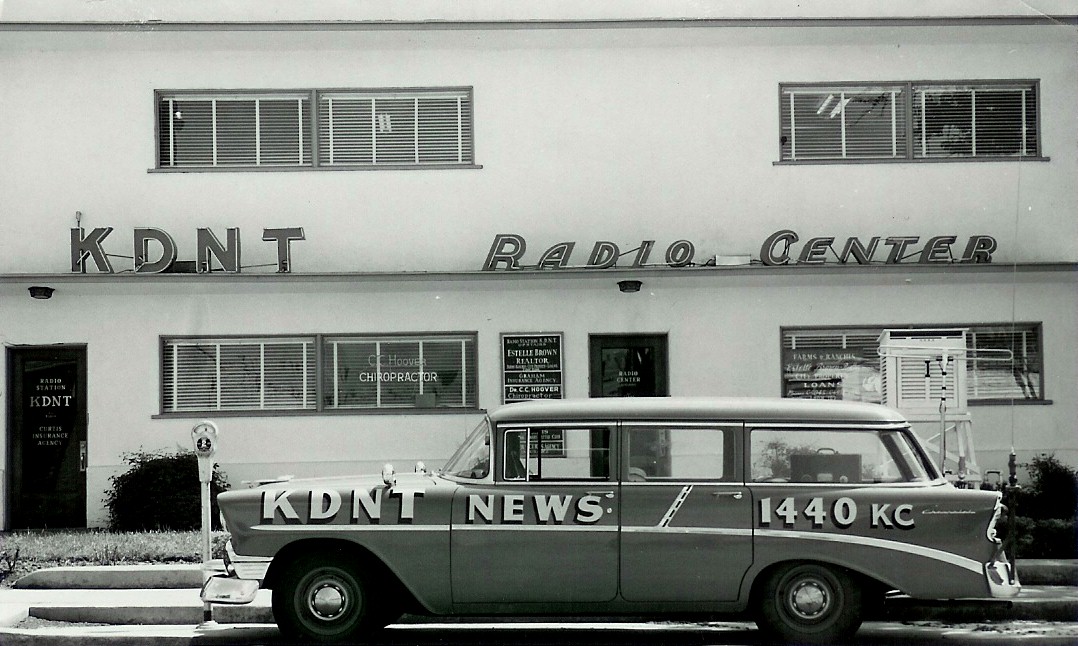 .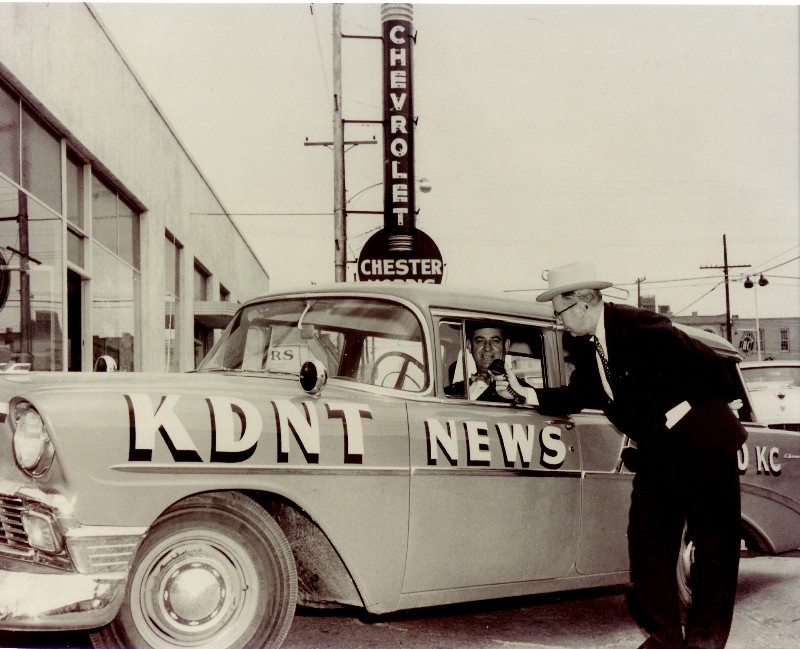 Traveling in style: KDNT's Mobile Unit #2, a red and white 1956 Chevy station wagon,
purchased from Chester Morris Chevrolet in Denton (Morris is being interviewed by Shepard at right)
In February, 1955, Harwell Shepard sold off his interest in the Shepard Funeral Home to J. B. Floyd and Barrett Hamlett. They operated under the name, "Denton Funeral Home," which remains today, although no longer under Floyd and Hamlett ownership. Shepard had inherited his family's funeral home upon his father's death in 1942, but, after 13 years of operating both businesses, he decided to devote his efforts to the radio station full time instead. Shepard was also called to civic duty by 1957 by serving as president of the Denton Centennial Commission.
KDNT-TV ?



Fort Worth Star-Telegram, February 3, 1957
In October, 1956, Harwell Shepard applied for a TV license for Channel 2. He proposed a 169-foot antenna at 0.746 kw of visual power, and estimated $40,915 for construction and a cost of $36,000 for the station's first year of operation. The Channel 2 designation had been assigned to Denton in 1952, and it was only logical that the town's radio station would make the move into television. Shepard even purchased the First Christian Church on Hickory Street (just down from Radio Center) to house both the radio and future TV stations. But the FCC was not convinced: Dallas apparently didn't want the competition, so KRLD-TV (Channel 4) and WFAA-TV (Channel 8) told the FCC that they would supply all the equipment for an educational station to start up at Channel 2 instead, if the FCC would protect the channel as such. Also, a competing applicant from east Texas tried for a slice of the pie as well; he wanted Channel 2 reallocated to the Longview market, and asked that a potential Denton-based education station be placed on the new and unused UHF band at Channel 71 instead. In light of the proposed changes, Shepard suggested that an education outlet be established at Channel 17, and asked the FCC to clear the way for commercial station KDNT-Channel 2 to build.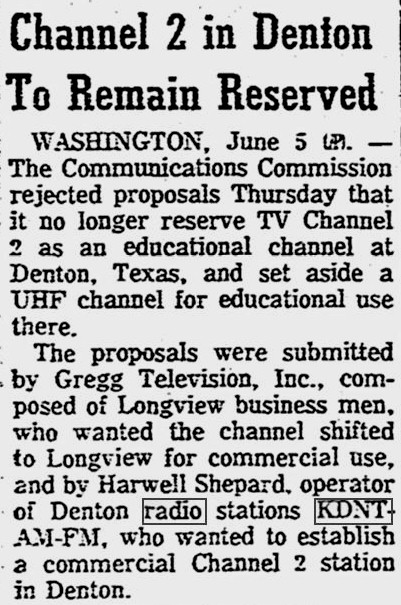 Star-Telegram, June 6, 1958
But the FCC sided with the Dallas stations, denied Shepard's application on June 5, 1958, and permanently designated Channel 2 as a future Denton-based educational station. However, it wasn't until 1977 that a serious game plan was established to turn on Channel 2; then another 11 years passed before it came on the air as a partner with Dallas-based KERA-Channel 13. (Today, it's a religious-formatted station that is privately owned.) Meanwhile, a dejected Shepard sold the church building in January, 1958, back to another religious organization. KDNT would remain at Radio Center for another 23 years.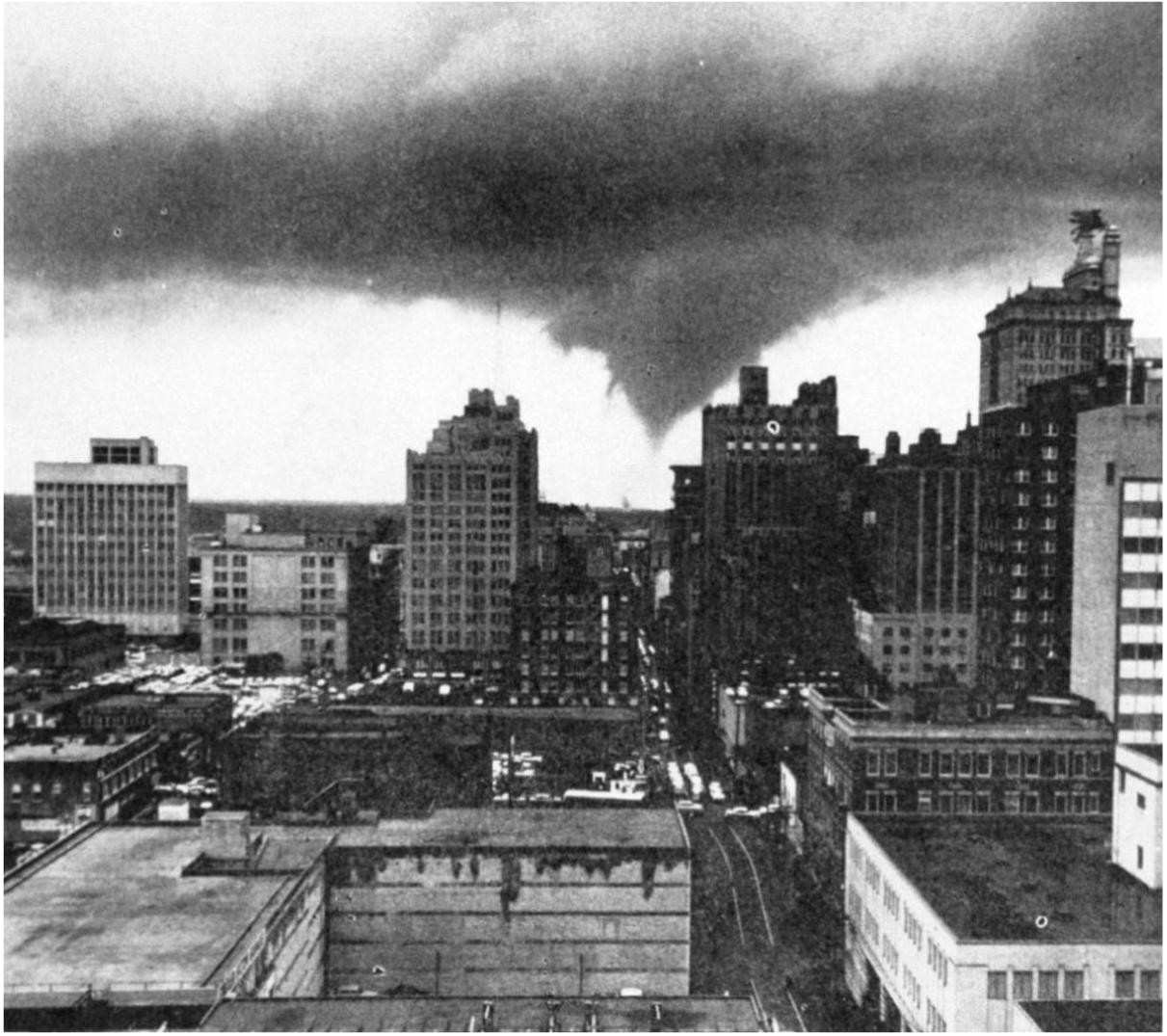 The North Texas tornado outbreak of April 2, 1957
Photo credit: NOAA
Perhaps the biggest local weather event of the 20th century was the F3 tornado that struck Dallas on April 2, 1957. It formed south of present-day I-20 and US-67, moved north into the Oak Cliff and Kessler Park sections of Dallas, traveled into west Dallas, then across Stemmons Freeway towards Love Field Airport, and finally lifted over Bachman Lake on the north side of the airport. Harwell Shepard and son Sandy took off for Dallas in the station's 1957 Chrysler news car, tracking it and other tornadoes from the north side of Dallas to the west side of Denton, where the last one finally disappeared into the clouds for good over the community of Stony. That afternoon, a total of 25 tornadoes were spotted over North Texas, with 10 people killed (which still remains the highest death toll from a tornado in the Dallas-Fort Worth area.) $4 million in damage was reported (in 1957 dollars.) KDNT listeners kept well informed of the event, thanks to Harwell's coverage and commitment to breaking news.
Bad weather was indeed covered admirably by the KDNT staff as needed; in fact, KDNT was the first radio station in the area to provide weather coverage. When a weather event was unfolding, employees would provide complete coverage by spreading out into various geographic positions around town, and radioing in their reports. At the minimum, Harwell Shepard, engineer Hal Whatley and salesman/newscaster Buford Harrell would take their places around the city. And the public was very satisfied: One listener wrote in, saying, "I want to congratulate you for your religious work the other night. You scared more Hell out of people in Denton County than anyone I've ever heard!" Major fires around the city were handled in much the same way, with KDNT personnel positioning themselves in various locations around the event. Harwell dubbed KDNT as "The most mobile-minded station in America!" And indeed it was. Harwell also mentioned in 1988 that, "We tried to be first on anything, be it wrecks, fires, etc. We were there!"
But news coverage at the station went above and beyond fires and inclement weather: In May, 1956, Broadcasting Magazine wrote that, "KDNT has its third mobile new unit on the roads, operating not only as a station broadcast unit but as Police Car 99 as well. The station wagon carries two-way police equipment with station personnel deputized to handle police calls!"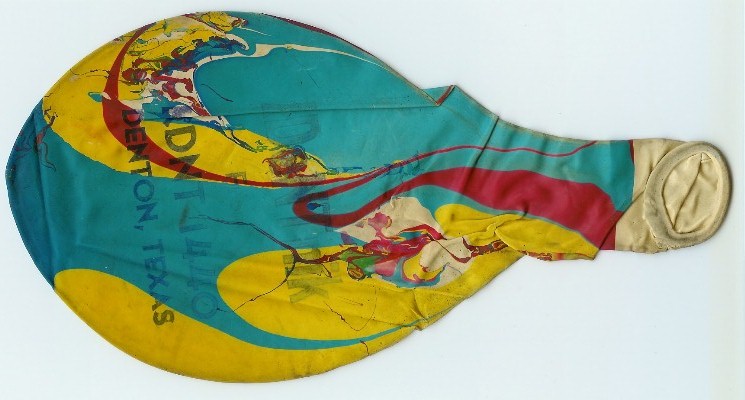 Balloon promotion turns into bust. This is the lone-surviving "KDNT-nik"
1957 also heralded the arrival of the "KDNT-nik" (pronounced, kuh-DENT-nik.) Not to be outdone by the Russians and their spacecraft, Sputnik, Harwell Shepard devised a promotion where specially-marked balloons would each be stuffed with a prize voucher and released over the city of Denton for lucky listeners to locate. Shepard had area merchants to pledge prizes, and, armed with a package of 25¢ balloons that were stamped with the KDNT logo, the promotion was on its way. Harwell blew up the balloons with a natural gas jet (helium was too expensive,) loaded them up in the station's 1956 Chevy wagon, and, after checking the wind, took off with son Sandy for the west side of town. "Watch the skies over Denton," Harwell warned over the two-way radio patched into KDNT, as he and Sandy turned the balloons loose. According to Sandy, "The wind was supposed to blow them back into town. Instead, they went up…and up…and up! We never saw them again." And no one ever came forth with any prize vouchers. "They may still be up there," Sandy observes.
In 1958, the station conducted a survey across Denton County, which showed KDNT-AM was still receiving over 52% of the listenership in the area, more than all competitors combined! Owner Shepard commented in 1988, "We felt like we were doing something the listeners wanted." Also, callers to the station were forced to adopt a new phone number due to General Telephone's (GTE) streamlining of phone exchanges that year. The old number, C-4144 (or 2-4144,) was replaced with DUpont 2-4144.
Also in 1958, Harwell divorced wife Mary "Red" Shepard. Mrs. Shepard, who kept the books for KDNT during its earliest years, left Denton not long thereafter for San Angelo, developed multiple problems with cancer, returned to Denton in 1969, and passed away on April 2, 1971 at the age of 55. Neither she nor Harwell ever remarried.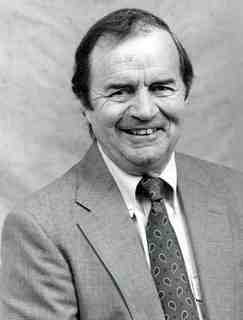 Broadcasting legend Bill Mercer,
the voice of Mean Green college football
In the fall of 1959, North Texas State football and basketball game broadcasts began on KDNT, with play-by-play done by Dallas-Fort Worth broadcasting legend Bill Mercer. Mercer explains: "I began broadcasting North Texas football in 1959. The late Fred Graham was instrumental in hiring me to broadcast the games. (At that time,) he was the color announcer on road games, and it was his first radio exposure. I was freelancing North Texas games while working for KRLD-TV in Dallas. Our equipment consisted of ONE homemade microphone and a broadcast unit that looked like someone in the 1920s had put together from a kit. The unit was carried in a barely-held-together fake leather-looking suitcase. After a season of carrying it, Fred was so embarrassed that he bought a new case! When we went on the road, we borrowed a phone in the press box to call the station collect, about five or ten minutes before the game, to count down on the equipment to take the broadcast. We never knew if we were on the air or not." Mercer continued: "We worked with that one microphone, which I would point at Fred when he wanted to talk. One day, in Louisville, Kentucky, the cable fell out of the old long microphone, which ended our broadcast." In a runaway road game in southern Illinois, Mercer says, "With North Texas winning by like 60-10, Mr. Shepard told the board op to kill the game and play music instead!"
KDNT also carried occasional football games from the Humble Oil Network, including the Sun Bowl on New Year's Eve, 1959.
With the sign-on of North Texas State's campus station, KNTU, in 1969, the school's football games were carried on both KNTU and KDNT. By the 1970s, KDNT was simulcasting NTSU football to WFAA-AM in Dallas, and, by 1990, KDNT was the flagship station of NTSU's (now UNT's) Mean Green Radio Network. During Mel Wheeler's ownership (1976-1984,) NTSU football was dropped in favor of more-profitable Nebraska college games. Mercer held down broadcasting duties for North Texas football through 1994, with a break in 1974 and '75 when he joined broadcast legend Harry Caray in the booth calling Chicago White Sox baseball games. (Brad Sham took over NTSU football duties for those two seasons.) Locally, Mercer held multiple announcing jobs concurrently, covering pro and semi-pro baseball, pro football (for both the Dallas Texans [2nd incarnation] and the Dallas Cowboys,) as well as exhibition wrestling.
Also in 1959, Ken Rench began a nine-year run as morning personality and host of "The Dawn Patrol" (not to be confused with Harwell Shepard's morning program, "The YAWN Patrol," in the 1930s and 40s!) Other programming included a daily religious show, "Echoes of Life," hosted by Jack Hyler; and the syndicated program, "Life Line." On weekend nights, host Joe Fausto broadcasted "Latin Rhythms," live from Johnny's Mona Lisa Club in downtown Fort Worth.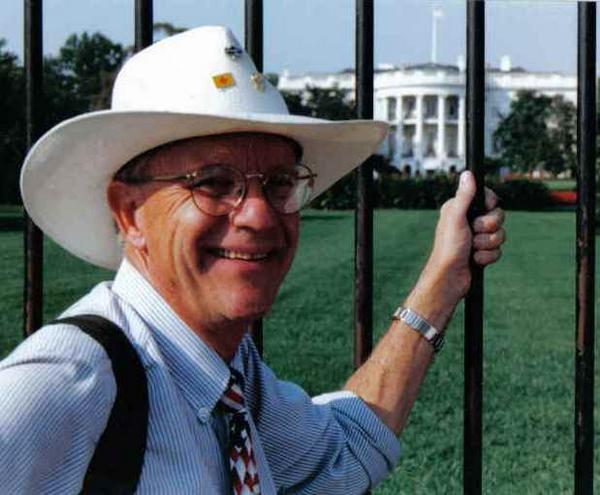 Frank Haley, today
Frank Haley, a longtime fixture in North Texas radio, started his career at KDNT: "I was a 19-year old freshman at NTSU in 1960. A friend of mine said I should audition for a DJ job there, so, with no experience, I went in to talk to the owner/manager, Harwell Shepard. He needed someone to do the 'Con West Show,' a two-hour country-and-western music show from 1-3PM Monday through Friday. Mr. Shepard took me into a production room, handed me a worn stack of wire copy (he must have used the same audition copy every time someone applied,) and said, 'Here, read this, I'll be right back.' I guess he went to another room to listen, because, in a few minutes, he came back and said, 'Can you start tomorrow?' I did, at one dollar an hour. We worked seven days a week, with no days off. The guy I replaced trained me for three days (on) how to run the board, read the commercials, and play the recorded spots...they were on reel-to-reel, and played on a group of three Roberts recorders behind the DJ."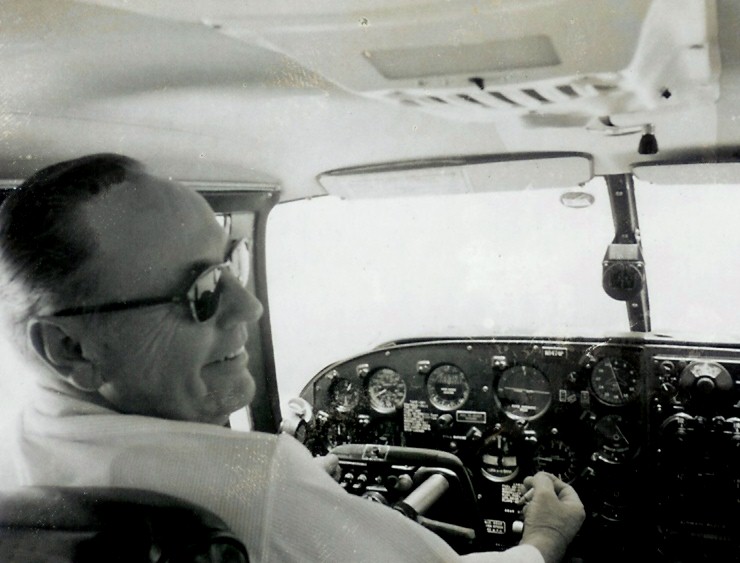 KDNT owner Harwell Shepard happily flying in his Cessna
Haley continues: "Mr. Shepard would drive around listening to us, and, if we messed up a spot, he'd holler at us over his two-way radio. The two-way's speakers were behind us, up high on a rack, and I didn't know that he was in his car...I thought he was talking to me from his office." Shepard wasn't limited to automobiles; he started flying his own plane in the early 1950s, and could monitor KDNT's broadcasts and provide firsthand information from the air. He even had "KDNT 1440" painted on the plane's side!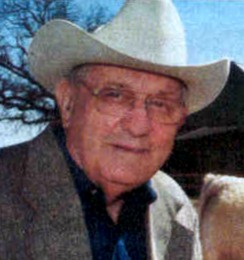 George Marti, today
Photo credit: Radio Workl
Also in 1960, Shepard teamed with his old ham radio buddy, George Marti of KCLE-AM/Cleburne, to rig a translator tower on top of the Medical Arts Building in Fort Worth that was connected by phone to the weather bureau, various churches and the commodities market, all accessible at both of their home studios via a microwave transmitter at the Fort Worth site. (For KDNT, microwaves were sent from and directly to its 300' tower.) This gave both stations up-to-the-minute access to these services, and saved on toll calls to retrieve this information otherwise. With a grueling schedule of church programs that changed every 15 minutes all day long on Sundays, the setup was particularly useful and cost effective. Marti, by the way, was so busy building and selling his remote program units (RPUs) for other stations across the US, that he sold KCLE and started up Marti Electronics the same year, 1960. He later expanded the business to include manufacturing and sales of STLs.
Hal Whatley began a 33-year career as chief engineer in August, 1960 (initially hired to facilitate the move of KDNT's towers...see next paragraph,) and also hosted the Saturday night music program, "Saturday Night Hoedown." Employees of the station often commented that Whatley would never get fired, because the schematic for the wiring of the entire station and transmitter was all in his head, and wired so that only he could make sense of it!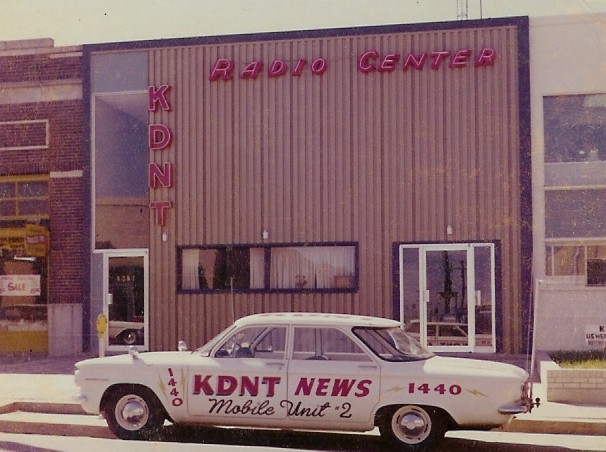 .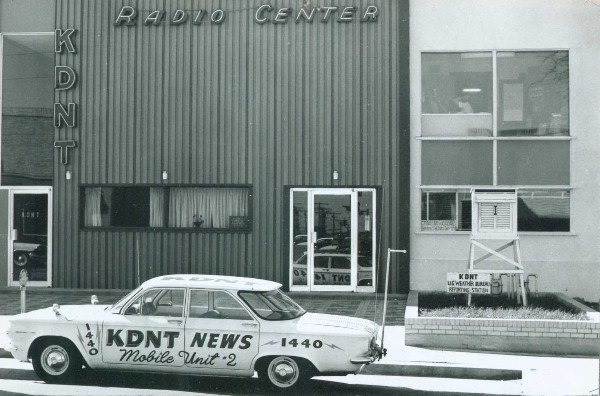 The second Mobile Unit #2 was in the form of a 1960 Chevrolet Corvair. Note KDNT's official Weather Bureau station to the far right
Right photo credit: Doug Anderson
In August, 1960, the radio towers were moved from Highway 24 (US 380) to a 23-acre location on Teasley Lane in south Denton (later addressed as "1440 Wheeler Drive") to help improve the signal towards Dallas. (Shepard had bought 100 acres at Teasley around September, 1958 [and applied for a CP with the FCC at that time for tower movement and installation of a new AM transmitter,] and, by 1960, sold all but the 23 acres used for the new tower placement.) Sometime between 1951 and 1958, KDNT-AM had increased power from 500 to 1000 watts daytime, and the new location brought a power increase to 5,000 watts. The FM side sported an improved 12-bay antenna, pumping out 100,000 watts. Also built at the same location was an all-concrete building that was constructed and paid for by FEMA to be the official "Fallout Shelter" for the city of Denton. The thought was that officials who were holed up in the building during a nuclear attack could make use of the station's transmitter as a communications device. As was the case at the Highway 24 site, programming was sent via microwave from the Hickory Street studios directly to the new tower location.
The same year, Harwell Shepard remodeled Radio Center's studios, enclosing the former bandstand and auditorium areas into a new control room. Cosmetic changes were made to the building's exterior: A ledge was removed, and a hole cut into the front wall became a large window for drivers and pedestrians to see the disc jockey in action (as the control room had been centered and moved towards the front of the building.) The AM station's format was altered to be mostly "modified Top 40" on weekdays, "cowboys" on Saturday nights, and religious programming on Sundays.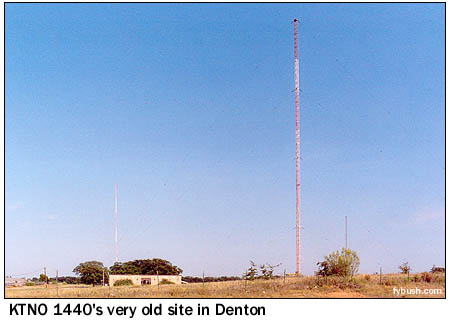 Well, it was new at one time! Transmitter site and 3-tower array on
Teasley Lane in later years, just southeast of town.
The studio building was added in early 1981.
Photo credit: Scott Fybush
On September 21, 1960, KDNT-FM permanently changed frequencies from 106.3 (Class A, broadcasting at 1,000 watts) back to 106.1 (as a Class B, at 3,000 watts.) The FM station had been simulcasting the AM side for several years; eventually, the FCC discouraged duplication of programming, so the station bought automation equipment and programmed it with middle-of-the-road music. (Mike Ehrle describes the FM setup later in this section.) Employees of the AM side were paid extra to go in the studio and "voicetrack" airshifts to be played back later on the FM side. Also, KDNT-FM was programmed with NO commercials! The station found itself in the #1 spot in the Dallas-Fort Worth market in some dayparts, and owner Shepard perceived economic viability there and sold commercials for it…and then the listenership faded. As it turned out, the high ratings were merely a result of having no commercials.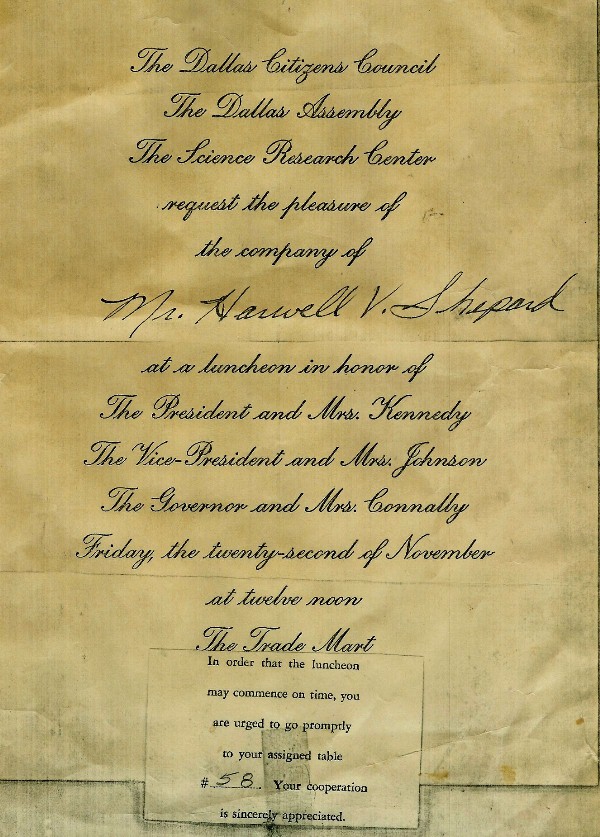 Personal invitation to eat lunch with President Kennedy,
November 22, 1963
Harwell Shepard and his son, Sandy, were invited to attend President Kennedy's planned speech from the Trade Mart on that fateful day, November 22, 1963. When Kennedy's shooting was announced, the attendees were dismissed. When Harwell was told that reporters were being barred from Parkland Hospital by the Secret Service, the Shepards decided to quickly head back to Denton to report the sad news over KDNT. Sandy, who was 17 at the time, vividly remembers driving back to Denton along US-77 (now Interstate 35E) and seeing an ongoing procession of police cars backed in along both shoulders, facing traffic, for the entire trip...with armed-and-ready officers standing next to each (at that point, Oswald's arrest and tie-in with the president's murder hadn't been established. Police were on the lookout for anyone suspicious who might be heading out of town or state.) The station didn't send another reporter into Dallas that day, but instead relied on teletype reports for its assassination coverage.
Click HERE for Harwell Shepard's reflections, recorded the day of JFK's assassination
Speaking of the late president, former KDNT jock Patrick Woods' poorly-timed sense of humor cost him his job at the end of 1963: "I usually did the late show of what we now call rock and roll. I was having a good go of it, too! When I introduced records, I imitated the voice of Elvis or Jerry Lee Lewis or Frank Sinatra or Wolfman Jack. Late one afternoon on a Saturday, I was subbing for someone and was having a bit of fun. I was doing the news and announcing sides in what I thought was a pretty good imitation of John F. Kennedy's Boston accent. I got carried away with my own inventiveness and I sort of had the late president announcing the different songs and reading the news direct from the grave. I was having a good laugh to myself and feeling easy because the boss wasn't there! So what's my story? I got a call from Mr. Shepard, who was up in his airplane somewhere listening to the station, and him telling me in no uncertain terms I was fired!"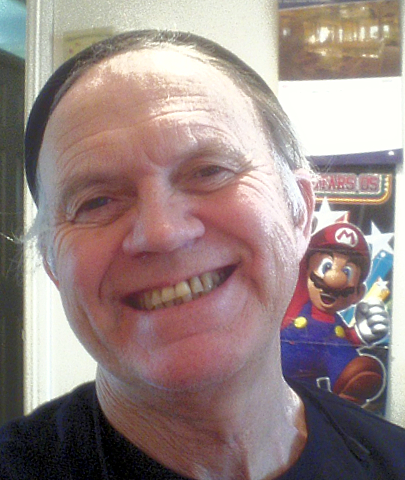 Patrick Woods, today
Woods, who now resides in Lugano, Switzerland, also remembers having to peddle ads to cover his daily shift: "When I started out, I had to make up ads on a tape deck and go around and sell them to pay for my show. I remember I sold one to a pharmacy and to an appliance store…soon I was in the big time (when) I had a fulltime sponsor!" He added, "I have all those same stories as you guys about being thrown into the studio and left alone to figure everything out on my own: Cueing up tape and spinning 33's (LP's) and testing the emergency network, all at the same time, and running in the other room to see if the transmitter was transmitting."
Click HERE to listen to some of KDNT's jingles from the early 1960s
.
COMING UP IN PART 3, 1964-71: Two fires—one at Radio Center, the other at Teasley Lane; "Shout That Slogan" premieres, and KDNT becomes a family affair when Harwell's son Sandy signs on as engineer and personality. Also, former jock Mike Ehrle (Mike Ward) shares his reflections of KDNT in a newspaper article he wrote for the Childress (TX) Index in 2001. Click HERE
---
SHORTCUTS
PART 1 - 1938-46
PART 3 - 1964-71
PART 4 - 1972-83
PART 5 - 1984-93
PART 6 - 1994 AND BEYOND
A "WHO'S WHO" OF KDNT
DUSTY MEMENTOS
RADIO CENTER STUDIOS INSIDE-OUT
PHOTO ESSAY
---
TERMS AND CONDITIONS OF USE
This entire website and its contents are copyright 1984-2022 Mike Shannon. Images are copyright of their respective owners. If you feel your copyright is being infringed upon by its appearance in this website, please email me and it will be removed or credited properly. I am not responsible for errors, omissions, incomplete information, misrepresentations or dead links. Information was gleaned from newspapers, broadcasting yearbooks, magazines, personal recollection, recollections of others and the like. Copying of any or all information or images for use on other websites, in print or for other purposes, is prohibited without permission. Links are provided for the user's convenience; I claim no responsibility for the contents, accuracy or relevance of other sites that may be linked to from this site. This entire website is considered a not-for-profit "fan site," to be enjoyed for entertainment and informational purposes only. Usage of this site and/or any sites, sub-sites or pages or images contained within, however accessed, constitutes your agreement to these Terms and Conditions. If you do not agree to these Terms and Conditions, click here and you will be taken elsewhere. Proceeds from advertising & duplication services are directly used for site maintenance, hosting fees and research costs.