THE HISTORY OF
KDNT RADIO
IN DENTON, TEXAS
PART 5: 1984-1993


Galen O. Gilbert in 1949
Credit: Broadcast Magazine
Mel Wheeler sold both KDNT-AM and FM to Garland, TX resident Galen O. Gilbert (dba "KDNT Radio, Inc." and later as "Galen O. Gilbert and Associates" and also as "Community Service Radio Group") for $1.7 million on November 17, 1984: $800,000 for the AM, $500,000 for the FM, and $400,000 for the real estate on Teasley Lane. (Gilbert paid $400,000 cash and financed the remaining $1.3 million.) By then, the AM side broadcasted an easy listening format. Mel Wheeler sold KDNT so he could purchase former Dallas Cowboys owner Clint Murchison's Oklahoma City station, KLTE. He continued buying and selling stations; after his retirement (and eventual death, in June, 1997,) Mel's sons Leonard, Steve and Clark assumed ownership of the group, which still thrives today. "I grew up in San Diego," Leonard Wheeler recalled in a 2006 interview. "And for the majority of those years, my father, Mel, was general manager of a TV station and president of Bass Brothers Telecasting...owned by the Bass family, which is very well known in Texas circles…They decided to sell all their broadcast stations because it wasn't their core focus. At the time, my father's interest was to create a company with his sons. I was working in radio; my brother was working in the news department of a San Diego TV station…We all jumped into it at different times to build a family company." The Wheeler stable of stations also included WSIL-TV in Harrisburg, IL; KRCG-TV in Jefferson City, MO; and radio stations in Roanoke, VA. Leonard Wheeler continued: "The company started with the Roanoke AM/FM and an AM in Denton, Texas: KDNT at 1440. I think it made 35 bucks in its best year!" (Credit to Radio & Records for their 2006 interview with Leonard Wheeler)
FCC documents filed at the time of the ownership change showed that Galen Gilbert did not own the station fully; he assigned 12.5% to his son, Jesse Ray "Jess" Gilbert (who was appointed KDNT chief engineer at the time of the sale,) and 12.5% to another principal, Roy W. May. By March, 1986, another principal was added: Jerry Lee Johnson. With Jess in as CE, longtime chief engineer Hal Whatley was given a reduced role after the ownership change.
With Galen Gilbert at the helm, North Texas State football games were once again heard over KDNT-AM after an eight-year absence. Bill Mercer returned to announce the games, and formed an allegiance with the new owner: "The last three years I worked with KDNT, my broadcasting students (at North Texas State) had opportunities to call in (sports) reports from area high schools, as well as doing some broadcasting on the station. It was a dandy arrangement, with a dozen students gaining experience."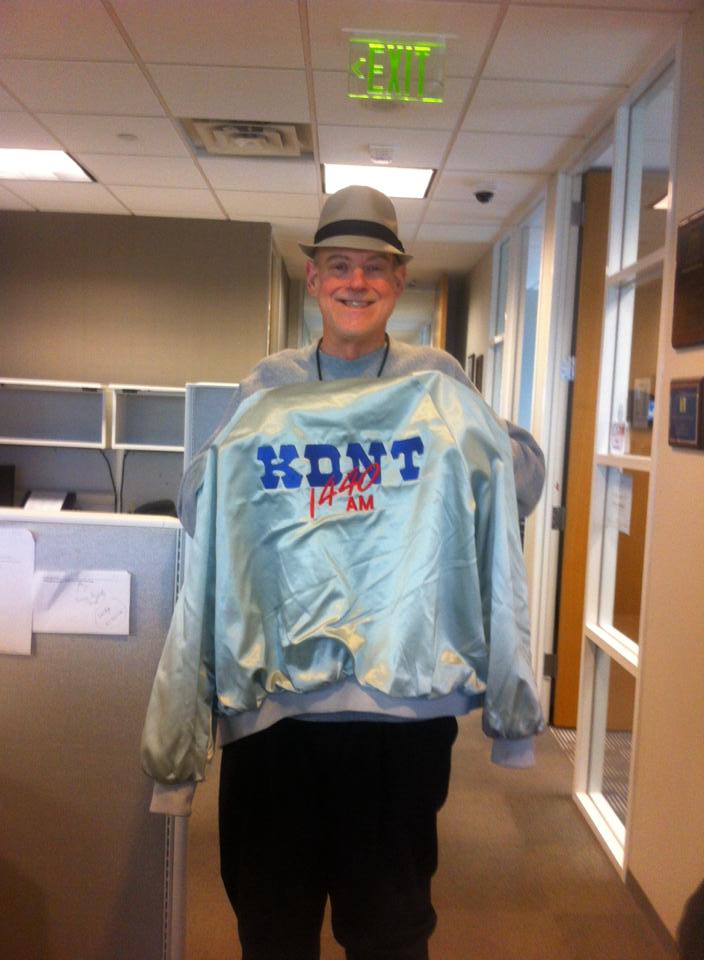 In a 2015 photo, former sports director Roger Emrich shows off an artifact
from his 1985-89 KDNT days: A snazzy silver KDNT jacket! Emrich continued
his successful radio career at KRLD-AM in DFW, and can be heard as the
stadium announcer for all home Dallas Cowboys games!
Photo credit: Roger Emrich
Longtime newscaster and salesman Buford Harrell died on July 15, 1985, at age 76; he logged 34 years with the stations beginning in 1951. Harrell was a newscaster, announcer and the top salesman at the station, and, according to Sandy Shepard, "He knew everything that was going on in Denton." Harrell's usual transportation was the company car known as "KDNT Mobile News Unit #2," a 1956 Chevrolet station wagon (later replaced by a 1960 Corvair and a 1964 Chevy II.)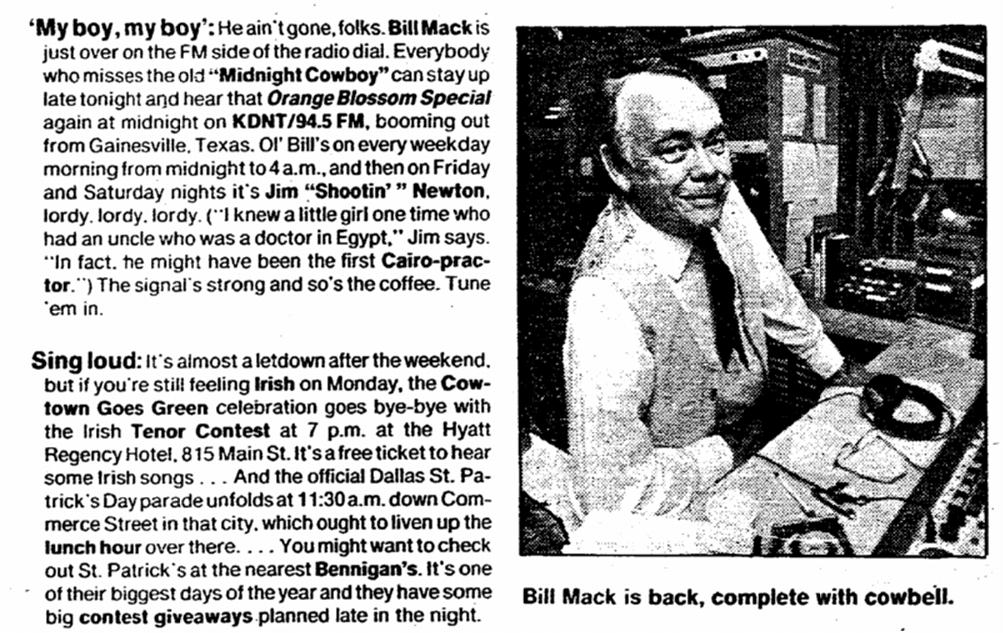 In March, 1986, KDNT scored two heavy-hitters of DFW radio...Bill Mack and Jim "Shootin'" Newton
Article/photo credit: Fort Worth Star-Telegram
The same year, 1985, Dennis Grandcolas became the station manager, Jeffery Bennett was the new FM program director (who returned KDNT-FM to a country format;) Bill Van Ness and future KRLD-AM/Dallas and Texas State Network sports anchor Roger Emrich (the "Rajmahal") were the morning show personalities. Emrich was also sports director. Joe Short was the general manager; Scott Sommer was the AM's program director. Future KILT-FM/Houston's popular afternoon jock, "Rowdy Yates" (real name: Josh Holstead,) was a disc jockey, as were Dale Olson, "Boppin'" Bob Berry, Hal Murray, Kathy Machi and Jeff Lyons. As the new manager, Grandcolas pulled off a coup in March, 1986, by hiring WBAP-AM legend Bill Mack and Jim "Shootin'" Newton of DFW radio and television fame. (Mack had left WBAP for a new country-formatted KLIF in 1982; when KLIF dropped the country music, he joined KDNT. Of course, Mack returned to WBAP eventually, and retired from there in 2001.) KDNT-FM was nicknamed, "94-And-A-Half Country" and "Lucky Country."


KDNT Operations Manager Dale Olson
Dale Olson worked for KDNT from 1984 to 1993, with the last five years spent as operations manager. "I left shortly before the station was sold (in 1993,)" Olson says. "I'm not sure why I stayed so long. There was something about that place. It was pathetic, yet comfortable, if that makes sense." (Olson is now the Department Chair for Brown College's School of Broadcasting in Minnesota.)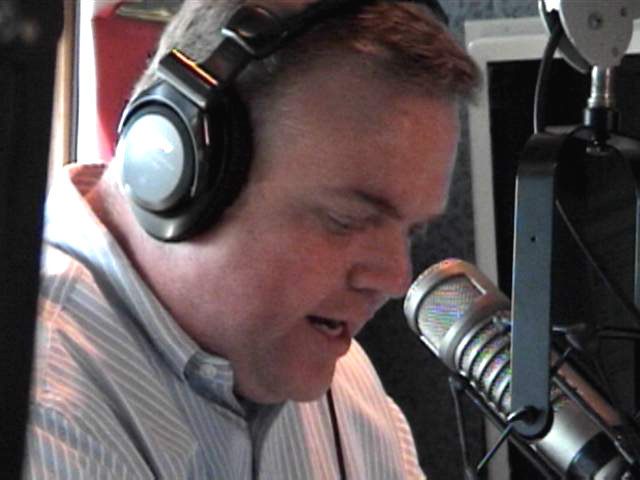 Josh Holstead, KDNT personality known better as
"Rowdy Yates" at KILT-FM in Houston and now KVOO-FM in Tulsa
Texas Radio Hall of Fame inductee Josh Holstead credits his weather training at KDNT for preparing him to handle much bigger stories: "During Hurricane Ike (that hit Houston in 2008,) what came back into my mind was my first disc jockey shift on a Saturday night at KDNT in Denton when I was 16 years old. The wind was howling, the tower was swaying, balls of static electricity were rolling off the guy wires, and the news director rips off what looked like 18 feet of UPI weather copy and says, 'Read all of that.' And I did. So thank you to Joe Short, Scott Sommer and Bill Van Ness, who held my hand through my first on-air weather event. I have been on the air for a hundred or more since then, but it was the first one I ever did that helped me through the biggest one I have done so far." Credit certainly goes as well to Josh's father, Joe Holstead, who spent most of his long, successful radio career in the Dallas-Fort Worth market as a news anchor, reporter and beloved personality.
Jim Johnson worked at KDNT from 1987-1990, and shares a story about working with the late Jim "Shootin'" Newton at the station: "My very first recollection of working there was the first early Saturday morning shift. I walked in to find Jim sitting in one of the smaller studios with a case of old cowboy albums, his shirt wide open revealing a sweaty undershirt, and smoking a really big cigar." By that time, Newton was in the waning years of a successful radio and TV career, where North Texas viewers saw him and Cowboy Weaver every Saturday night on KTVT-TV Channel 11 in Fort Worth throughout the 1960s and 70s.
Click HERE to listen to some of KDNT-AM's 1980s jingles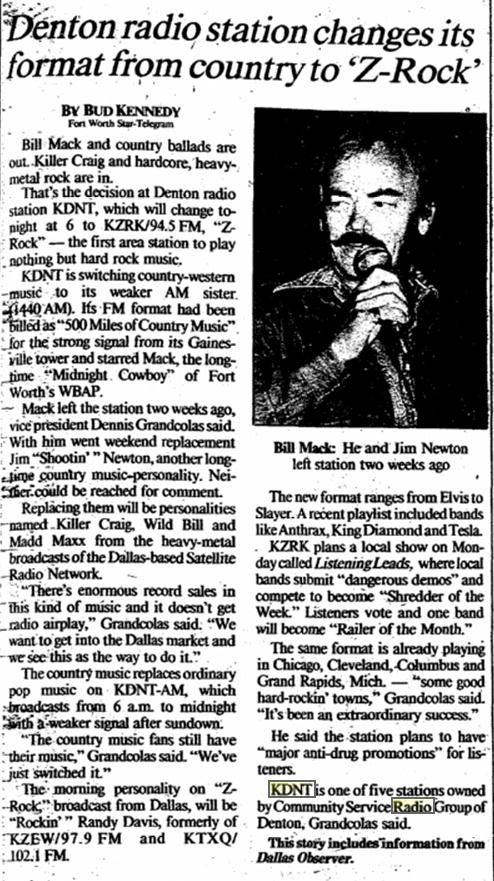 The Fort Worth Star-Telegram discusses the
pending format change to Z-Rock; July 3, 1987
KDNT-FM dropped the country music format (known as "500 Miles of Country" at the time) and became KZRK-FM on July 4, 1987, broadcasting the Satellite Music Network's new active rock/metal "Z-Rock" format. It was the 53rd Texas affiliate of the six year-old SMN, and nine disc jockeys at the former KDNT-FM were canned. Dennis Grandcolas, station manager, told the Dallas Morning News that, "Of course, when you become an affiliate, you have to do some restructuring. We became an affiliate because it is cost effective. The payroll goes down. You have to ask yourself as a business, what is cost-effective and what's the future? The release of those people creates jobs for others." Two large carousel cart machines were installed at the station to allow the commercial spots and IDs to run via automation, synched to a computer (a computer that wouldn't keep time, recalls Board Operator Mike Shannon. "One of our responsibilities was to check the computer's clock at least once every couple of hours, to make sure it was keeping time. The nature of the satellite model meant having to hit every break and play every ID at an exact, specified minute and second. The computer took care of all of that, provided the time was correct!")

Sticker seen on the bumper of many a local "headbanger"
While the FM programming was nearly 100% satellite-fed, a local program, entitled "Listening Leads," aired weekly. Hosted by longtime DFW album rock personality Randy Davis, the show sought out local talent and encouraged bands to submit demo tapes to the station...in hopes of being crowned "Shredder of the Week" or "Railer of the Month"!
Although the new hard rock format quickly attracted a cult following of "headbangers," the signal was still too weak for most Dallas-Fort Worth listeners to receive. Attempts to peddle advertising in DFW netted little interest. Meanwhile, KDNT-AM flipped from pop to country to easy listening to news/talk during the day, and the Satellite Music Network's "Country Gold" at night and on weekends. Syndicated programming such as "The Car Show" (similar to the popular "Car Talk") and "Waxworks" were weekend staples, along with religious programming on Sundays. Brian Gann was the program director, and a daily phone-in auction of advertiser giveaways, "Bids For Bargains," became a regular mid-day program in 1988. Also, noted nature photographer Jason Butler spent nearly six years (1988-94) with KDNT while attending the University of North Texas.
Meanwhile, the area's radio landscape was changing: Denton gained another radio station on September 25, 1988, with the premiere of KWDC-FM at 99.1. It was owned by longtime Dallas sportscaster and North Texas State (now UNT) instructor Bill Mercer and radio vet Fred Graham, but was quickly sold and became KJZY-"Jazzy 99.1" on October 3. (Mercer was still concurrently handling sports play-by-play duties for KDNT; Graham was the one who took issue with the former KDNT-106.1 taking aim at Dallas instead of Denton back in 1979.) Along with campus station KNTU-FM, Denton had the distinction of having two of only 19 pure jazz-formatted stations in the US. KNTU's new tower, constructed north of Denton, became a springboard for numerous rimshot stations to beam in to DFW during the 1990s and 2000s; KNTU had previously rented space on KDNT's main tower, dating back to the 1980s.


1980s AM station logo
By 1988, KDNT-AM's listenership was dwindling, and weekend board operator/newscaster Mike Shannon often toyed with the idea of asking ANYONE listening to call in on the request line...just to see if someone was actually tuned in. At least one person was: "One night on my shift, a somewhat frantic older woman called the station, and wanted to know exactly why some helicopter was flying over her house! She was determined that it was a manhunt, and she told me she'd already locked her doors and windows. I couldn't convince her that we'd probably be the last ones to know anything. Of course, this was long before the internet, and I don't think the station even owned a TV set…and the UPI wire was only good for national and regional stories. So, trying to contain my laughter, I looked up the number for the police department (these were pre-911 days) and referred her to them. I bet they appreciated that!" Webmaster Mike Shannon offers some more not-so-great memories of his brief stay at KDNT...click HERE!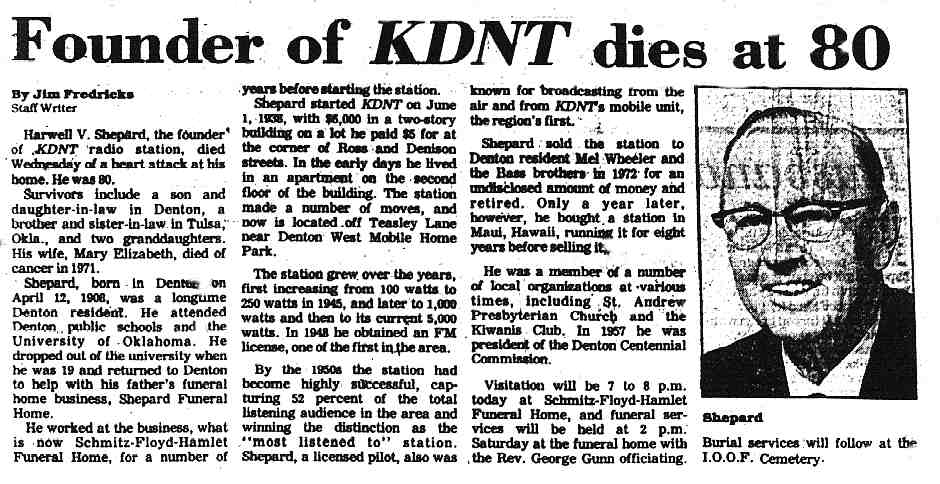 Obituary for KDNT owner Harwell Shepard
In 1989, former owner Harwell V. Shepard died on February 8 at age 80. Shepard had been long retired from the radio business, and spent his last years traveling and spending time with his grandchildren...one of whom is building a career in the entertainment field herself: Sally Shepard. Four months later, Galen Gilbert's KZRK-FM was sold to Evergreen Media and became KDGE-"The Edge" on June 30 (with former KDNT personality George Gimarc as music director and inventor of the station's alternative format.) In June, KDNT picked up the syndicated, regional program, "Spotlight," which featured unsigned Texas-based country bands. Also in 1989, future KTCK-AM and Dallas Mavericks announcer Mark Followill began working at KDNT-AM.
In October, 1989, KDNT-AM flipped formats from part-SMN "Country Gold" and part-news/talk to exclusively news-talk. Many shows were syndicated from the ABC Talk Network, and included Cerie Segal's "Travel Talk" (began in June, 1991,) Sally Jessy Raphael, Tom Snyder, Gordon Elliott and "The Debra Norville Show." A local program, "Legal Talk," was added to the AM's lineup, as were the news programs "Good Morning North Texas," "The Breakfast Club" and "Noon News Watch." Station Manager Dennis Grandcolas explained other changes to The Dallas Morning News: "It will be like KRLD in the morning and KLIF at night. We'll have information and news in the early morning, and talk from mid-morning on." Programming also included a call-in sports show overnights, and others covering money, health and fitness, garden, music, religious, politics, home repair--"even a show, hosted by Michael Gold, to help listeners find long-lost friends and relatives and stage actual reunions," Grandcolas said. An hour-long local newscast ran at noon and 5PM weekdays. "I think we're going to surprise some folks," Dennis continued, "We are going to zero in on Denton County, which, at the moment, is not being targeted. But we expect to pick up listeners from all over the place. Our goal isn't to be a dominant force in Dallas, but we will be a factor." Grandcolas did not give any credence to nearby KNTU's hourlong newscasts and regular local public affairs programming.
Brule Eagan worked part time at KDNT from 1988-90: "My wife at the time was attending UNT, and I needed a gig, so (News Director) Brian Gann hired me. It was the most horrible experience of my 28-year career! I'm sure that when Bette Davis uttered that famous 'What a dump' line, she had already visited the station for motivation. Until then, I had no idea there was a radio station anywhere that had absolutely no audience. How my checks didn't bounce is a mystery to me to this day! By the way, it was the last station I could smoke in."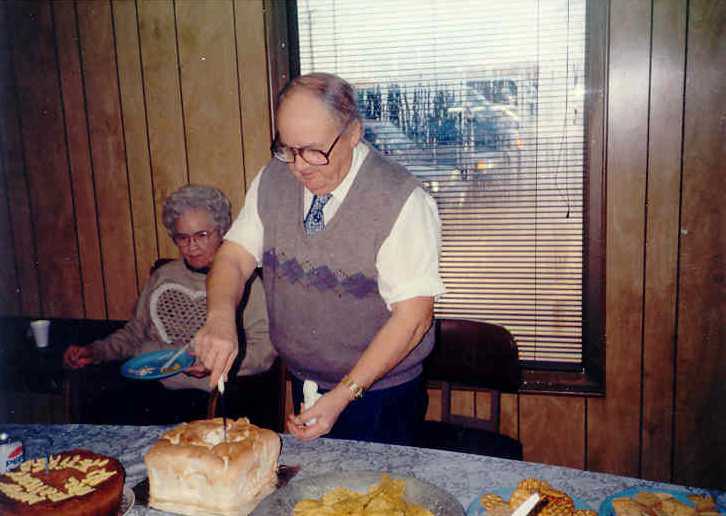 .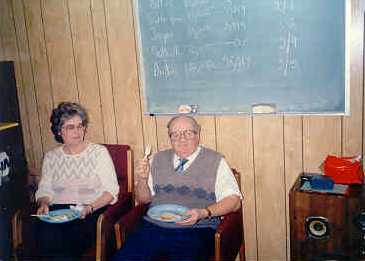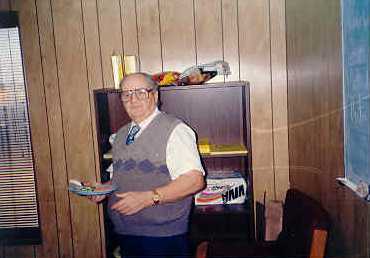 .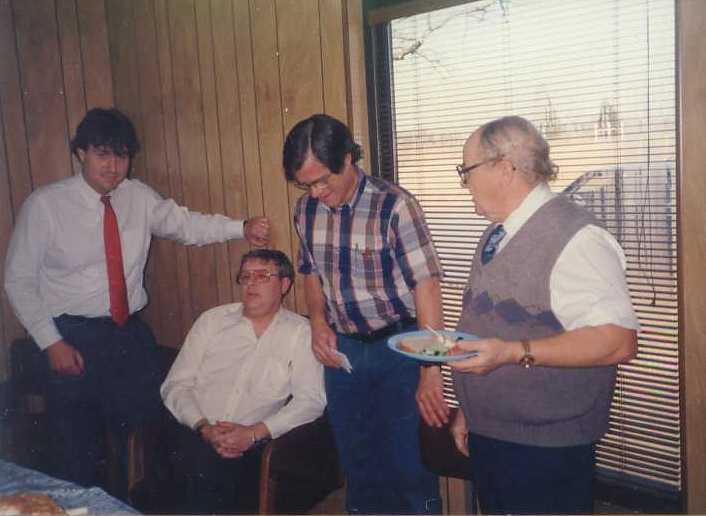 Chief Engineer Hal Whatley at his birthday and semi-retirement party, 1991:
(Top left and right) Hal and wife Betty at the party; (bottom left) Hal; (bottom right) GM Dean Minnick (seated,) Engineer
Jess Gilbert (plaid shirt) and Hal. Man on left is unidentified (Herb Tarlek from WKRP?)
Hal Whatley, engineer at KDNT since August, 1960, semi-retired from the station on January 30, 1991. Hal was CE from 1960-84, and an engineer under Jess Gilbert from 1984-91. He did continue in a reduced, part-time role through the station's sale in 1993 and on into the new ownership, finally stepping down for good in January, 1999, due to declining health. Whatley died on October 25, 2000.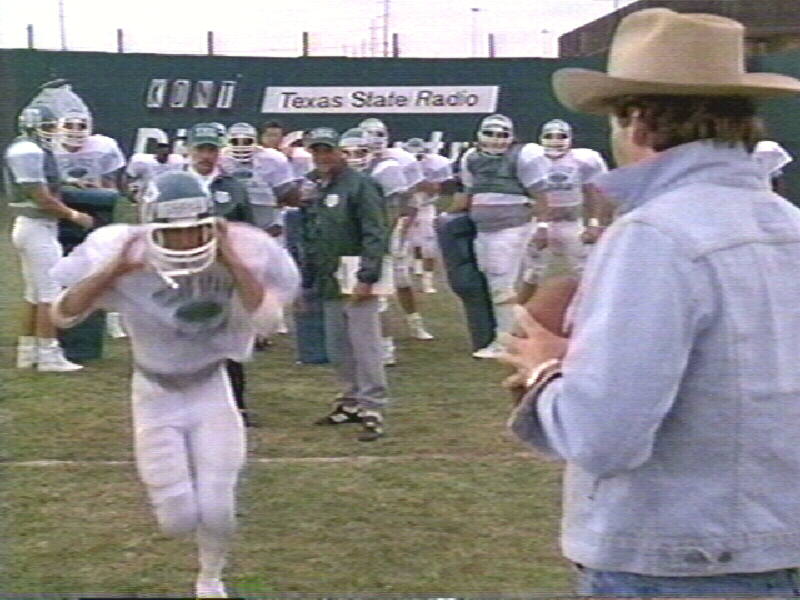 .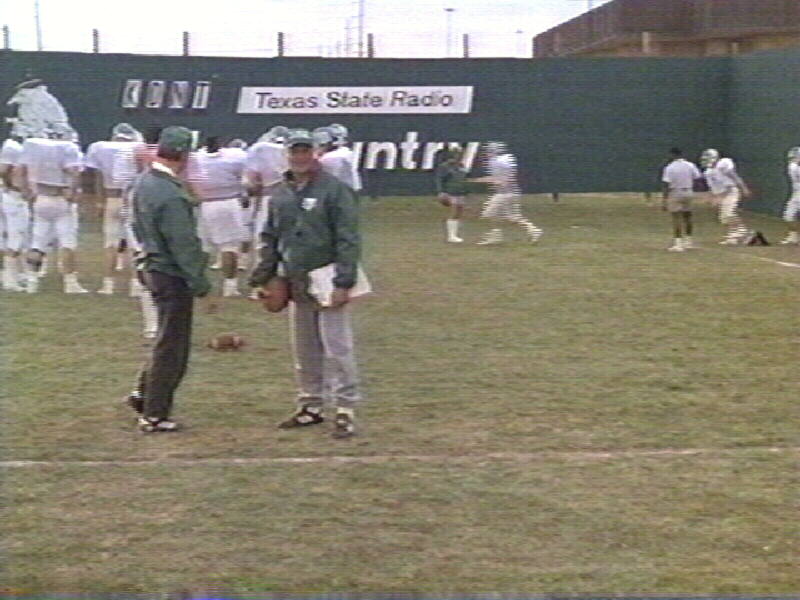 .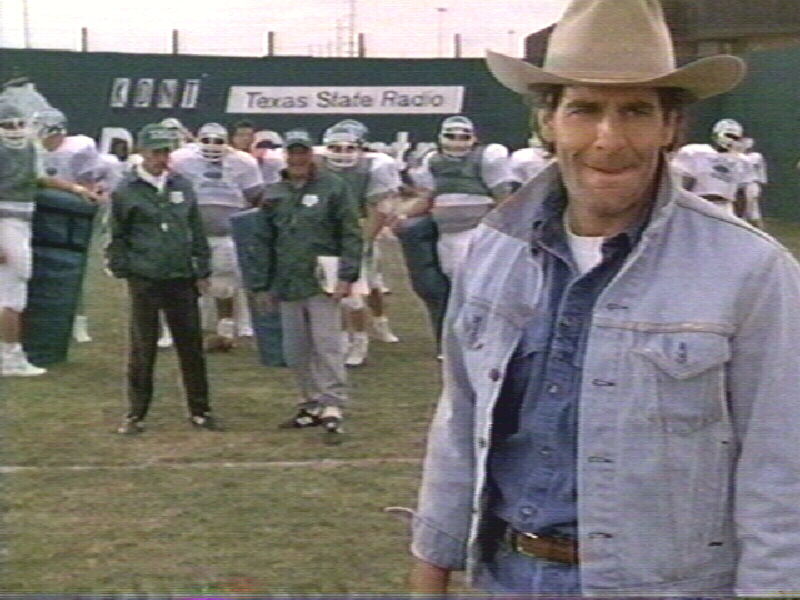 The 1991 theatrical release, "Necessary Roughness," was filmed at the University of North Texas;
KDNT's call letters were prominently featured in the practice field background near Fouts Field;
actor Scott Bakula is pictured (left and right)
Meanwhile, cross-town Denton station KJZY flipped formats and brought KDNT-FM's former "Z-Rock" broadcasts back to local airwaves in November, 1991, as KDZR-FM...with similar, lackluster results.
Also in 1991, Bruce Michaels was now KDNT's operations manager, and Dean Minnick was the general manager. Joe Dodd and Alan Crone joined the station; "The Dodd Files" and "The Alan Crone Talk Show" became regular local programs, as well as Carl Martin's political show, "The Denton County Party Line." The station also carried programming from the American Forum Radio network, which provided KDNT with shows hosted by Pat Buchanan, Larry King and others.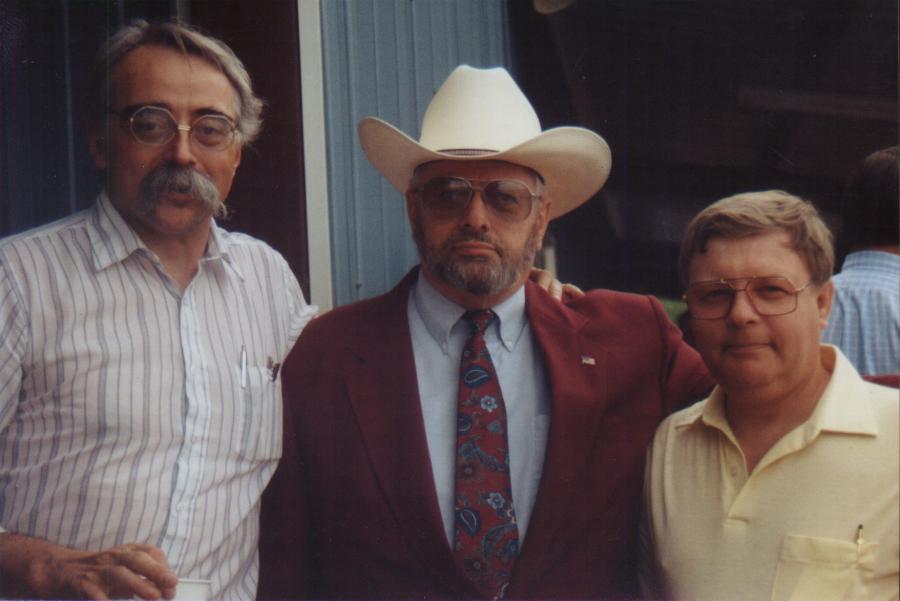 .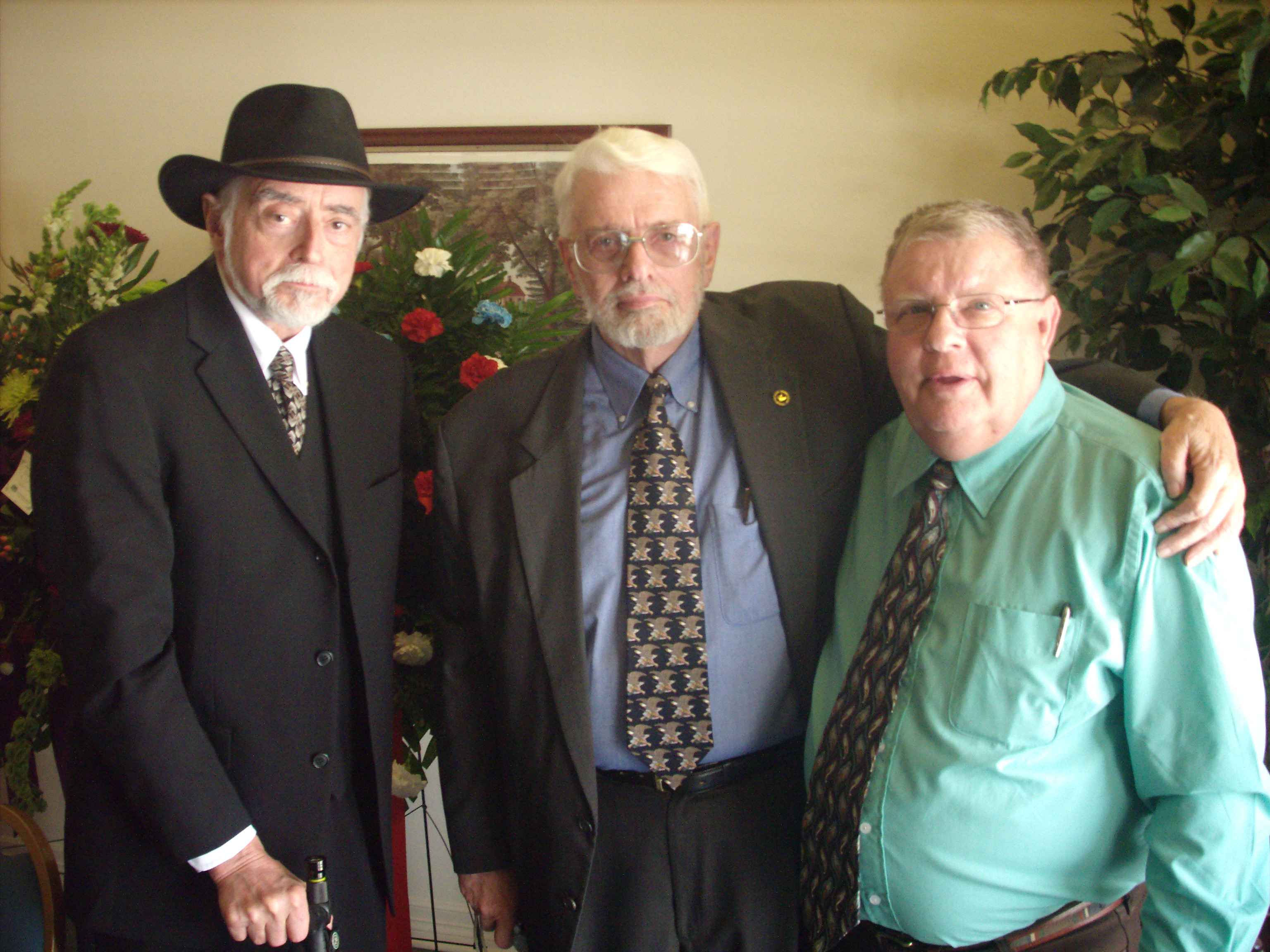 (L) KDNT personalities in the early 1990s: (L-R) Colonel Mason, Bob Powell and GM Dean Minnick. (R) The same KDNT folks in the same order, 2011!
The left photo was taken at Texas Ranger (and future Denton County Sheriff) Weldon Lucas's retirement party in 1992; the right photo
was taken nearly 20 years later at Lucas's funeral in January, 2011. Thanks to Colonel Mason for providing a nice then-and-now!
Colonel Mason, currently host of the syndicated radio program, "Promise of Tomorrow," worked for KDNT-AM in the early 1990s: "I worked with Jack Bishop, also Bob Powell and others. I did a weekly editorial called 'Storms and Controversy,' did a brief stint as morning news editor, and hosted controversial talk show remotes from The Colony and Lewisville that we dubbed, 'The Rottenest Show on Radio.'" Mason pursued hard-hitting stories for the station: "The highlight (of my KDNT news career) was my exposing child abuse in The Colony High School, about which I was convicted for beating up a wrestling coach. That was 1993, I believe. It was big stuff on KDNT and the local paper."
Doug Anderson was employed as a board operator and news anchor at KDNT from 1991-93. He writes, "I was one of the last people out the door when the station went Tejano. Fun things I remember were recording updates and interviews on Friday nights for the Saturday morning high school 'scoreboard' show. I also used to prank-call syndicated shows we carried!" But a little fun came with a price: "During a 'Bids for Bargains' broadcast, I played a 'drop' of Foghorn Leghorn. GM Dean Minnick told me if I did it again, it would 'be the end of my radio career'"!
And, in a strange coincidence, former KDNT talk show host Alan Crone ended up as the staff meteorologist at KOTV-TV in Tulsa…the very same place and job title that former KDNT jock Lee Woodward had during the 1960s and 70s!




COMING UP IN PART 6, 1994 AND BEYOND: KDNT gets sold again and goes Spanish, Sandy Shepard parts with Radio Center, and the Teasley Lane property becomes an elementary school. Click HERE
---
SHORTCUTS
PART 1 - 1938-46
PART 2 - 1947-63
PART 3 - 1964-71
PART 4 - 1972-83
PART 6 - 1994 and beyond
A "WHO'S WHO" OF KDNT
DUSTY MEMENTOS
RADIO CENTER STUDIOS INSIDE-OUT
PHOTO ESSAY
---
TERMS AND CONDITIONS OF USE
This entire website and its contents are copyright 1984-2023 Mike Shannon. Images are copyright of their respective owners. If you feel your copyright is being infringed upon by its appearance in this website, please email me and it will be removed or credited properly. I am not responsible for errors, omissions, incomplete information, misrepresentations or dead links. Information was gleaned from newspapers, broadcasting yearbooks, magazines, personal recollection, recollections of others and the like. Copying of any or all information or images for use on other websites, in print or for other purposes, is prohibited without permission. Links are provided for the user's convenience; I claim no responsibility for the contents, accuracy or relevance of other sites that may be linked to from this site. This entire website is considered a not-for-profit "fan site," to be enjoyed for entertainment and informational purposes only. Usage of this site and/or any sites, sub-sites or pages or images contained within, however accessed, constitutes your agreement to these Terms and Conditions. If you do not agree to these Terms and Conditions, click here and you will be taken elsewhere. Proceeds from advertising & duplication services are directly used for site maintenance, hosting fees and research costs.