PROFILE:
SUZIE HUMPHREYS
AND WFAA-TV's "NEWS 8 ETC..."
PART 1
SKIP TO PART 2 - TRIBUTES TO DON HARRIS AND GENE THOMAS HERE
.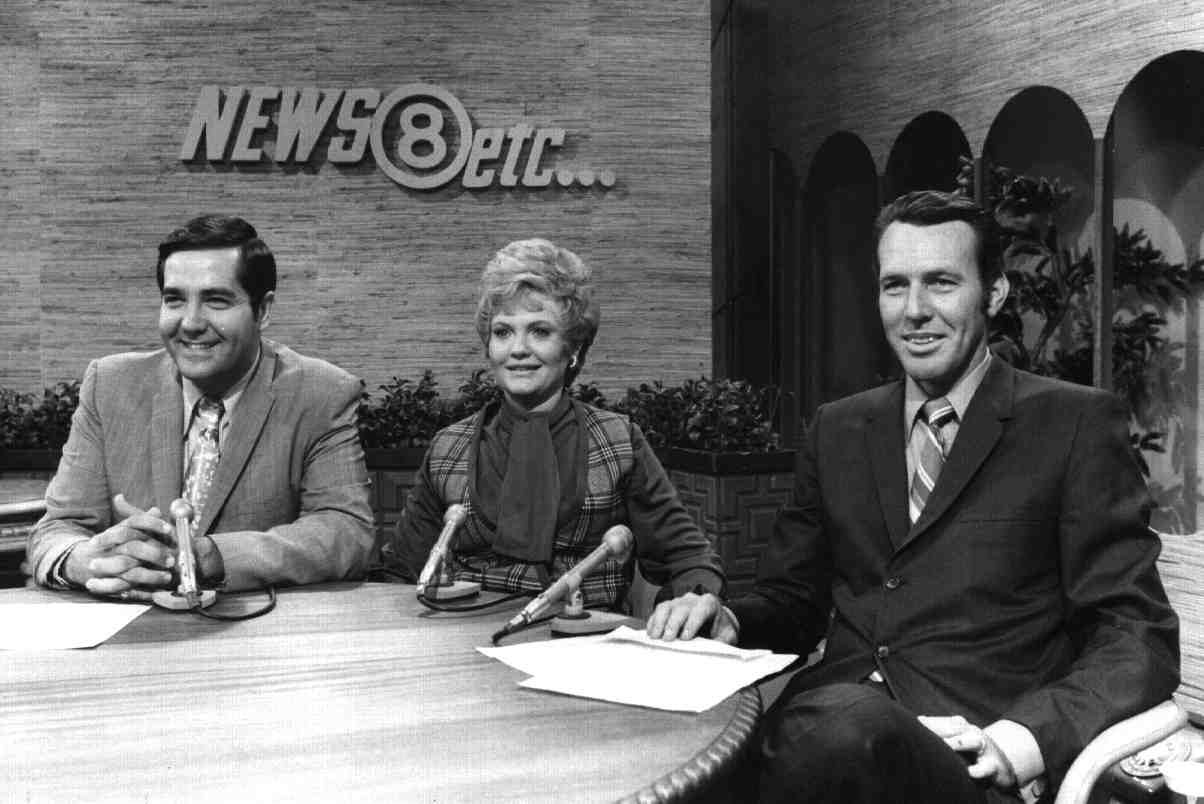 1971 hosts (L-R): Gene Thomas, Suzie Humphreys, Don Harris
"News 8 etc..." was a bold undertaking in the history of local television. The show was a live, local morning program produced for, and shown exclusively on, WFAA-Channel 8 in Dallas. It was on the air for one-and-a-half hours each weekday from January 12, 1970 to May 3, 1974. (It continued in a somewhat similar form as "The AM Show" and "AM" thereafter until early 1978.) The original hosts, Don Harris and Suzie Humphreys, were also the producers, editors and writers, and worked without cue cards or even a TelePrompTer. In an exclusive interview with webmaster Mike Shannon, Suzie Humphreys shared her reflections about the show and the emotional experience that it became...from being the best job she ever had, to becoming a revolving door of co-hosts, and dealing with the untimely deaths of her friends and co-hosts Gene Thomas and Don Harris.
.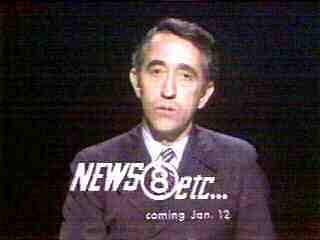 .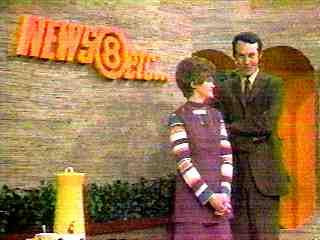 .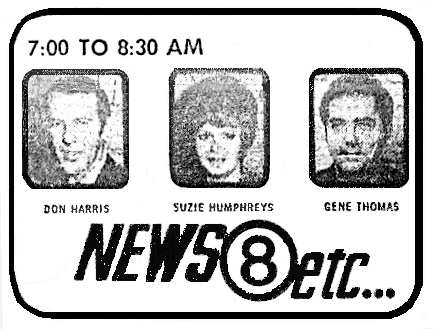 L: Comedian Pat Paulsen advertises the coming of "News 8 etc..." C: Suzie and Don on the show's premiere, R: Newspaper ad, 1971

.
"Channel 8 wanted to do a different kind of morning show," explained Suzie in a 1989 interview for the 40th anniversary of WFAA-TV. "There was only one at the time, the 'Today Show.' They wanted to do something on a local level, but yet geared nationally. In other words, if there was something national breaking in the news, we would be there. We would have guests live on the show as well...people like George Bush, or on the lighter side, we would have John Wayne or Clint Eastwood, or any of those wonderful stars." Suzie recalls today that, "Anytime there was an actor or production coming to town, we were right there, lining them up for an appearance on 'News 8 etc...'" In fact, the show kicked off its premiere episode on January 12, 1970, with Dallas Cowboys star Lance Rentzel and his wife, actress and singer Joey Heatherton. (This appearance was long before Rentzel was tagged with indecency charges.)

NEW! See early WFAA-TV promos for "News 8 etc..." here!


One could spot these on a few bumpers around town!
But the program was not afraid of controversy. In April, 1970, Don and Suzie queried viewers about the possibility of legalized abortions (which were still illegal at that time, but certainly a hot-button topic.) Dallas Morning News TV writer Harry Bowman wrote, "Almost before (the show) signed off the air (that day,) the switchboard at WFAA-TV had taken over 40 calls, and the next day's mail was loaded with letters from viewers who were reacting...Most of the writers took a stern, negative view toward liberalizing the abortion laws."
NEW! Gene Thomas interviews Suzie Humphreys at the "Walk for Development" event on April 25, 1970 here, starting at 3:36

The Dallas Morning News announced the arrival of "News 8 etc..." in a December 20, 1969 article.
The "Mr. Peppermint" show was relegated to weekends after "etc..." premiered, after a nice nine-year weekday run on WFAA

.

---
THE CELEBRITIES...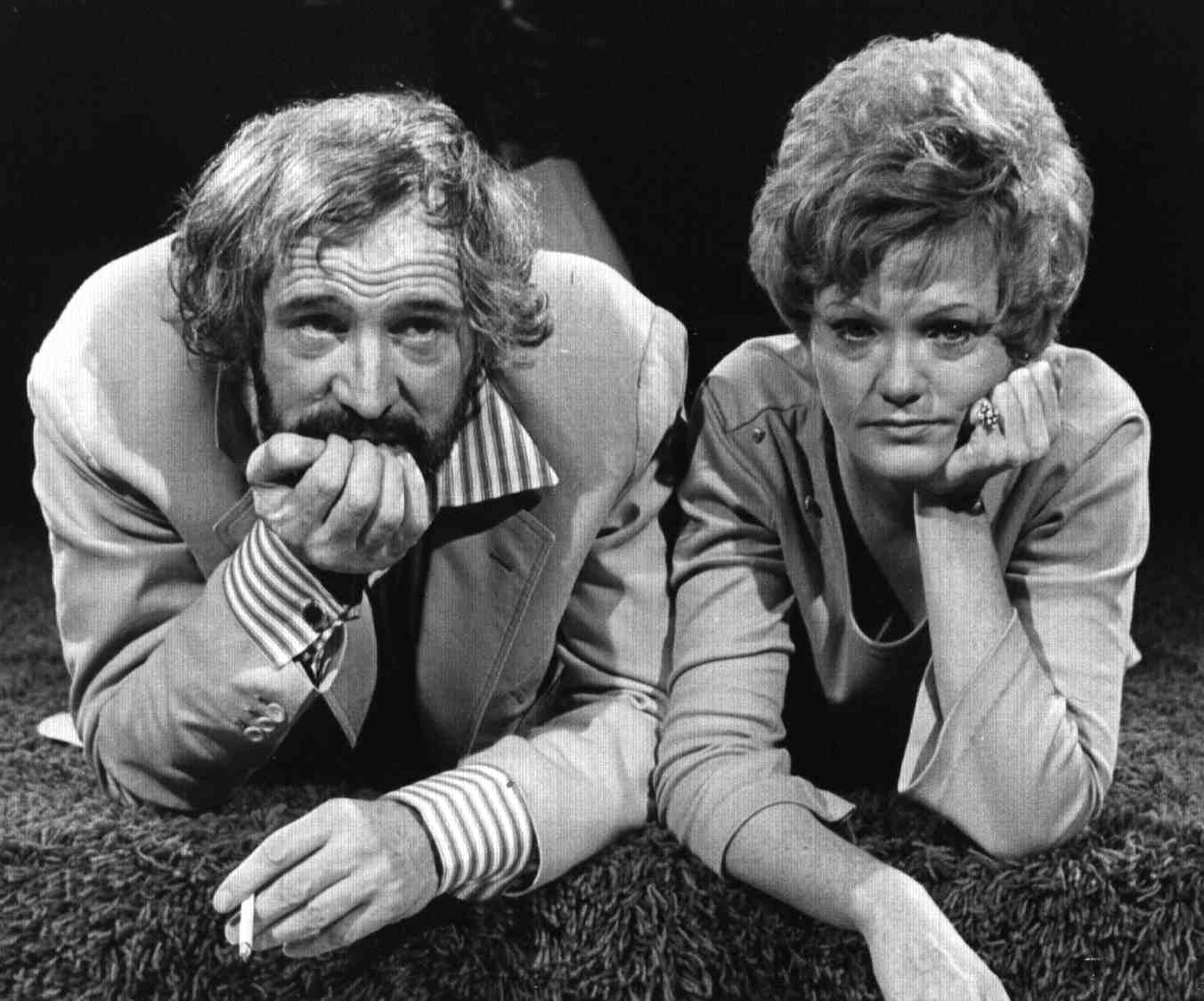 .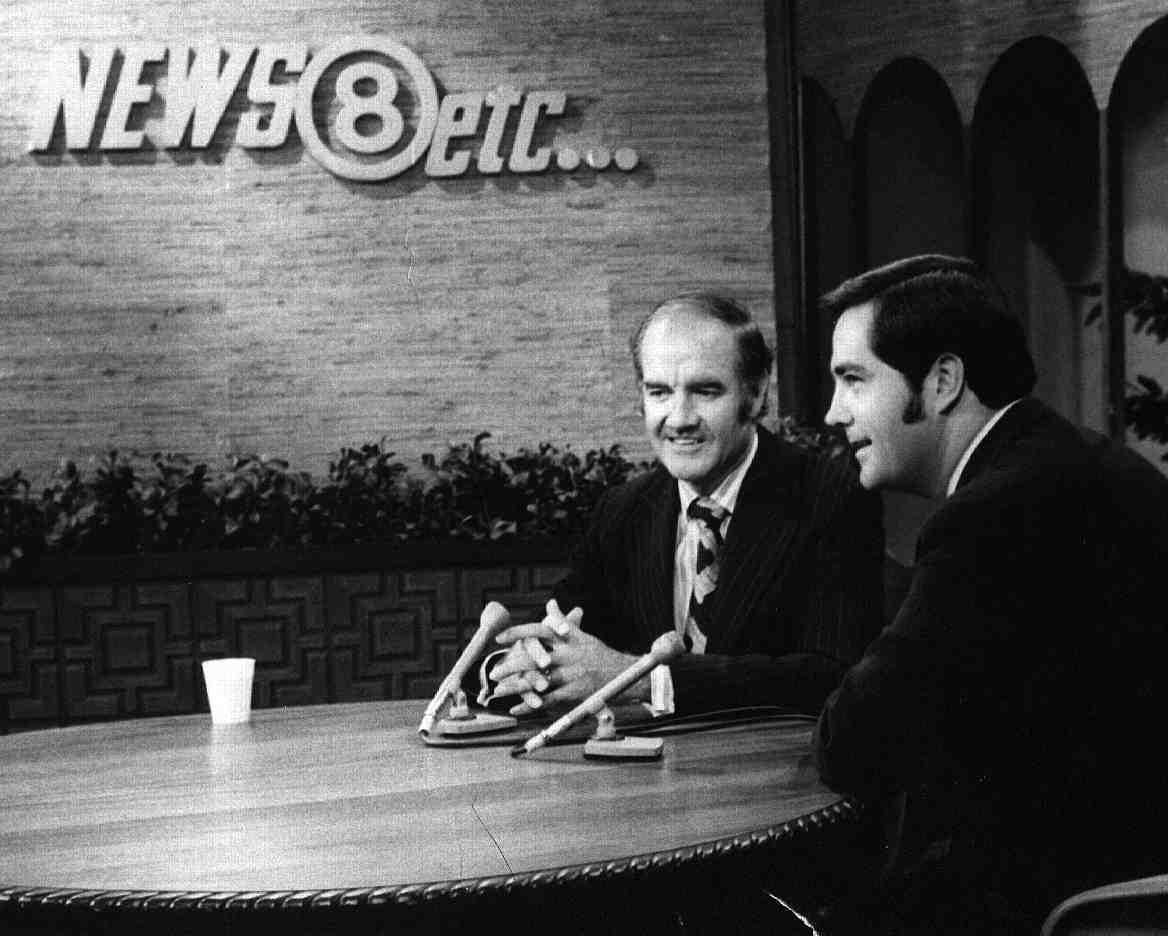 .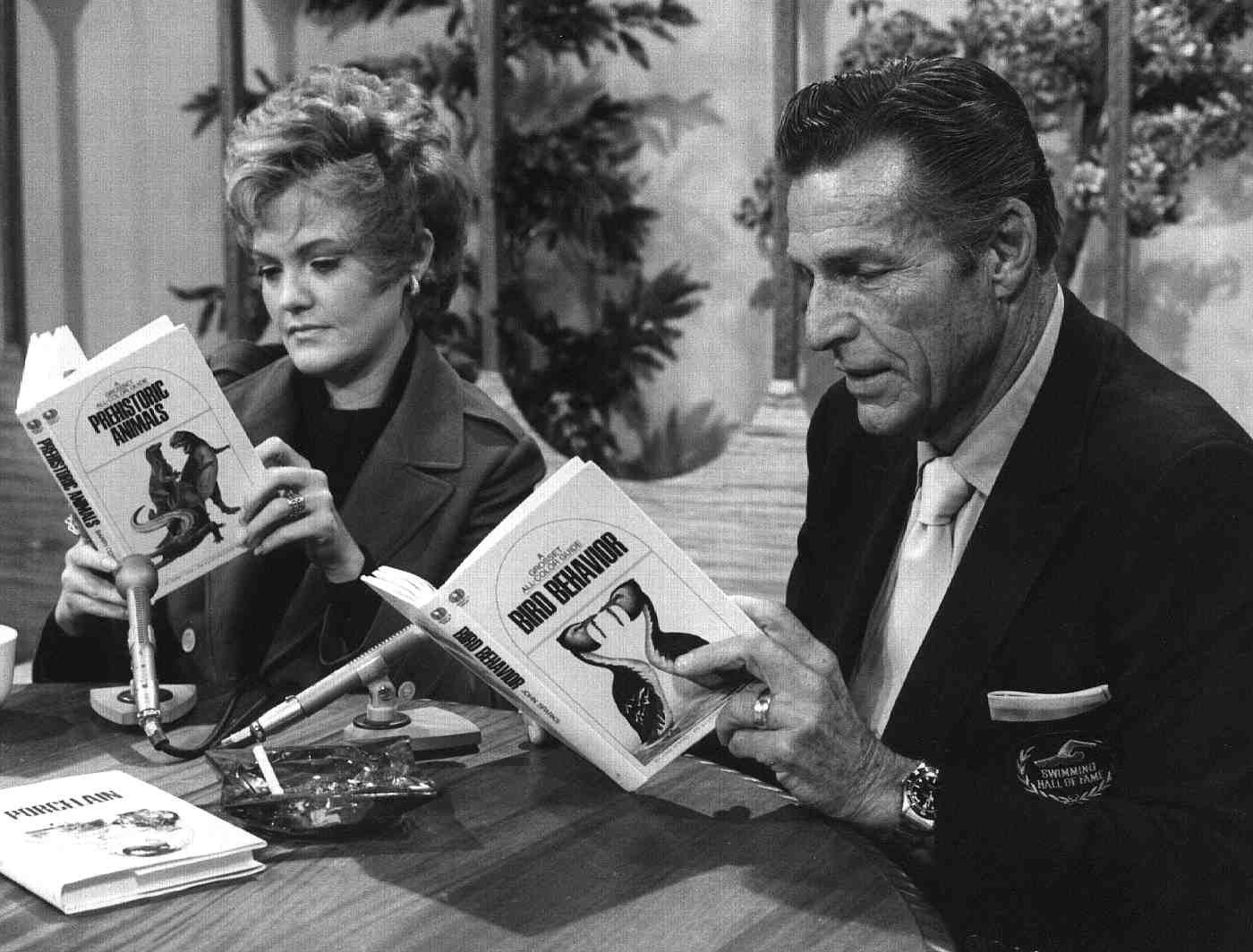 L: The late actor/singer Richard Harris with Suzie. "Lying on the carpet was a bond-with-
the-audience technique Harris was using in his stage show at the time," Suzie explains.
C: Presidential candidate George McGovern with Gene, August 17, 1971.
R: Suzie with the late actor and swimming champion Buster Crabbe, September 24, 1970
.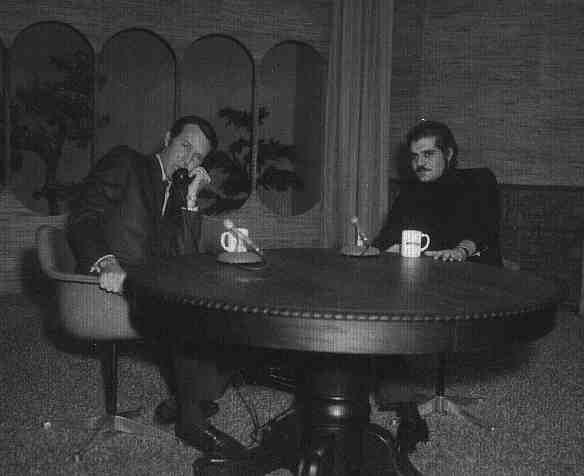 .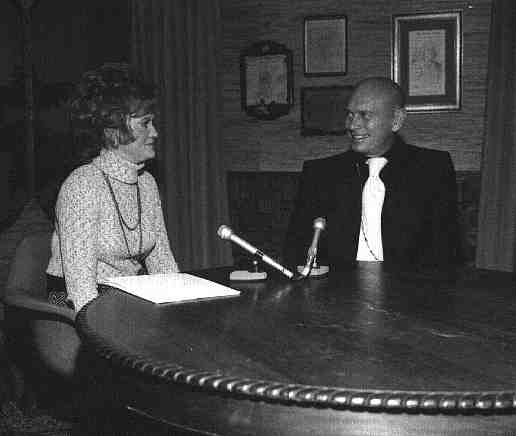 .

L: Don with late Egyptian actor Omar Sharif ("Lawrence of Arabia,") February 11, 1970.
C: Suzie with the late actor Yul Brynner, October 11, 1971.
R: The late actress and Maxim Coffee spokesperson Patricia Neal with Suzie

.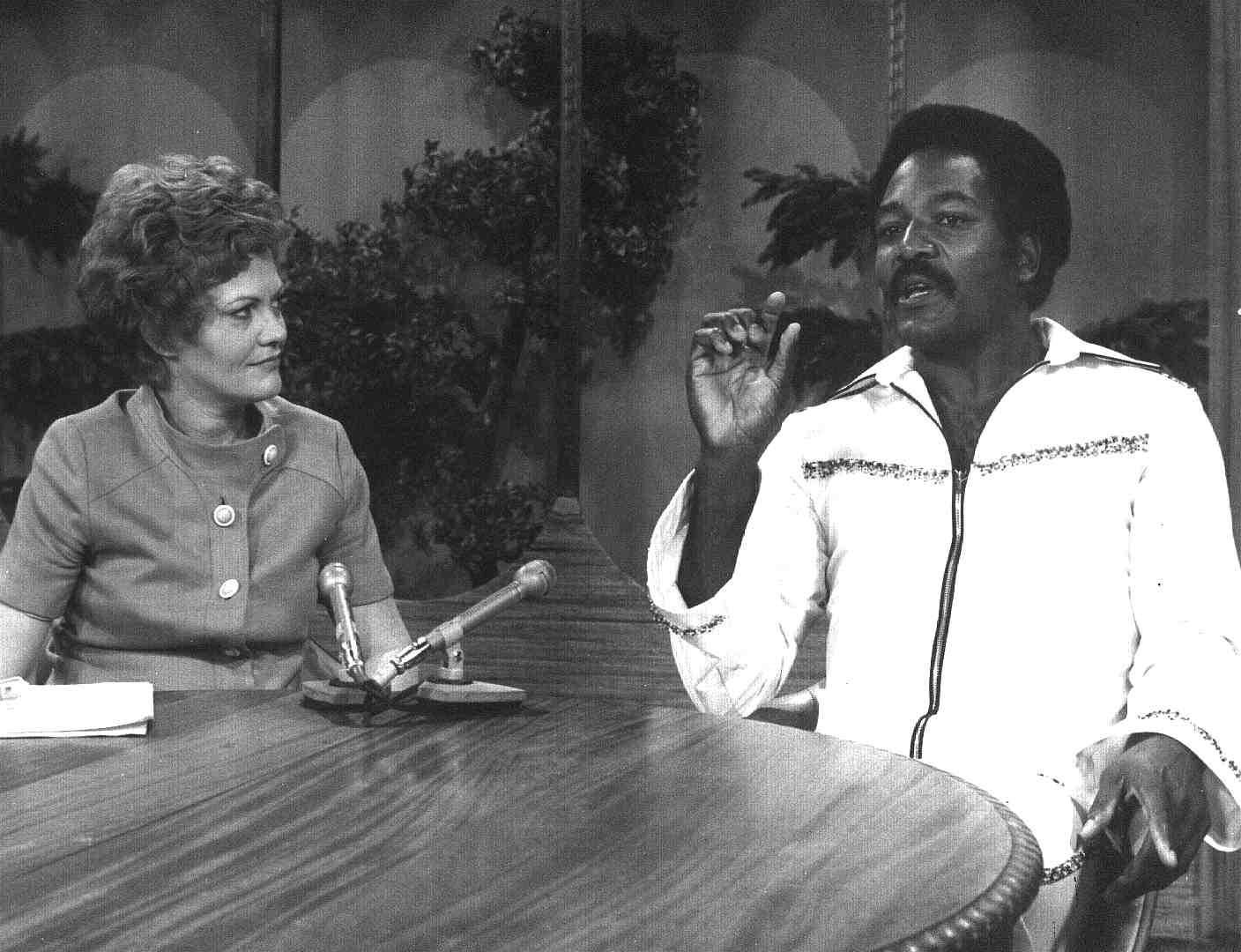 .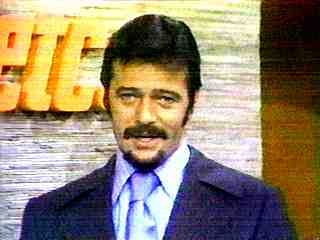 .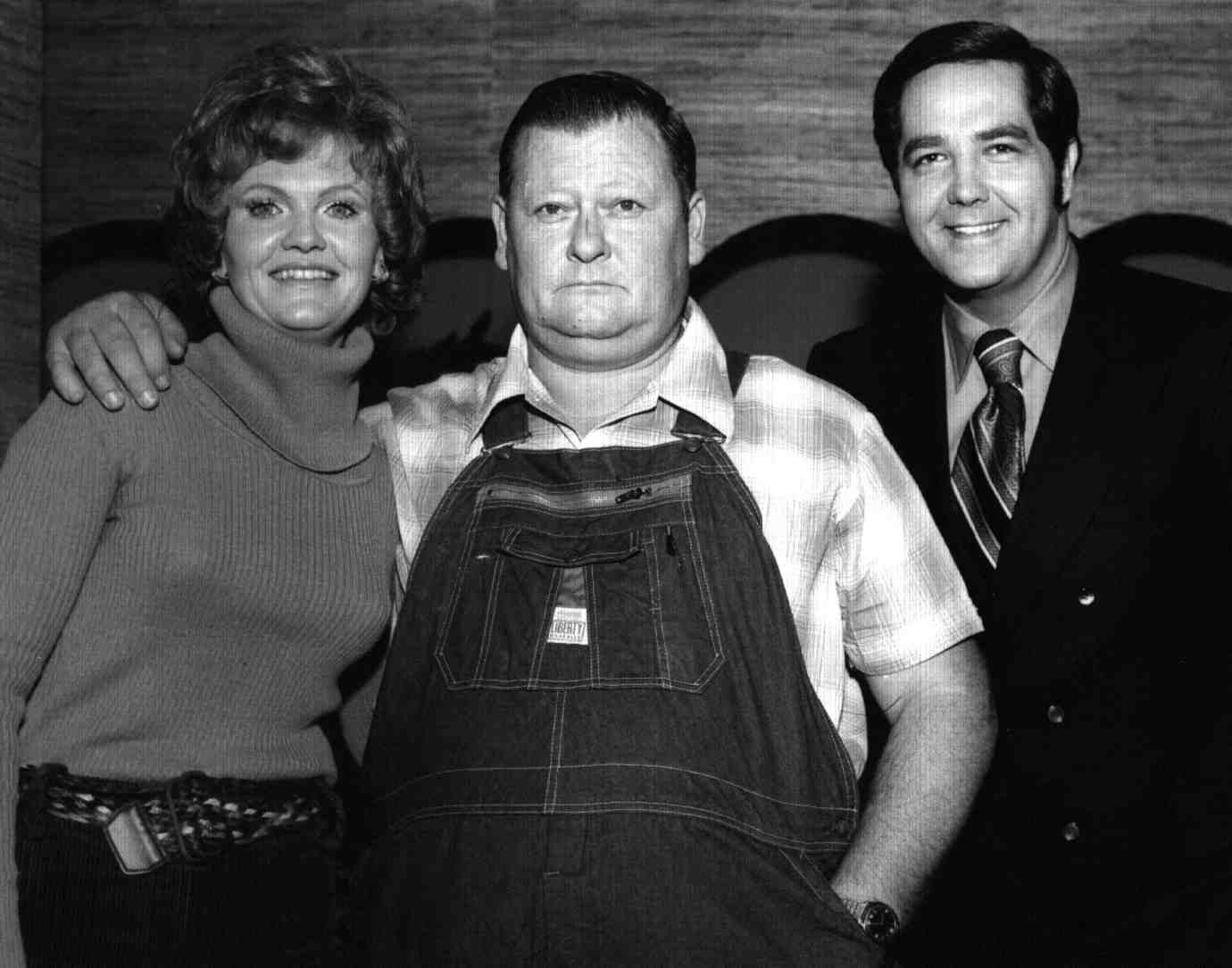 L: Suzie with actor and football great Jim Brown. C: The late singer Robert Goulet, early 1970. R: Suzie, the late Alvin "Junior" Samples of "Hee Haw," Gene

.

---
THE LIGHTER SIDE....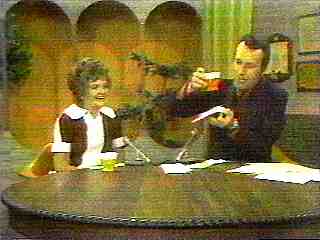 .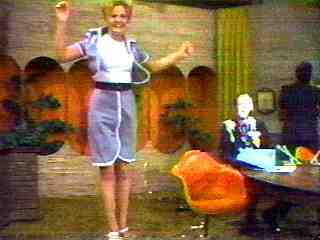 L: Suzie watches Don deal with a leaky cup of coffee.
R: Suzie celebrates hitting Don with a surprise pie-in-the-face on his last day on the show!
.
Suzie described how the show came together: "I met a man that was going to produce the show and was in charge of it, by the name of Don Harris." Don had just started working for Channel 8 in their news department a month earlier, in December, 1969, and shared anchor duties with Murphy Martin and Bob Gooding. While WFAA's program director George Milner devised the show's concept, Don was responsible for creating the 'homey' feeling of the show's set, and came up with the idea of the round oak table that was the centerpiece of the show. (The Spanish arches in the background were no doubt inspired by "The Tonight Show"s late 1960s set.) Suzie fondly recalls the magical chemistry between her and Don that made the show special to her, and to the viewers. Suzie and Don held down hosting duties for the first 20 months of the show.
NEW! Don and Suzie display WFAA-TV's award for "Outstanding Programming" from TV Radio Mirror magazine here (no audio)
.
Gene Thomas was the newscaster assigned to "News 8 etc..." later in 1970. "Then there was a three-way chemistry now that took place, because we were all different in our own ways," Suzie explained in 1989. "Each one of us had something different to bring to the show...and what a show it really was."
.
"And our relationship was that it was strictly on the air, and so it was fresh...it wasn't 'Ken and Barbie'...these were real people."
.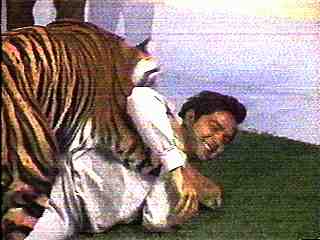 .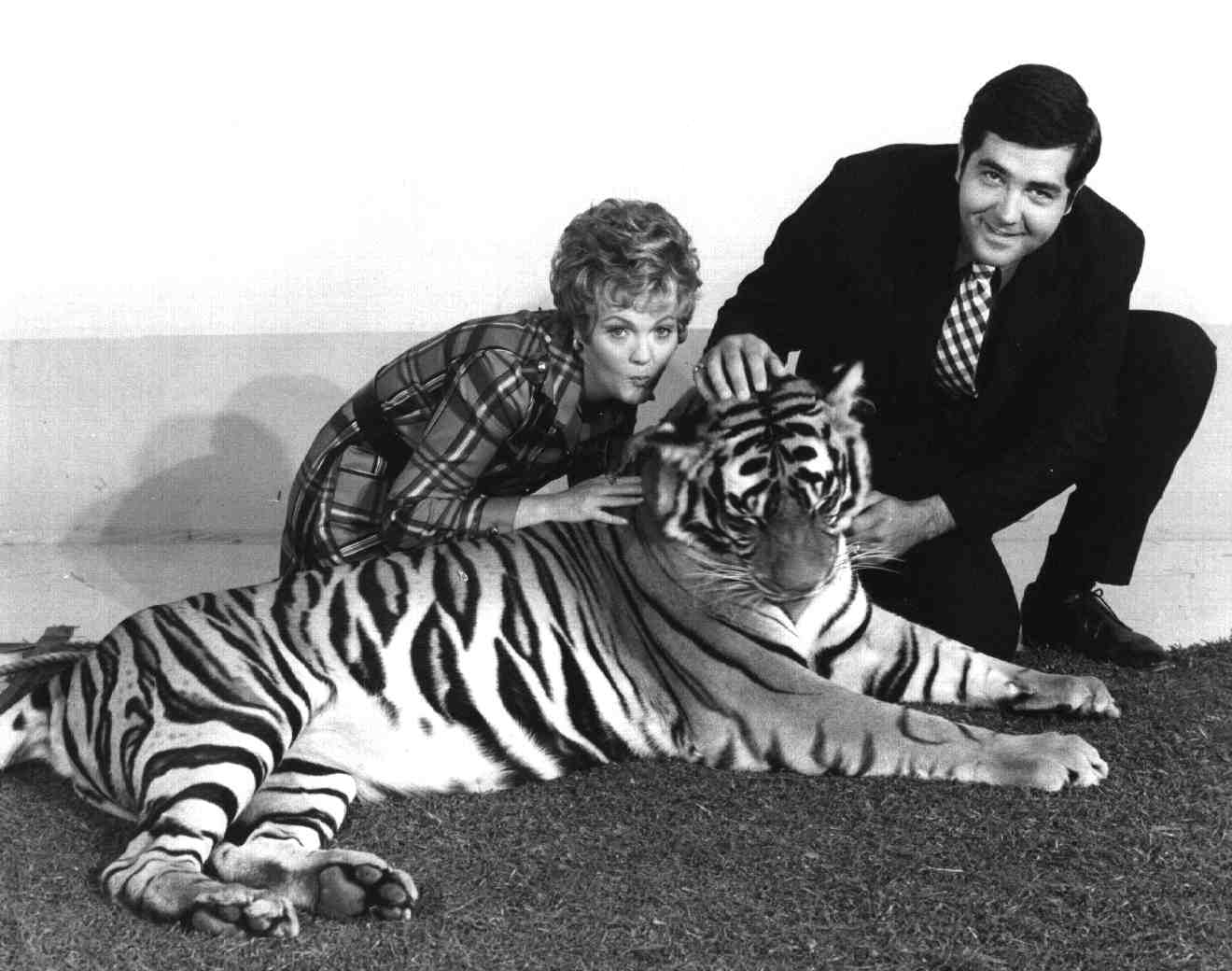 Surprise! Gene shows up on stage, unaware that he'll be wrestling a 700-pound tiger that day!
Gene said afterwards, "It's not a wrestling match, it's an execution!"

.
In one of the most hilarious segments aired on "News 8 etc...," Gene Thomas wrestled a tiger! Suzie explained: "Gene marches into the studio, live on television, and there is a 700-pound Bengal tiger lying there, and he went, 'Whaaat???' Don started laughing, and I started laughing, and Don says, 'You're going to wrestle the tiger!'
.
"It was one of the funniest bits, because it was live, he didn't know anything about it, and that's the way he was, he just went with it...that's the way all of us did."

But Gene's reservations about wrestling the tiger were correct: Suzie found out a few weeks later that the same tiger had mauled his trainer.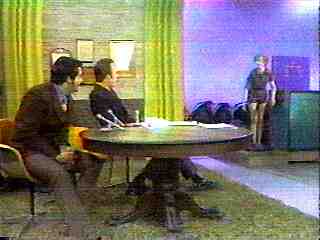 .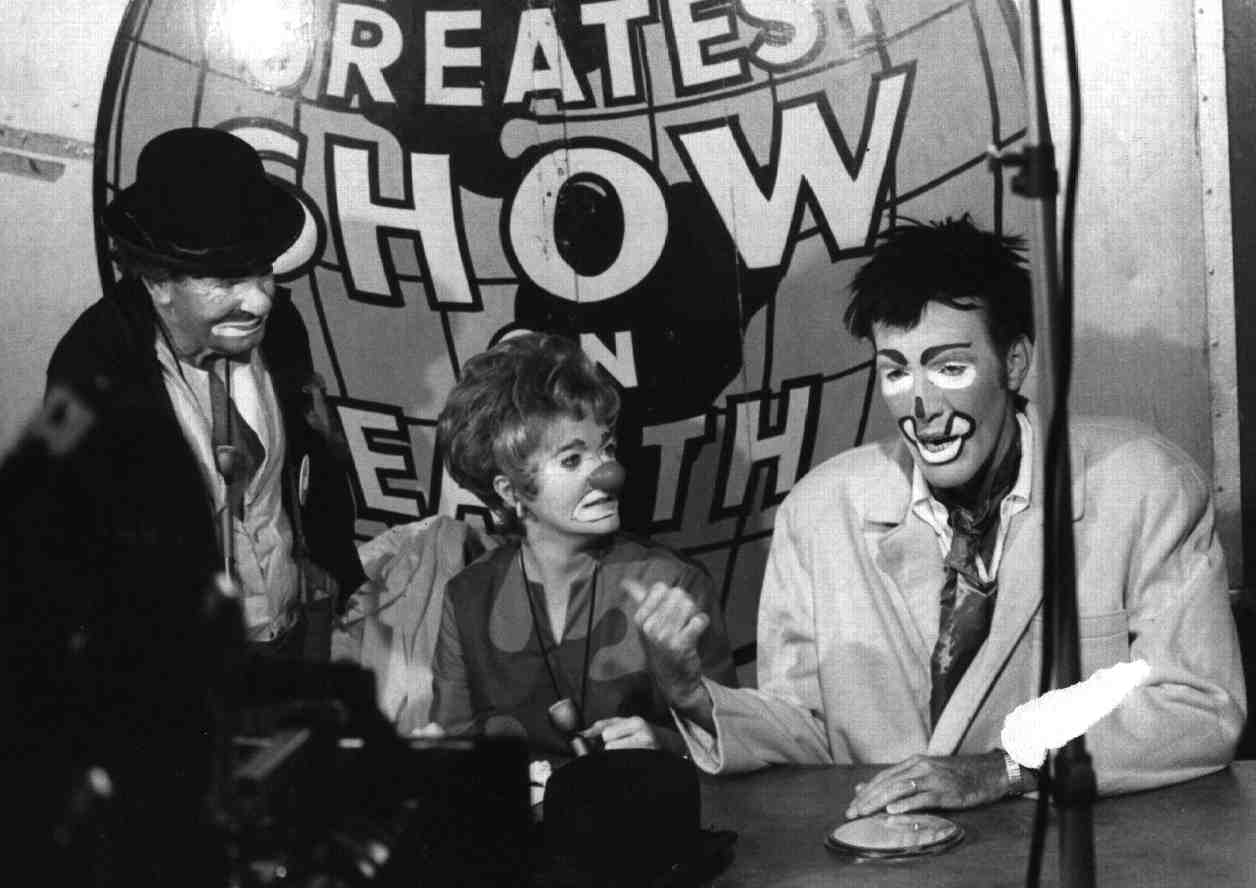 L: Suzie shocks Gene and Don by taking off her skirt on live TV!
R: Suzie and Don get made-up as clowns for the "Greatest Show on Earth" in 1971.
Show photographer Doug Freeman is on the left

.
"I dropped my skirt on television, in front of Don Harris," Suzie gleefully recalled. She was doing a feature on fashions, and apparently Don had complained about the current floor-dragging length of women's skirts. During the feature, Suzie tells Don to check out the "only length you have not griped about," and removes her long skirt to reveal a pair of very short shorts! The hosts break up into uncontrollable laughter. "You set me up!" Don exclaimed, "You dirty dogs!"
.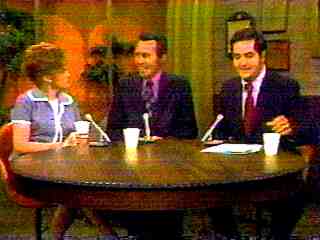 .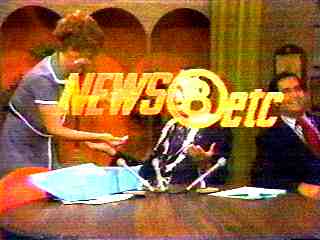 L: Suzie and the gang share a laugh.
R: Still reeling after the pie-in-the-face, the show breaks for a commercial

.

---
CHANGES...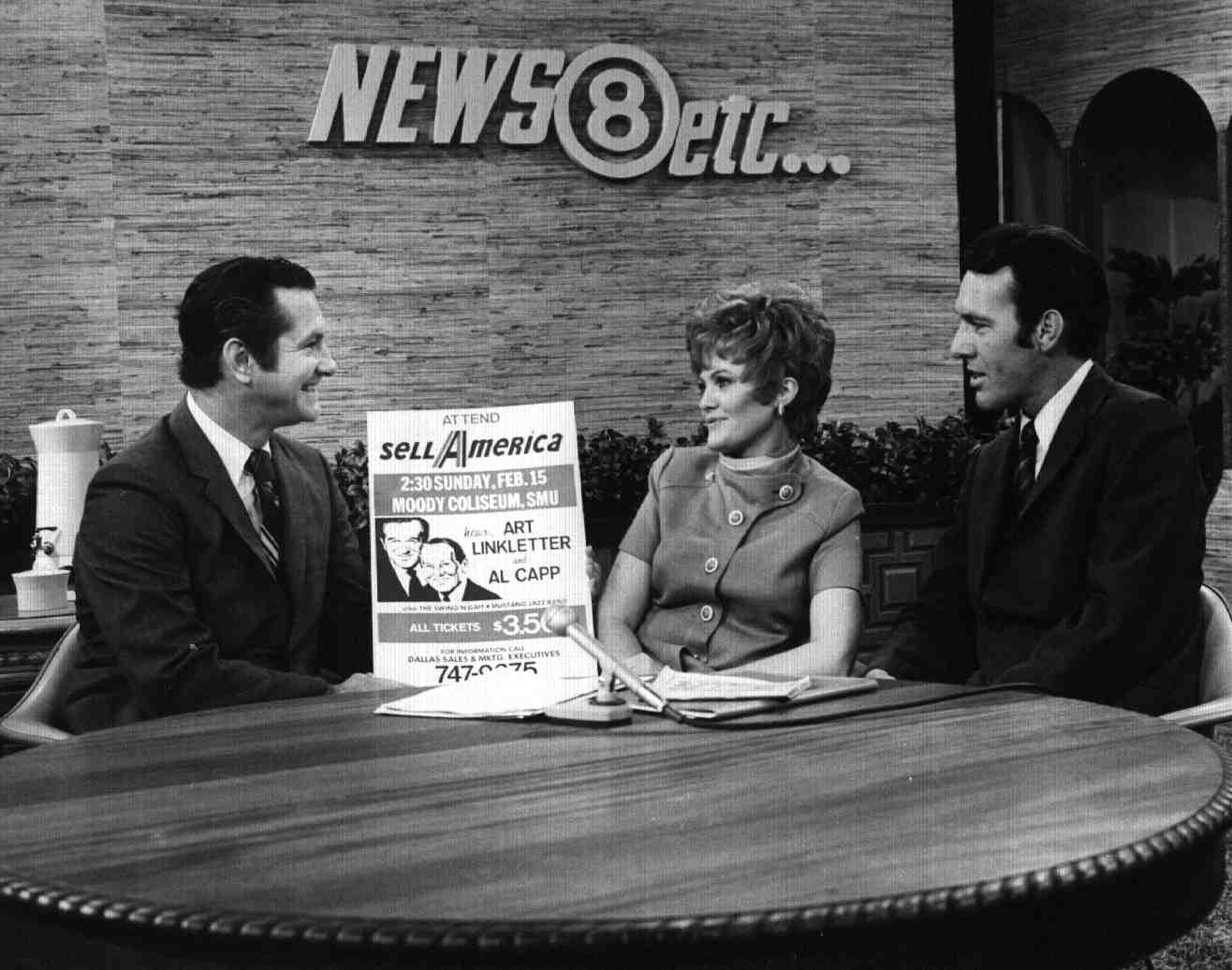 .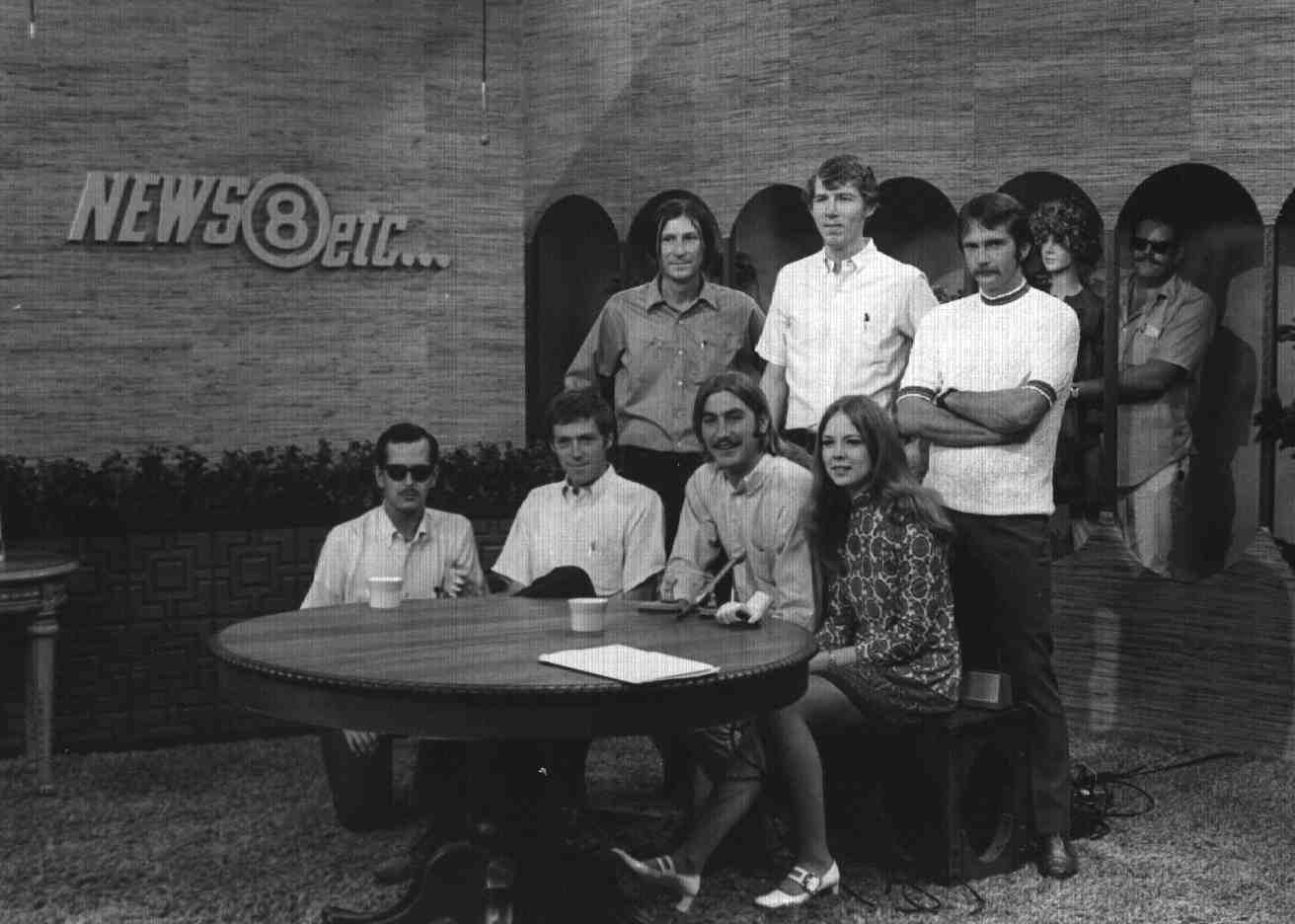 L: A visitor promotes the "Sell America" event's forthcoming tour through Dallas in February, 1970, starring Art Linkletter.
R: The crew of "etc..." gathers for a photo

.
Tragically, co-host Gene Thomas was killed on October 16, 1971, in a race car accident while producing a feature for the show (see link at bottom of page for a tribute to Thomas.) He had recently been promoted from the show's newscaster to a co-host, having just completed his second month in that capacity on "etc..." Don Harris had departed the show on August 6, 1971, to head the anchor desk for Channel 8's nightly newscast; noon news anchor Malcolm "Mike" Landess became the show's newscaster when Gene was promoted to Don's former position as co-host. Suzie was then paired with several on-air partners over the next two-plus years, including Travis Linn (former WFAA newscaster and news director who passed away in 2003, and had most recently been a revered journalism professor for the University of Nevada at Reno,) Jerry Park (who died in 2013,) Rosser McDonald (who was the permanent replacement for Gene Thomas; began November 29, 1971; he is now retired from the FamilyNet TV network,) Rene Castilla (later a political activist and journalism instructor in Irving, TX) and John Criswell (who began on April 23, 1973; he is the longtime WFAA and KDFW-TV news anchor who headed a video production company after leaving television, and is now retired.) Suzie never felt the same on-air chemistry with her later co-hosts as she did with Don and Gene...the fun and satisfaction she attained in working 12-hour days preparing and producing the show were losing their luster amidst the changes. Even Criswell candidly quoted to the Dallas Morning News in 1975 that, "Suzie...was tired and had become unreliable."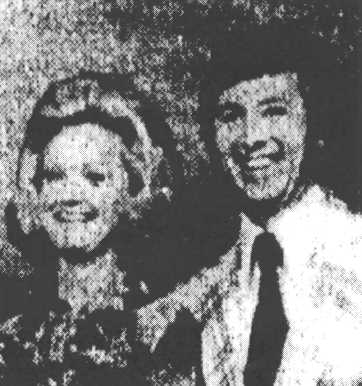 Suzie and John Criswell in a promotional shot for "etc..."'s
successor, "The AM Show," in May, 1974. The new show kicked
off its first week with big-name guests like former Texas governor
John Connally and singer Peggy Lee
One "News 8 etc..." feature developed after Don's departure was what later became John Criswell's popular "Wednesday's Child" segment on News 8. "It was our project before it was John Criswell's," Suzie explained. "While we didn't dedicate the segment to a certain day of the week, it had essentially the same purpose...to feature children in need of adoption." The children were typically living in foster homes, and adoptions were coordinated through the local Department of Human Services. Criswell began his own feature on Channel 8 in 1977, as part of "etc..." successor, "AM," and "Wednesday's Child" was introduced as a weekly feature on WFAA's newscasts in September, 1980. The effort was very successful: In a published, 1988 interview with webmaster Mike Shannon, Criswell stated that the "Wednesday's Child" program had placed over 450 featured children since 1980, with over 1,700 other children being placed due to the excess of families that called in about a specific featured child. "Wednesday's Child" continues at WFAA today, produced by anchor Gloria Campos from 1989 (when Criswell departed the station for KDFW-Channel 4) until 2011. Hosting duties were assumed by WFAA news anchor and lifelong Dallasite Cynthia "Izzy" Izaguirre, who continues the tradition today.
.
.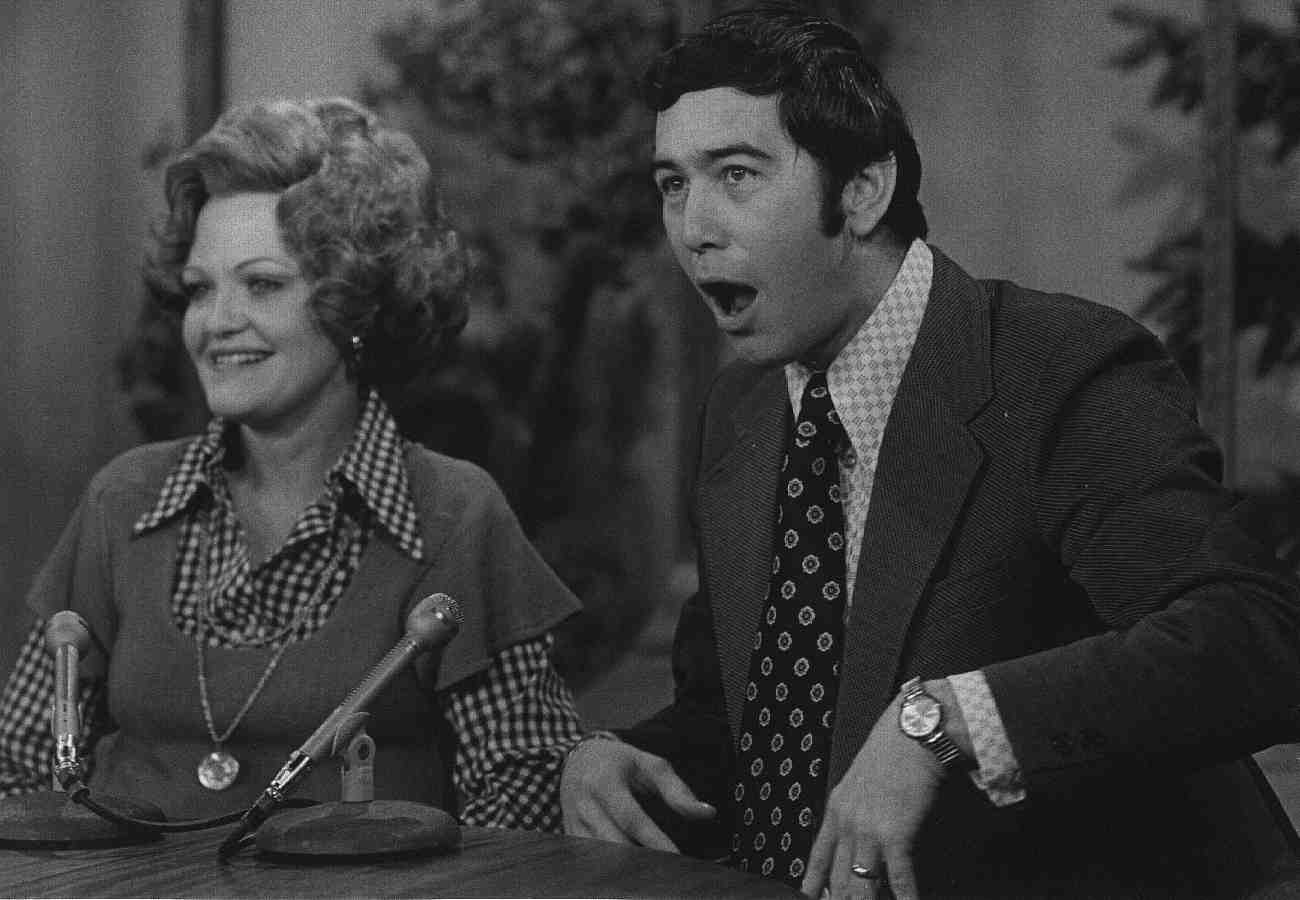 .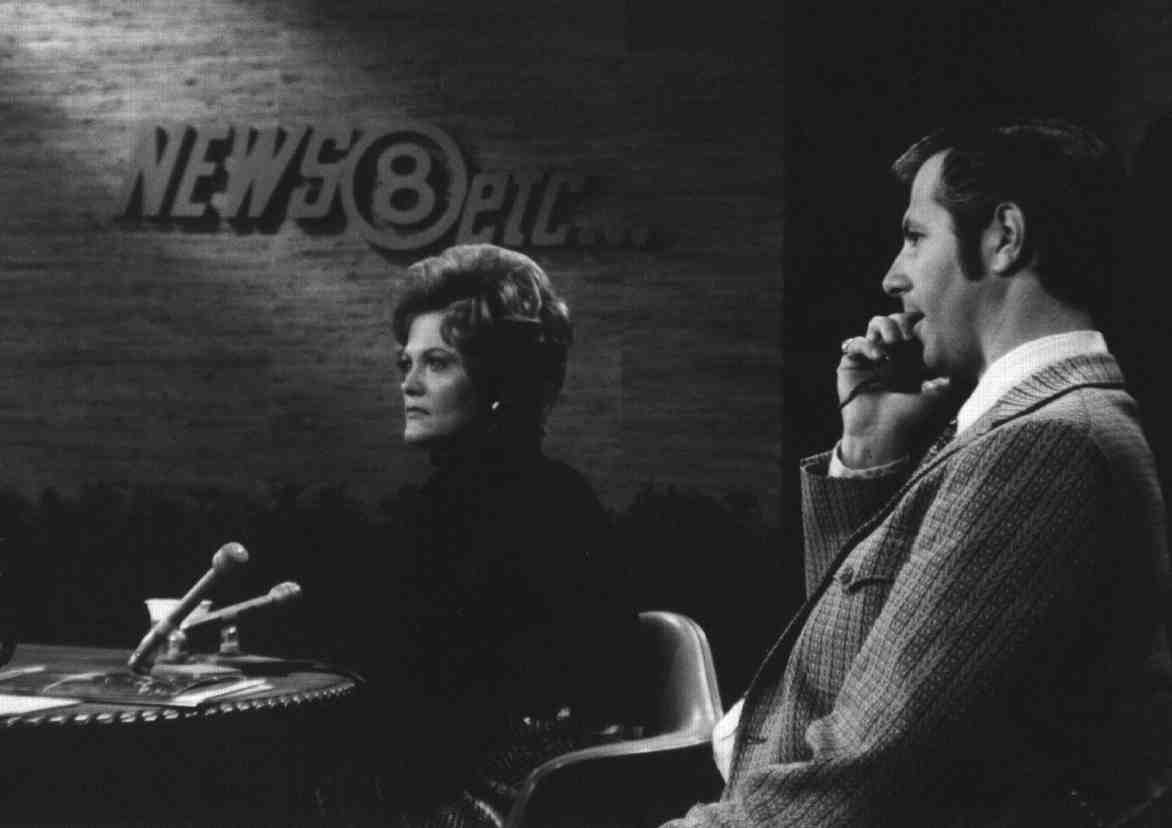 After Gene Thomas' death in October, 1971, the show became a revolving door of co-hosts
for Suzie: Travis Linn (L,) Jerry Park (C,) and Rosser McDonald (R)...
.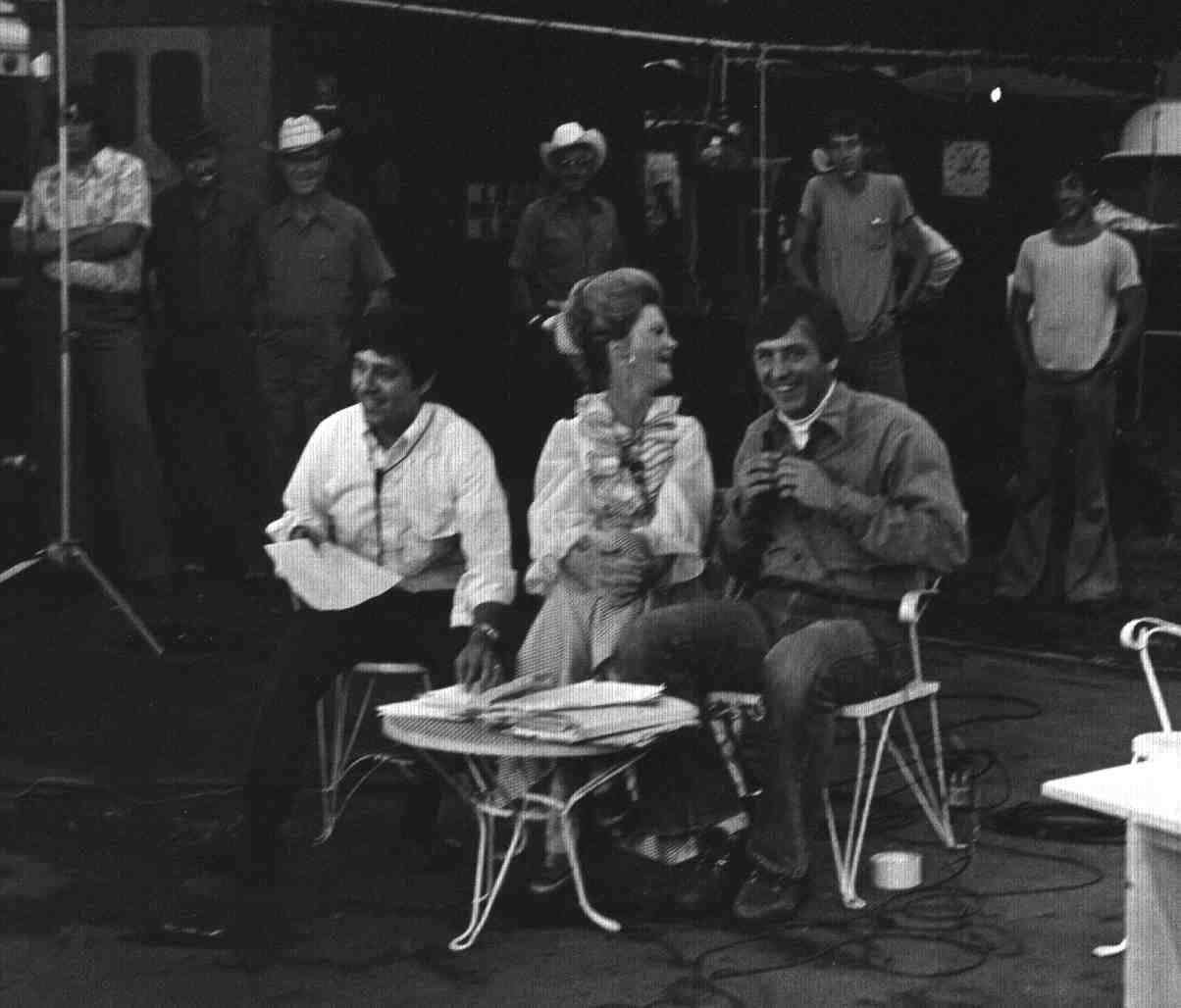 .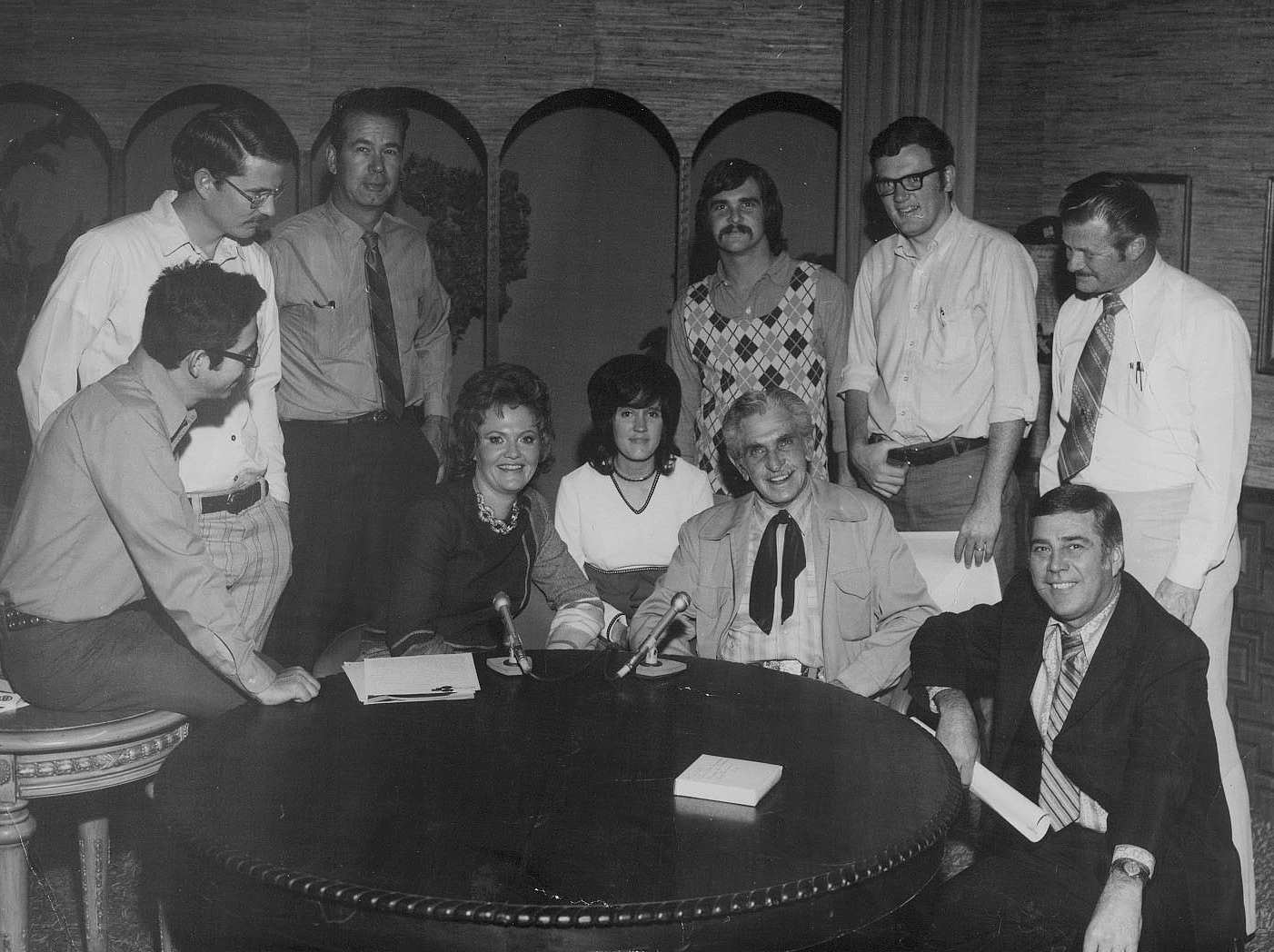 Left: Later co-hosts included Rene Castilla (L) and a young John Criswell (R;) Suzie is in the center.
Right: Some of the "etc..." cast and crew with guest: From left, Bob Cardenas (floor crew chief; retired in 2006 as production manager at WFAA,)
Clyde Chappell (production manager,) the late Don Easterwood (audio engineer,) Suzie, Shirley Spitler (assistant to Don Harris; was later station manager,)
Murray Campbell (floor crew; standing, with vest,) the late Bob Steele (show guest; was a former B-western cowboy star,) John "Sparky" Sparks (floor crew,
standing with thumb in belt; was later a WFAA investigative reporter and newscast producer, and eventually became the executive producer for investigations
and political coverage with KTVT-TV,) the late Jack Van Roy (weatherman) and the late Ed Hogan (staff announcer and host of "Dialing for Dollars.")
Not pictured: Late station publicist Camille Keith
Photo credit (R): Ed Hogan, and special thanks to John Sparks for identifying everyone!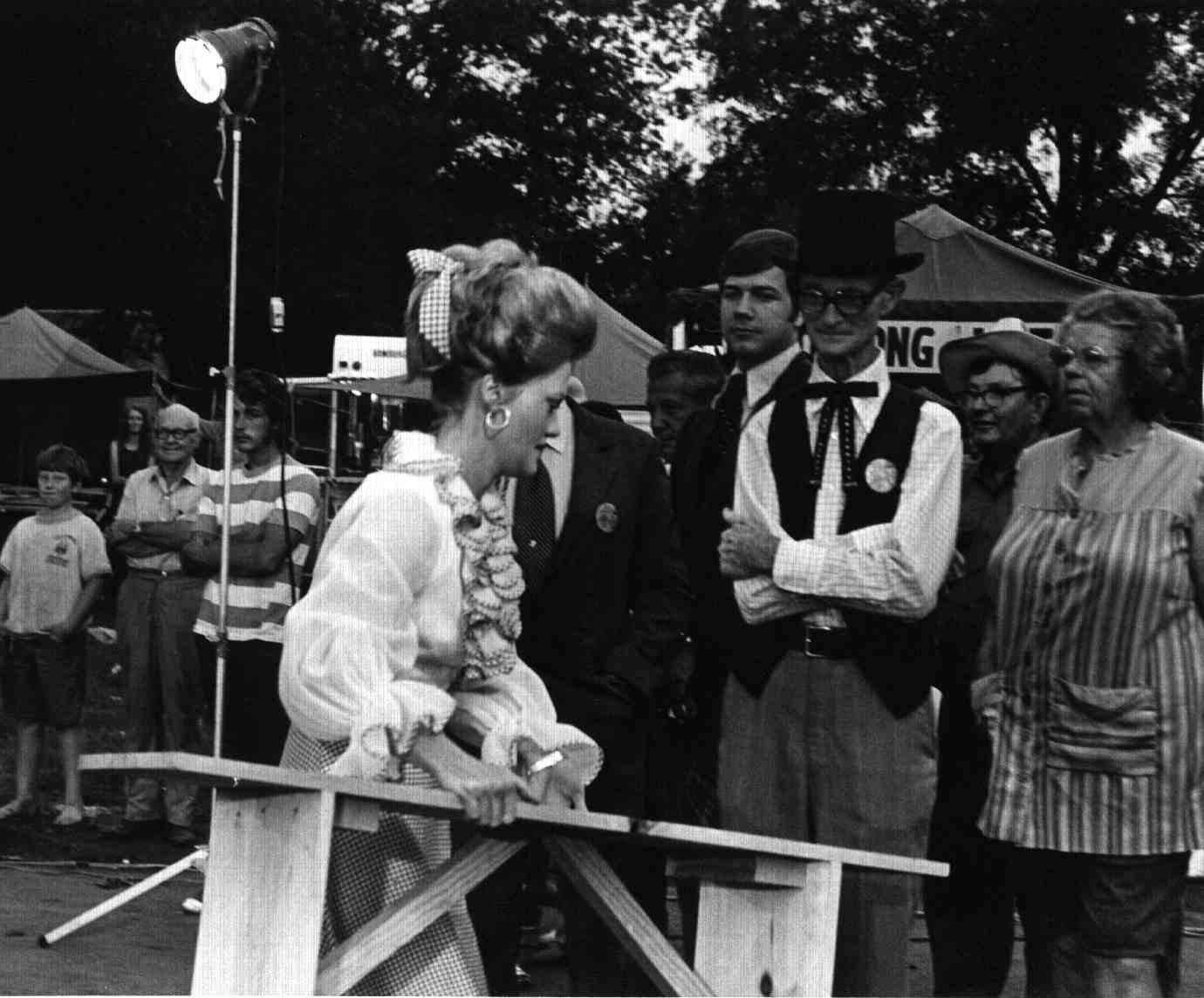 .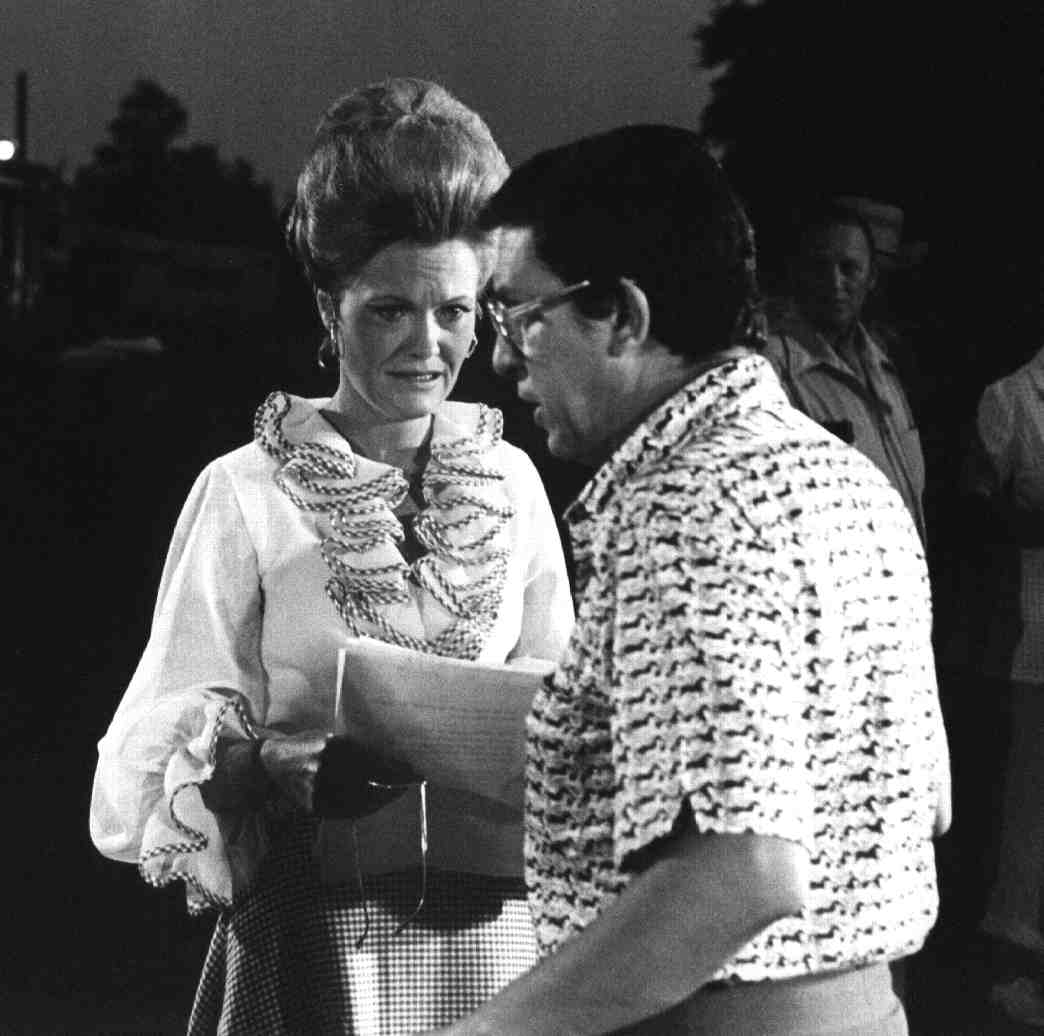 .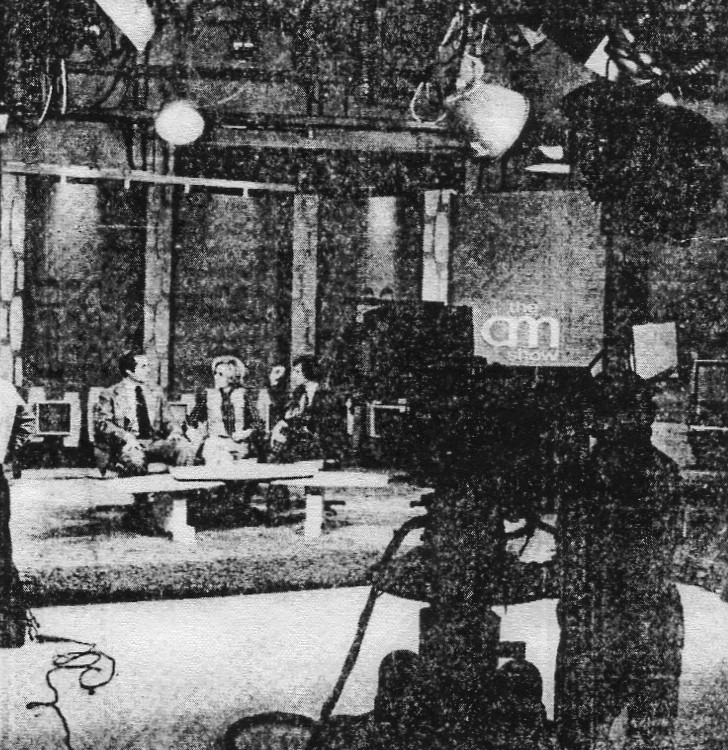 (L) Suzie prepares for a western play, to be presented on "etc..." She is aided by the late Jim Pratt (C; longtime co-host with the late Mike Shapiro
on WFAA's "Let Me Speak to the Manager"/"Inside Television;) (R) The new "AM Show" set. Roberta Hammond had already taken over
co-hosting duties in this photo
.
A name change from "News 8 etc..." to "The AM Show" on May 4, 1974, didn't help matters for Suzie; she was fired from the program the following November. A public talent search immediately began, with several local women stepping in as trial co-hosts during November and December, 1974. Eventually, KPRC-TV/Houston investigative reporter Roberta Hammond was chosen. Although ABC began to offer its own newsmagazine, "AM America" (later entitled, "Good Morning America") starting January 6, 1975, WFAA chose to not carry it (and didn't begin broadcasting it until March 1, 1976.) Unlike "etc...," "The AM Show" contained numerous, regular features each day, filed by newsroom employees Doug Fox, Bill O'Reilly (yes, the same conservative talker of recent years,) Michael Brown, Troy Dungan, Byron Harris, Bob Brown (later of ABC's "20/20,") and Gary Schwitzer (medical reporter,) along with the late WFAA-AM personality (and resident musicologist) Bud Buschardt (music reporter.) The show adopted an abbreviated name on November 1, 1976, and became known simply as "AM." Hammond, who once worked with "etc..." co-host Don Harris at WTOP-TV/Washington DC, departed "AM" in March, 1977. But, after a respectable three-and-a-half year run, Channel 8 could never recapture the magic and popularity of "etc...," and canceled "AM" on January 20, 1978. (The vacant timeslot was swallowed up by an expanded "Good Morning America," along with ABC rearranging its daytime schedule to make room for hour-long soap operas.)
NEW! Suzie interviews legendary musician Jose Feliciano for "The AM Show" in August, 1974 here
During the 1980s, the station programmed a local morning newscast before "Good Morning America," and followed it with a syndicated newsmagazine ("Hour Magazine," for one) instead.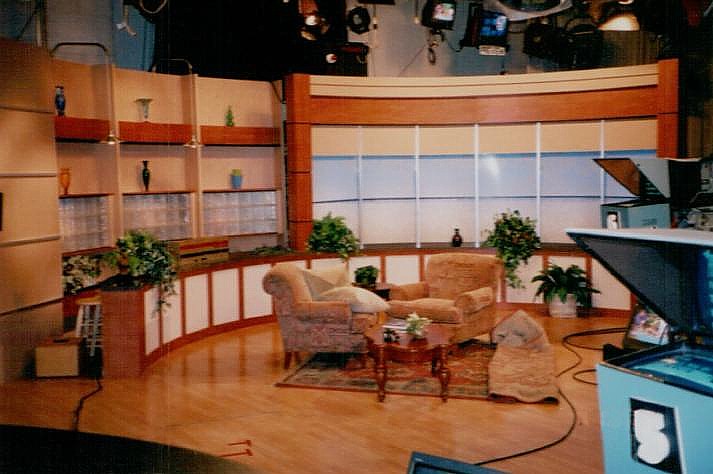 The "Good Morning Texas" set in 2003, located in the station's Studio A,
arranged in the very same location and placement as "News 8 etc..."
(Photo credit: Your webmaster, Mike Shannon, during my first week as "News 8"s evening traffic anchor!)
On September 12, 1994, WFAA introduced "Good Morning Texas," perhaps the closest attempt at re-creating "News 8 etc..." A local, live, hour-long program, the show features a newsmagazine format, complete with a living room-styled interview area, kitchen and general approach. It continues today and has featured hosts such as Scott Sams, Deborah Duncan, Debbie Denmon, Todd Whitthorne, Amy Vanderof, Michael Rey, Brenda Teele, Phillip Wilburn, Rob McCollum, Hannah Davis, actor Ty Treadway, Ann McGarry, Alanna Sarabia and the late Paula McClure. In 2007, the show abandoned its living room environs for new digs at Channel 8's Victory Park studios, using many of the same sets and fixtures seen on WFAA's daily newscasts. As the years passed, "GMT" devolved into what amounts to a paid infomercial, hosting multiple daily guests who pay a fee in order to hawk their wares or services on the show, while the program itself continues under the guise of a newsmagazine.
Suzie, of course, went on to enormous popularity as Ron Chapman's longtime "Girl-About-Town" on KVIL-AM/FM's morning show from June, 1976, until 1995. Suzie was initially an airborne reporter, but was later given her trademark "KVIL-o-Van" (bearing the vanity plate, "SOOZIE.") Her efforts were honored in 2004 as an inductee to the Texas Radio Hall of Fame. (Her cohort, Ron Chapman, who clocked more than 45 successful years on local radio and television [including WFAA-TV,] died in 2021.) As an airborne traffic reporter at KVIL, Humphreys narrowly escaped certain death on May 20, 1977, after the station's helicopter (a Bell 47) had dropped her off at the Dallas's Northpark Inn helipad only minutes earlier, ran out of gas halfway back to Love Field. It crashed upside-down behind 4029 Colgate in University Park, killing substitute pilot Elliott Cohn. Suzie, who was pregnant at the time with son Joshua (born the following August,) complained of nausea and had the chopper land at Northpark. Cohn, who had only been with the company for two weeks, was filling in for his boss, Ken Montgomery, who normally piloted the KVIL aircraft. With a change in helicopter vendors early the next year, Ken and Suzie grounded themselves for good on March 24, 1978, with Suzie taking to the van permanently thereafter. (Ken resumed flying for other traffic services later; he most recently transported WBAP's Laura Houston. Montgomery died in 2019.)

Suzie Humphreys, today
Suzie has acted in stage productions of "Last of the Red Hot Lovers," "Perils of Pecos" (with Donald O'Connor,) "Bottoms Up," and at Dallas' Crystal Palace in "I Do, I Do;" and in the movies "Crisis at Central High," "Return of Josey Wales" and "Deep in the Heart." She was also featured frequently on numerous TV commercials in the 1960s.
In recent years, Suzie took her exceptional gift of gab to a new level as a highly sought-after motivational speaker, and was recognized for her outstanding efforts by the National Speakers Association in 2002 with an induction to the Speakers Hall of Fame. She is also a breast cancer survivor since 2003, and would frankly discuss her struggle and success in some of her speeches.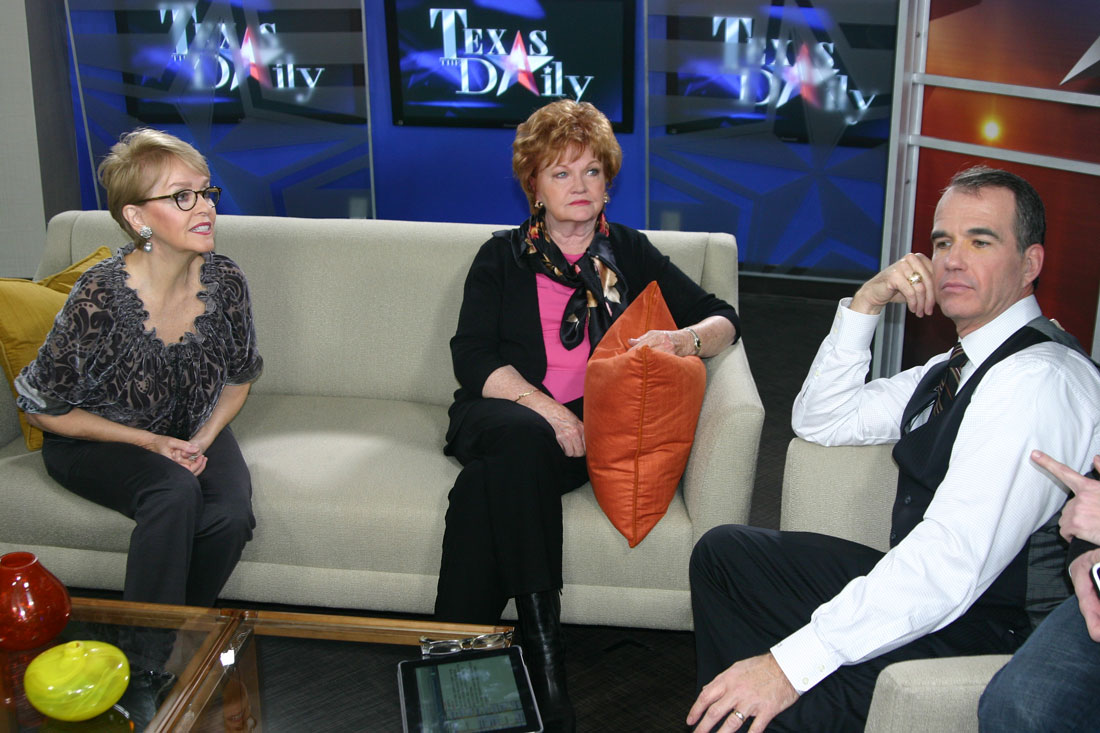 .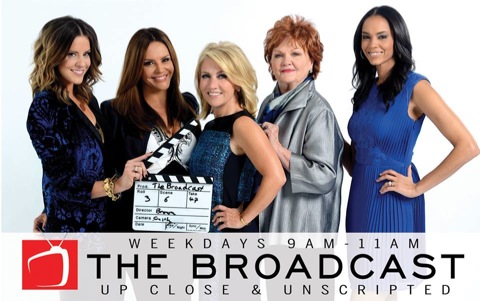 Suzie's triumphant return to television in 2012: (L) Joined in a candid moment on "The Texas Daily" by Midge Hill [L] and Jeff Brady [R.]
(R) As co-host and 'grande dame' of "The Broadcast"
But Suzie wasn't done with television just yet! Between 2012 and 2014, she was a frequent co-host of the newsmagazine "The Texas Daily," for upstart DFW TV station KTXD-Channel 47. The program featured other retired TV news notables from across the local dial, including John Criswell, Troy Dungan, Iola Johnson, Tracy Rowlett, John Sparks, Gary Cogill, Phyllis Watson, Jolene DeVito, Midge Hill, Debbie Denmon, Robert Riggs, Scott Murray, Rebecca Aguilar, Don Wall, Jeff Brady and others. Concurrently, Suzie co-hosted a lifestyle/newsmagazine program entititled, "The Broadcast" (AKA "D [Magazine]: The Broadcast,") also for KTXD. Both programs were eventually syndicated to a group of co-owned TV stations across the state.
After several years spent living in the Texas Hill Country, Suzie has retired and re-settled in the Dallas-Fort Worth area as of 2021. Still wondrously smart, beautiful, effervescent and funny, Suzie has finally taken a much-deserved break!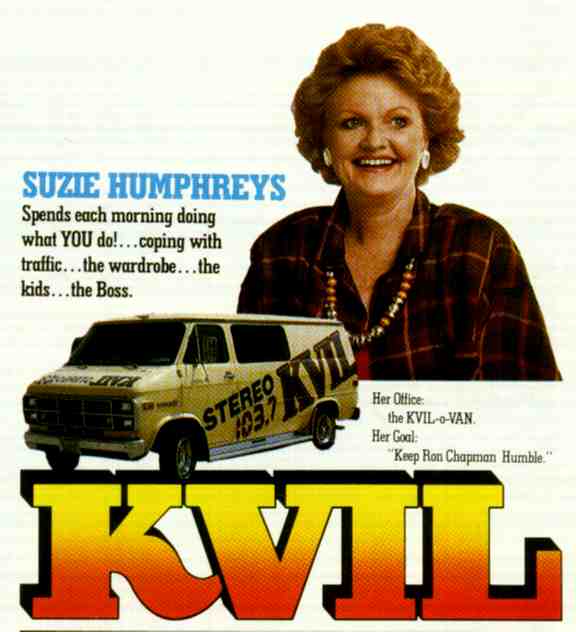 .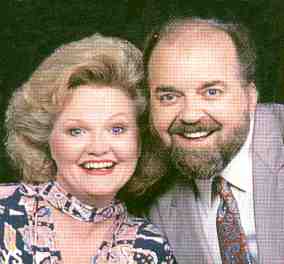 .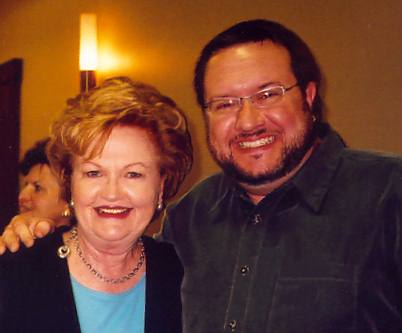 L: Suzie and her famous "KVIL-o-Van" (pronounced, "K-V-I-Yellow Van") in a station ad.
C: Suzie with (late) former longtime KVIL morning show host Ron Chapman. R: Suzie with webmaster Mike Shannon
.



Find out more about "News 8 etc..." and Suzie's long career in radio and television, and enjoy her
unique take on life! Her 2005 book, "If All Else Fails...Laugh!" is available here. Her wonderful,
motivational six-disc CD set, "Laugh, Love and Learn," can be found here
---
TRIBUTES TO DON HARRIS AND GENE THOMAS
ARE NOW ON THEIR OWN PAGE!
CLICK HERE
---
Special thanks to Suzie Humphreys for supplying numerous rare photographs and for sharing her personal stories. Thanks as well to Linda Alred (Gene Thomas's wife) and Monica Theis (Gene's daughter,) and Claire Humphrey (Don Harris's daughter) for their reflections, information and clarifications; and to former KVIL pilot Ken Montgomery and former WFAA employees Murphy Martin, John Sparks, Nick Alexander, Ron Ragan and Ralph Gould for their personal remembrances
---
TERMS AND CONDITIONS OF USE
This entire website and its contents are copyright 1984-2022 Mike Shannon. Images are copyright of their respective owners: All black-and-white photos are courtesy of Suzie Humphreys, except the final photo of Don Harris, which is credited to NBC and the late Bob Brown. Color screenshots are credited to WFAA-TV, Dallas. Obituaries and news reports are credited to the Dallas Times Herald, the Dallas Morning News and the Eastfield (College) EtCetera. KVIL-AM/FM photos are credited to former station owner Infinity Broadcasting, Inc. Print ad reproduction is credited to the Fort Worth Star-Telegram. If you feel your copyright is being infringed upon by its appearance in this website, please email me and it will be removed or credited properly. I am not responsible for errors, omissions, incomplete information, misrepresentations or dead links. Information was gleaned from newspapers, broadcasting yearbooks, magazines, personal recollection, recollections of others and the like. Copying of any or all information or images for use on other websites, in print or for other purposes, is prohibited without permission. Links are provided for the user's convenience; I claim no responsibility for the contents, accuracy or relevance of other sites that may be linked to from this site. This entire website is considered a not-for-profit "fan site," to be enjoyed for entertainment and informational purposes only. Usage of this site and/or any sites, sub-sites or pages or images contained within, however accessed, constitutes your agreement to these Terms and Conditions. If you do not agree to these Terms and Conditions, click here and you will be taken elsewhere. Proceeds from advertising & duplication services are directly used for site maintenance, hosting fees and research costs.