PROFILE:
SUZIE HUMPHREYS
AND WFAA-TV'S "NEWS 8 ETC..."
PART 2:
GONE, BUT NOT FORGOTTEN:
TRIBUTES TO DON HARRIS
AND GENE THOMAS
CLICK HERE FOR DON HARRIS
CLICK HERE FOR GENE THOMAS
RETURN TO MAIN PAGE HERE
---
DON HARRIS
1936-1978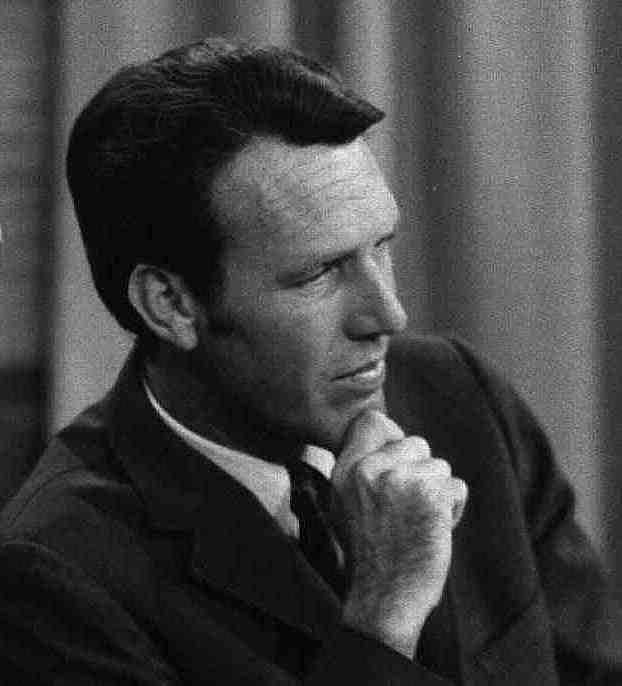 .
Don Harris was the NBC News correspondent who was shot and killed on November 18, 1978 while reporting from the ill-fated People's Temple in Jonestown, Guyana. He was just 42 years old. Harris accompanied California congressman Leo Ryan on his trip to Jonestown to investigate rumors of torture and hostage-holding involving the former California-based ministry. While Harris was permitted to interview leader Jim Jones, Jones quickly became paranoid and the entourage was told to leave and not return. While attempting to board a plane at nearby Port Kaituma airstrip for a trip back to safer territory, a tractor pulling an open trailer full of Temple security officers sped towards the group. "There might be violence," Don warned, and asked NBC photographer Bob Brown to roll video. Security stopped and asked where everyone was. They returned to the trailer, then opened fire on the entourage. Ryan, who moments before had been stabbed in the arm by a Temple member, died in the attack, along with Brown, Harris, and a defecting Temple family who asked to return to the States. The next day, 908 Temple members, including leader Jim Jones, died from either drinking cyanide-laced Kool-Aid or being murdered. The event was captured in the compelling NBC made-for-TV movie, "Guyana Tragedy: The Story of Jim Jones," broadcast in 1980 and starring Powers Boothe. See the movie here. (Note: NBC photographer Bob Brown is not the same as former WFAA-TV news anchor and ABC's former "20/20" reporter Bob Brown, who is alive and well at last check.)
Suzie Humphreys commented, "We all idolized Don, every one of us...he was a hero to us. I (still) think of Don and Gene so often, even now after all of these years."
.
Robert Morrill, a retired policeman in Monterey, CA, wrote recently and said, "I became good friends with Don when he was working at NBC out of the Burbank Studios. I gave Don my bulletproof vest to take to Jonestown when he went with Congressman Ryan. Unfortunately, they shot him (elsewhere.)"
.
While Don exceled as co-host and producer of "News 8 etc...", his forte was hard news. He was an investigative reporter and lead news anchor for WFAA before, during and after his stint on "etc..." He won numerous awards for his hard-hitting news stories, and was respected by his colleagues--one of whom identified Harris as "a tough, compulsive reporter who lived his work 24 hours a day." Another unidentified source said, "(Harris) knows that the 'buddy-buddy' approach can win friends, but a point comes when you have to be a watchdog, too."
NEW! See some of Don's work from WFAA by searching the SMU Jones Film archive on YouTube here
Don once said of himself, "Let's face it...I'm not easy to like. I am impatient. I don't like mistakes... Sometimes I seem to create severe antagonisms on the part of some in the viewing audience who hold certain public figures in awe. I don't pretend that I can be totally objective; I seriously doubt that it's humanly possible. I can try to be fair--and listen to all sides. (But) I also feel a duty to probe behind what is said and relate statements to what the public figure does." Don acknowledged the inherent danger with doing investigative reporting: "If the day ever comes where we stop covering the news because it's dangerous to cover it, that's the day I'm getting out of the business."
Harris continued: "We (as the citizenry) have a tendency to lose sight of the fact that most elected officials have no particular specialized training for the job they sought and got. They're working for us! Why shouldn't the people have a right to know what they're up to once we've elected them?"
.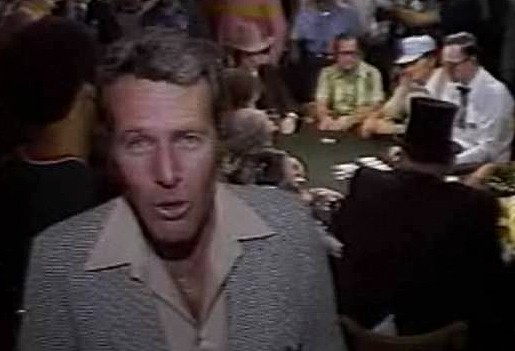 Harris reports from a poker convention in Las Vegas for NBC. Don was a
gambler and had a great fondness for the game of poker!
John Sparks, former news producer for WFAA-TV, commented in 1978 that "(Harris) managed to shake this town up like very few reporters have been able to do before or since. Don put his life on the line for a story many times. He didn't talk much about it. But I know there were a number of stories he went into, knowing that he could have been killed. He was aware of the risks, but he was in a special category of news reporters." Sparks continued: "I would put him in a class with Edward R. Murrow, had he lived."
Don Oliver of NBC News stated, "Don Harris was a man of principle. He was not given to making rash judgments. Once he made his mind up, he stuck to it. He once dumped thousands of feet of riot film into the Potomac River in Washington, rather than surrender it to federal authorities. He said later that he had promised people in the film that it would never be used against them in court."
.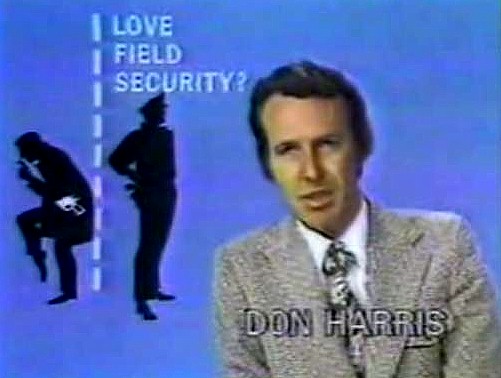 .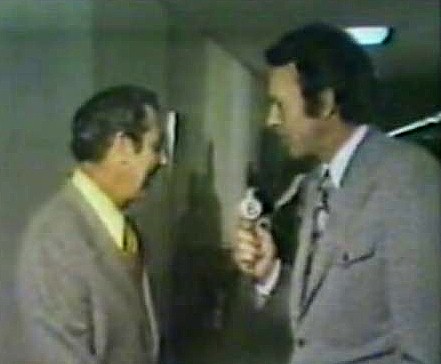 Don Harris finds holes in Dallas Love Field's elaborate new security system in 1972, much to the consternation of airport officials (see video here)
The late Travis Linn, who later co-hosted "News 8 etc..." and was the Dallas news bureau chief for CBS at the time of Harris' death, called Don "a superb newsman, probably a bigger newsman than this town could handle," in a 1978 interview. "There was no story he was afraid to look into. He always did his homework, always touched all the bases, and he was a good, thoughtful writer. His style was careful and thorough, yet he did become controversial because he loved to play the devil's advocate and bring a lot of life into his stories." But that attitude apparently did not hurt viewers' regard for Harris: "He came down hard on a number of investigative stories," Linn continued, "and I think the public respected him for it." One example of Harris' style was an investigative report he took on, where he smuggled marijuana across the Mexican border to prove how easily it could be done, and another where he had two passengers sneak weapons through a new elaborate security system at Dallas' Love Field Airport in December, 1972. (See video here.) The airport security piece earned Don a citation from the Associated Press, and another for a story he did on "scandalous" emergency hospital admissions practices.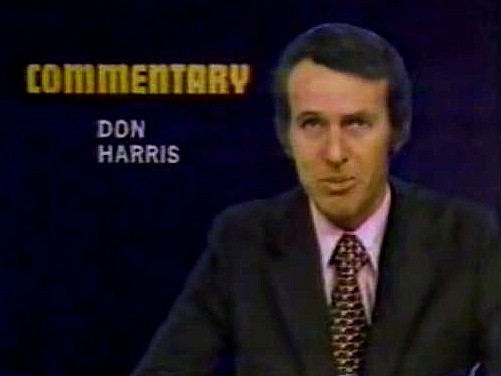 Harris was also known for his thoughtful, no-nonsense, on-air editorials at WFAA-TV.
His closing line each time was, "My name's Harris...and that's my opinion."

.
In 2008, NBC newsman Jack Perkins reflected on his friendship with Don: "Those here in the office took to calling Don Harris 'Scoop'...with a bit of affectionate mockery, and with respect. Because Don was closer than any of us to being the old-fashioned reporter with the snap-brimmed hat and the press card stuck in the hat band. He was a tough journalist. He was tough...but understand the reason he was tough: because he was caring."

The late Chip Moody remembered Don fondly in his 1995 book, Moments: The Life and Career of a Texas Newsman: "Don was never shy or retiring. He turned in some excellent investigative reports and was also an affable host of a morning news program, 'News 8 etc...'"

Former floor director and studio camera operator Ron Ragan recalled Harris's mischievous side: "I worked the floor crew during 1970-73. I was a cameraman for 'News 8 etc...' some of the time while Suzie and Don were hosts...During those years, Don and I became good friends. Goodness knows why; I was a 20-something, fresh out of college, and Don was...well, bigger than life. What can I say, he liked me and the feeling was mutual. Don and I were forever pulling practical jokes on each other; small stuff usually, but fun. (Then Harris) moved from 'etc...' to the evening news anchor spot. For months before I left Channel 8 for greener pastures, Don had warned me that he would 'get me' in a way that I would never forget.

"I was the 'News 8 at 6' floor director that evening. Everything was normal. We rolled into a commercial break, and all the talent left the set to go outside Studio C for a smoke break (a common practice at the time.) Don, Murphy Martin, Vern Lundquist and Jack Van Roy all left the studio. About one minute before we were supposed to cut back to the studio, it was the floor director's job to step outside the studio, round up the talent and get them back on the set. I stepped outside the studio doors and called my talent, to no avail. Nobody was there. Right on cue, director 'Captain' Bob Ellis hollered at me from the upstairs control room. 'Ragan! Where's my talent? Get 'em on the set NOW!' Now I was starting to panic. Where was Harris? He was up for the next story. Where was Murphy? He was never late. Vern was understandable. He was always skating in at the last moment. But this was very unusual.

"Now we were at 30 seconds away from live studio. Ellis was screaming profanities at the top of his lungs. The floor crew was all in a tizzy. Here I was, near the end of my career with Channel 8, and we were rolling to a blackout...and on my watch! I ripped off my headset, swung open the studio doors and headed for the newsroom when I glanced up the spiral staircase leading down from the control room. There, coming down the staircase, lined up and grinning ear to ear were all four anchors led by Don Harris. As he walked by me, he all but whispered the words, 'Gotcha, Ragan!'

"Everyone had been in on the prank but me. Harris had planned it all. The studio monitor had been rewired. The commercial had rolled into a network feed, all unbeknownst to me. I had the only 'fake' script in the station, prepared only for me. It was an elaborate ruse and Harris had planned it just for me, together with Ellis, the other anchors, News Director Travis Linn and the whole station.

"Don Harris...I loved that guy. Nobody could have or would have (planned such a ruse) but Don. He was the GREATEST and, even now, I still miss him and treasure my time with him during those years."
.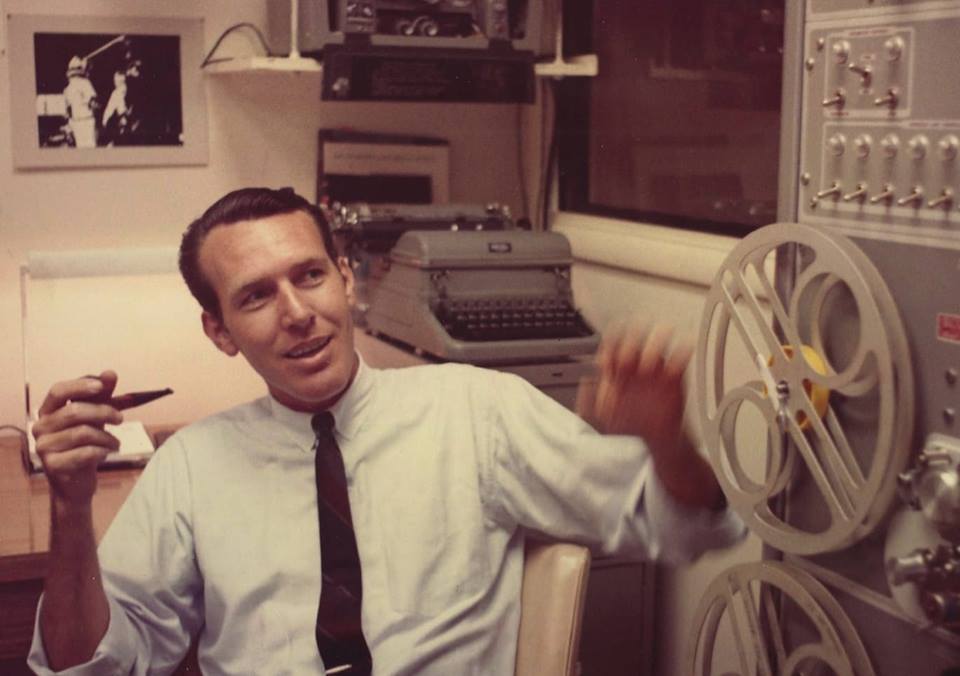 A young Don Harris early in his television career
Don, whose real name was Roy Darwin Humphrey, was born near Vidalia, Georgia, on September 8, 1936. He worked first for radio station WVOP in his hometown in 1957, then in television for a North Carolina station, where Harris did weather reports. Later, he was with WTVT-TV in Tampa, FL as a staff announcer from 1964-1968, and at WTOP-TV in Washington, DC from 1968-1969. He took a position briefly with the NBC-TV affiliate in San Francisco, then joined WFAA-TV in December, 1969. Harris served as a reporter (12/1969-2/1973,) "News 8 etc..." co-host (1/1970-8/1971,) news anchor (1/1970-8/1971) and lead news anchor (8/1971-2/1973,) when he quit over a dispute with station management. Don then left Texas for the news department at NBC-owned KNBC-TV in Los Angeles.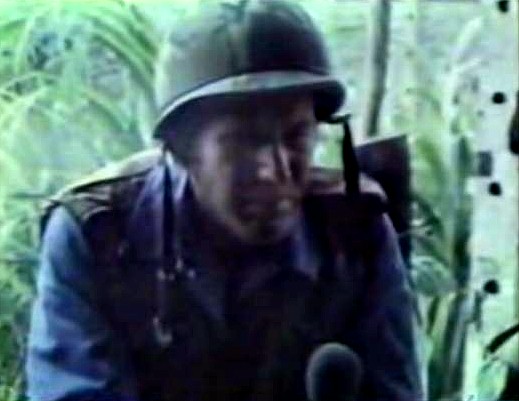 .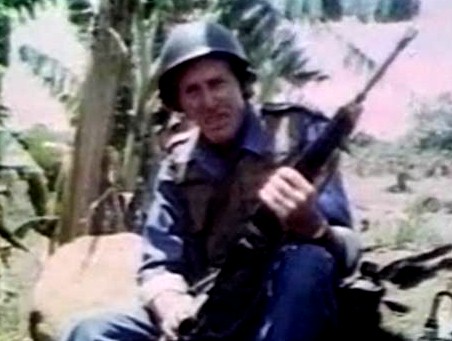 Harris covering the fall of Saigon in the spring of 1975
By 1975, Harris was promoted to the network news staff at NBC, where he covered the fall of Saigon in 1975 and reported from the trenches in Vietnam. He was nicknamed "Mr. Lucky" by American soldiers who were amazed at his ability to dodge bullets and land mines, while still able to always bring back the story. Harris won four Emmys for news coverage during his career, and earned a DuPont/Columbia Award for his feature, "The Prison Gangs," broadcast on KNBC-TV in 1975.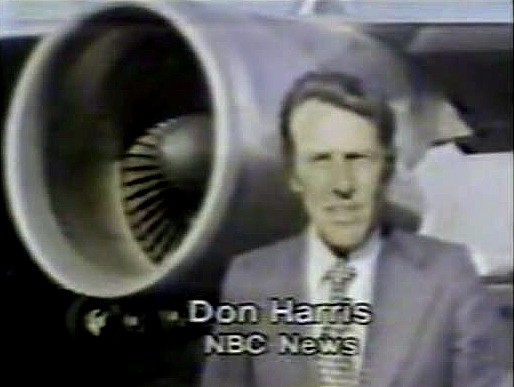 Before Jonestown, Don's last investigative piece was a two-part series on
international terrorism, broadcast on "NBC Nightly News" in the spring of 1978
Don was survived by a wife, Shirley; two daughters, Claire and Lauren; a son, Jeff; and an uncle, Dr. A. J. Morris. The family lived in Woodland Hills, CA, a suburb of Los Angeles. Jeff Humphrey followed in his father's footsteps and was most recently a respected news reporter and anchor for KXLY-TV in Spokane, WA. In November, 2008, he and his mother Shirley spoke publicly about his father's passing for the very first time, on the 30th anniversary of the Jonestown Massacre. See the YouTube video of the interviews here.
.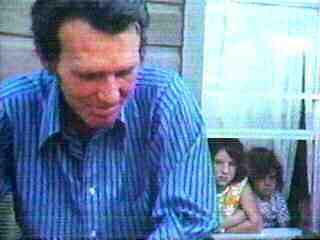 .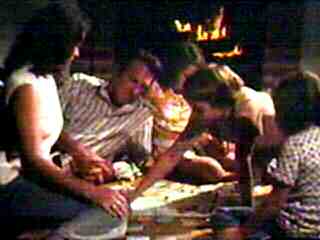 .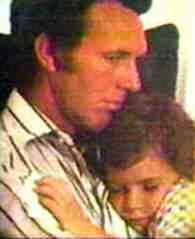 Don was featured in a touching 1972 station promo with his family. Left: Don, with Claire and Lauren.
Center: Shirley, Don, Claire, Jeffrey and Lauren play a game. Right: Don with Lauren
.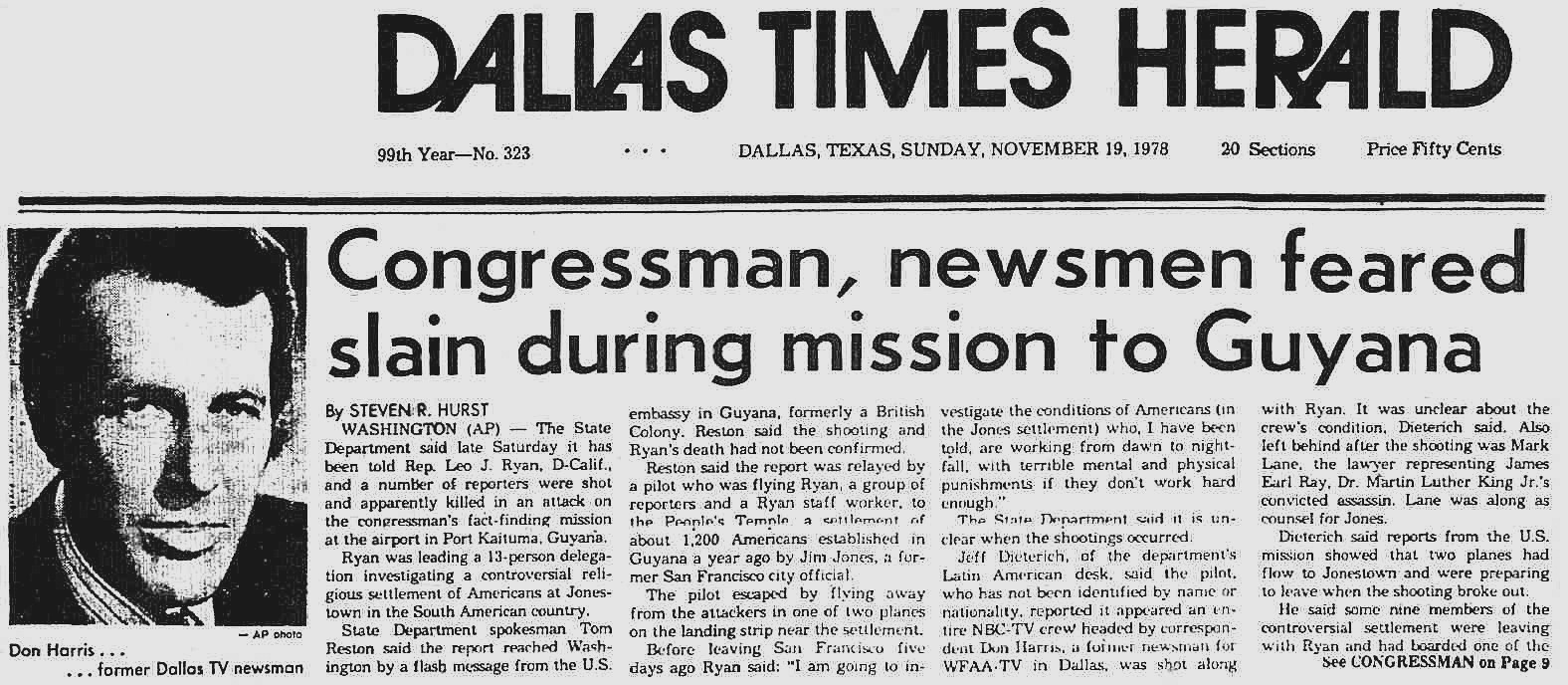 Harris was presumed dead based on preliminary reports from Guyana. The next day's headlines
would announce the grisly story of the 908 deceased Temple members who either drank poison or were murdered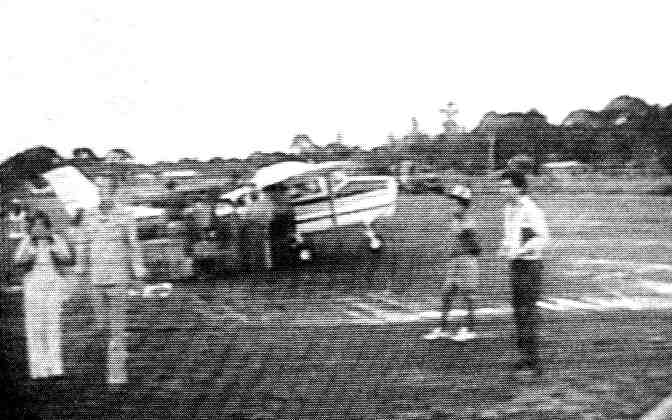 A still image, clipped from a newsreel filmed just before gunmen arrived; Don Harris is the tall man, second from left.
The plane in the background was to take the NBC crew and Congressman Leo Ryan back to safe territory.
Moments later, Harris, Ryan, NBC photographer Bob Brown and a defecting family were shot dead by Temple security.
This film was found on the grounds, along with Harris's interview with leader Jim Jones. NBC used the compelling
footage with their news reports

---
GENE THOMAS
1940-1971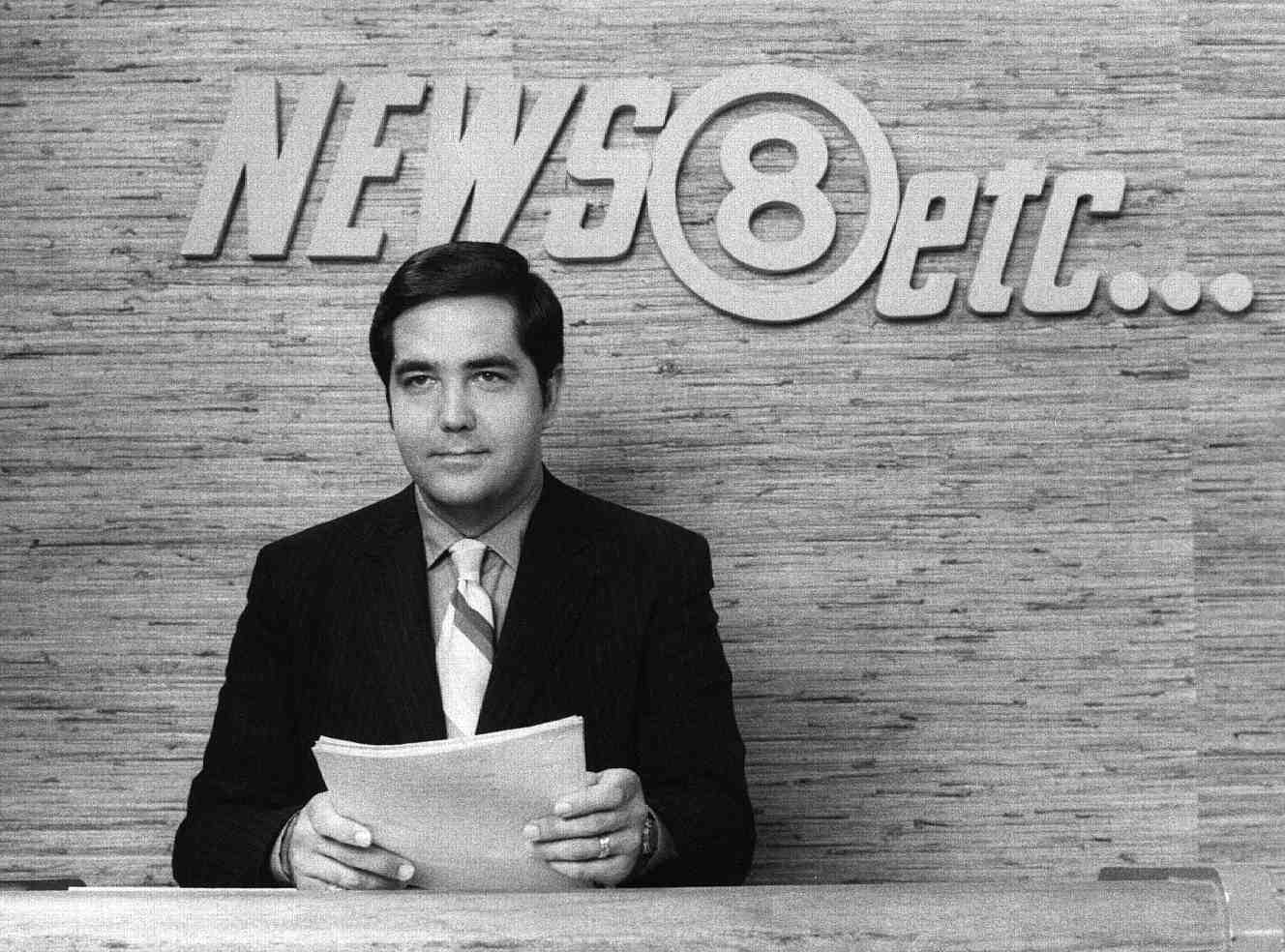 .
Gene Thomas died October 16, 1971 at age 31, while on assignment for "News 8 etc..." He was a passenger in a jet-powered drag racer driven by world land-speed recordholder Art Arfons. Gene, whose real name was Thomas Eugene Alred, was killed when the race car blew a tire at the conclusion of a 286 MPH run at the Dallas International Motor Speedway in Lewisville, TX. The car veered into a railing near the end of the track, turned over, and Gene was thrown from the vehicle on impact. The accident killed two young spectators in the area as well. Arfons survived the accident, but retired from racing afterwards.
"It was a terrible, tragic accident," Suzie said, "It left a great hole in all of us who loved him." In a strange twist of fate, Suzie was the reporter first chosen to ride along with Arfons, but Gene seemed more interested in the story...and was given the assignment instead.
.
Suzie said of Gene: "He was amazing! A great news man...a great talent...a great friend. He was as witty as he was serious, he could do light news as well as hard, he could shift demeanor and jump from one story to the next easily and with marvelous style."
.
Thomas first worked on "News 8 etc..." as the news anchor that was regularly cut away to during the show to provide news updates. He was promoted to co-host on August 9, 1971, after Don Harris's promotion to lead news anchor...a mere ten weeks before Gene's fatal accident.
Thomas' contributions to the industry were not overlooked. North Texas State University (now the University of North Texas) set up a scholarship in Gene's name through the Association of Broadcasting Executives of Texas for outstanding students in the school's journalism department. Immediately after his death, the Dallas Chaparrals basketball team (now the San Antonio Spurs) honored Gene with a "Gene Thomas Memorial Night" game on October 31, 1971. Some of the proceeds were intended to establish an education fund for his children, but that apparently never came to fruition, according to Gene's family. NEW! See footage of the presentation here.
.
NEW! See some of Gene's news stories here (10/26/1969, starting at 2:01;) here (11/13/1969, starting at 9:17;) here (3/3/1971, starting at 8:11;) here (10/30/1971, starting at 10:54;) and here (12/2/1969, starting at 6:50.) Others can be found by searching the SMU Jones Film archive on YouTube here.
Gene was born in Pawhuska, OK, and grew up in Tulsa. He attended Central High School there. Gene had a charismatic personality and an inquiring mind, which made him a natural for a career in broadcasting. After a four-year stint in the Navy (where he had his first radio show while stationed in Iceland,) he worked for a small radio station in Coffeyville, Kansas, then to KAKC Radio in Tulsa as a top 40 DJ before going into news at that station. In 1966, he broke into television as a sportscaster at KOCO-TV in Oklahoma City before becoming a news anchor there. Following that, he was news director of KWTV-TV in Beaumont, TX. In 1969, he came to work for WFAA-TV at its Fort Worth news bureau; by January 12, 1970, a major shuffling of newscasters occurred when anchor Murphy Martin left the station, ultimately landing Thomas the role of Bureau Chief. After about 3 months, he moved into the news department in Dallas, then was promoted to evening news anchor. One of Gene's major news assignments was traveling to Vietnam with Ross Perot.
Thomas was survived by his second wife, Linda Brooks Alred (who still resides in the Dallas area;) a son, Darin (who now lives in Tulsa;) and daughters Monica (from Gene's first marriage; she currently lives in Kansas City) and Jill (currently living in Miami.) Linda wrote recently to say that Gene now has three granddaughters and three grandsons who wish very much that they could have known him.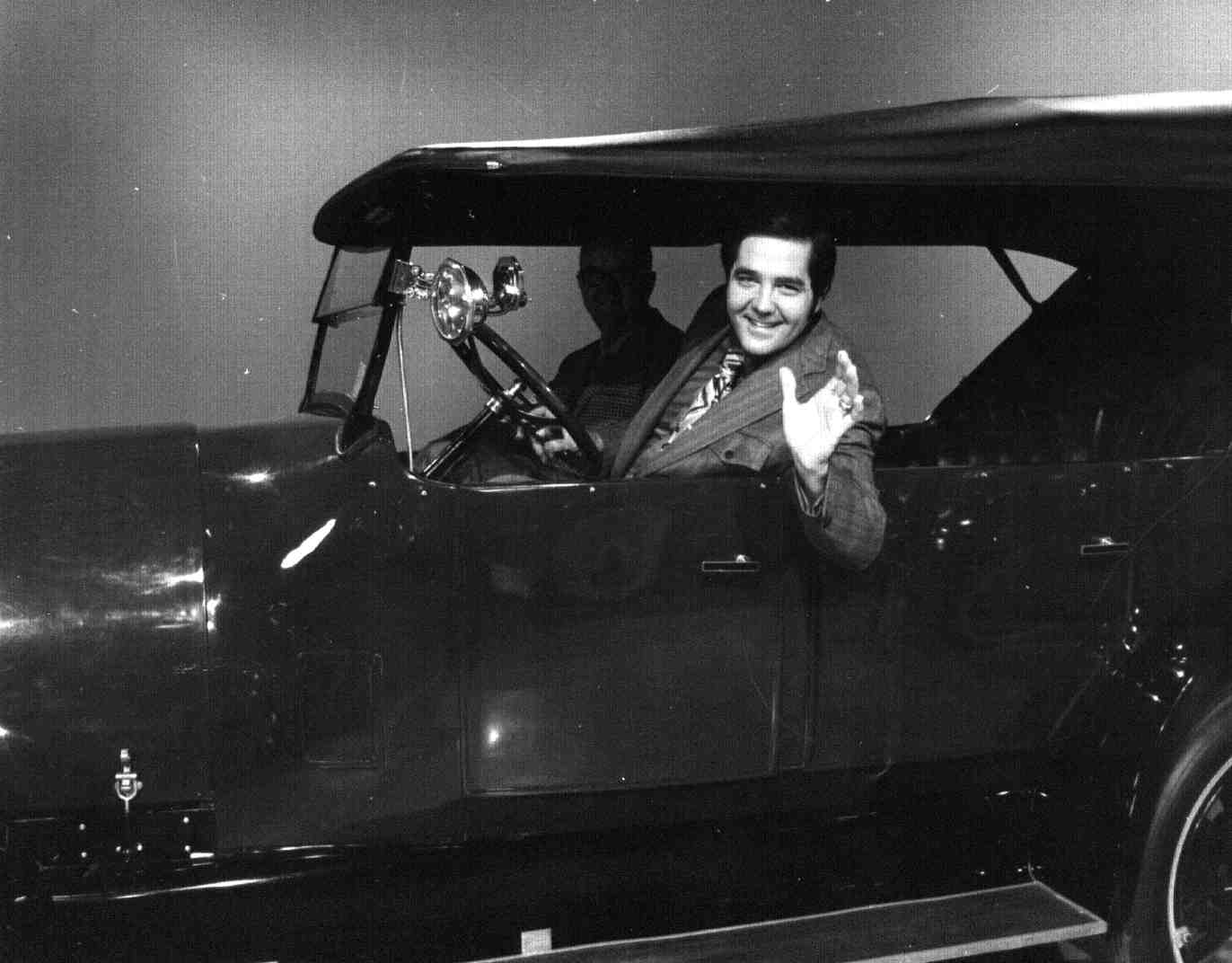 .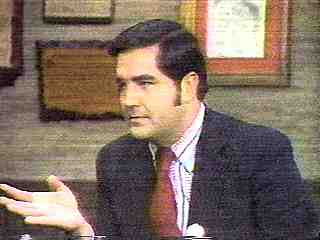 L: Gene's fascination with cars would later cause his untimely death. R: Gene at the "etc..." table
.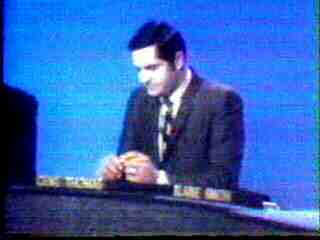 .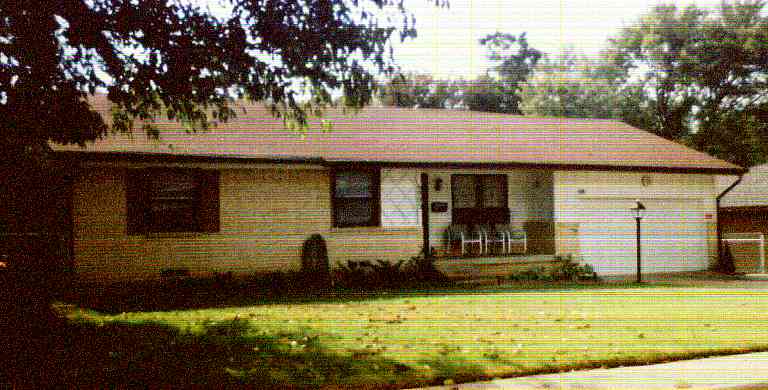 L: Gene also served as a WFAA news anchor. R: Gene's former home in South Dallas, today
.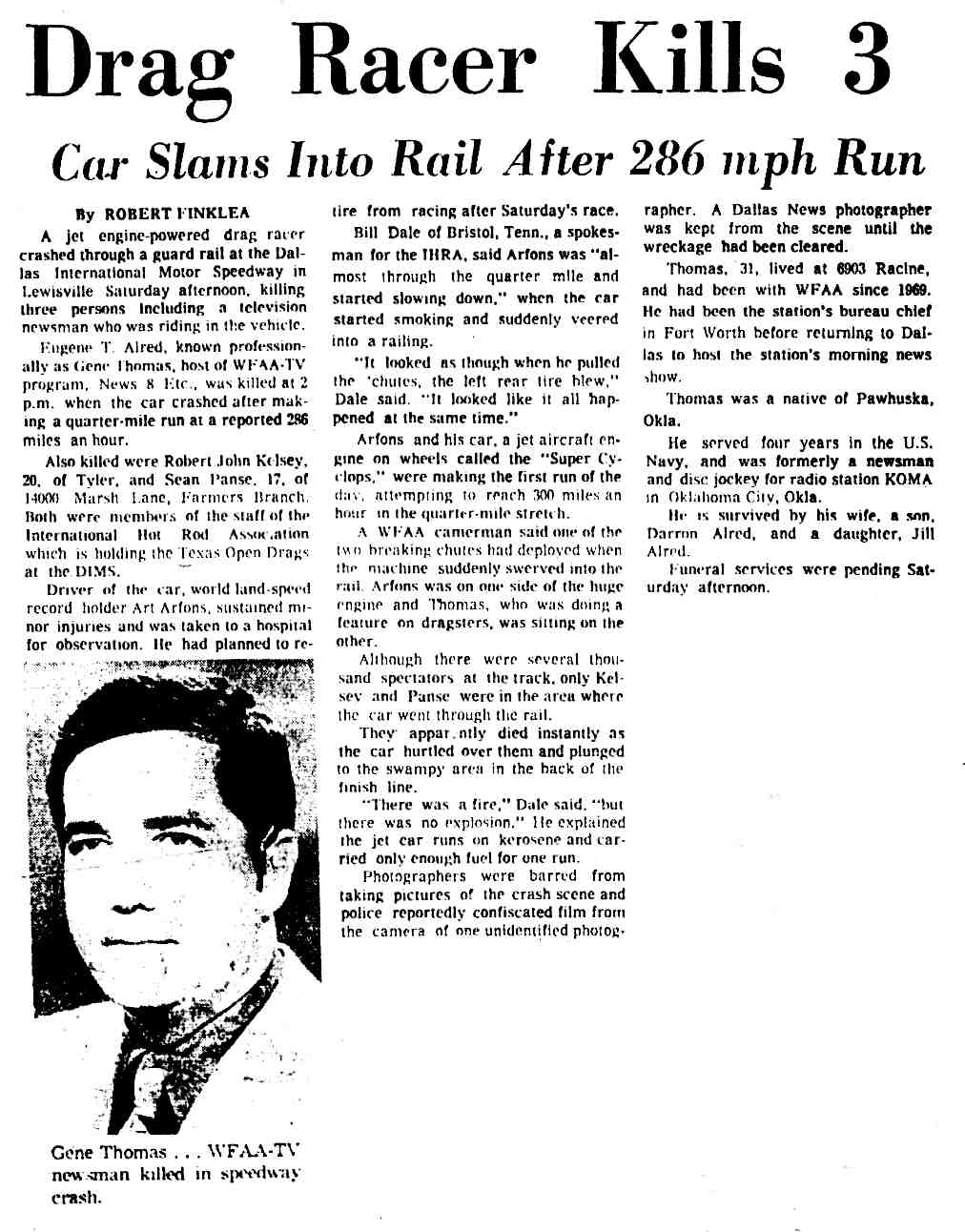 Gene Thomas' obituary, as published in the Dallas Morning News on October 17, 1971
---
Special thanks to Suzie Humphreys for supplying numerous rare photographs and for sharing her personal stories. Thanks as well to Linda Alred (Gene Thomas's wife) and Monica Theis (Gene's daughter,) and Claire Humphrey (Don Harris's daughter) for their reflections, information and clarifications; and to former KVIL pilot Ken Montgomery and former WFAA employees Murphy Martin, John Sparks, Nick Alexander, Ron Ragan and Ralph Gould for their personal remembrances.
---
Click to return to MAIN PAGE (SUZIE HUMPHRIES AND NEWS 8 ETC...)
---
TERMS AND CONDITIONS OF USE
This entire website and its contents are copyright 1984-2023 Mike Shannon. Images are copyright of their respective owners: All black-and-white photos are courtesy of Suzie Humphreys, except the final photo of Don Harris, which is credited to NBC and the late Bob Brown. Color screenshots are credited to WFAA-TV, Dallas. Obituaries and news reports are credited to the Dallas Times Herald, the Dallas Morning News and the Eastfield (College) EtCetera. KVIL-AM/FM photos are credited to former station owner Infinity Broadcasting, Inc. Print ad reproduction is credited to the Fort Worth Star-Telegram. If you feel your copyright is being infringed upon by its appearance in this website, please email me and it will be removed or credited properly. I am not responsible for errors, omissions, incomplete information, misrepresentations or dead links. Information was gleaned from newspapers, broadcasting yearbooks, magazines, personal recollection, recollections of others and the like. Copying of any or all information or images for use on other websites, in print or for other purposes, is prohibited without permission. Links are provided for the user's convenience; I claim no responsibility for the contents, accuracy or relevance of other sites that may be linked to from this site. This entire website is considered a not-for-profit "fan site," to be enjoyed for entertainment and informational purposes only. Usage of this site and/or any sites, sub-sites or pages or images contained within, however accessed, constitutes your agreement to these Terms and Conditions. If you do not agree to these Terms and Conditions, click here and you will be taken elsewhere. Proceeds from advertising & duplication services are directly used for site maintenance, hosting fees and research costs.