.
The History of
KBOX RADIO
By Mike Ehrle
with Bill Ward, Gary McBrayer, Bob Whitney and Mike Shannon
Edited and illustrated by Mike Shannon


KBOX studios, 9900 McCree Road in NE Dallas

---
FEATURES
Click here to skip to Part One, KGKO Came First
Click here to skip to Part Two, KBOX-The Top 40 Years
Click here to skip to Part Three, KBOX Country
Click here to skip to Part Four, The Future of 1480 and 100.3
and Part Five, KBOX/KGKO Personalities and Employees
Click here for KBOX MEMORIES (photos, reflections, memorabilia)
Click here for KBOX MUSIC SURVEYS
Click here for KBOX SOUNDS (coming soon!)
NOTE:"The History of KBOX" will always be considered "under construction," so if you have photos, stories, memorabilia, names, or thoughts to share, please email Mike Shannon at mike@dfwretroplex.com or Mike Ehrle at kboxmike@centramedia.net. All contributions to the site will be greatly appreciated and properly credited. Thanks!
* * *
There is now nothing at 9900 McCree Road in Dallas that would indicate to anyone that a radio station ever existed at that location.
However, hundreds of thousands of loyal KBOX Top 40 music fans from the late 1950s through the mid 1960s and the KBOX country music enthusiasts who followed the station from 1967 to 1982, remember precisely where KBOX stood on 17 acres at the crest of a small hill north of White Rock Lake.
Historically, the building at 9900 McCree Road that had been home to KBOX was abandoned in 1990 when successors KJMZ-FM and KHVN-AM were relocated to Irving (and the AM transmitter moved to SE Dallas.) In 1991, the former KBOX studio and towers were razed to make way for an exclusive, high-dollar housing project that remains at that site today.
Located in the Lake Highlands section of the city, this residential subdivision is named Highland Hills. It begins at Audelia and McCree Road in the 9800 block of McCree and extends east. The 9800 and 9900 blocks of McCree are today separated by a side street, Prominence, which further defines the subdivision that is made up of the expensive luxury homes that are secluded by tall, brick fences. Across McCree Road from the former KBOX site at 9900 is another Dallas landmark, St. James Episcopal Church.
The history of KBOX is traced to the beginning of KGKO, which signed on the air in January, 1953. When the 1480 frequency was authorized for a new station, KGKO became the 16th AM station licensed by the FCC for the Dallas-Fort Worth area.
The 1480 kHz KGKO is not to be confused with the 570 kHz KGKO, established in Wichita Falls on September 2, 1928 and moved to Dallas on May 1, 1938, where its call letters were subsequently dissolved when the station was merged with WFAA Radio on April 1, 1947.
The following material details the history of the 1480 frequency from 1953-1982, when the KBOX call letters were abandoned, and 1480 became KMEZ and simulcasted the beautiful music format of its sister station, KMEZ-FM. A history of KBOX-FM is also provided.
Information collected to document the history of KGKO and KBOX ownership, staffing, programming and technical aspects came from interviews with former KBOX employees and listeners, Broadcasting Yearbook and other documentation.
Appreciation is extended to those individuals who helped get this ongoing project off the ground, especially former KBOX program director Bill Ward, KBOX enthusiast and historian Gary McBrayer, KBOX vets Charlie Van Dyke, the late Sam Pate, Bob Whitney, the late Chuck Dunaway, the late Dan Ingram, Jason Walker, Jack Weston, Jack (West) Schell, Tony deHaro, Allan Peck, John "Jerry Knight" D'Azzo, Dave Tucker, Sean Sims (on behalf of his father, the late KBOX newsman Glenn Sims,) Robert Kevin "Doc" DeWeese (on behalf of his father, the late KGKO and KBOX news director Dallas "Tex" DeWeese,) and Danny McDuff. Many thanks also to KBOX listeners Doug Pritchett, Bob Fox, Frank Haley, Ed Padget, Chuck Mohnkern, Tony Hayes and Bob Krause, and KGKO veteran Don Keyes. This website is proudly dedicated to the former employees of KGKO and KBOX, and their listeners.
Bill and Gary's contributions to this project are particularly invaluable.
Bill Ward (Bill Wardlaw) was the program director at KBOX when the decision was made in late 1966 to change the station's Top 40 format to Country music. For this project, Bill provided photographs and much insight into the operation of KBOX during the days of the Balaban Broadcasting ownership, and for his generous contributions, we are grateful. We are also fortunate that Bill saw the finished product before his untimely passing on July 30, 2004.
---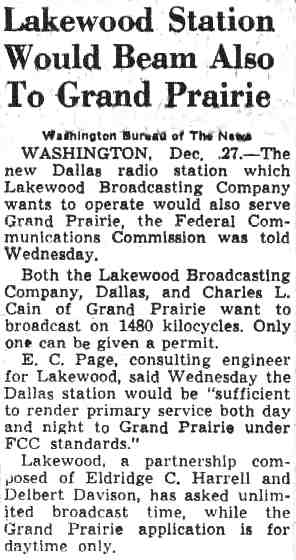 From the Dallas Morning News, December 28, 1950
Lakewood Broadcasting, initially owned by Eldridge C. "Doc" Harrell (former Dallas City Councilman and Lakewood-area drugstore owner) and prominent Dallas businessman Delbert Davison made application for the 1480 kHz frequency in late 1950, and competed for the frequency against Charles L. Cain of Grand Prairie. Cain was looking to start a daytime-only operation based in, and serving, Grand Prairie. Lakewood argued that their coverage would include Grand Prairie, as well as broadcasting to a much wider area than Cain's plan. Lakewood's engineer, E. C. Page, in an interview for The Dallas Morning News, said his company's proposal would be "sufficient to render primary service both day and night to Grand Prairie under FCC standards." Lakewood won, and approval for 1480 was awarded a year later on November 27, 1951. The company released a figure of $68,160 to build a studio and a transmitter building. The station was reportedly awarded the call letters KLWO on February 13, 1952; on May 16, 1952, the calls were exchanged for the locally-familiar KGKO letters.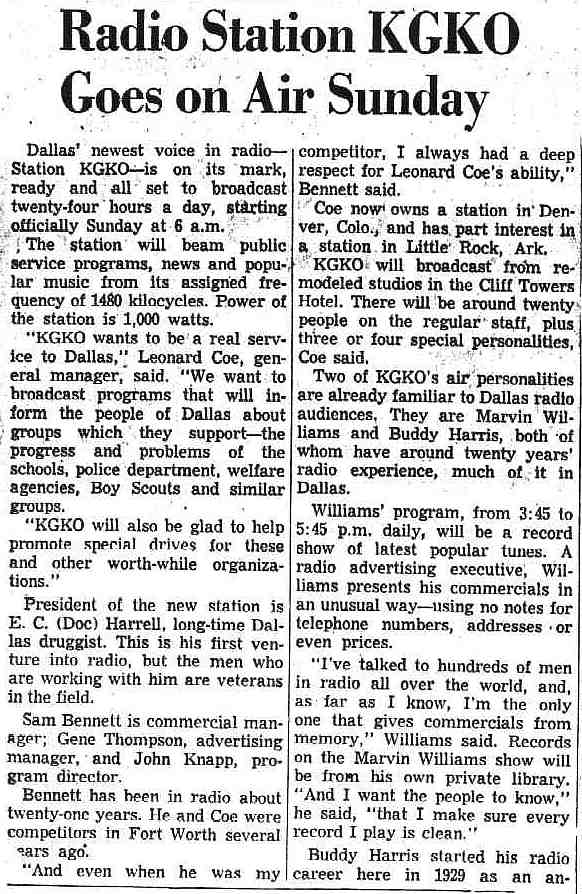 .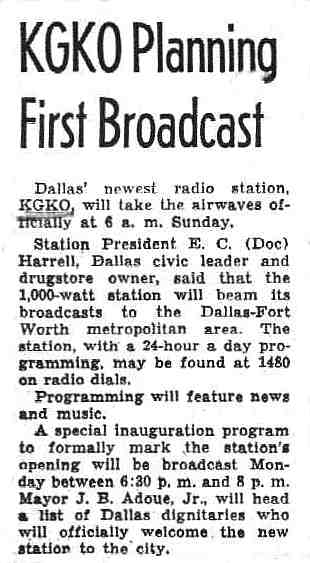 From the Dallas Morning News and Dallas Times Herald, January 18, 1953
Lakewood's proposal included an 18-hour broadcasting day, 5AM to midnight, with no network affiliation. The lack of an affiliation was unusual in that day (KIXL, KSKY, and the former Liberty Broadcasting flagship KLIF were the only others,) but Harrell and Davison held the belief that there was a need in Dallas for local programs during evening hours. The format was initially described as music, news and sports, but was later clarified to mean semi-classical and popular music, six to eight newscasts daily, and an effort to line up high school and professional sporting events. Leonard Coe was appointed station manager, although he concurrently owned radio station KTLN in Denver and co-owned KVLC in Little Rock, AR.


Logo for original KGKO at 570kc
KGKO took the call letters that were formerly used at the 570 kHz frequency from 1928-1947. The letters were dissolved at the FCC's request to properly clarify who was broadcasting on 570 during WFAA and WBAP's timeshare agreement. Both stations shared the powerhouse, clear channel 820 kHz position, and the station otherwise not broadcasting while 820 was in use, would use 570 while waiting its turn.
KGKO signed on the air at 6AM on Sunday, January 21, 1953, operating with 1,000 watts of power daytime and 500 watts of power nighttime with the same directional antenna pattern for day and night (DA-1) operations. The station was formally inaugurated the next evening at an event simulcast on KGKO, hosted by Dallas mayor J. B. Adoue, Jr. and including a list of Dallas dignitaries who officially welcomed the new station to the city.
Lakewood abandoned the 18-hour broadcast day plan and dove into a full 24-hour a day schedule. It also began to include jazz standards in its programming, a first in Dallas radio. Heading up the on-air talent were Dallas radio vets Marvin Williams and Buddy Harris. Williams hosted an afternoon show containing the latest popular songs, and brought his own records to play during the program. His claim to fame was his ability to recite live commercials from memory, including telephone numbers, addresses and prices. Williams told the Dallas Morning News that, "I want the people to know that I make sure every record I play is clean." Buddy Harris started in radio in 1929 and was host of the "Morning Grinder" show from 6:30AM to 8:30AM. Harris brought "Grinder" from another station, where the program began its run in 1945. It consisted of "gags, interspersed with records." 23-year old crooner Jimmy Harris sang during his 45-minute afternoon show, and Bill Borom hosted the overnight "Nightwatchman" show. Other announcers were Don Keyes (at his first job in Dallas radio,) Carmine Anthony, Ken Knox (aka Ken McClure, later of KBOX and successor KMEZ,) Ed Jordan and Clem Cooper. Don Keyes explains about another station feature: "A man by the name of Meador Lowry came by at different times and gave poetry readings. His show, which I think was 15 minutes (long,) was called 'Pages of Gold.'"
Keyes describes the music offerings: "There was no particular format and the jocks pretty well picked their own music from a good-sized library." While news was initially an afterthought, KGKO was considered the area's #1 news station by 1958, according to published sources.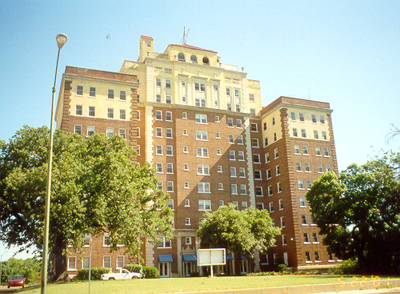 The Cliff Towers Hotel today.
Photo by Steve Eberhart for www.klifhistory.com
The KGKO studios were located in the basement of the Cliff Towers Hotel at 329 Colorado Blvd in the Oak Cliff section of Dallas, with towers located at 9900 McCree Road in northeast Dallas, near White Rock Lake. The Cliff Towers Hotel had earlier been the home of Gordon McLendon's KLIF radio and the planned location of McLendon's UHF television station project, KLIF-TV, which never materialized. The prestigious Towers, 12 stories high, in later years was the location of a nursing home, but today remains, as of this writing, vacant. KGKO remained in the Towers until 1956, when it moved into an existing small, white building on the transmitter land at McCree Road. "Roy," a KBOX listener whose grandfather worked on the KGKO towers, explains: ""The building, to me, appeared to have been there for some time. (It) was large enough to house a studio and maybe two small offices. It was much more than just a transmitter shack. It seems the front was of different material than the sides, so maybe it had been a large garage or barn prior to being used as a radio station. It had been freshly painted (by 1956,) because I remember that they dripped paint everywhere. I do not remember many windows." Apparently, the station outgrew its makeshift studio, or it wanted to make a better impression with a potential buyer down the line...as construction began by 1958 on a larger, more befitting facility for the studios and offices on the west side of the tower property. By the time Balaban took over the station in July, 1958, the new studios were fully operational.
When KGKO relocated to McCree in 1956, the station's power was increased from 1,000 to 5,000 watts. One could assume that the move from the prestigious hotel to more spartan digs was to cut expenses to pay for the power upgrade, which required a complicated array with separate directional antennas for day and night broadcasting...achieved by installing two additional towers for a total of four. The move would also eliminate any signal loss in getting the feed to the towers for broadcast (as microwave technology was still in its infancy then!)
Grand Prairie station KBCS-AM moved into the Cliff Towers studios when KGKO moved northeast.
WHERE ARE THEY NOW?
Don Keyes: Don explains: "Sometime in 1954, I was hired by KLIF and never looked back at KGKO. I started part-time on weekends, then I went to evenings 6 to 10. Then later, in early 1956, I went to afternoon drive where KLIF chalked up its first 50% share. In the late spring of 1956, Gordon McLendon sent me on my first PD job, to put KTSA in San Antonio on the air. We kicked serious butt! In the spring of 1957, he sent me to Houston to put KILT on the air. Then, in the fall of 1957, he promoted me to national PD, vice-president of programming, and assistant to the president. I stayed in that job until I went out on my own in 1966." Don was recognized for his contributions to Texas broadcasting as an inductee to the Texas Radio Hall of Fame in 2003, and passed away on January 23, 2006 at age 74.
Tex DeWeese was the managing editor for the Pampa (TX) Daily News from 1937-44. He then worked for WLW in Cincinnati from 1944-53 as radio and TV news director until he was requested by the McCann-Erickson ad agency in Chicago to be the news voice for Standard Oil of Ohio. He became the "SOhio Reporter," working as an employee of Standard instead of WLW, but still broadcasting morning, noon and evening news from their studios on radio and TV. Rod Serling was hired as Tex's producer, Red Skelton as the copy boy, and Rosemary Clooney was a secretary. DeWeese turned down an opportunity to co-host the NBC network news broadcasts with John Cameron Swayze, and took a news director position with WISH Radio/TV in Indianapolis from 1953-56. DeWeese started with KGKO during their last few months on the air in 1958, and continued with KBOX thereafter. He died several years ago.
Ken Knox (McClure) worked many years in Dallas radio. He was with KBOX successor KMEZ right up to his death on August 20, 1988 at age 63.
Buddy Harris, whose parting words to the radio industry were that he was 'as obsolete as a Hupmobile,' passed away several years ago.

---
HISTORICAL DATA-1952 TO 1958
From Broadcasting Yearbook
1952, KGKO
(station actually did not sign on until January, 1953)
1,000 watts days, 500 watts nights, DA-1
Owner: Lakewood Broadcasting, PO Box 11747, Dallas, TX
Format: Jazz, Adult Standards
Construction permit issued for 5,000 watts days, 500 watts nights
Representative: Forjoe
Co-owners: W.L. Pickens, H.H. Coefield
General Manager: Buddy Harris
Commercial Manager: Jack Howard
Program Director: Hal Bakke
Promotions Manager and News Director: Gordon Sanders
Chief Engineer: Gordon Vaughn
1953, KGKO
1,000 watts days, 500 watts nights
Lakewood Broadcasting, Cliff Towers Hotel, Dallas, TX
Phone: WEstbrook-7594
Format: Jazz, Adult Standards
Network representative: McGillvra
General Manager: Leonard Coe
Commercial Manager: S.H. Bennett
Program Director, News Director: John Knapp
Chief Engineer: Henderson Rogers
1954, KGKO
1,000 watts days, 500 watts nights
Lakewood Broadcasting, Cliff Towers Hotel, Dallas, TX
Phone: WEstbrook-7594
Format: Jazz, Adult Standards
Network representative: McGillvra
General Manager: Leonard Coe
Commercial Manager: Bill Morgan
Program Director: Bud Vincent
Promotions Manager: Henry Steele
Chief Engineer: Henderson Rogers
1955, KGKO
1,000 watts days, 500 watts nights
Lakewood Broadcasting, Cliff Towers Hotel, Dallas, TX
Phone: WEstbrook-7594
Format: Jazz, Adult Standards
Network representative: Radio-TV Representatives
General Manager: William S. Morgan
Program Director: S.A. "Buddy" Harris
Chief Engineer: Henderson Rogers
1956, KGKO
5,000 watts days, 500 watts nights (DA-2)
All other information is an exact duplicate of 1952's and assumed to be outdated.
1957, KGKO
5,000 watts days, 500 watts nights (DA-2)
Lakewood Broadcasting, P. O. Box 11747, Dallas, TX
Network representative: Forjoe
Co-owner: W. L. Pickens
Co-owner: H. H. Coffield
General Manager: Buddy Harris
Program Director: Hal Bakke
Promotions Manager: Gordon Sanders
Chief Engineer: Gordon Vaughn

---
Click here to continue to Part Two: KBOX-The Top 40 Years
Click here for KBOX Memories
Click here for KBOX Music Surveys
Click here for KBOX Sounds (coming soon!)
---
TERMS AND CONDITIONS OF USE
This entire website and its contents are copyright 1984-2022 Mike Shannon. Images are copyright of their respective owners. If you feel your copyright is being infringed upon by its appearance in this website, please email me and it will be removed or credited properly. I am not responsible for errors, omissions, incomplete information, misrepresentations or dead links. Information was gleaned from newspapers, broadcasting yearbooks, magazines, personal recollection, recollections of others and the like. Copying of any or all information or images for use on other websites, in print or for other purposes, is prohibited without permission. Links are provided for the user's convenience; I claim no responsibility for the contents, accuracy or relevance of other sites that may be linked to from this site. This entire website is considered a not-for-profit "fan site," to be enjoyed for entertainment and informational purposes only. Usage of this site and/or any sites, sub-sites or pages or images contained within, however accessed, constitutes your agreement to these Terms and Conditions. If you do not agree to these Terms and Conditions, click here and you will be taken elsewhere. Proceeds from advertising & duplication services are directly used for site maintenance, hosting fees and research costs.