.
PROFILE: RUSS BLOXOM,
CONTINUED...
.
WHERE ARE THEY NOW?
.
SEE WHAT YOUR FAVORITE CHANNEL 5 AND KXOL PERSONALITIES
ARE DOING NOW, AND READ TRIBUTES AND REFLECTIONS ON SOME
OF THE LATE, GREAT HEROES OF DFW MEDIA
---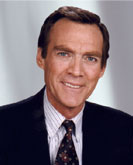 Chip Moody, 1996
Photo credit: WFAA
ROBERT PHELPS "CHIP" MOODY II , one of the most recognized and respected newscasters in North Texas, died December 26, 2001 after a 15-year battle with Hodgkins disease and its effects. He was survived by his wife, Vikki, daughter Tiffin and son Trae (Robert P. Moody III), all of Dalworthington Gardens, TX. Chip last reported on the air in April, 1999, anchoring the WFAA-TV News. Chip left a legacy with his annual "Chip Moody Pro-Am Classic" golf tournament, held in Dallas every June, which attracts many local celebrities and raises funds for his "Chip Moody Child Care Fund and Endowment," benefiting the Children's Medical Center of Dallas.
.
Of Chip, Russ Bloxom says, "Women idolized him. Men respected him. A high achiever and feisty, he loved being first, especially when HE did it! He relished an audience and the thrill of live broadcasting. Although he was our 'young whipper-snapper,' he pulled it off with an attractive flair and believability. His love of life and all the challenges to it were reasons for his long survival as a cancer victim."
Russ relates his favorite memory of Chip: "Chip dreamed of being a fighter pilot. A football injury to his back, which bothered him his whole life, precluded his qualifying with the Air Force. Midway through our years together in the 1970s at Channel 5, Chip soloed for his private pilot's license. None of us in the newsroom had the guts to go watch...Also, it should be noted that Chip failed to invite or even alert us...not the usual Moody ego! It was not long afterwards that Chip invited me up for a ride. For me, this was an extremely difficult decision. One never questioned Moody's confidence as a fellow TV anchor and reporter. However, in agreeing to take to the air with him as pilot, and, despite his zeal, it was a question of competence in the early days of an aviator's career.
"I reluctantly met him at a small private airport...it was a perfect day for flying, and my old Air Force billed hat, which I had saved from my service days, gave me a bit of security. Moody was amused, and off we went into the blue. Once airborne over pasture land southwest of Fort Worth, it wasn't long until Moody's widely-known tendency to be mischievous became apparent. Chip sent the plane into various, but tolerable, maneuvers intended to cause his passenger some anxious moments. All the while, Moody was in stitches.
"Eventually, we spent the rest of the ride 'strafing' water tanks, windmills, trees and cattle. Both occupants even made the sounds of the 'wing guns' spewing out 'hot lead' at the various targets toward the end of each 'diving attack'! It was a hoot! When we landed, I got out of the plane, and still wearing my old Air Force hat, kissed the ground. Moody was amused. He enjoyed telling the story to our colleagues. To my knowledge, none of them ever went up with him. So, for all those years later, our experience (up there together, by ourselves, acting like little boys) grew more memorable, especially now."
.
Moody began his broadcasting career in 1968 at CBS affiliate KWTX-TV and campus radio station KWBU-FM in Waco while a student at Baylor. Upon graduation in 1970, he joined ABC affiliate KELP-TV in El Paso (now KVIA; formerly known as Gordon McLendon-owned KILT-TV) as the state's youngest news director and anchor, at age 23. A few months later, on October 11, 1970, he married Victoria "Vikki" Upton (Vikki died on June 27, 2016.) In less than a year at KELP, he was hired at WBAP/KXAS-TV, where he worked as anchor and reporter from May, 1971 to April, 1980, taking a permanent seat at the anchor desk on May 29, 1972. Two-and-a-half years later, the Moodys became first-time parents to a son, Trae, on January 17, 1975. One year later, Vikki gave birth to their daughter, Tiffin, on January 30, 1976. Meanwhile, Chip's star burned brightly in North Texas throughout the decade, a fact that didn't go unnoticed by TV executives...as he was lured away from 5 on April 21, 1980, to be teamed with Clarice Tinsley at KDFW-TV Channel 4. By 1980, KXAS-TV had undergone ownership and management changes, and his longtime co-anchors Ward Andrews and Russ Bloxom were compelled to leave the station (Ward in 1977; Russ in 1979.) Chip had even turned down a lucrative offer from a San Francisco station to stay in Dallas, and reportedly became the first DFW anchor to make a 6-figure income!) The Chip-and-Clarice team clicked with viewers. But with Channel 4 in a dead heat with WFAA-Channel 8 for top newscast ratings throughout the early 80s, WFAA owner Belo Broadcasting decided to eliminate the competition and offered Moody a lead anchor position at their Houston outlet, KHOU-TV, in July, 1984. They paired him with popular former Los Angeles news anchor Felicia Jeter (who, in the 1970s, had been Atlanta's first black female anchor, and had most recently been an anchor for CBS News' "Nightwatch") and took to the airwaves on July 30, 1984.
Less than two years later, on June 13, 1986 (while still working in Houston,) Chip discovered he had Hodgkins disease, a form of lymphatic cancer that eventually cost him his spleen, stomach, and other affected organs. After two years on the air at KHOU, and one spent in and out of Houston's M. D. Anderson Cancer Center, Moody and Jeter failed to make a dent in the local ratings (they were regularly beaten by the other three newscast and even "The Jeffersons" and "Diff'rent Strokes" reruns!) so Chip transferred back to Dallas on September 6, 1987 to Belo's WFAA (Jeter, however, continued with KHOU through 1998.) He took the anchor chair on weekends, and was soon promoted to co-anchoring weeknights with Channel 8 vet Tracy Rowlett. In the early 1990s, with his cancer in remission, Chip hosted a series of programs detailing the lives of cancer patients, and shared his own story and experiences (the program, "Surviving Cancer: The Enemy Within," was telecast on both WFAA and KHOU in Houston.) Moody's health continued to be fairly stable until June, 1996, when intestinal bleeding nearly cost him his life (even co-anchor Rowlett was hastily called in to the station to prepare an on-air obituary on a Sunday,) but Chip again fought back. Despite inconsistent health for the next three years, and an inability to achieve a healthy weight, Chip managed to maintain an irregular on-air schedule until April, 1999. Although his cancer was still in remission, years of treatments eventually wore out his system.
Not long after his final TV appearance, promoting his annual golf tournament on WFAA's noon news in June, 2001, he was admitted to Baylor Hospital in Dallas in October with pneumonia. Except for a brief reprieve to return home for Thanksgiving, Chip stayed in intensive care until his death on December 26, 2001 at age 54. Moody never gave up hope for a return to the anchor chair; a lengthy February, 2001, feature in the Fort Worth Star-Telegram described Chip's impatience and frustration to get his health back, and how a potential return to television gave him the hope and drive he needed to keep fighting back. Indeed, in his final TV appearance that June, a rail-thin, frail and raspy-voiced Moody contended that he'd be back in the anchor chair once he gained 10 to 15 pounds. Despite his and his fans' hopes, it was not to be.
Moody's death caused a statewide outpouring of grief and recollection, as he was featured as the top story on every DFW stations' newscasts that evening, as well as in many newspapers and some TV outlets in Houston. Some mused that he would probably revel in being the news of the day himself, instead of the one covering it! With Chip being so well known as the one person who'd managed to beat the odds with his health problems every time, news of his death came as a shock to many.
Chip's public funeral was held in Plano, TX, on December 30, 2001. Future Fort Worth mayor Mike Moncrief, along with media colleagues Tracy Rowlett, Clarice Tinsley, Scott Murray and Gloria Campos, eulogized their fallen friend, and notables such as singer B. J. Thomas, 1970s WFAA anchor Murphy Martin, KDFW newscaster Barbara White, former WFAA news director and KXAS co-worker John Miller, KXAS's Mike Snyder, former WFAA and KDFW assignments editor Bert Shipp, radio talk show host Kevin McCarthy, WFAA bigwig Ward Huey, WFAA's Bill Brown, Michael Rey, Scott Sams, Troy Dungan, George Riba, Gary Reaves and John McCaa, KDFW's Bud Gillett and Jeff Crilley, former KDFW's Jocelyn White, and musicologist Bud Buschardt attended, along with family and approximately 500 friends and fans. A National Guard flyover was performed at the end of the services. A private service in nearby Arlington, complete with a fireworks show (at Chip's request,) was held the night prior for many of the same media friends and family, including Russ. Also at Chip's request, an Elvis Presley impersonator performed at the public service...Chip was a longtime Elvis fan, and often did an impersonation of his own! B. J. Thomas performed at the service as well.
Chip published his memoirs, "Moments: The Life and Career of a Texas Newsman," in 1995; he appeared in the films "Born on the Fourth of July" and "Talk Radio." See his entry in the Internet Movie Database here.
. .

---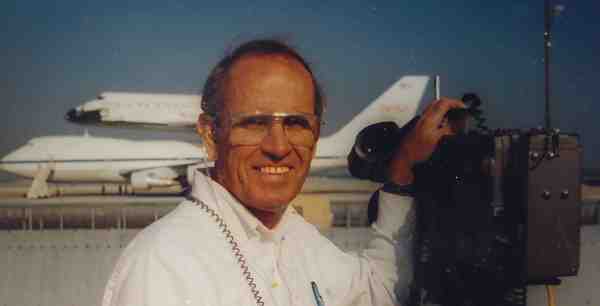 Jimmy Darnell at NASA, 1990s
Photo credit: Jimmy Darnell Collection
Veteran news photographer JAMES "JIMMY" DARNELL and his wife, Ruth, recently moved from their longtime Fort Worth home directly across the street from KXAS-TV. Jimmy began at WBAP-TV in January, 1961, and retired nearly four decades later in May, 2000. Darnell shot video for nearly every major news story from the 1960s to the 1990s, including the Kennedy assassination, the 1976 Republican National Convention, the Cullen Davis murder trials, and the Branch Davidian standoff. He was also one of the very few who weathered every change in ownership and management at the station.
.
Russ says of Jimmy, "He mirrored virtually every kind of news event in four decades. Film and tape editors hugged his work! His sensitive eye always provided a full range of shots needed to tell the story visually. His uncanny ability to capture breaking news stories in perfect, beautiful colors and especially-correct focus frequently gave viewers the best of the rest!"
.
Jimmy was a versatile journalist as well, shedding the news camera on November 22, 1963, to conduct witness interviews on the streets of Downtown Dallas following the assassination of President John F. Kennedy. NBC carried his eyewitness accounts nationally as part of their continuing coverage fed live from WBAP-TV. He was also regularly called on for all sorts of emergency fill-in duty during icestorms and other inclement weather, since he lived across the street from the station!
.

---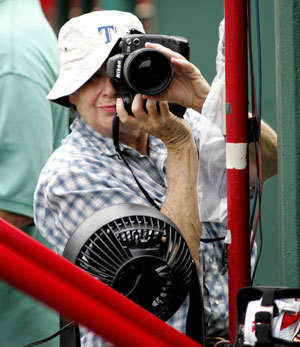 .

(L) Linda Kaye, shooting photos at a Texas Rangers game, just a month
before her death at age 65. (R) Linda with Ward Andrews (left)
and Russ (right,) hamming it up in Wild West outfits!
Photo credits: (L) Ron Jenkins, Fort Worth Star-Telegram; (R) Russ Bloxom Collection
Veteran freelance photographer LINDA KAYE, who provided much of the photography seen here and in the Photo Gallery, died October 7, 2007 at age 65 of cancer. She was a friend of Russ Bloxom's since their high school days at Paschal, and they attended TCU together as well.
Like Jimmy Darnell, she offered an equally competitive edge when it came to still photography. Her work was seen in the monthly magazine of Texas Christian University, which included her coverage of the school's athletic events. For many years, she was the Associated Press's photographer for local games of the Texas Rangers and Dallas Cowboys, and was lovingly remembered by the Star-Telegram as "Fort Worth's Photographer."
"We reconnected professionally after TCU and as I rose in my local broadcast career as a newsman first at KXOL, then WBAP-TV," Russ said. "When I left Channel 5 in 1979, Linda surprised and honored me with a book four inches thick of all her photographs she'd taken of me on the air, in the newsroom, on the news set, and of the much-anticipated birth of my daughter Stacy Bloxom...Linda photographed her in Stacy's early birthdays, each of which was extra special as she grew. Because of Linda's virtual constant presence in those early years, people said Stacy was the most photographed baby and little girl in the world! When our daughter was born, Linda and I expected that she would not be permitted in the operating room for the birth. Linda shot everything else, including me in my underwear getting into scrubs. Some of the photos, including ones I shot with her camera inside the operating room, were shown to Channel 5 viewers by (the late) Chip Moody on that evening's newscasts, September 28, 1978."
It was a sad moment for two old friends when Russ visited Linda just days before her death. He told her, "OK, Linda, you have violated a golden rule of journalism. By all the outpouring of love and respect, YOU have crossed the line and become the newsmaker." Like her fellow media cohort Harold Taft, who also shunned the spotlight, both died a mere 10 minutes respectively before the evening's 10:00 newscasts.
In sum, Russ said, "While a super-sensitive, loyal and perceptive woman, she could also be aggressive and pushy in competing for the best picture in the 'shoot 'n run' world of photojournalism, a business still generally dominated by males."
.
---


Fans of Harold Taft sported these supportive bumper stickers
while Taft was sidelined with health problems in the summer of 1980
Graphic credit: Mike Shannon Collection
HAROLD EARNEST TAFT, longtime respected weatherman and the originator of the concept of TV weathercasting, died September 28, 1991 after an ongoing battle with stomach cancer (KXAS thoughtfully carried his funeral live for his legions of fans to see; nearly 1,000 friends and fans attended the overflowing services.) Harold was with Channel 5 for 42 years, beginning his long tenure with the station on Halloween night, 1949. Despite his ill health in the late 1980s and early 1990s, and even when chemotherapy treatments cost him his hair, a frail and toupeed Harold continued to faithfully anchor the weathercasts until the end. ("Don't mind the hairpiece," he once said to viewers, "You wouldn't want to see me without it.") Harold even brought his health problems directly to viewers: in a series of features produced to be supportive of cancer patients, and to encourage others to get regular health checkups, Harold "bared his chest to the world," as he once put it, and let the camera tape all angles of his treatments, and, via tape, brought viewers right into the doctor's office with him for checkups and diagnoses.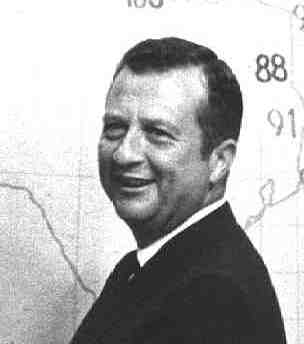 Harold working on a hand-drawn weather map, c. 1969
Photo credit: Russ Bloxom Collection
Of course, Harold's legacy is his weathercasting, which established longtime viewership with his accuracy...and his ability to explain scientific phenomena in layman's terms went a long way in making viewers more educated and interested in the process. Harold developed the first regularly-televised weather segment in the US, called "Weather Telefacts," for WBAP-TV, and was the first to incorporate radar into weather forecasting. In 1975, he co-authored the book, "Texas Weather" with fellow KXAS meteorologist (and later NM senator) Ron Godbey, which is still considered the definitive book on the subject. In 1985, he testified as an expert witness on the phenomenon of "wind shear," which he identified early-on as the cause of the deadly crash of Delta Airlines flight 191 on August 2, 1985 at DFW Airport. Harold was also endeared as the 'voice in the night' as weathercaster for WBAP-AM's overnight trucker programming, depended upon by haulers across the station's 42-state listening audience. Longtime WBAP-AM overnight host Bill Mack gave Taft the aptly-put moniker, "World's Greatest Weatherman." Although Harold was not one to ever covet the celebrity aspects of TV and radio exposure, the name stuck. Even his fiercest competitors revered and respected him, often calling on him to discuss weather issues and research.
.
Russ says of Harold, "I had watched him do the weather on 5 when I was a young boy in Fort Worth. When I first met him, I could not believe he was such a short man. As with all viewers, I had developed my own image of what he looked like in person. Once I got over that 'disappointment,' I remember having trouble developing a chemistry between us probably because I was in such awe of the man, unbelieving that Russ Bloxom was working alongside THE Harold Taft! Soon, his friendship and professional partnering erased such feelings. We had some good laughs on and off camera, especially when viewers would get upset with the news anchors 'picking' on Harold. Whatever we did was totally unrehearsed, but our audience grew to love the rapport. Too often, Harold got the best of us by correcting our weather-related introductions to him. Along the way, it was a high to see Harold get excited covering late-breaking weather. HE was Mr. Real, the best of the rest, who insisted on REAL weather dials on the set. My opinion of his best advice, still good to this day, is, 'Don't forecast snow until you see it!' I regret I never kept one of his autographed, manually-prepared, paper weather charts, which studio visitors prized, during the days before electronic gadgetry."
.
Harold did not give in to the competition either; while Troy Dungan at WFAA introduced viewers to the 5-day forecast concept in 1976, Harold kept his forecasting to no more than two days ahead at a time. And Taft's popularity still lives on: A feature on Harold aired during a 2000 newscast on Channel 5 found that every single person interviewed in a random man-on-the-street poll still remembered Harold nine years after his death, and had relied on him first for weather accuracy. Whether young or old, the Metroplex still holds a candle for "The World's Greatest Weatherman."
.

---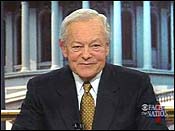 Bob Schieffer, today
Photo credit: CBS News
BOB SCHIEFFER currently hosts CBS' "Face the Nation" and "The CBS Evening News." He joined CBS News in 1969, and assumed his "Nation" duties in May, 1991. He has received five Emmys for his newscasting efforts, and co-authored the Ronald Reagan expose, "Acting President," in 1989. Like Russ, Schieffer is a TCU graduate (class of 1959,) and both honed their broadcast news skills at local KXOL-AM and WBAP-TV.
Of Bob, Russ states, "Schieffer knew early on what he wanted to do...to be a TV network newscaster. However, when Walter Cronkite finally walked away from the CBS anchor desk, Bob was wise enough to know he did not want to be the guy who succeeded Cronkite (being the tough act to follow as America's most trusted man,) but should be the guy to succeed the guy who succeeded Cronkite. Personally, I think such still could happen within the next few years! [Ed. note: It did indeed happen, in 2005, when longtime anchor Dan Rather stepped down.] Also, Bob never flinched from asking 'awkward' questions. At a local news conference for perennial presidential hopeful Harold Stassen, Bob asked, 'Sir, are you serious about all this?' As moderator for 'Face The Nation' each Sunday, Bob still poses questions too often not asked by others."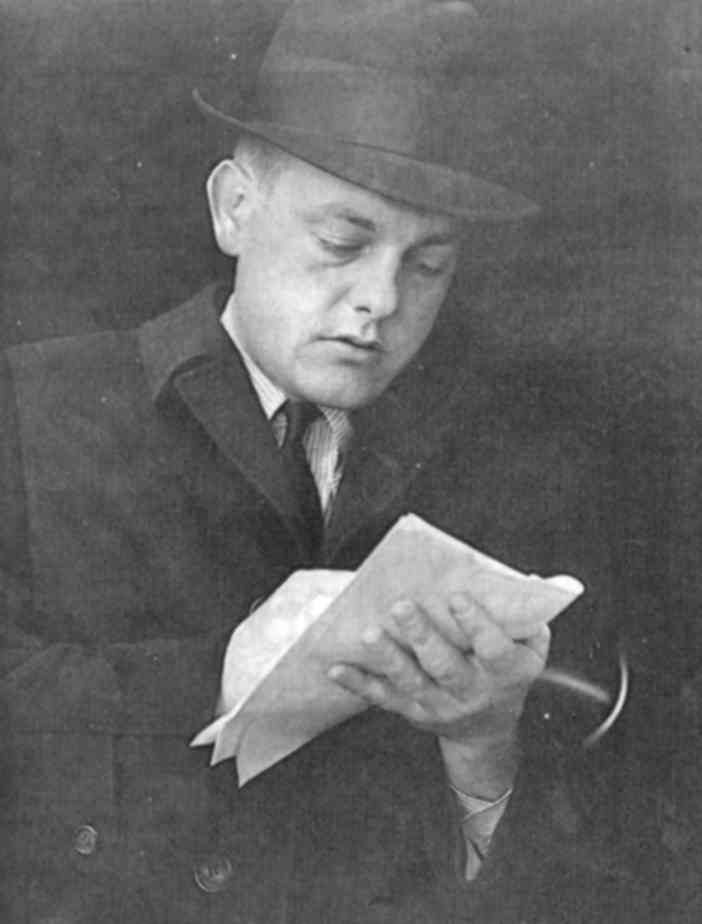 A young Bob Schieffer in his early trademark coat-and-hat,
a ruse that often had him mistaken for a police detective!
Photo credit: UT-Arlington Special Collections
Russ continued: "As an eager police reporter for the Fort Worth Star-Telegram in the early '60s (between working at KXOL and Channel 5,) Bob idolized his mentor, retired Star-Telegram ombudsman Phil Record, to such a point that Bob picked up Phil's shrewd habit of wearing a dress hat with coat and tie. The trait was not to look dapper. Instead, Phil taught Bob that appearing at a crime scene, dressed like DETECTIVES, created a feeling of comfortability and 'officialdom' among cops, witnesses, victims and even criminal offenders. The ruse made for many exclusive great quotes, stories...and confessions! Yes, other (reporters) probably did that some, too!" Schieffer concurs; in a February, 2003 interview with the Fort Worth Star-Telegram, Bob said, "Just by wearing that hat alone, Phil showed me how I could blend in at a crime scene where others might assume I'm a cop or detective--and I would just let them assume that." And Schieffer's ruse nearly got him in deep trouble the day of JFK's assassination...as he delivered Marguerite Oswald (Lee Harvey's mother) to the Dallas police station, and escorted her past security and into an interrogation room to visit her accused son. Security assumed he was with the FBI and let him through, unquestioned. Only after being queried later by a REAL FBI agent was Bob's identity revealed, and he was quickly run out of the station!
Russ, in the same 2003 Star-Telegram interview, reflected upon Schieffer's start in local radio news. "Even then," Russ said, "Bob just had the knack as a curious journalist. He could smell the blood and be willing to go for it and report on it."
---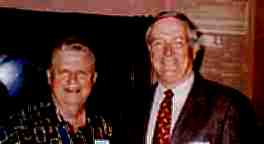 Russ with Roy Eaton, today
Photo credit: Mike Shannon Collection
ROY EATON and his wife, Jeannine, were the longtime publishers of the Wise County Messenger in Decatur, Texas, a twice-weekly newspaper they purchased in 1973. They also own Messenger Office Supply and Messenger Hallmark Shop, also based in Decatur.
.
Of Russ, Roy states, "Russ and I worked together for more than 10 years. Russ Bloxom was a TV star in the Dallas-Fort Worth market long before we had "stars." Prior to the arrival at Channel 5 of Ward Andrews and Russ, all of us 'on the air' personalities were reporters who just happened to be assigned to do the news at noon, six or ten. Russ was one of the best reporters in the business - specializing in covering the Tarrant County Courthouse for years - first at KXOL and later at WBAP. That's what made good 'anchors' in those days: persons who were good reporters and writers who had a 'beat' and knew how to cover it. Russ' major contribution to our vocabulary at both KXOL and Channel 5 was the introduction of the term, 'courthouse standarounds,' instead of the phrase, 'informed sources.' Russ was one of the best - a real credit to our profession, and I cherish the many good times that we all had together at both KXOL and Channel 5."
Of Roy, Russ says, "Roy, along with the late Bruce Neal and Gene Ashcraft (aka Gene Craft,) taught me how to cover, write and report news fairly and objectively at KXOL Radio. As news director, Roy hired me fresh from TCU and a short career as DJ/announcer. There were a few times when my career as a radio reporter could have been short also, except for Roy's patience and tutelage.
"Roy also had an acumen for the broadcast business, much of it gleaned from the late KXOL GM Earle Fletcher. Mr. Fletcher and Roy possessed the 'radio savvy' to make KXOL a profitable leader in a highly-competitive industry in the 1960s and to win multiple awards for news excellence. We learned how to be reputable news reporters on the air and groomed gentlemen in public. There was no profanity. 'Hell', 'damn' and 'butt' were off limits. We also could not 'advise' the public in traffic or emergency situations...we SUGGESTED. Coat and tie were required. Mobile units were washed after a rain.
" 'Fletch', as we reverently called Mr. Fletcher, espoused this prime adage: 'It's the G'damn little things that kill you'. This was in reference to on-air mistakes that riled listeners or created public relation nightmares. His golden rule for being a success in radio was: 'Sell the excitement!' It still applies today in the entire media."
Eaton currently serves as announcer for the Fort Worth Stock Show annual parade, and was the distinctive, longtime voice of TV commercials for the James Wood automobile dealership group.
---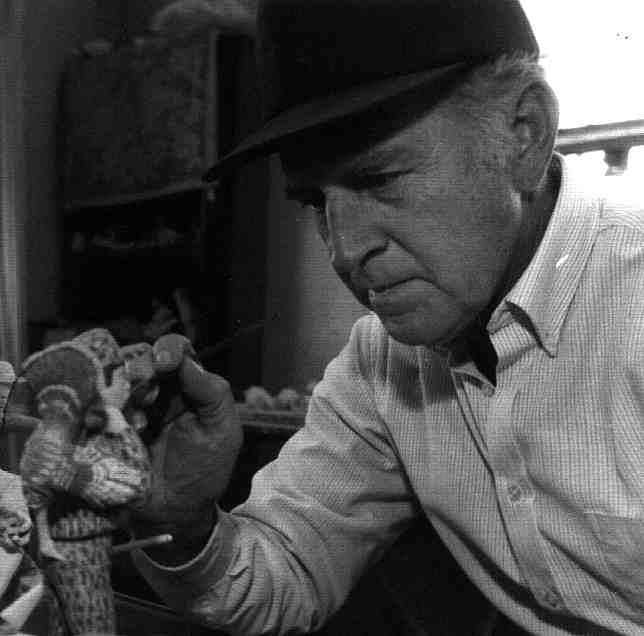 Ward Andrews, in recent years
Photo credit: Ward Andrews Collection
WARD ANDREWS died January 25, 2022 at age 90, after an ongoing battle with Alzheimers disease. He and wife, Katherine, retired to Centralia, Missouri, on farmland once worked by her deceased parents. The couple raised Arabian horses there. Ward made intricate ceramic figurines and masks (see photo above) as a hobby to sell at regional festivals and fairs. Two of Ward and Katherine's four children resided in Grand Prairie and Frisco, TX; consequently, the couple returned to the Metroplex frequently.
..
Russ Bloxom reflects on Ward: "He was a class act. Smart, handsome and a soft-spoken gentleman of integrity, this consummate TV news anchor should have been picked up by the networks years before his career peaked locally."
.
Ward left KXAS in September, 1977, over allegations of age discrimination. He went on to news anchoring positions with KRLD-AM and KNBN-TV before retiring in the early 1980s. He also dabbled in acting, performing in several uncredited TV roles in the 1960s.
---
.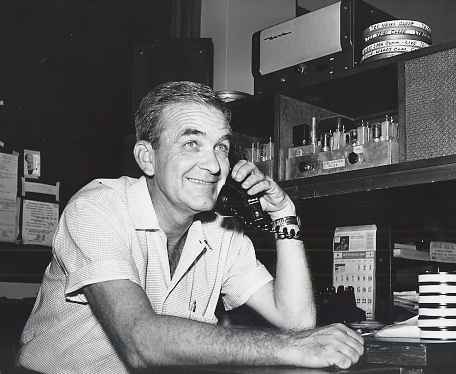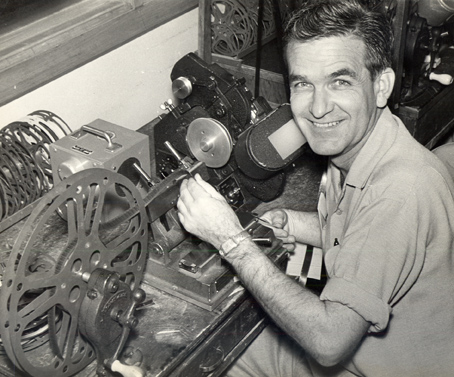 Doyle Vinson: (L) Working the police beat in 1960, (R) Editing film for The Texas News, 1952
Photo credit: Phil Vinson Collection
DOYLE VINSON, TV news editor and producer of "The Texas News" from 1948-1969, passed away January 14, 1983 of heart failure at age 72. Vinson was second-in-command behind news director James Byron, and ran the TV side of the WBAP newsroom. He was the force behind many of the newscast innovations that took WBAP to ratings heights in the 1960s and 70s. Doyle eventually took the reins of Channel 5's afternoon newsmagazine, "Inside Area 5," and retired from the station in 1975. He served in virtually every capacity in the newsroom when needed, and was awarded numerous times for his news coverage expertise. Doyle's son Phil currently carries on the family's media legacy as a professor in the Department of Communications at The University of Texas at Arlington.
Russ says of Doyle: "Doyle Vinson was our assistant news director and also served as an asignments editor, photographer and film editor. With his storied newspaper background, he was an insightful 'let the chips fall where they may' kind of writer, especially under broadcast deadlines. Frequently, he wrote late-hour closing comments for our election coverage, which gave viewers what voting results meant at the 'end of the day' from a common man's perspective.
"Doyle relished calling thieving politicians and shaded businessmen 'crooks' on the air. He also unabashedly took on judges about stories that evoked constitutional issues related to the doctrine of 'fair-trial-versus-free-press.' On one occasion, when a judge threatened to jail me if we broadcast restricted trial coverage, Doyle volunteered to read the story personally (over the air.) The matter got resolved and Doyle missed being an anchor for a day!"
---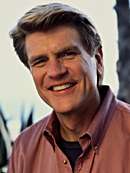 Boyd Matson, today
Photo credit: CNBC
BOYD MATSON has hosted "Wild Chronicles" and was the longtime host of "National Geographic Explorer" on CNBC. He previously anchored "ABC News-Overnight" in the mid-1990s, and both NBC's "Real Life with Jane Pauley" in 1990-91 and "Sunday Today" in 1987-88.
.
On Boyd, Russ says, "He was as different a sportscaster as I have ever seen. He was SO laid back. Absolutely nothing seemed to bother him, especially the attention our female viewers gave him! When our news set included podiums for the sports and weather men, Boyd usually did his part with coat, tie and....shorts! The audience never knew." Russ also mused that, since Boyd and Harold Taft were the only anchors given podiums (anchors Russ and Ward Andrews were openly seated in the middle of the set,) the towering Matson was placed on an unseen stool, while the shorter Taft was made to stand! The ruse evened out the height difference, unbeknownst to viewers.
.
Read Russ' favorite story about Boyd in 'Photo Gallery-Part 2' in the "A Day at the Lake" section...click here!
.
Boyd was raised in Fort Worth and Midland, TX, and worked for both KFJZ-TV and successor KTVT-TV in Fort Worth before joining KXAS.
.

---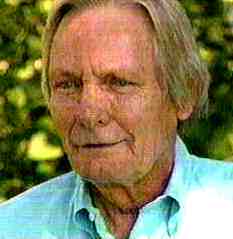 Jack Brown, in 1998
Photo credit: Dallas Morning News
The late JACK BROWN left Channel 5 over management difficulties in 1980 for KDFW-Channel 4, where he was a fixture for many years with his light-hearted, rural "Jack Brown's Texas" feature on the nightly newscasts. He covered DFW news for 40 years, beginning at WBAP-TV in 1958.
Jack commented to The Dallas Business Journal in 1998 on the changes in news since his early days: "When I went to work at Channel 5, there was one woman in the newsroom, and she was the secretary. The only blacks were janitors." But he said he's also seen some changes that weren't for the better. "There's also a lot more money involved now than there was in 1958, and I'm not so sure that's a good idea," he said. "Back then, news was a public service. It's no good when we rely more on consultants than our own judgment." Jack retired in October, 1998, and passed away September 6, 2007 at age 73.
.
Russ says of Jack: "He was a one of a kind reporter and a character not unlike the many whom he covered with genius during his lengthy TV career. Jack also was a great writer, especially for fast-paced television news."
.
---
LEE ELSESSER was a reporter and news director for Channel 5, and was instrumental in applying the latest technology to the station's newscasts in the late-1970s. Later, while on a contract assignment at the station in 1997, he was credited with discovering long-lost audiotapes of the JFK assassination coverage hidden in the basement of the Channel 5 studios.
.
Russ says of Lee, "He propelled 5's news performance to new dimensions in the '70s. He persuaded management to relieve him as a daily reporter and give him free reins to write, report and produce a monthly TV periodical called, 'Texas '70s Magazine.' With photography by Jimmy Darnell, the show drew great reviews, audiences and awards."
.
Eventually, Lee realized another dream in his broadcast career. He was named 5's news director in 1976, not long after LIN Broadcasting bought the station from Carter Publications. Lee used his new role to expand the quality and quantity of 5's news coverage with the introduction of videotape, remote microwave transmission and the coming of daily satellite communication.
.
Today, Lee and his wife, Trulin, live in Fort Worth. He continues his outstanding talents as a freelance announcer and producer for virtually all audio-visual venues. In the last few years, Lee has joined up with Central Market in Fort Worth, teaching gourmet cooking classes!
.
---


Bill Hix, c. 1990s
Photo credit: Fort Worth Star-Telegram
A. W. "BILL" HIX, longtime KXOL and WBAP/KXAS newsman, died February 25, 2002 of a heart attack at age 61. Bill was part of the group that migrated from KXOL to WBAP in the 1960s to try his hand at the new and developing position of television newsman. Like Russ, Bill worked at KJIM in Fort Worth early in his career as well, and attended TCU. Bill also worked for local KNOK-AM and FM, and later with WFAA-TV in Dallas.
Joining KXOL in 1963, his first big story was coverage of the JFK assassination in Dallas. He fed live reports on the scene to Russ in the newsroom, who then put them on-air. Moving to WBAP/KXAS-TV by the late-1960s, Hix worked for the station as assignments editor and newscaster for 15 years. He and Russ covered the second trial of Cullen Davis in Amarillo, TX in 1979. Russ explains a potentially awkward situation he and Bill were involved in during the trial: "Karen Master, Cullen Davis' girlfriend at the time, offered to take Bill and I out for a steak dinner after a day in court. He and I agreed that we'd better pay for the meal ourselves. (Bill) was of that bent - he wanted to play it by the book and avoid any appearance of partiality."
Russ reflects on Bill's abilities: "He was an extremely versatile broadcast journalist. He had the ability to report on virtually any subject or event and make it sound as if he had experienced it for years. He excelled in all areas of television news as a field reporter, anchor, writer, assignments editor and tape editor. His stories were accurate, fair and impartial. What better tribute to an electronic journalist!"
Hix was most recently the news and information manager for the Texas College of Osteopathic Medicine, now known as the University of North Texas Health Science Center. He also spent time working for Texas Wesleyan University after his gig at WFAA. Bill was also an arena announcer for the Southwestern Exposition and Livestock Show for 13 years, and announced high school football games in nearby Crowley (TX) for 20 years.
Bill's longtime friends Russ and Roy Eaton served as pallbearers at Bill's March 1, 2002, funeral, which brought an overflowing crowd of nearly 200 friends, family and fellow journalists. Roy also provided a touching eulogy at the church service. Among the notables attending were former KXAS boss Doug Adams and John Miller, who worked with Hix at both KXAS and WFAA. Longtime KXTX-TV announcer-turned-minister Marc Lowrance also provided a eulogy. Coincidentally, Hix was buried not far from the grave of alleged JFK assassin Lee Harvey Oswald, who provided Hix his first big news story nearly 40 years prior.
.

---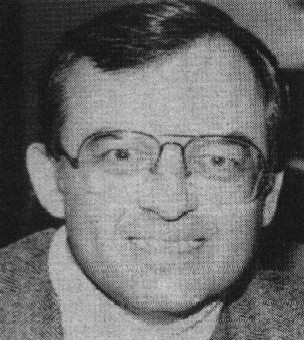 Frank Glieber, 1983
Photo credit: Garland Daily News
FRANK JOHN GLIEBER, original longtime voice of the Dallas Cowboys on radio and CBS-TV, and a respected and endeared sports anchor for KRLD-TV/AM and successor KDFW-TV before his tenure at Channel 5, died of a heart attack while jogging on May 1, 1985 at the Cooper Aerobics Center in Dallas. He was 51 years old. Glieber had battled a fluctuating weight problem for many years, and it likely did irreparable damage to his heart.
.
Russ reflects on Frank: "Needless to say, working with a network sportscaster such as Frank was quite an honor. He was a class act, on and off the air and brilliant in knowledge of his craft. I marveled at his frantic schedule, flying all over the country to meet job schedules and never missing a sportscast...for us or CBS. I also remember wondering if he was doing too much, always pressing the clock."
.
Glieber's sons Mitchell and Craig carry on their father's tradition; both have been involved with the Dallas Cowboys organization.
.
---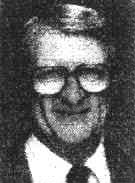 Russ Thornton
Photo credit: Fort Worth Star-Telegram
RUSS THORNTON, head of WBAP/KXAS's news department in the 1970s, died December 29, 2001 at age 73. He joined Channel 5 in 1952 while a student at SMU, as a photographer and reporter. In 1967, he was named assistant executive director of the station; head of the news department in 1969; and later as director of administration development. He retired from 5 in June, 1990.
Bloxom recalls, "Russ Thornton always treated me with respect and fairness...I can't recall one instance in which he did not stand behind me on positions regarding story coverage and treatment. One huge standout regarded the first Cullen Davis murder trial. It ended in a mistrial, when a female juror, named Panke, was overheard by a bailiff telling a relative on the phone, 'Why don't they just hang the son-of-a-bitch?' (Among the media, she was known as 'Hanke Panke'!) I submitted that Channel 5 had to report the ENTIRE comment, which caused the mistrial, to fully explain the gravity of the remark. Of course, in the late '70s, such cavalier profanity on the air was still a big no-no! There were some suggestions that we water down the juror's comment, possibly not even saying 'SOB.' I remained adamant for using the complete sentence. Thornton finally agreed...so my voice-over report mirrored the exact words of the juror, written on the screen, during my story. And, probably for the first time in its history, Channel 5 viewers both heard and read, '...son-of-a-bitch' on the air! As expected, our treatment was controversial and the talk of the town for days...it was a shining moment in my career as an electronic journalist and I was always appreciative that the 'other Russ' had the courage to make the decision."
"He was a wonderful colleague," Bloxom also said.
Thornton lived in Grapevine, Texas, and, with his wife Nancy, owned Miss Mamie's Gifts in Southlake and Miss Mamie's Emporium in Grapevine. He passed away a mere three days after longtime co-worker Chip Moody.
.

---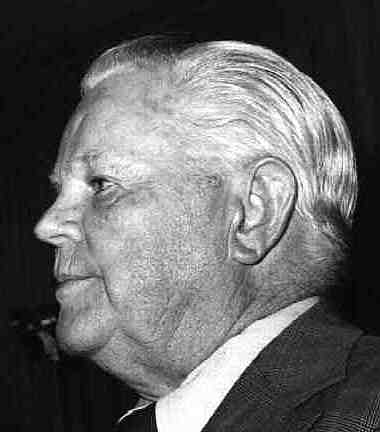 James A. Byron, c. 1973
Photo credit: Linda Kaye
JAMES A. "JIM" BYRON, longtime news director for WBAP-AM and WBAP/KXAS-TV, died November 3, 1979. A Denver, CO native, he moved to Fort Worth in 1909. Byron began with Carter Publications as an unpaid reporter at the Fort Worth Star-Telegram in the 1930s, and moved up to news director of co-owned WBAP-AM in 1944. When WBAP expanded into television, Byron assumed duties as news director of the TV operation, continuing into September, 1974. He announced his retirement when LIN Broadcasting bought the station from the Carter family.
Russ says of Jim: "Aside from being a gentleman and consummate broadcast executive, Byron was a very precise individual. He had strong morals and specific expectations about how to cover and report the news, yet his persona with his employees always was soft-spoken and low-key. in my 13 years at 5, he reprimanded me only one time. The manner in which he did it was vintage Byron:
"We did pull a few antics during our newscasts but this one went awry...off the air! Ward and I co-anchored a 10PM newscast one New Year's Eve. It was my idea as a joke that, at the end of the newscast, a leggy young thing in hot pants and boots (she may have been a Bill Mack groupie girl) walked onto the set with a tray of glasses of real champagne. Ward and I toasted the audience, wishing all a Happy New Year! End of newscast. Of course, it was a big no-no for years to drink alcoholic beverages on camera (guess I'd presumed such staid rules had been forgotten, and besides, who knew if the bubbly was real or not!) Turned out, it did not matter...the illusion alone was offensive, at least to one member of the audience. By the time we had walked back to the newsroom, Byron was on the phone...for me. He said, 'Russ, please don't do that again.'"
.
---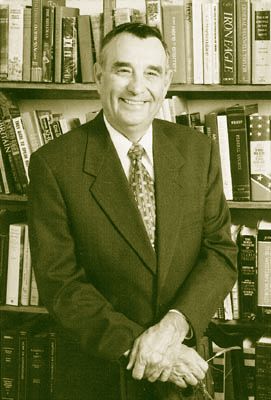 Ron Godbey
RON GODBEY, former WBAP-TV/KXAS-TV weatherman, died March 2, 2008 of esophageal cancer at age 73. Godbey worked at the station from 1966 until January 8, 1976, when he resigned to run against Olin "Tiger" Teague for the 6th Congressional seat, representing north and central Texas in Washington, DC, a race Ron lost by only 6,000 votes. Although Godbey was replaced by current KXAS-TV chief meteorologist David Finfrock, Ron returned to the station in May, 1976. Godbey was best known for hosting Channel 5's early morning farm show, along with WBAP-AM's morning weather reports. Along with longtime weather legend Harold Taft, Ron co-authored the book, "Texas Weather," in 1975. Godbey was also an accomplished pilot and attorney, and also worked briefly as a weatherman at WFAA-TV.
Later, Godbey moved to New Mexico and resumed his interest in politics there. He served in the New Mexico House of Representatives from 1999 until he resigned in August 2004. He represented District 22, which covers parts of Bernalillo, Sandoval and Santa Fe counties.
In an email to www.knus99.com in November, 2005, Godbey wrote, "I've kind of lost track of all since I went back on active duty with the Air Force in 1980. Was saddened to view the "obit" list since I knew most of the personalities listed there. (I was glad to see that I was not listed!)"
Of Ron, Russ said, "It was the late 1960s when Ron and I worked together on the (WBAP-TV) Noon News. Normally, Ron was a no-nonsense, unassuming type weathercaster...Some say my presence helped bring out his personality. He was a class act and a longtime officer in the Air Force Reserve.
"I particularly remember that he always wore black cowboy boots with a typical business suit when doing the weather. He was a good-natured guy who had a great smile for television...especially when we would prank him on the air!"
---
CLICK HERE FOR PHOTO GALLERY!
Over 60 classic photos included!
---
TERMS AND CONDITIONS OF USE
This entire website and its contents are copyright 1984-2023 Mike Shannon. Images are copyright of their respective owners, including Linda Kaye, Russ Bloxom, The Fort Worth Star-Telegram, KXAS-TV, WBAP-TV, KXOL-AM, The (late) Garland Daily News, CNBC, WFAA-TV, CBS, TV Guide, The (late) Dallas Times Herald, The Dallas Morning News, The Dallas Business Journal, the University of Texas Special Collections division, and Mike Shannon. If you feel your copyright is being infringed upon by its appearance in this website, please email me and it will be removed or credited properly. I am not responsible for errors, omissions, incomplete information, misrepresentations or dead links. Information was gleaned from newspapers, broadcasting yearbooks, magazines, personal recollection, recollections of others and the like. Copying of any or all information or images for use on other websites, in print or for other purposes, is prohibited without permission. Links are provided for the user's convenience; I claim no responsibility for the contents, accuracy or relevance of other sites that may be linked to from this site. This entire website is considered a not-for-profit "fan site," to be enjoyed for entertainment and informational purposes only. Usage of this site and/or any sites, sub-sites or pages or images contained within, however accessed, constitutes your agreement to these Terms and Conditions. If you do not agree to these Terms and Conditions, click here and you will be taken elsewhere. Proceeds from advertising & duplication services are directly used for site maintenance, hosting fees and research costs.