THE
RUSS BLOXOM
PHOTO GALLERY
Part 1
A pictorial salute to Russ' years at Channel 5
.
Go to PHOTO GALLERY, PART 2 & PART 3
.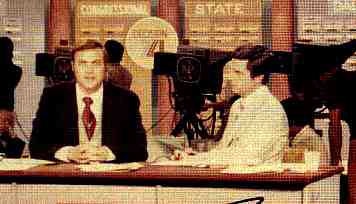 Chip Moody and Russ report election returns
Photo credit: Chip Moody Collection
.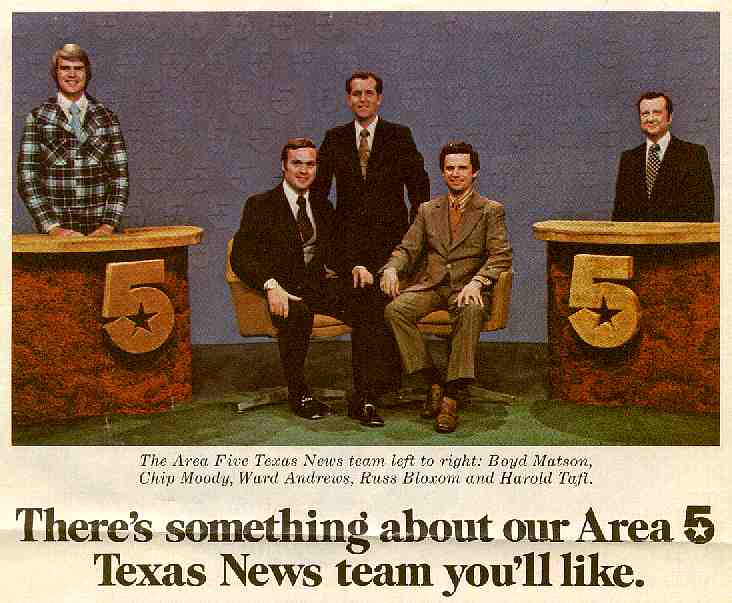 What I like is Boyd's jacket! L-R: Boyd Matson, Chip,
Ward Andrews, Russ, Harold Taft
.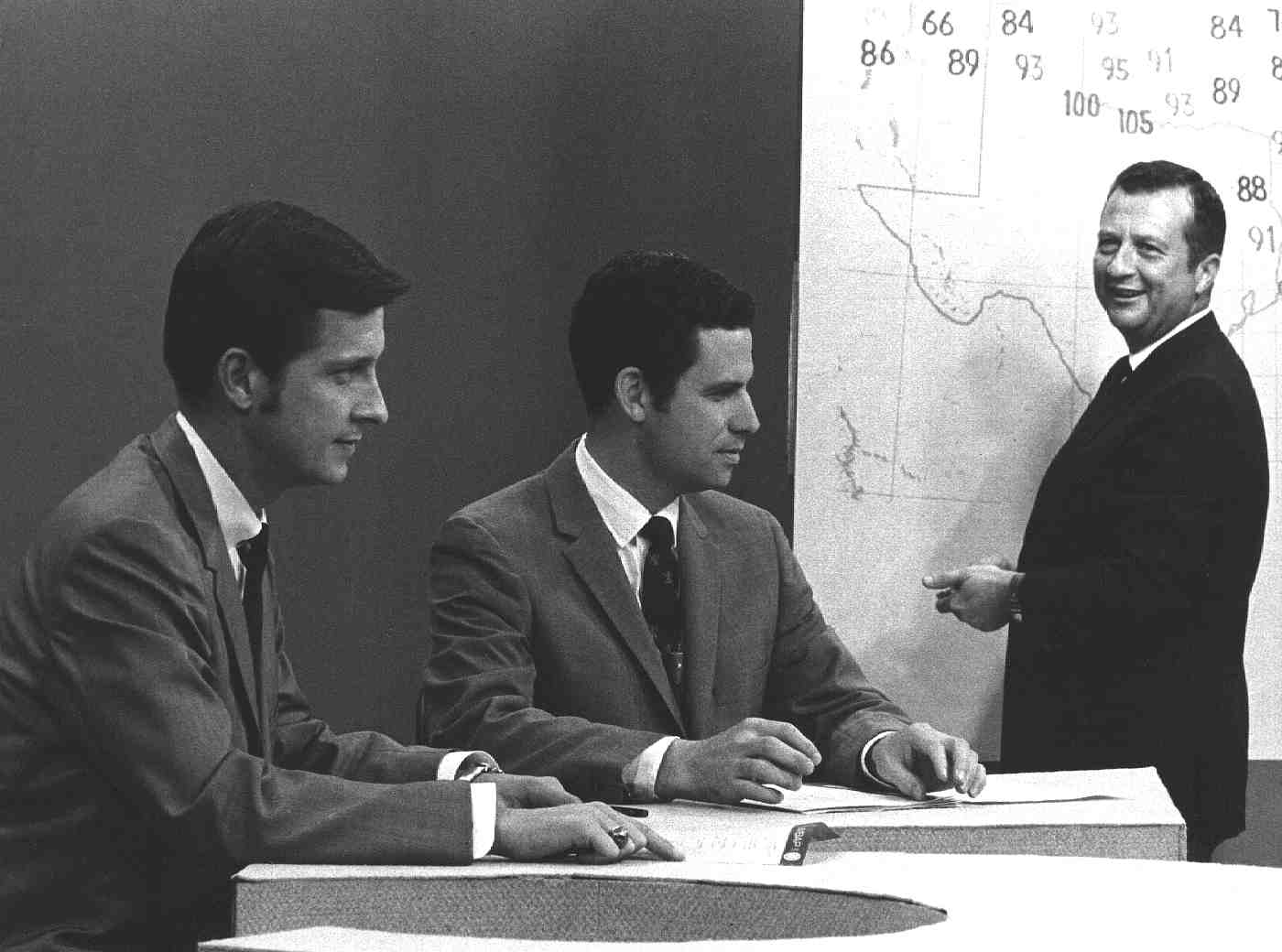 Jerry Desmond and Russ hand over the spotlight to Harold
Photo credit: Linda Kaye
.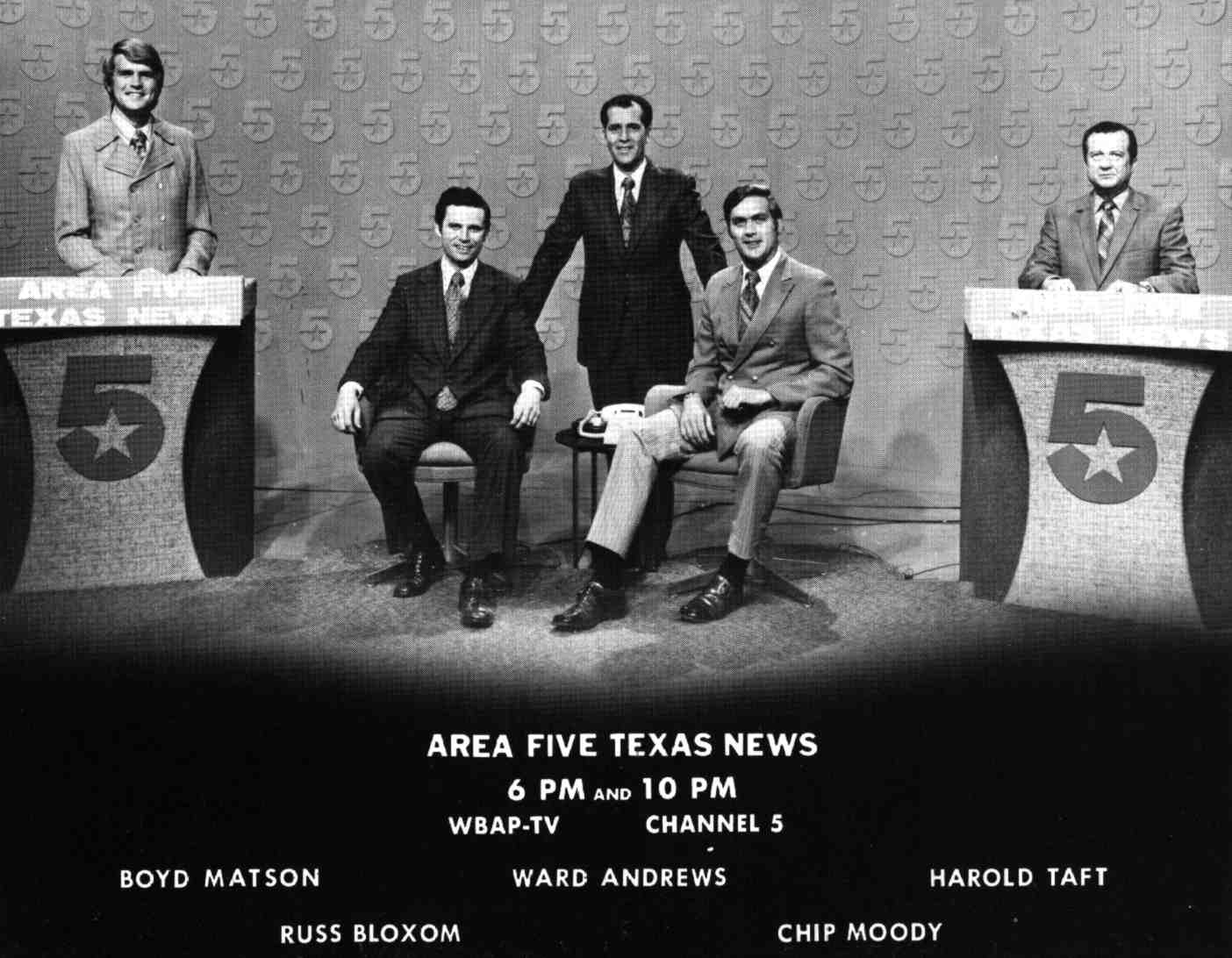 The team to watch!
Photo credit: Linda Kaye
.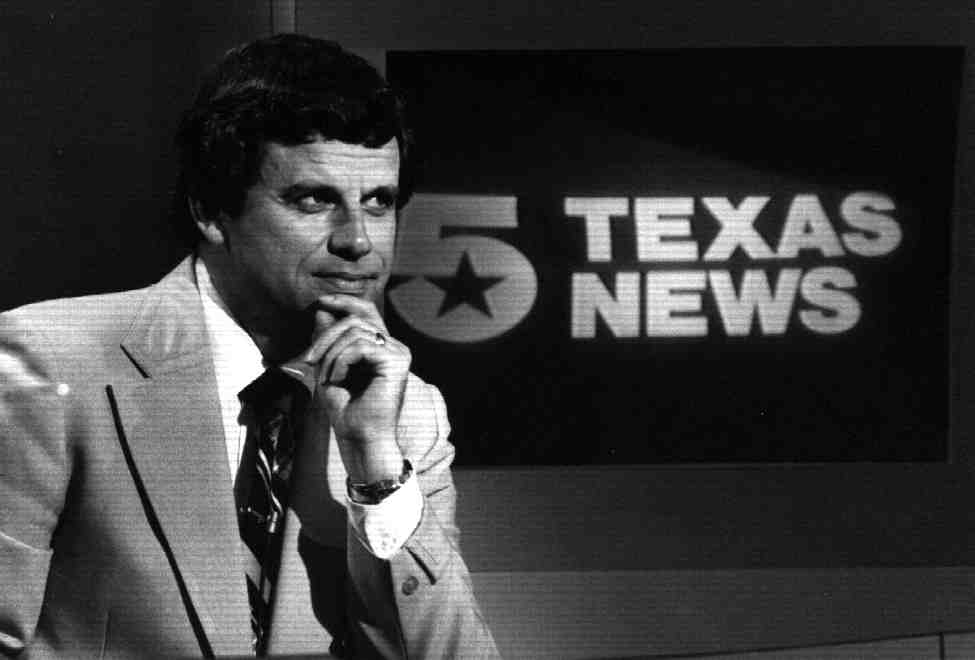 Russ watches the monitor on the new Channel 5 news set
Photo credit: Linda Kaye
.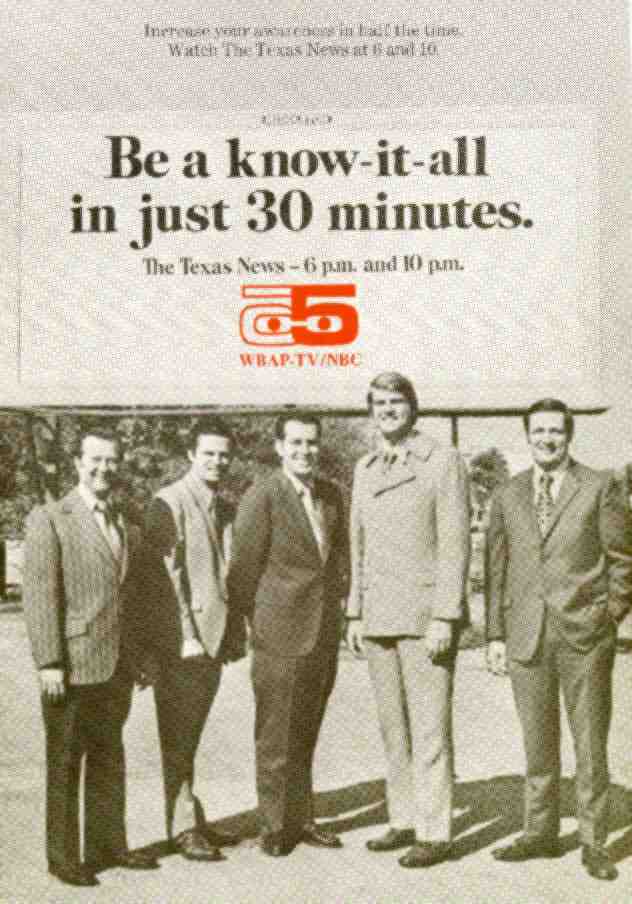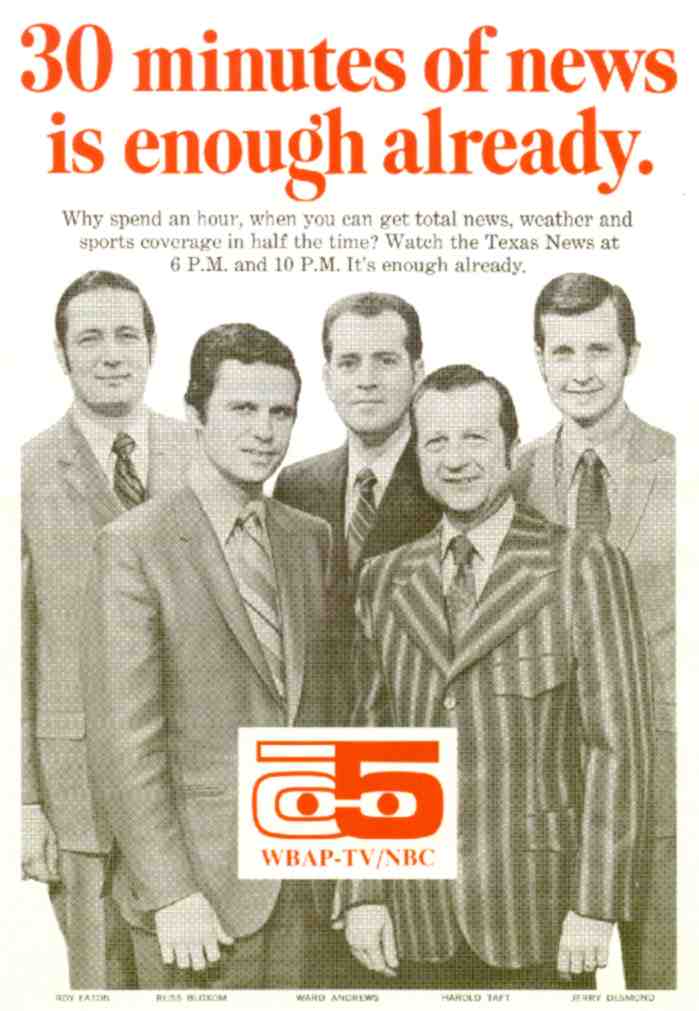 These ads were aimed at Channel 8's new 60-minute newscast in 1970.
Left ad: Harold, Russ, Ward, Boyd, Roy Eaton.
Right ad: Roy, Russ, Ward, Harold, Jerry Desmond
.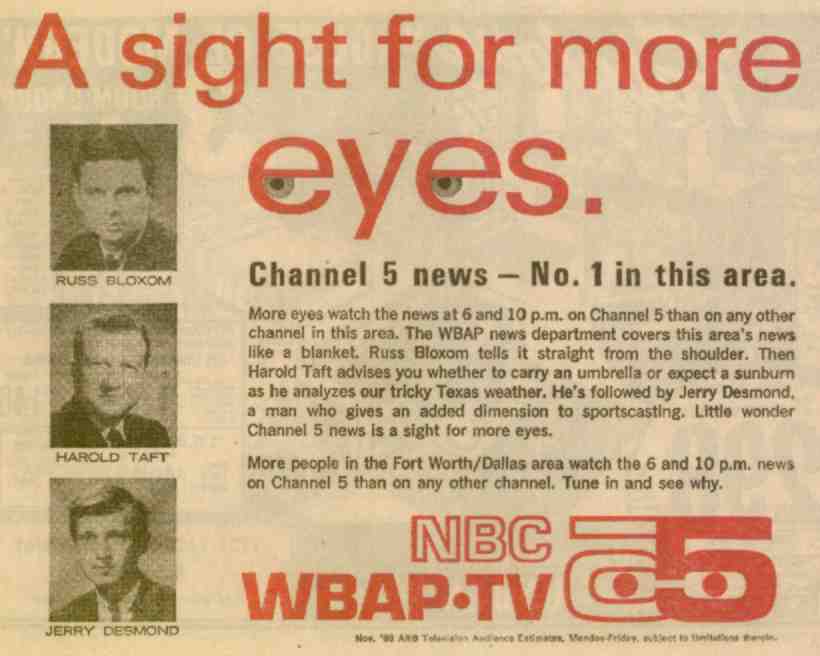 Russ, Harold and Jerry promote their #1 status
in this Fort Worth Star-Telegram ad from March 2, 1969
.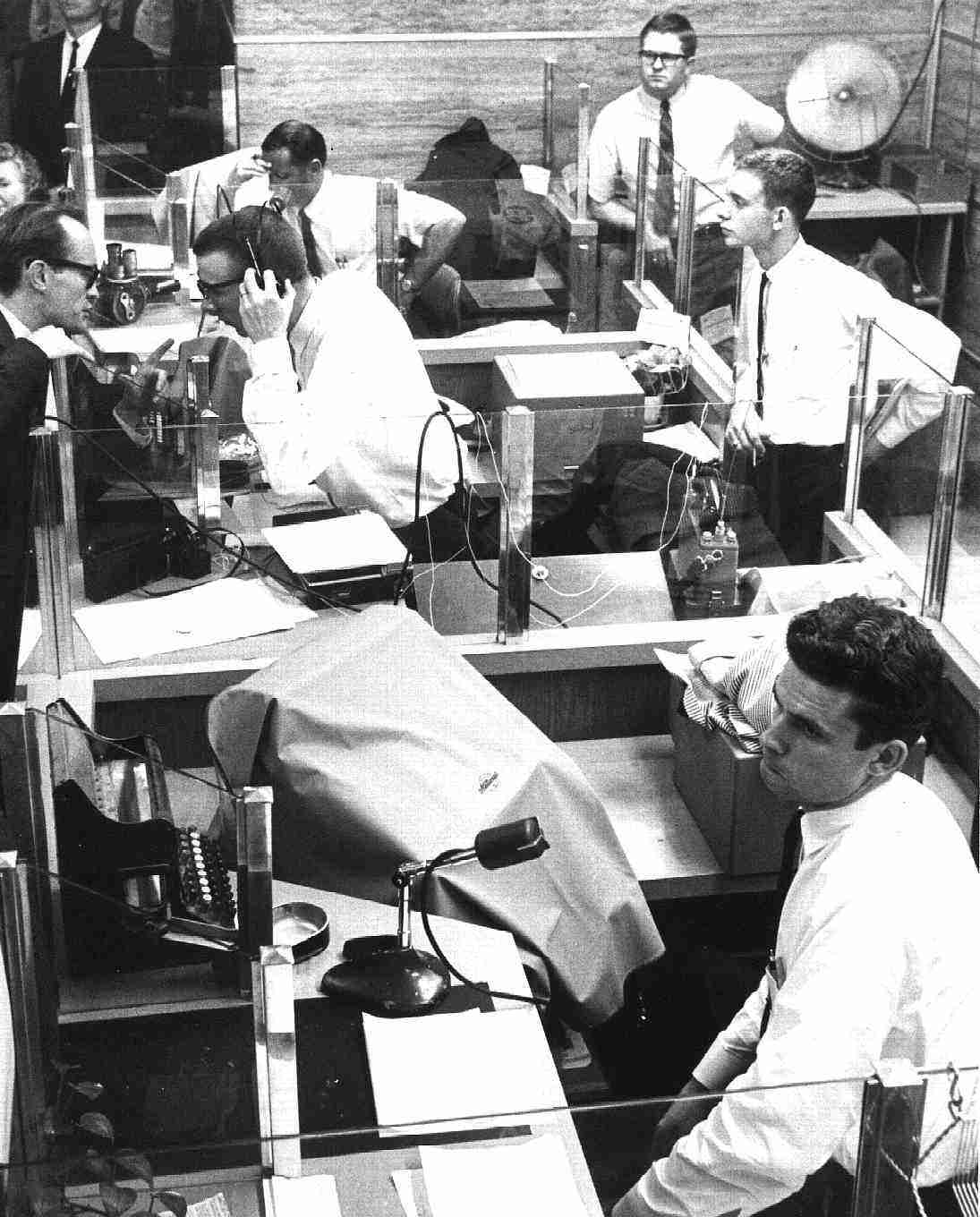 Russ covers the election beat from Fort Worth City Hall.
Top left: Jerry Hahn. Top right: unknown.
Middle, L-R: Bruce Neal, Don Day, Lowell Duncan.
Bottom: Russ
Photo credit: Linda Kaye
.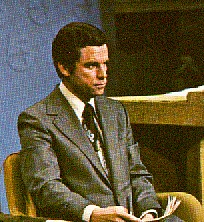 Russ anchors the news on Channel 5 in 1973
Photo credit: Linda Kaye
.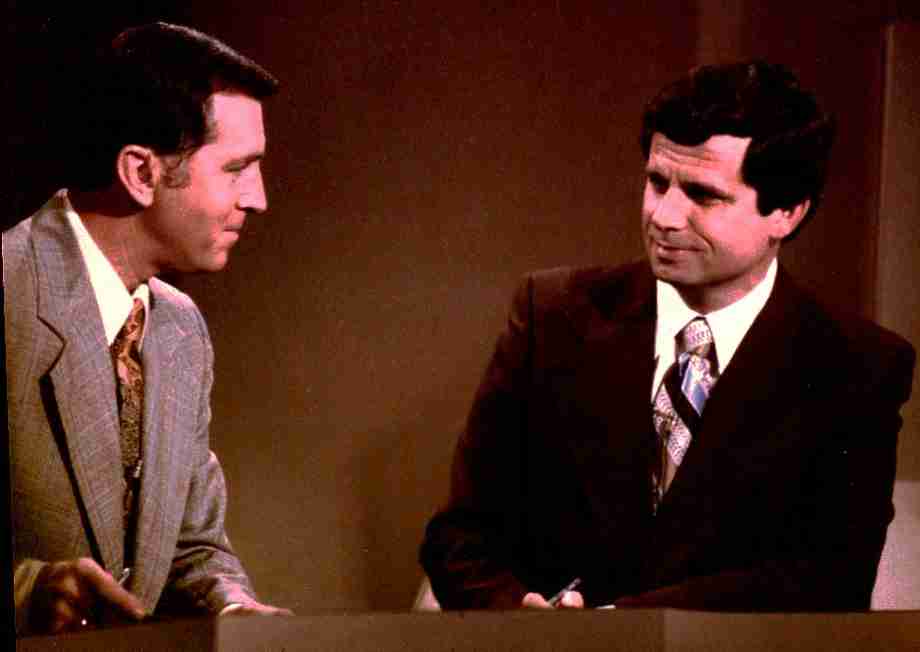 A somber day for two veteran newscasters as Ward
completes his final broadcast in September, 1977
Photo credit: Linda Kaye
.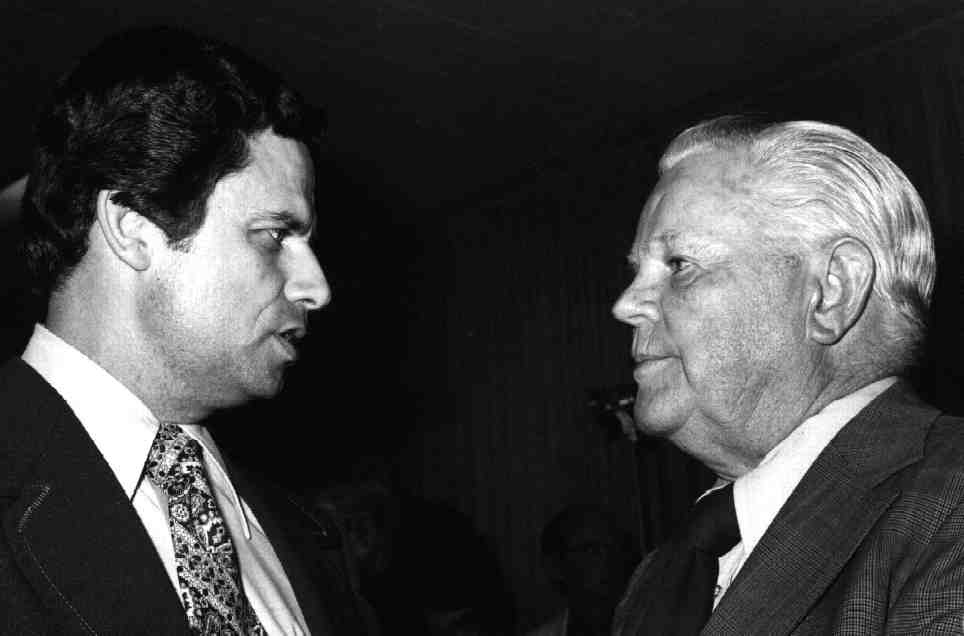 Russ speaks with legendary Channel 5 news director James A. Byron
Photo credit: Linda Kaye
.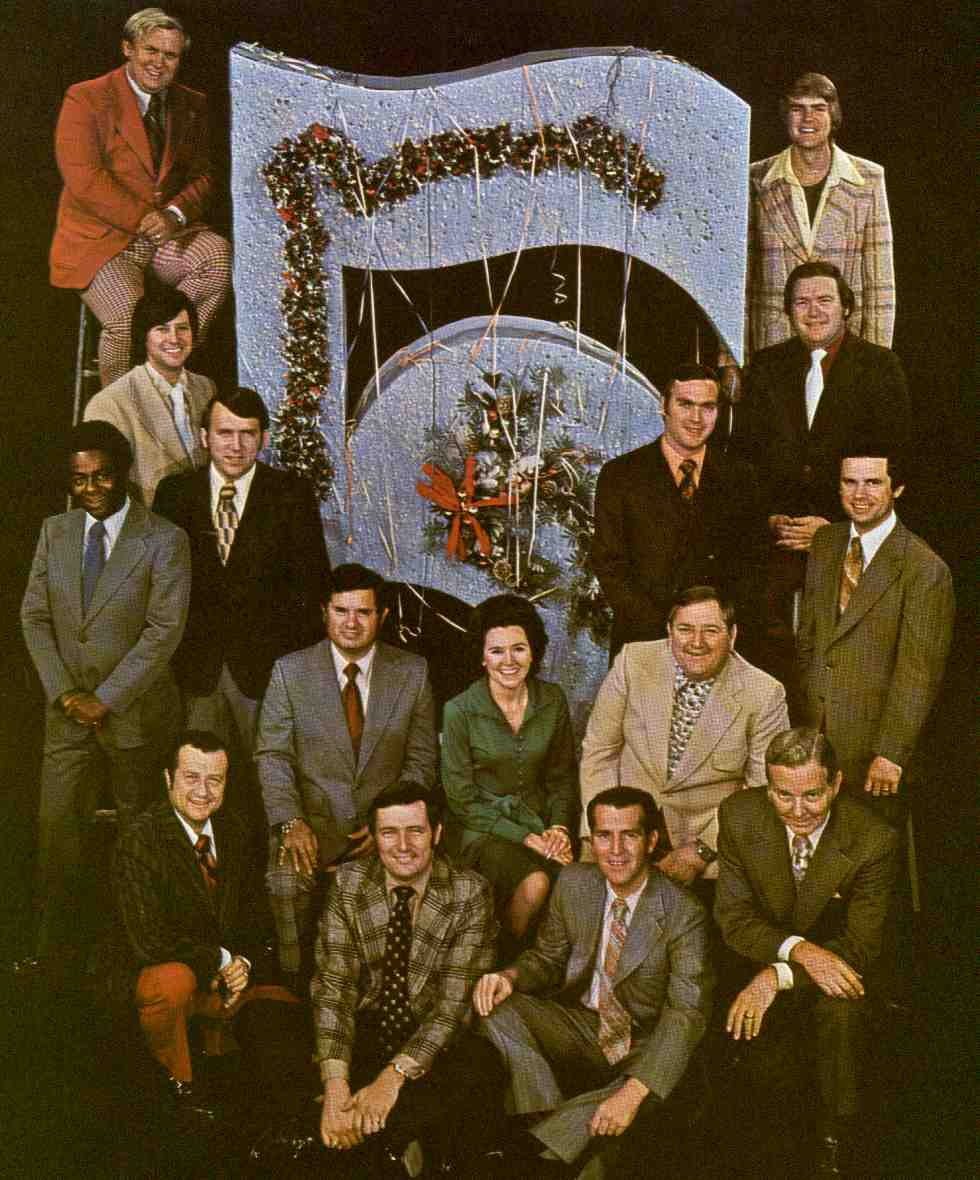 The Channel 5 staff gathers for a Christmas photo in 1973.
Russ is second from the bottom on the right, next to Chip
Photo credit: WBAP
.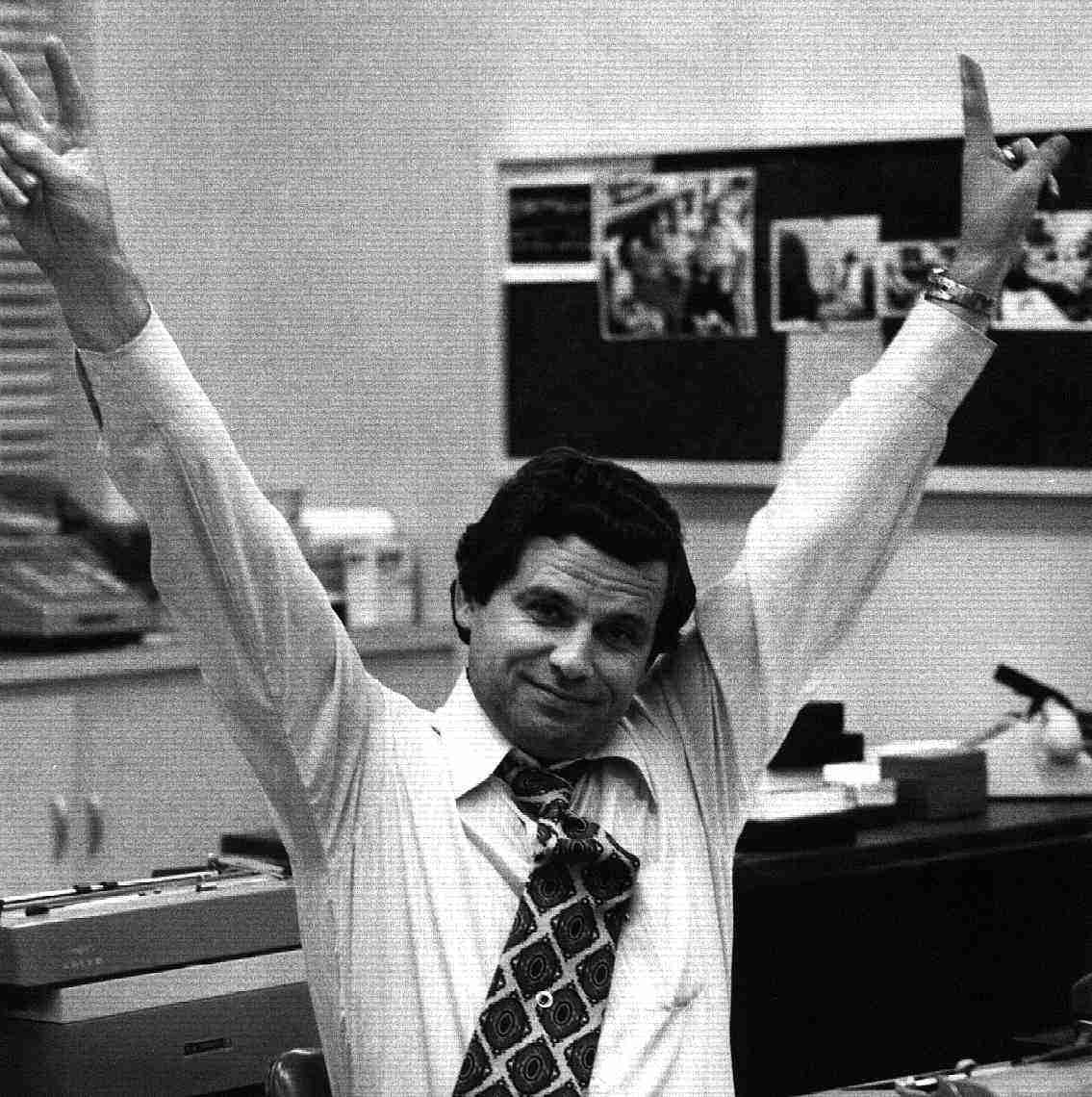 A future in politics? Russ does his best Nixon imitation
Photo credit: Linda Kaye
.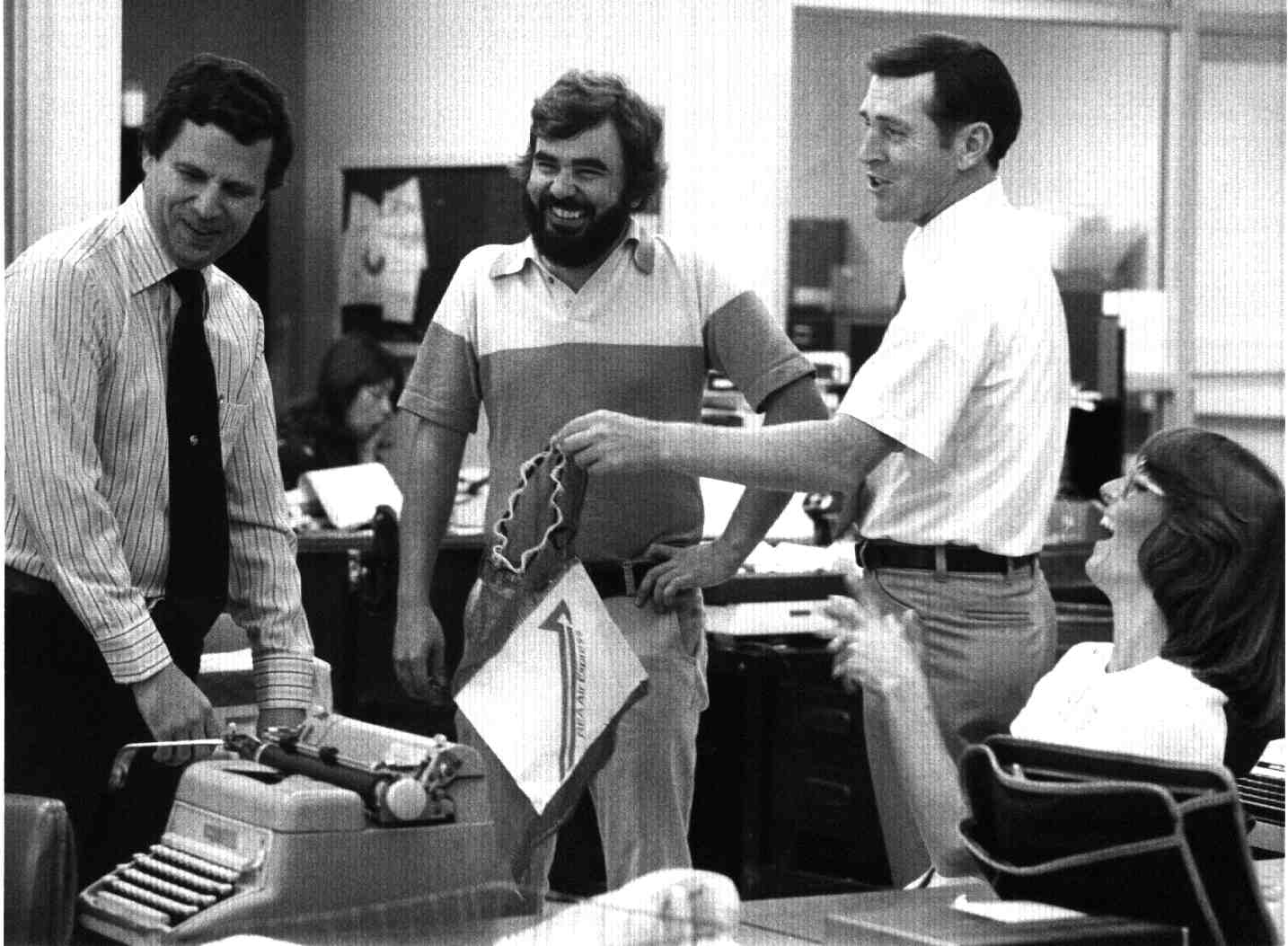 Having a little fun in the newsroom are (L-R) Russ, newscast producer John Miller,
Ward and anchor Mary Ruth Carleton. John moved on to Channel 8, where he
spent many successful years as news director, and now teaches at TCU in Fort Worth.
Photo credit: Linda Kaye
.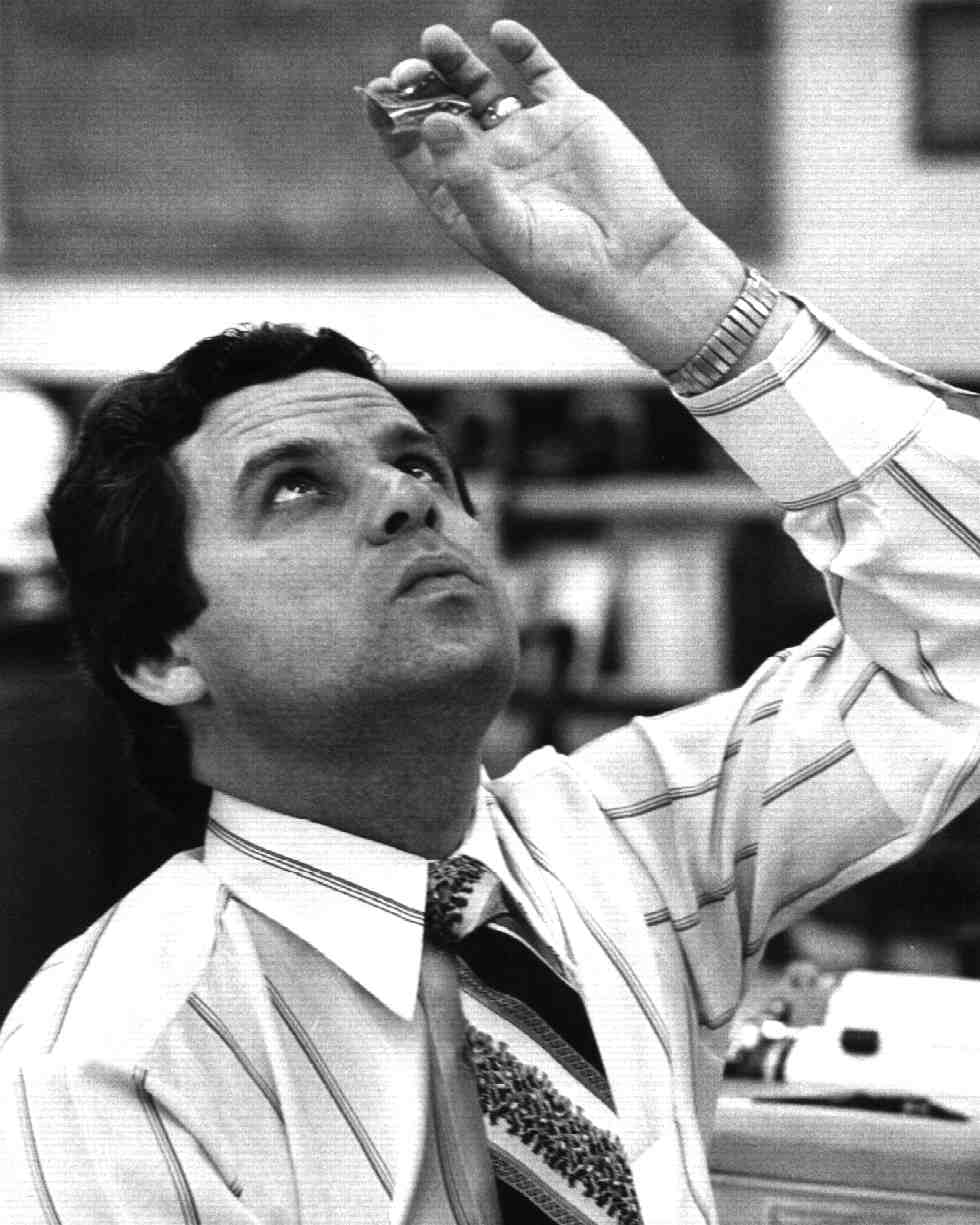 Russ chooses a negative to use for his
Cullen Davis trial coverage
Photo credit: Linda Kaye
.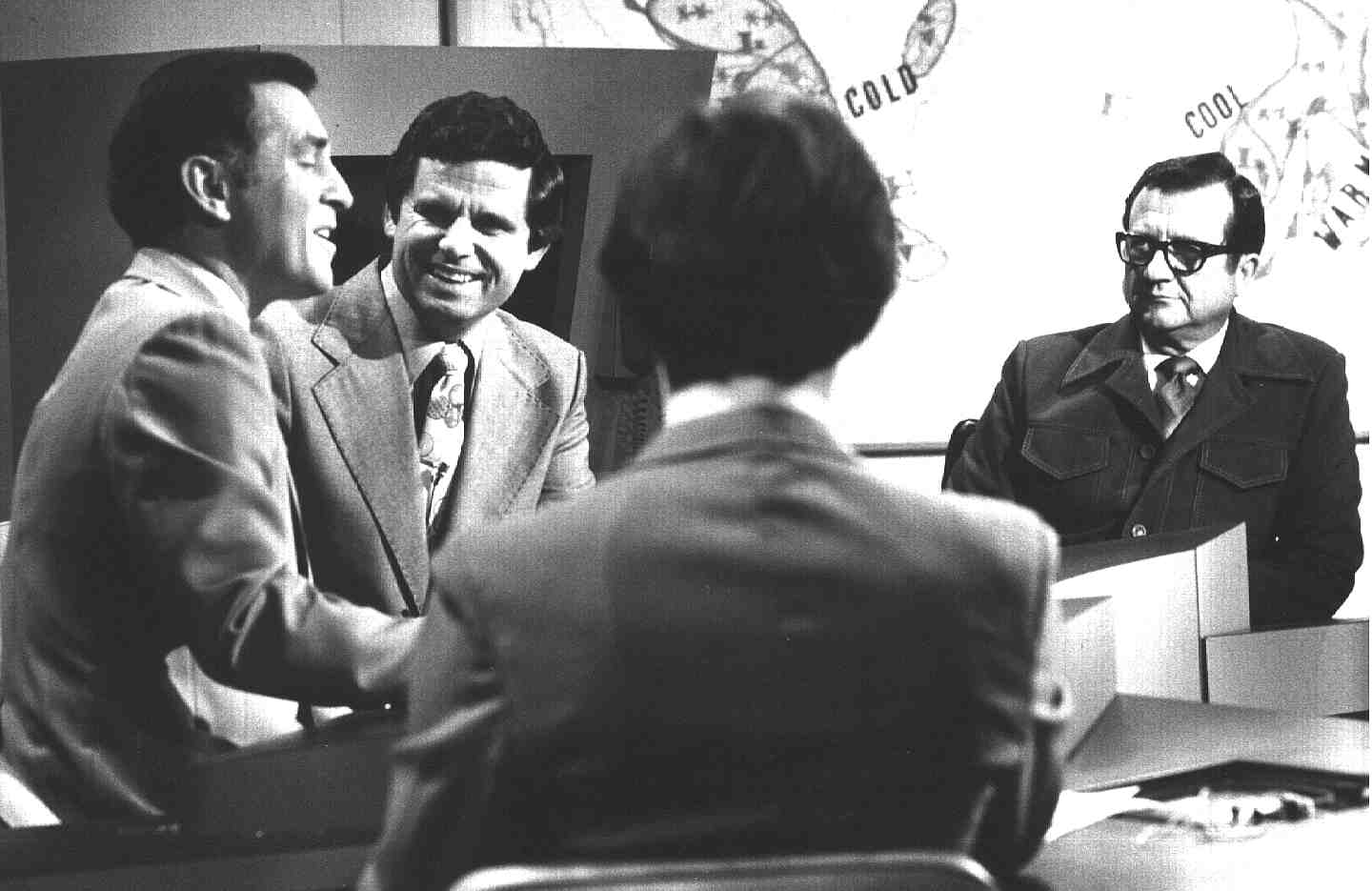 Viewers enjoyed the chit-chat between the anchors in the 1970s.
Weatherman Harold Taft is not amused.
L-R: Ward, Russ, Doug Vair (back to camera), Harold
Photo credit: Linda Kaye
.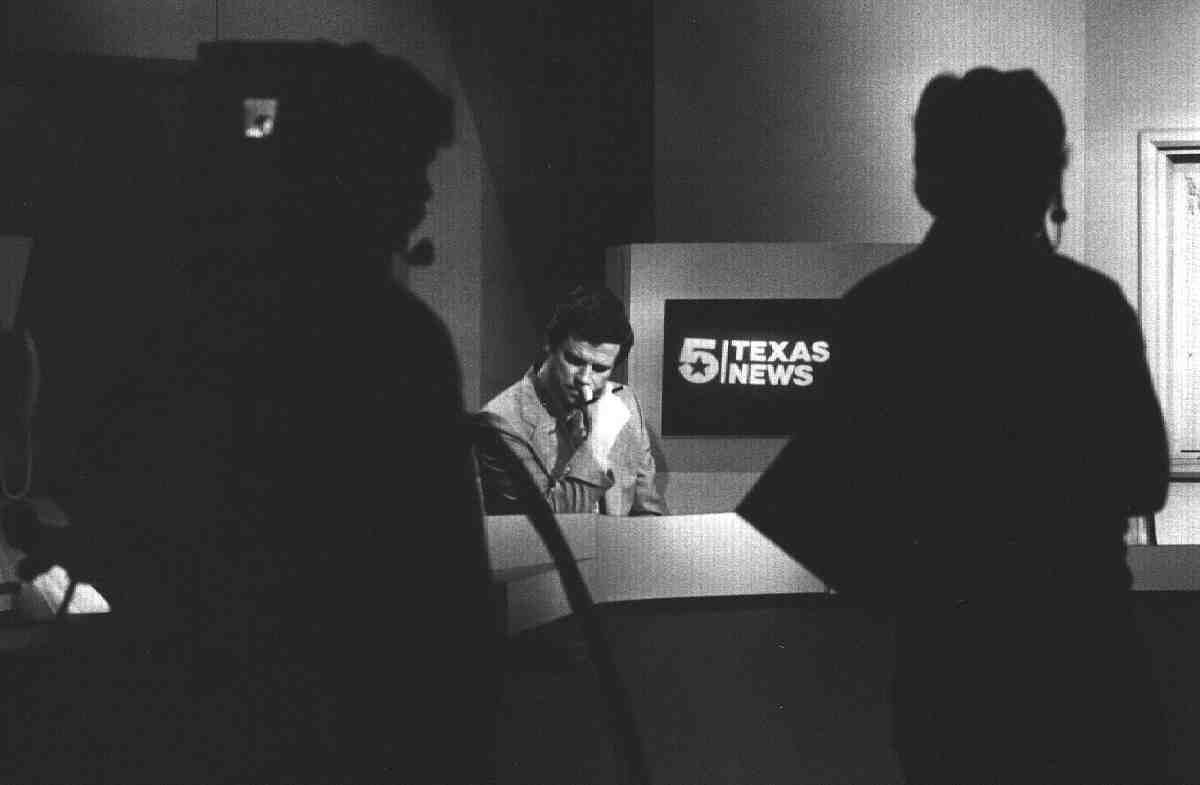 Russ awaits his cue on the new Channel 5 news set
Photo credit: Linda Kaye
.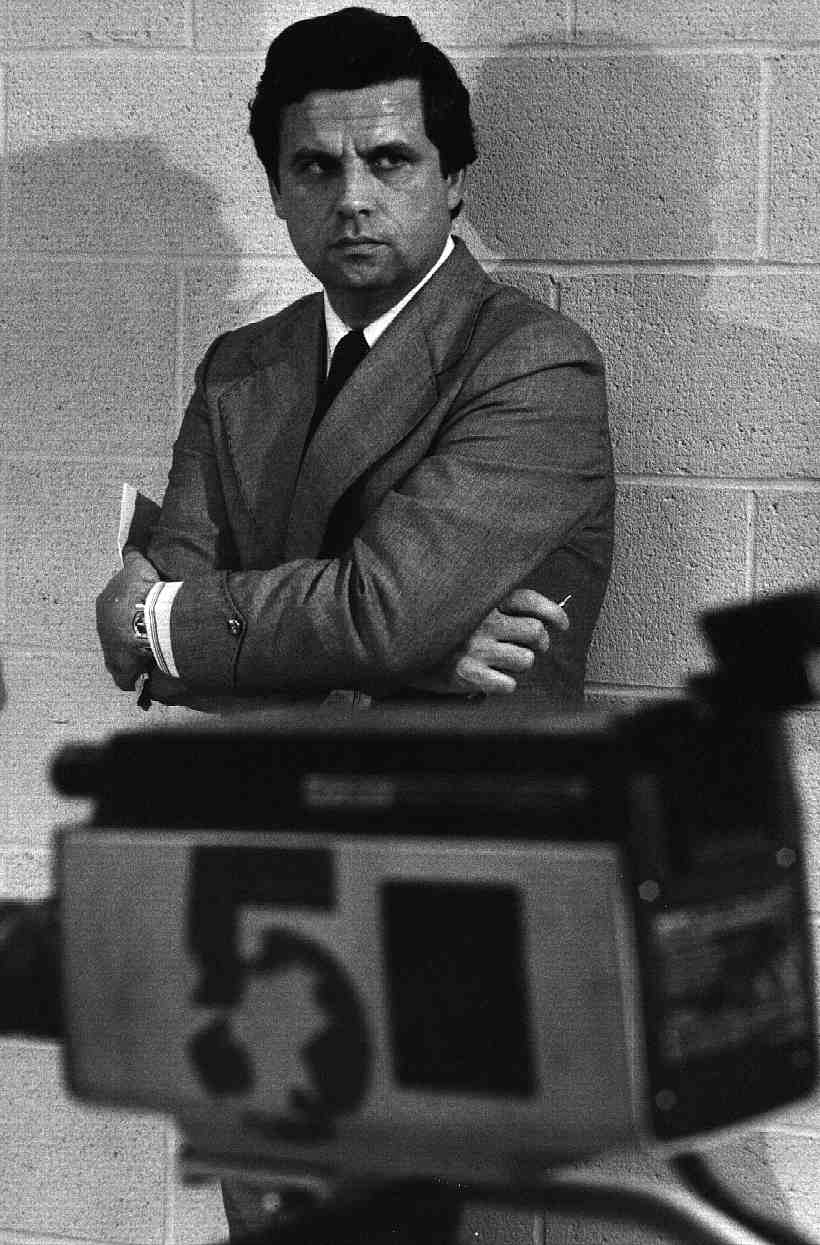 Russ stands by for breaking news at the
first Cullen Davis trial, 1977
Photo credit: Linda Kaye
.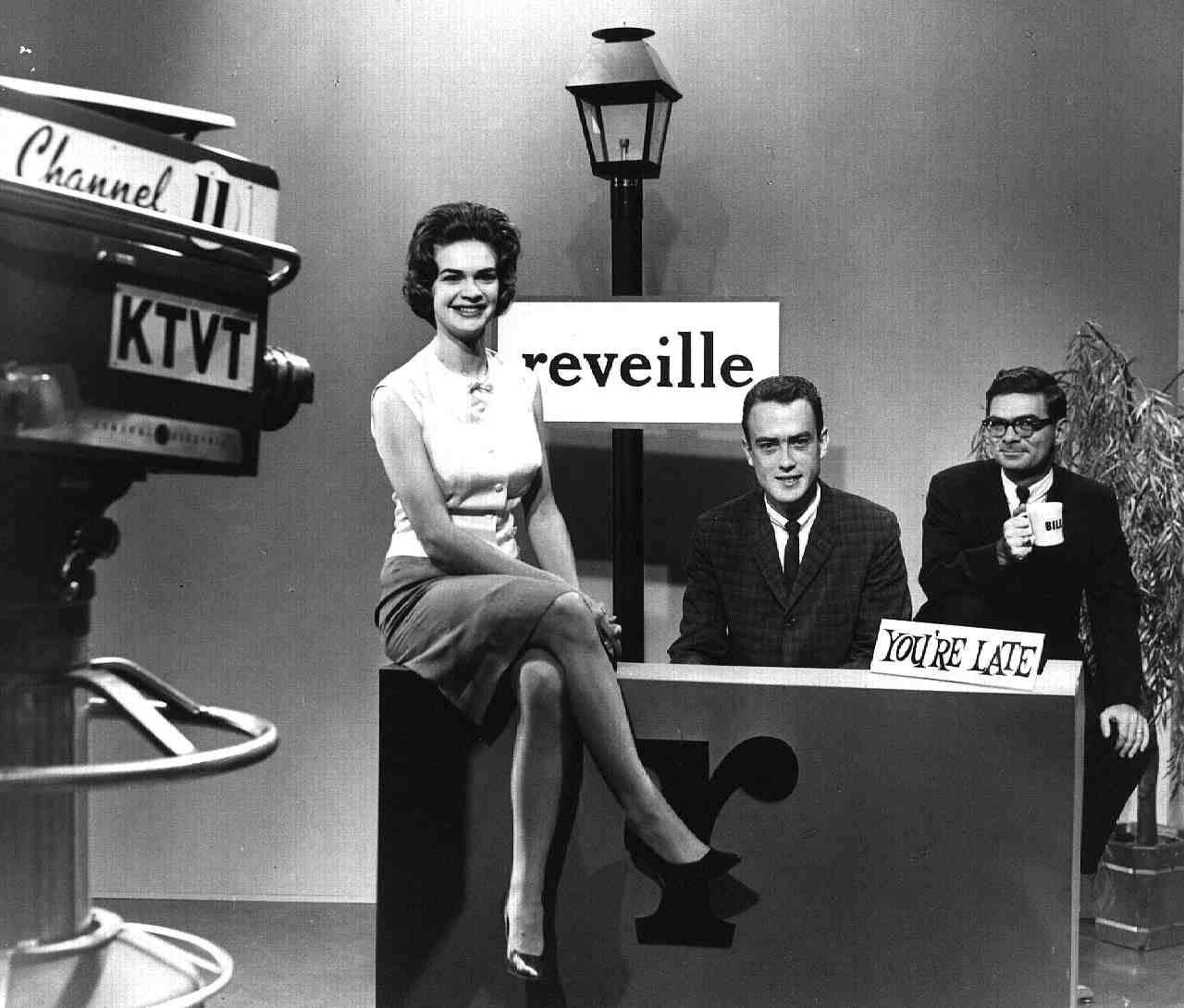 The leggy brunette is no other than Sanda McQuerry Bloxom, former wife of Russ.
She co-hosted the morning program, "Reveille" on the new KTVT in the early 1960s.
L-R: Sanda, Bill Swift, Bill Camfield (d. 1991, who starred concurrently as
"Icky Twerp" on KTVT's "Slam Bang Theater")
Photo credit: KTVT
.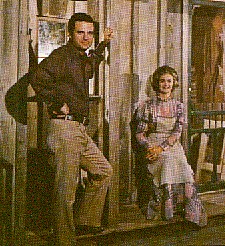 Russ and Sanda owned an antique and gift shop known as
"Sanda and Russ' Pastime" in Weatherford, TX in the mid-1970s
Photo credit: WBAP
.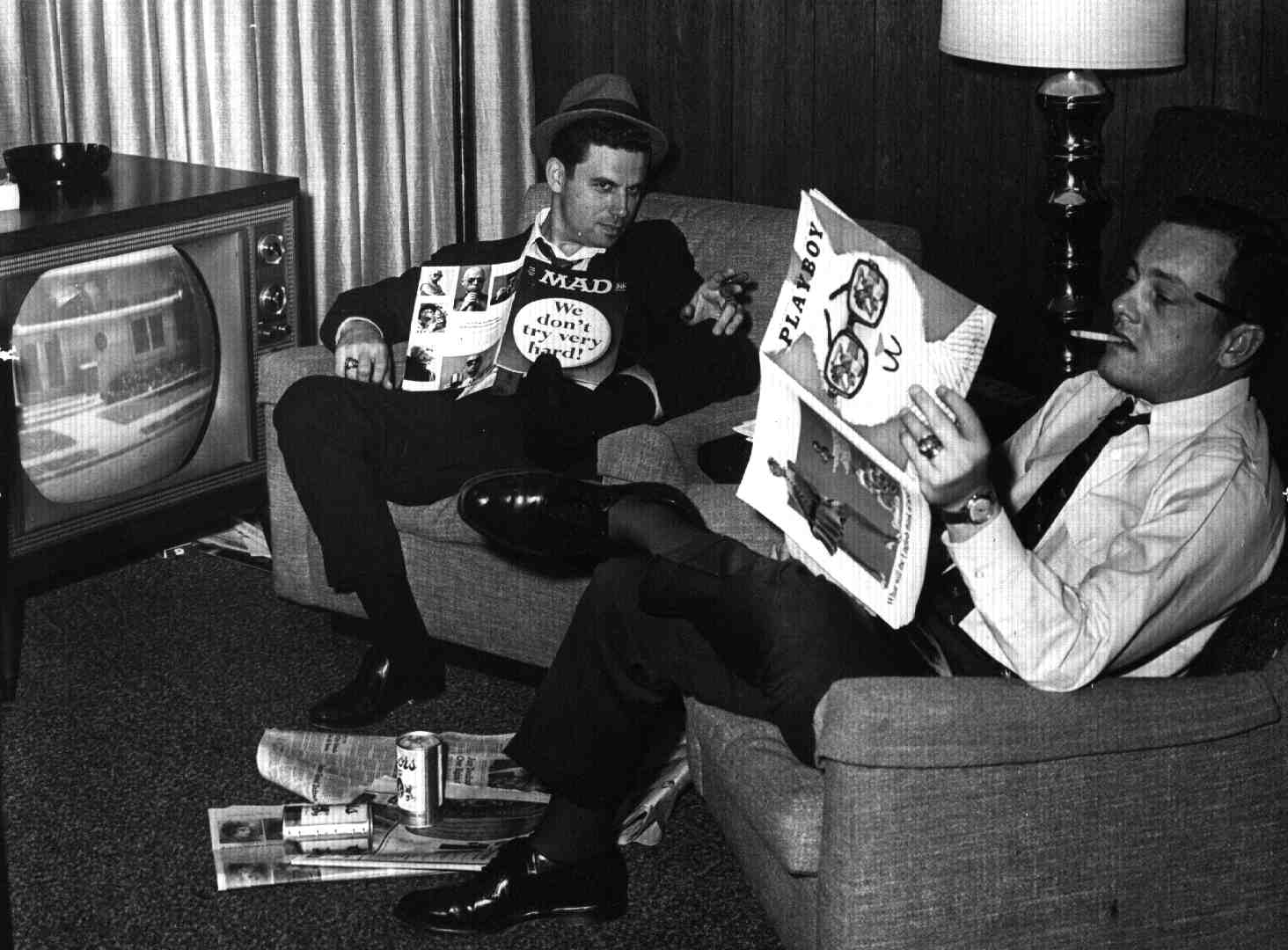 In a promotional photo for the Fort Worth Press Club, Russ and Bob Schieffer
partake in some interesting reading! Schieffer adopted the dapper look
to fit in with police detectives at crime scenes
Photo credit: Linda Kaye
.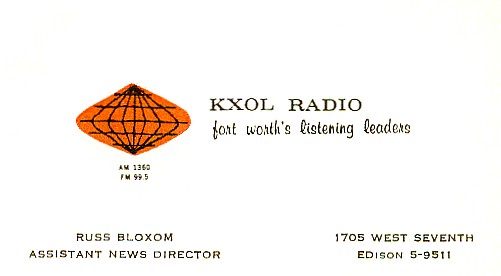 .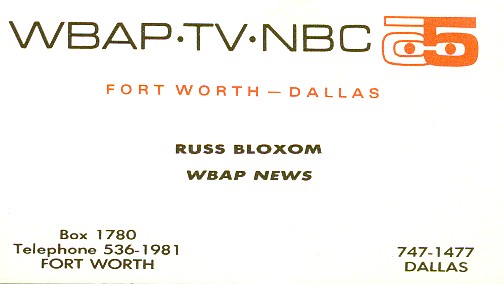 .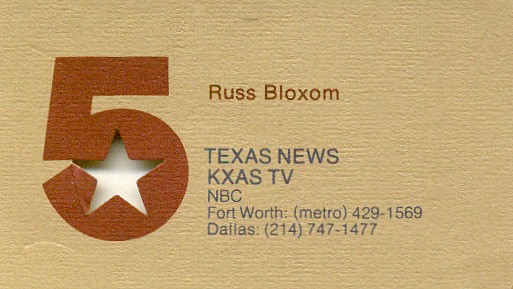 Some of Russ' business cards over the years
.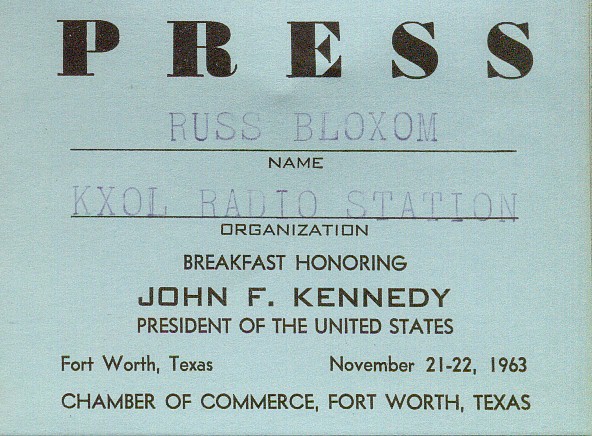 Russ was on duty for JFK's fateful trip to Dallas-Fort Worth in 1963
.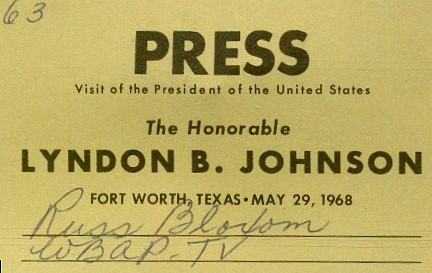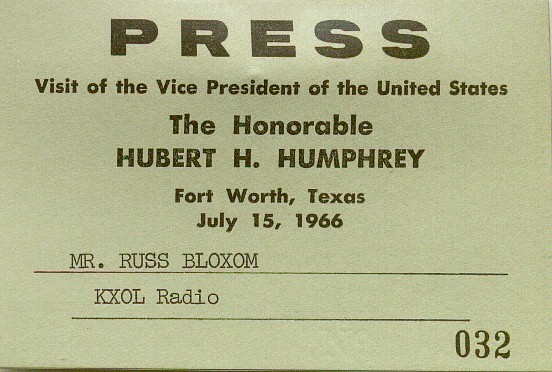 Russ covered many major news events for WBAP/KXAS and KXOL. Alan Bean Day, on
December 22, 1969, was a turning point in local broadcasting...Russ explains:
"Soon after several of us had moved to Channel 5, the station decided to broadcast the entire downtown Fort Worth 'ticker tape' parade honoring astronaut Bean. Roy Eaton masterfully anchored the remote coverage with several of us positioned along the parade route. I was assigned to the Convention Center and terminating point of the parade. It probably was the city's most spectacular in history! Channel 5's unusual live coverage immensely added to the event's patriotic fervor. When the ride of the Bean family ended, their open convertible and its occupants were covered by paper matter. For some reason, I chose to hardly talk to the honoree. Instead, I was drawn to kneel and interview Bean's small children who were exuberant by the rare experience. Photographer Linda Kaye caught the moment. Several viewers claimed it was the highlight of the parade. Indeed, the ex-KXOL radio gang had put their proven style of remote coverage on TV! Channel 5's management was ecstatic by the viewers' response. The 'radio' reporters and 5's cameramen and engineers had teamed to catapult the station to new heights for the 1970s!"
.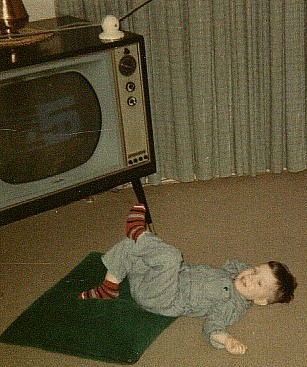 Your webmaster, Mike Shannon, awaits the Channel 5 News in 1967!
Photo credit: Mike Shannon Collection
.

---
Go to PHOTO GALLERY, PART 2
Go to PHOTO GALLERY, PART 3
---
TERMS AND CONDITIONS OF USE
This entire website and its contents are copyright 1984-2023 Mike Shannon. Images are copyright of their respective owners, including Linda Kaye, Russ Bloxom, The Fort Worth Star-Telegram, KXAS-TV, WBAP-TV, KXOL-AM, The (late) Garland Daily News, CNBC, WFAA-TV, CBS, TV Guide, The (late) Dallas Times Herald, The Dallas Morning News, The Dallas Business Journal, the University of Texas Special Collections division, and Mike Shannon. If you feel your copyright is being infringed upon by its appearance in this website, please email me and it will be removed or credited properly. I am not responsible for errors, omissions, incomplete information, misrepresentations or dead links. Information was gleaned from newspapers, broadcasting yearbooks, magazines, personal recollection, recollections of others and the like. Copying of any or all information or images for use on other websites, in print or for other purposes, is prohibited without permission. Links are provided for the user's convenience; I claim no responsibility for the contents, accuracy or relevance of other sites that may be linked to from this site. This entire website is considered a not-for-profit "fan site," to be enjoyed for entertainment and informational purposes only. Usage of this site and/or any sites, sub-sites or pages or images contained within, however accessed, constitutes your agreement to these Terms and Conditions. If you do not agree to these Terms and Conditions, click here and you will be taken elsewhere. Proceeds from advertising & duplication services are directly used for site maintenance, hosting fees and research costs.