SANDY NANCE
1942 - 2021
.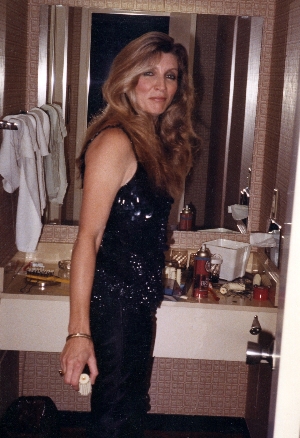 Sandy in 1986
.
Sandra Lynn Henderson Nance (Sandy Nance) passed away on January 5, 2021 in a Rowlett TX hospital at the age of 78. Survived by sons, Jackson Scott of Santa Fe NM, and Mike Shannon of Garland TX; cousins, Roger Davis of West Hollywood CA, Padgett Montgomery of Uvalde TX, Nancy (Henderson) Poe of Colorado Springs CO, Debbie (Lovelace) Harvey of San Marcos TX, and Ray Janes of Denton TX (since deceased on 4/29/2021;) and Sandy's best friend of over 73 years, Freeda (Green) Caudle of Garland TX. Sandy was predeceased by her father, Henry Wayne Henderson Jr, in 1979; her mother, Atha Lea (Hibbitt) Henderson, in 1960; her longtime companion, Jimmy Wehba ("General Skandor Akbar" of wrestling fame,) in 2010; and her beloved Doberman "kids" Zach and Nicholas, along with pet dogs Spot and Ponto. Other treasured, now-deceased relatives include uncle and aunt, George and Evelyn Henderson; aunts, Mary Helen (Henderson) Lovelace and Elizabeth (Henderson) Montgomery; paternal grandparents, Henry Wayne Sr and Elizabeth (Davis) Henderson; cousins, Bobby Ray Chambers, Othal and Burness Overall, Anne (Davis) Womack, Dorothy (Womack) Deason, Dabney Montgomery and Barbara Ann (Henderson) Collins; and uncles Bob and Paul Henderson.
.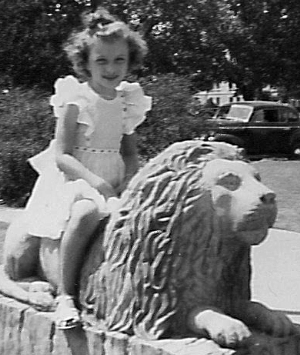 Sandy at East Texas State University, ca. 1950
.
Sandy was born September 10, 1942 in Greenville TX. She attended Quinlan TX schools, and was the Panthers mascot in high school. Her mother, Atha Lea, was Sandy's schoolteacher for most of those years; her father, Wayne, owned the Magnolia (Mobil) service station in town, along with two skating rinks—and was Quinlan's mayor from 1955-62. Sandy grew tired of living in a small town and having everyone 'in her business,' and left Quinlan in 1960. She made her home in Garland TX in 1973 after several years spent in Houston and Dallas.
.
Sandy was married twice (first to B. F. Davies, 1957-1963 [d. 2021;]) then D. M. Nance, 1964-1977;) and had one child with each.
.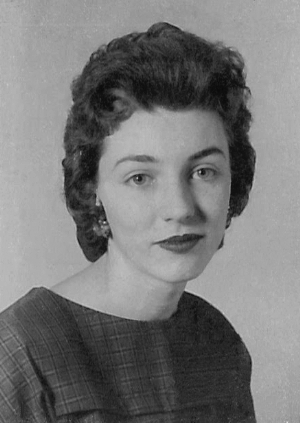 Sandy, ca. 1957
After working in secretarial roles at Majors Field airport in Greenville TX in the 1950s, for an investment company in Dallas in the 1960s, and for Shook Tire Company in Dallas during 1976, Sandy attended Artistic Barber College in Dallas, graduating in 1978. She was a hair stylist at Campbell Centre Hair Design for a while thereafter. Also in the 1970s, Sandy took continuing education courses at Eastfield College in Mesquite TX. Starting in the early 1980s, Sandy fulfilled a lifelong dream and traveled extensively as an ambassador for the National Wrestling Alliance. In recent years, she served on the board of directors of her community's HOA, until being sidelined with vascular dementia and Parkinson's disease in 2016.
.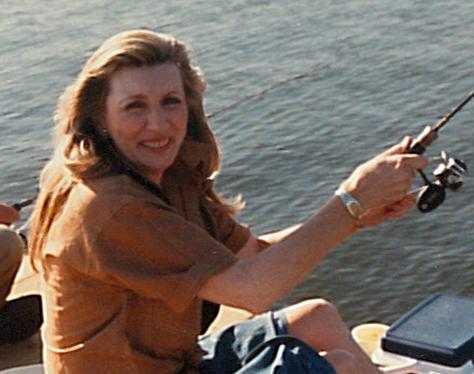 Sandy, preparing to reel in a big one, 1988
In her prime, she was a free-yet-burdened spirit, tempered by her small-town upbringing and two unsuccessful marriages. But Sandy loved her kids, and was quite adept in a homemaker role…especially with her cooking! She loved to travel, exploring all of Canada, the Bahamas, and most of the US. Her favorite spot was Peggys Cove in Halifax, Nova Scotia. And Sandy was just as comfortable being at a formal event as she was at climbing a tree while wielding a chainsaw!
.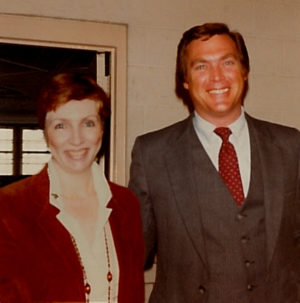 .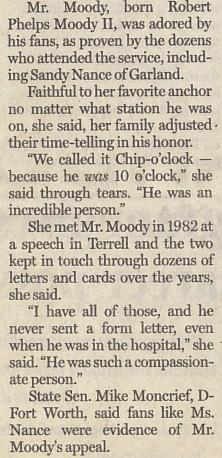 Sandy with TV news anchor Chip Moody, 1982;
interviewed by The Dallas Morning News after Chip's funeral in 2001
.
Other likes: Rock music (from Ricky Nelson and Elvis Presley, to ZZ Top and Def Leppard,) Corvettes, wrestling matches and the wrestlers (and was close friends with many of them,) the late TV news anchor Chip Moody, fried catfish, "The Young and the Restless," vanilla shakes, Northpark Mall, cooking, dress boots, President Kennedy (who once waved back to her in Houston,) roller skating, "Charlie" perfume, church hymns, "Millionaires" candy, time spent with relatives, men with long hair, "As the World Turns," Dr Pepper, Pecan Sandies, dogs, sewing, concerts, Pancho's, travel, "Days Of Our Lives," celebrity friendships, denim, peanut patties, lighthouses, Christmas, emails, chocolate almond ice cream, visiting and helping the elderly, "Secret Storm," white chocolate, long phone conversations, dressing in all-black, devising irreverent nicknames, daisies, Chanel No. 5, fried okra, playing piano, "The Edge of Night" and shopping at Sanger-Harris.
.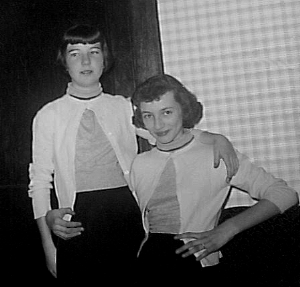 Freeda (Green) Caudle and Sandy, best friends for over 73 years!
.
Sandy enjoyed close friendships with many people. While Freeda Caudle was her bestie, she also spent quality time over the years with Marvin Vance, Linda Walker, Ron and Wanda Yarbrough, Llana Willcut, Travis Weberling, Jarvis Young, Mike Reed, Karen Hargis, June Pitts, Mike "Bugsy McGraw" Davis, April Dickson, Billy McKnight, Gayla (Granger) Kirk, Brandie Perry, Barbara (Caudle) Chapman, Tip Peachee, Leo Nickel, Troy Pinciotti, Doug Eidd, Gary and Chris Cannon, A. J. Jackson, Jack Cunningham, Brent "Booray" Parnell, Margie Benson, Bob Mantle, Jesse Castillo, Domingo Baez, Marcella Anderson, Patsy (Jimmerson) Williams and James Beard.
.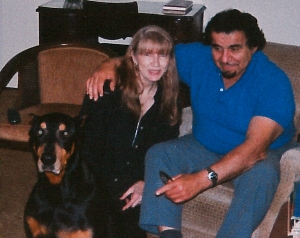 Nicholas, Sandy and Jimmy "General Skandor Akbar" Wehba, 2002
.
She lamented the passing of many other cherished friends, including Jimmy Wehba, Laura Norris, Claude and Louise Myrick, George and Florrie Hunt, Lonnie Todd, Dewey and Lela Dunnahoe, Pauline Willie, Jack and Patsy Vance, Frankie and Bennie Quinn, Barrett Dickson, Roy "Pud" Callender, Mac Dismore and Stella Caperton, Kelly Carter, Ethel Ford, Freddie Todd, Bradford Young, Virginia Clemente, Alfred "A. J." Jones III, Calvin Knapp, Ginny Nickel, Lynda Gerwig (Kox,) Oliver Black, Vera Green, Edna Merriman, Dr. Bill C. Morgan, Truman and Evelyn Nance, James "Kamala" Harris, Hobart and Juanita Lytal, Garnett "Donk" and Annie Mae Wade, Bob Soaper and Lillian Cannon.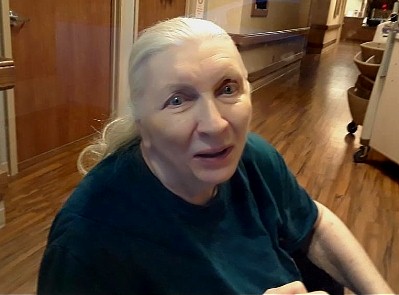 Sandy in 2020
Just before Christmas, 2020, Sandy contracted the COVID-19 virus and developed pneumonia, and, despite a valiant effort to overcome it, she died January 5, 2021 in a Rowlett TX hospital at the age of 78. In accordance with her strict wishes, there was no service, and her body was donated to the University of North Texas Health Science Center in Fort Worth for medical research.
Sandy's family deeply appreciates the kindness and efforts of the staff of Highland Meadows Health and Rehabilitation in Rockwall TX, who handled Sandy's care for the last four years of her life. Her neurologist, Dr. Sadat Shamim of Baylor University Medical Center in Dallas, was Sandy's primary physician since 2016, and was beyond instrumental in helping her find peace and to re-find an acceptable quality of life. The family is forever indebted to Dr. Shamim and his staff, and highly recommend his counsel to anyone faced with such diagnoses.
In lieu of conventional expressions of love, please donate in Sandy's name to the non-profit Dementia Society of America, P.O. Box 600, Doylestown PA 18901; or to the non-profit Nova Scotia Lighthouse Preservation Society, 1675 Lower Water St, Halifax NS Canada B3J 1S3.
Please email son Mike Shannon with questions, condolences, etc: mike@dfwRetroplex.com