PROFILE:
DICK RISENHOOVER
by Mike Shannon
Webmaster, DFW Retroplex.com
.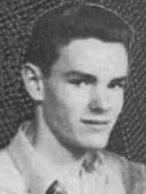 .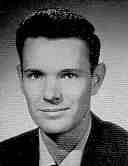 .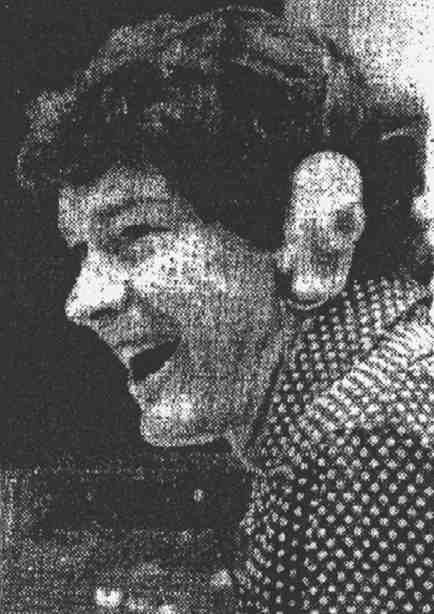 (L) In 1944 as a high school senior. (C) In 1957 as head basketball coach
at Childress High School. (R) In 1977 as announcer for the Texas Rangers
WILLIAM ERVIN "DICK" RISENHOOVER, JR. was a sportscaster and announcer best known as the radio voice of the Texas Rangers baseball club from 1972-1977. He was born February 15, 1927, in Childress, Texas, and died April 8, 1978, in Arlington, Texas, at the age of 51.
---
THE EARLY YEARS...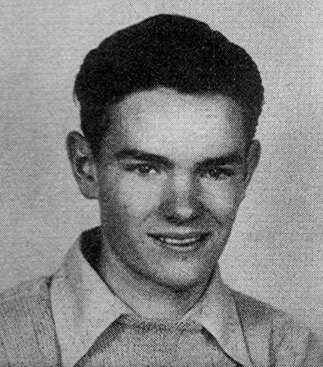 .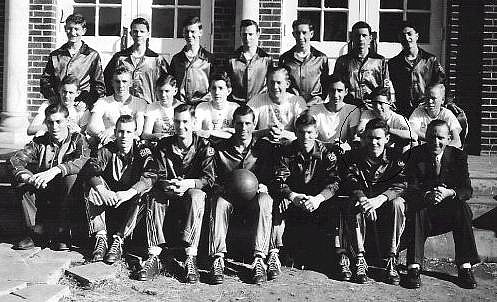 .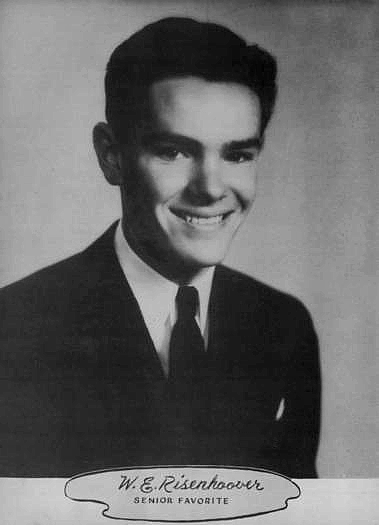 .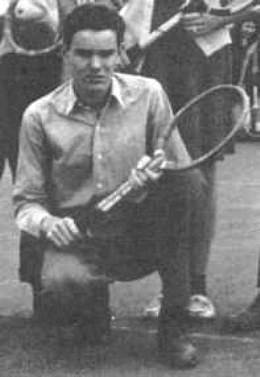 .
From the 1943-44 Childress High School yearbook: (L) Dick's senior class photo. (LC) 17 year-old Dick Risenhoover with the basketball team.
He is on the bottom row, second from right, circled. (RC) Risenhoover was voted Class Favorite. (R) As a member of the school's tennis team
Photos courtesy of Jerry Price
Dick was a high school athlete in the 1940s in his hometown at Childress High School, and later was a veteran of the US Army. He graduated from The University of Texas at Austin, where he played baseball and basketball. He was a member of the UT team that won the NCAA College Baseball World Series against Arizona State in 1950. Risenhoover scored the winning run in that game, even after stumbling to the ground between third base and home plate. Former Arlington, TX mayor and Dick's announcing sidekick Tom Vandergriff once said, "(Dick) knew the coach would have killed him if he didn't score, so he crawled all the way home!"
.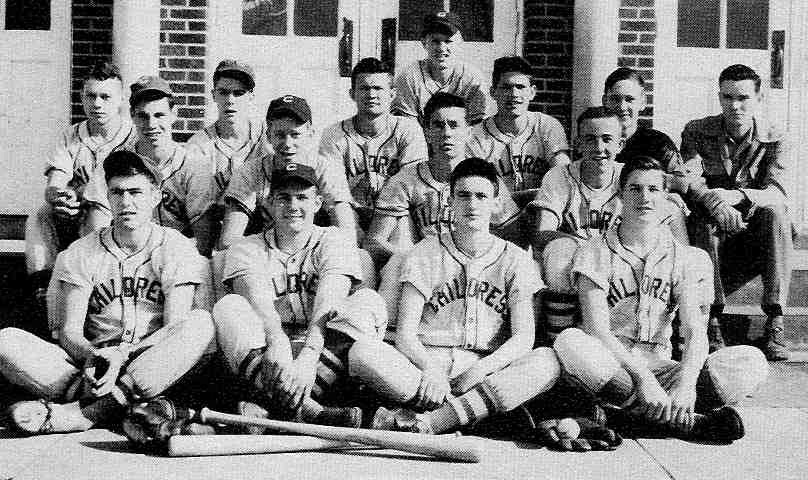 .
Risenhoover coached basketball and baseball at Childress High School: (L) The 1951 team. Dick is at top right.
(R) The 1954 team. Dick is at top right.
Photos courtesy of Jerry Price
"Rise," as he was nicknamed, taught school and coached at Childress Junior High School from 1950-51, and at his alma mater, Childress High, from 1951-54 and 1955-57. His Bobcat basketball teams won six of seven district and bi-district championships. Dick taught health, science and PE at both schools. He quit CHS in mid-1954 to pursue a baseball career with the Class A team in Lubbock, which was part of the former Texas-New Mexico League. After 2 1/2 months, Risenhoover was called back to Childress, as the local school board had selected him as head basketball coach at CHS.

.
Coach Risenhoover, 1955
While at Childress High, Coach Risenhoover began lugging a tape recorder to the basketball games, doing a running commentary of the action on the court. A local radio station would broadcast the tape the following day. This was Dick's first foray into broadcasting, which would soon change his life forever. He also wrote a daily sports column for The Childress Index, according to former CHS student Tom Higley: "My father was owner and publisher of The Index, and Dick wrote a football, basketball and baseball column for the paper (depending on what sport was in season.)"
Higley also worked with Risenhoover later at KGNC-TV in Amarillo, and, at last check, is co-publisher of The Index.

Coach Risenhoover, 1957
Risenhoover was committed to helping youth in the community, both on and off the field. He established the sports program of Cal Farley's "Kids Incorporated" in the early 1950s, which is still active and thriving today. "He spent much of his own money to get it off the ground," explains former CHS student Don Preston. "I participated in the baseball, basketball and football programs instituted by 'Rise.' That was over 50 years ago, and they are still going strong." And Risenhoover's commitment to area youth did not go unnoticed: He was named Childress County "Man of the Year" in 1954 specifically for his work with young people.
.

Dick left Childress High School for good in 1957 to begin his broadcasting career at KGNC-AM/TV in Amarillo, TX, the local NBC-TV affiliate (known as KAMR since 1974,) where he handled sports and news assignments. Risenhoover also tied the knot during this time, marrying fellow UT grad Helen Anna Betty on September 26, 1959, in her hometown of Kerrville, TX. While Dick and his new bride first had aspirations to publish the Hansford Plainsman newspaper in the Panhandle town of Spearman, they ended up keeping their existing jobs instead: Dick, continuing at KGNC, and Helen, as the amusements editor at the Amarillo Globe-News (housed in the same building with Dick's radio station.) Later, they became parents to two sons: Ricky, born in 1962, and Christopher, born in 1966. In 1968, Dick covered both the Democratic and Republican conventions for KGNC, and was cited by the Associated Press for his reporting of the riot that marred the Democratic National Convention in Chicago. Over the years, his dedication and performance earned him management positions at the station in news and sports.
.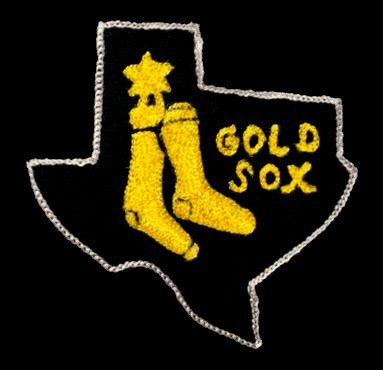 Risenhoover was concurrently the principal play-by-play announcer for the Amarillo Gold Sox baseball team of the Texas League from 1958-69 (other sources say 1963-67,) and with their successor, the Amarillo Giants, from 1969-70. The Giants were a minor league team for the San Francisco Giants. Dick was also the radio announcer for West Texas State University's baseball, basketball and football games from 1963-70 via the Shamrock Network.
.

---
RISENHOOVER HITS THE BIG TIME!


The Dallas Times Herald announces
Dick's arrival, October, 1970
Dick's big break came in 1970 when he accepted a position with major market station KDFW-TV Channel 4, then the CBS affiliate in Dallas, as sports director and sportscaster. His inaugural sportscast occurred October 12, 1970 on the station's newly-christened "Eyewitness News."

KDFW had just changed its call letters from KRLD-TV on July 1, 1970, and was looking for a new direction for its sportscasts to combat the new breed of young sports anchors on the local competing stations. 20-somethings such as Boyd Matson at Channel 5, Verne Lundquist at Channel 8 and Bret Lewis at Channel 11 were his main competition, two of whom have gone onto national careers long ago (Matson to "National Geographic Explorer;" Lundquist to CBS Sports; Lewis to KNBC, KCBS, and later KFWB-AM in Los Angeles.) Dick, although 43 at the time, still had very youthful looks, and quickly found his niche as an affable, relaxed, yet thorough sports anchor.
.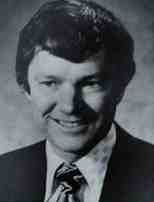 .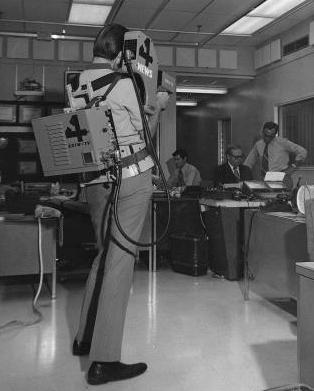 (L) Dick at Channel 4, 1973. (R) Cameraman and future voice of "Big Tex," Bill Bragg, captures
several Channel 4 employees busy at work; Risenhoover is in center, farthest back
Right photo courtesy of Bill Bragg
'Rise' enjoyed a three-year stay at the station, and was among the first to inject personality into sportscasts, a staple of all sports anchors today. Risenhoover typically shared the KDFW news desk with legendary newscasters Ray Walker (d. 1992,) Judy Jordan (d. 2020) and Walter Evans (d. 2018,) and with weatherman Warren Culbertson (d. 2008.)
---
THE TEXAS RANGERS...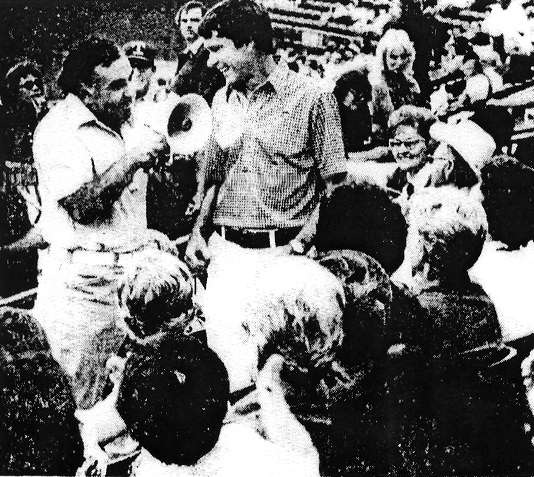 Rangers coach Frank Lucchesi (left, with megaphone,) and Dick Risenhoover (right, standing)
meet with the team's Women's Club at Arlington Stadium in 1974
Risenhoover was hired by the new Texas Rangers baseball club in 1972 after Arlington mayor Tom Vandergriff and other city officials followed him as a sportscaster on Channel 4. The former Washington Senators team moved to Arlington for the 1972 season, coached by baseball legend Ted Williams. Dick was originally hired as the third man behind veteran announcers Don Drysdale and Bill Mercer in the Rangers' inaugural season. When Drysdale left for an announcing job with the California Angels early in 1973, Risenhoover moved into the #2 spot, alongside Bill Mercer. On March 2, 1973, Dick left Channel 4 to devote all his efforts towards the Rangers' broadcasts (he was replaced at KDFW by Tom Hedrick.) Terry Stembridge, former Dallas Chaparrals basketball commentator, took the third man spot. In 1973, Ranger broadcasts had just been picked up by Fort Worth's WBAP-AM from Dallas' KRLD-AM, and Dick hosted an early-morning sports commentary program there as well. Risenhoover also handled radio and television coverage for the five-state Texas Rangers Network, which, by the spring of 1973, brought him full circle...as his former station, KDFW-TV, had just won the television rights to the games away from KDTV-Channel 39. On the field, Whitey Herzog handled coaching duties when Williams stepped down after the inaugural season; colorful Billy Martin was hired late that season, on September 8, to replace Herzog.

.

.

.


1972-77 Texas Rangers announcers, L-R: Don Drysdale,
Bill Mercer, Bill Merrill, Tom Vandergriff
When Mercer left before the 1974 season for a broadcaster position with the Chicago White Sox, Dick Risenhoover became the lead announcer for the Rangers. Stembridge was replaced by local KAMC-94.9 FM and UT-Arlington sportscaster Bill Merrill in February, 1974, with Burt Hawkins and former Red Sox great Jimmy Piersall hired as color analysts for televised games. Under Billy Martin, the Rangers enjoyed a respectable 84-76 record, finishing only five games behind the eventual World Series champions, the Oakland A's. By the spring of 1975, Arlington mayor Tom Vandergriff became the permanent third man in the booth. Vandergriff was the driving force behind bringing the Rangers from Washington to Texas in 1972, and was so interested in the success of the team that he took no salary for his announcing gig, and paid his own way to participate in the team's road games. Tom resigned his mayor's post in January, 1977, to dedicate his efforts to the team on a full-time basis.
.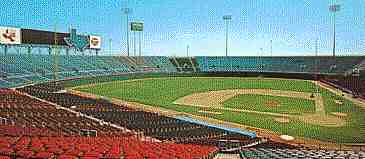 Arlington Stadium, home to the Rangers from 1972 to 1993
On the field, the Rangers' lackluster efforts starting in 1975 put a heavy load on the announcing staff, who required a lot of creativity to keep fans tuned in. Risenhoover's trademark declaration of "Goodbyyyyye, baseball!!" after a home run is a permanent part of Rangers' lore. His friendly demeanor, personality, and Don Meredith-like approach and voice became immensely popular with Ranger fans. Dick came up with phrases like "Errah on Harrah" (referencing third baseman Colbert "Toby" Harrah) to keep fans entertained. Despite the Rangers' average performance, Dick added a dimension that kept fans interested in the team...and listening faithfully to his broadcasts. Even in Risenhoover's last season, 1977, when the Rangers posted a respectable 94-68 record, the owners brought a hefty challenge to the broadcast booth and to the team by hiring/firing FOUR different managers that season: Frank Lucchesi, Connie Ryan (coached six games,) Eddie Stanky (coached only one game) and Billy Hunter!
NEW!
Hear clips of Dick Risenhoover's euphonious voice announcing for the Rangers
over WBAP-AM/Fort Worth, along with his dearly-missed exclamation of
"GOODBYYYYYE, BASEBALL!!" after a Rangers home run! Click HERE
---
A SHOCKING, UNTIMELY PASSING...
.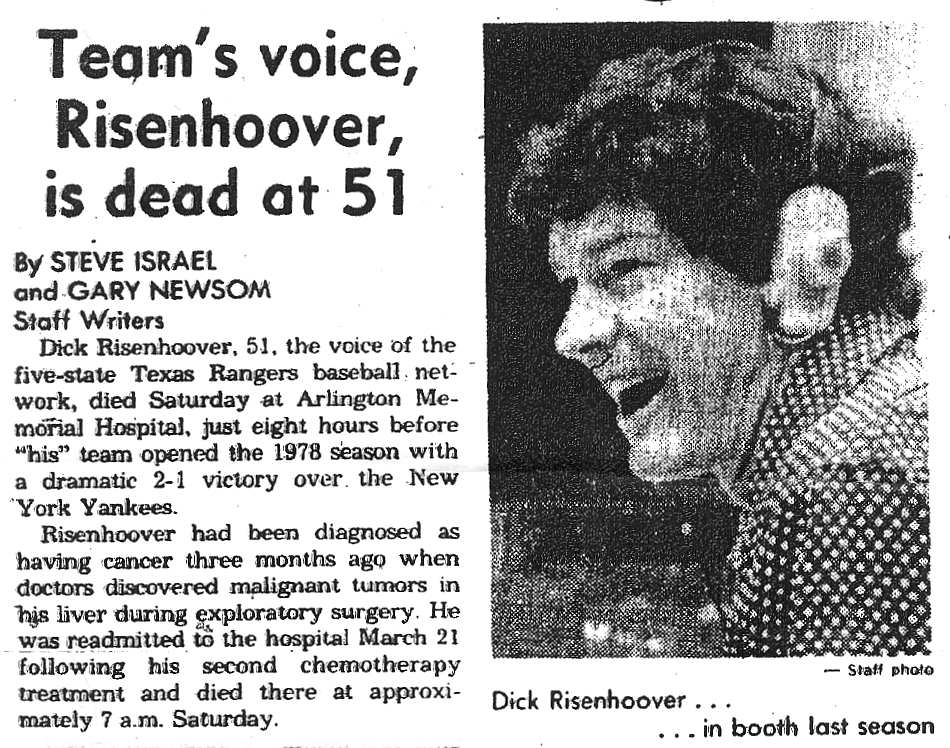 Part of Dick Risenhoover's obituary, published April 10, 1978
in The Dallas Times Herald
Despite his commitment to the sport, and the love and admiration from his legions of listeners, Risenhoover's successful career in broadcasting would be tragically cut short: Dick was diagnosed with cancer during the offseason in January, 1978. Malignant tumors were discovered on his liver during exploratory surgery at local Arlington (TX) Memorial Hospital. He was readmitted to Arlington Memorial after an unsuccessful second chemotherapy treatment on March 21; three weeks later, at 7:00 AM on Saturday, April 8, 1978, Dick Risenhoover died. He lost his battle with cancer a mere eight hours before the Rangers' opening game of the 1978 season. Fans had already survived a scare with Dick's health when he fainted in the broadcast booth on June 18, 1977, and was subsequently hospitalized. No one, including Risenhoover, knew what grim prognosis would lay ahead of him in the following months.
Interviewed after his cancer was first diagnosed in January, 1978, Risenhoover said, "This and worse things happen to hundreds of people every day. It just so happens that I'm in a little bit of a spotlight (as a broadcaster) and therefore a little better known. I don't want people thinking, 'He's really having it rough.' I don't want anybody feeling sorry for me." Even in his final month, he still taped his morning sports commentary show for WBAP, with the aid of his wife Helen, who recorded him at his hospital bed. "It's a little extra chore," Dick said at the time. "Of course, you'd rather be in a position where you can be more topical, but considering the conditions I work under, I don't have much choice." Ranger players, upon learning of his illness in January, presented him with an autographed team jersey that bore the lettering, "Risenhoover 1."
.
And 'Rise' never gave up hope for a return to the broadcast booth: Just days before his death, Dick told his friend and sidekick Bill Merrill, "I will still make it back for opening day." Ranger Network Director Roy Parks visited with Risenhoover two days prior to his passing, and said of Dick, "If he had a fault, it was that maybe he was too optimistic...He (just) told me he would beat this. I told him I wished he could be with us on opening day. He just said, 'Don't worry, I'll be with you in spirit.'"
.
It was a bittersweet victory for the Rangers over the New York Yankees, 2-1, on opening day that April 8. Before the national anthem was sung, a capacity crowd of 40,000 was asked to observe a moment of silence in Risenhoover's memory after Bill Melton, PA announcer at Arlington Stadium, gave a brief eulogy, written by Rangers general manager Daniel F. "Danny" O'Brien:
.
"Ladies and gentlemen, early this morning we learned of the passing of the voice of the Texas Rangers, Dick Risenhoover. Dick was a familiar personality to anyone who followed Ranger baseball, whether it be for an inning, a game or a season. No one in the broadcast industry had a better knowledge of the game, of his Texas Ranger teammates or a more genuine understanding and appreciation of the people who made up his vast listening audience. Dick Risenhoover was first in the field as a husband, a father, a broadcaster and a human being. He will be missed by all of us. With all of you with us today, wherever you may be, join us in a moment of silence."
.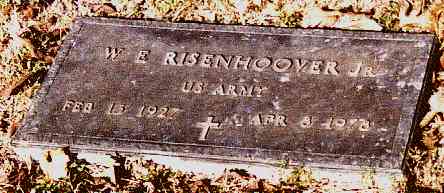 Dick Risenhoover's funeral was held at the First Baptist Church in Arlington, with burial at Laurel Land Memorial Park in Dallas on April 10, 1978. He was survived by his wife Helen (who died in March, 2003,) his sons Ricky (then age 15) and Chris (then age 11,) all of Arlington, and his parents, William E. Sr. and Hazel Edith Risenhoover of Dallas. Honorary pallbearers were members of the Texas Rangers baseball team.
---
REMEMBERING "RISE"...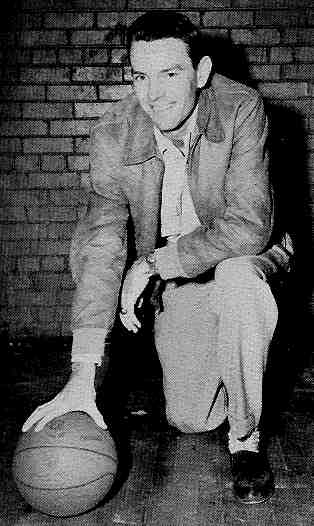 Dick Risenhoover in 1955
Photo courtesy of Jerry Price
Risenhoover was remembered positively by his friends and Ranger teammates. Santos "Handy Sandy" Alomar, former Rangers infielder and father of current baseball great Roberto Alomar, said, "I never had a radio-TV announcer treat me fairer or nicer than he did. He always took time to know everyone. He would come down to the dugout two hours before the game and that's where he came up with all his comments from the players that he used while announcing the games." Alomar also said, "I have never met a person who has said anything bad about Dick Risenhoover. That tells you what kind of guy he (was.)"
.
Toby Harrah spoke highly of Dick as well: "(He) promoted baseball without a doubt more than any one individual I can think of. He took such a positive-oriented approach, always optimistic. The first thing he said to me was, 'I know you're a .300 hitter. You just have to make up your mind.' He was also a fine person. You couldn't meet a nicer man. And he was knowledgeable about so many things."
.
Juan Beniquez, Ranger outfielder and Golden Glove recipient for the 1977 season, stated, "He's the nicest man I've ever met...and one of the finest radio announcers around."
.
Brad Corbett, embattled owner and chairman of the board for the Rangers from 1974-81, said Risenhoover's death was a shock. "It's a very tragic thing," he said. "We believed it was coming. Even though we knew, we were still shocked. He's the third person associated with the Rangers to die from this tragic disease. I have the deepest sympathy for his family and his friends." [Ed. note: The others Corbett referred to are infielder Danny Thompson, who died of leukemia in 1976, and Fort Worth Star-Telegram sportswriter Harold McKinney, who died of lung cancer in 1975.]
.
Tom Vandergriff, Dick's broadcast sidekick, commented, "This is one of the saddest days of my life. Dick was a great professional in his field. As far as I'm concerned, no one had more ability. He became widely respected around the country as one of (the) best pure baseball announcers. He was so painstakingly careful, thorough and well-prepared; he spent hours preparing for any broadcast. He was genuinely interested in the players and fans. The players worshipped him." Vandergriff continued: "But beyond that, Dick was one of the finest human beings anyone would want to meet. It was one of the great privileges of my life to know him and to work alongside of him for the last three seasons."
.
Dick's other broadcast sidekick, Bill Merrill, said, "The greatest compliment you could give to a man like that was to say that, as a baseball broadcaster, he was excellent. But as a human being, he was so much more, it paled that into insignificance. He was just a warm human being."
Vandergriff left the radio broadcast booth after Dick's last season, but Merrill continued announcing games through the 1981 season. A comprehensive list of all Texas Rangers television and radio announcers can be found here. In an eerie coincidence, the longtime voice (1981-97) of the Rangers, Mark Holtz, died of cancer at age 51, just as Risenhoover did. And longtime local, beloved sportscaster Frank Glieber died at age 51 as well.
* * * * *
Risenhoover fan Kent Anderson of Oklahoma City, OK, shared his remembrances of a special friend in a recent email:
"I was a kid of 10, living in Madill, Oklahoma, listening to Rangers games on WBAP, when I first heard Dick in 1974. He had such a warm, friendly delivery and always was so well-prepared and smooth. I got it into my head that I would write to him, which I did, sending my letter in care of the Rangers general mailing address. Imagine my surprise when I heard him mention my name on the air, and an even greater surprise when I received a personal letter back from him a few weeks later!
"That began a correspondence that lasted until shortly before his death. We exchanged several letters each season, talking Rangers baseball and broadcasting. He was so down to earth, so kind to me, a kid from a tiny town, for whom places like the DFW Metroplex might as well have been on the moon at that time! The last letter I had from him, when I was 14, mentioned his illness (though not by name) but he said he was looking forward to Opening Day. I still remember one of the newspaper articles about his death--the headline was along the lines of, 'It'll Always Be Goodbyyyye Baseball!'
"I was greatly inspired by Dick, and that inspiration is partially responsible for my own career in radio. I started on my little hometown station at 15, and I worked full-time in radio until 2005, a 27-year career. My career was primarily in the music end of the business, not sports, but I always worked to communicate to my audience in the warm, personal manner Dick had on the air.
"I never met the man in person, but I still have the letters, and he was a huge influence on a young boy back in the 1970s."
* * * * *
A former co-worker of Risenhoover's at KGNC-TV/Amarillo, Bob Cockrum, remembered Dick as a man of class and serenity:
"I went to work for KGNC-AM/FM/TV in mid-1968...From my standpoint, 'Rise' could best be described as low key and patient. I don't know if that was his basic personality or if it came from being a schoolteacher and coach. KGNC-AM carried West Texas State football. I don't recall if the Buffaloes were doing especially well that year, but one player was: Mercury Morris, an all-American choice the year before, and about to be one again. Well, Rise had done an interview with him on cassette while they were flying back from a game. More often than not, we shot silent film. One morning, I was assigned to some story. I grabbed the ol' Bell & Howell (camera) and, rather than taking the old beat-up, on-its-last-leg cassette recorder that we generally shared in the newsroom for some natural sound or interview, I took Rise's recorder. I knew he kept it in the top drawer of the filing cabinet next to the assignment editor's desk. It had a tape in it--not labeled. I assumed it was blank or ready for use.
"Well, when I got back, I found out that I had recorded over his Mercury Morris interview (that Dick intended to use for the next pre-game show.) But Rise did not get angry...just a comment along the lines of, 'Man, that was a good interview...he was talking like he hadn't talked before.' And that made me feel about three inches tall.
"As I said, a man of great serenity overall, at least that's the way he treated me and others. I learned a number of important lessons from Dick Risenhoover."
* * * * *
One of Risenhoover's fans and friends, Jerry Huddleston, recalled participating in Dick's "Kids Inc" program:
"I was one of the first kids to play in his 'Kids Incorporated' program. I was short of six years of age at the time, but my dad talked Rise into letting me play. Rise announced the games at the stadium, and, every time I would come up, he would say, 'Next at bat is Big Jerry Huddleston.' I was about 13" tall, maybe a little more! Anyway, I was very short...the pants could be buckled under my armpits and the shirttails touched the ground. My coach wouldn't let me swing until my last at bat for the season (when I actually got a single!) I walked (the bases) something like 50 times (as) there was a no-strike zone. Rise was just as outstanding a man as everyone painted. Everyone loved him. Years later, I went into broadcasting for ten years until a voice problem forced me to get out. He had a lot of influence over every kid that knew him...and all of it was good."
---
DICK RISENHOOVER'S LEGACY...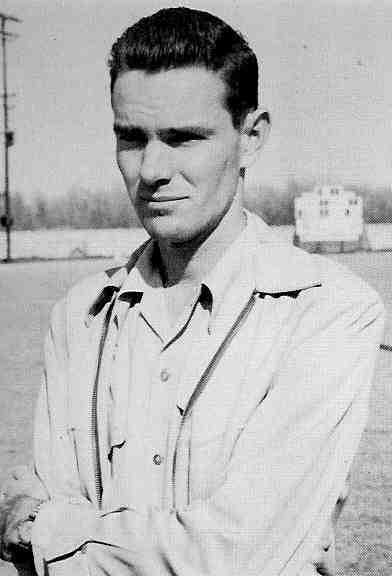 Dick Risenhoover, 1955
Photo courtesy of Jerry Price
Risenhoover's legacy lives on. In 1979, the Downtown Lions Club of Amarillo developed the Dick Risenhoover Award, which is administered by the Panhandle Sports Hall of Fame. It is presented annually to a West Texas-area athlete that receives national recognition or succeeds on the national level. Notable inductees include wrestlers Terry and Dory Funk of Umbarger in 1979, Rangers great and current Seattle Mariners manager Mike Hargrove of Perryton in 1983, and Philadelphia Eagles player Willie Thomas in 1993. Also, Dick was inducted into the Panhandle Sports Hall of Fame as a sports broadcasting member in 1973, and included with the Veteran's Memorial in Childress, TX, in 2004. And, as mentioned earlier in the story, Risenhoover's "Kids Inc. Sports Program" is a living legacy that has spawned similar youth programs across the US.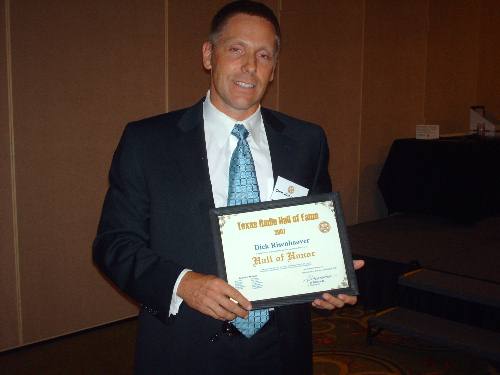 Chris Risenhoover accepts the Texas Radio Hall of Fame's
Hall of Honor Award on behalf of his father, October, 2007
Photo credit: Mike Shannon for the Texas Radio Hall of Fame
In October, 2007, Dick Risenhoover was posthumously inducted into the Texas Radio Hall of Fame. He had been nominated every year since the Hall of Fame was founded in 2001, and was accepted into this elite group of honored broadcasters...the best of the best! Accepting the award on behalf of his father was Chris Risenhoover.
In April, 2008, Dick was honored on DFW airwaves to commemorate the 30th anniversary of his passing by Hal Jay of WBAP-AM, and by Mike Shannon of "The Hi-Fi Club" on KMNY-AM (the former KXOL-AM.)
---
FAMILY, FRIENDS, COLLEAGUES: WHERE ARE THEY NOW?
A couple of strange coincidences occurred in early 2003. Helen Risenhoover, Dick's widow, died of an autoimmune disease on March 6, 2003 at age 69...nearly 25 years to the day when Dick died. And his longtime announcing partner, Bill Merrill, died a mere three weeks after Helen, on March 30, 2003 at age 79.
Tom Vandergriff, former Arlington mayor and booth announcer with Risenhoover, passed away December 30, 2010 at age 84. Vandergriff's unrelenting effort to bring baseball to the Dallas-Fort Worth area began in 1950, and finally paid off in 1972 when the Washington Senators moved to Arlington. Vandergriff lived just long enough to attend the first World Series game ever played by the Rangers, and in his city, in October, 2010. Later, Rangers' general manager during Dick's tenure, Danny O'Brien, died January 16, 2017, at age 87. O'Brien, who became the president of the Seattle Mariners in 1979, was a friend and fan of Risenhoover's who wrote the thoughtful eulogy read to the opening day crowd in April, 1978.
Dick's parents, William E. Sr. and Hazel Risenhoover of Dallas, both outlived their son. Dick's father died in January, 1994, followed by his mother in April, 1996.
At last check, Risenhoover's youngest son Chris lives in the Arlington area with his wife of over 25 years, Christy, and oldest son Rick lives in Lake Oswego, Oregon, with wife Roshell. Rick recently wrote to say, "My sons, Ian and Russell, have been able to learn something about their grandfather from this (website's) information and historical accounting...Over the years, former players have shared their insight into the kind of man my father was, and the impact he had on their lives. I can't tell you what that means to me, since he was merely, to me, my father--and briefly at that--(and) I have learned more about my dad from other peoples' willingness to share their memories."
---
Dallas Times Herald staff writers Steve Israel and Gary Newsom provided much of the research used on this webpage. A big thank you to Risenhoover's former Childress High School students Jerry Price, Don Preston and Tom Higley for providing photographs and remembrances for the site; to Dick's cousin Melodee Slaney for her corrections, clarifications and for sharing her ancestral research; and to Dick's friends and fans Kent Anderson, Bob Cockrum, Mike Higgins, Clemi Blackburn and Jimmie Holeman, and to the late Larry Shannon of the Texas Radio Hall of Fame. A special thanks to Helen, Rick and Chris Risenhoover for sharing their husband and father with all of us. He will always be fondly remembered.
---
TERMS AND CONDITIONS OF USE
This entire website and its contents are copyright 1984-2022 Mike Shannon. Images are copyright of their respective owners. If you feel your copyright is being infringed upon by its appearance in this website, please email me and it will be removed or credited properly. I am not responsible for errors, omissions, incomplete information, misrepresentations or dead links. Information was gleaned from newspapers, broadcasting yearbooks, magazines, personal recollection, recollections of others and the like. Copying of any or all information or images for use on other websites, in print or for other purposes, is prohibited without permission. Links are provided for the user's convenience; I claim no responsibility for the contents, accuracy or relevance of other sites that may be linked to from this site. This entire website is considered a not-for-profit "fan site," to be enjoyed for entertainment and informational purposes only. Usage of this site and/or any sites, sub-sites or pages or images contained within, however accessed, constitutes your agreement to these Terms and Conditions. If you do not agree to these Terms and Conditions, click here and you will be taken elsewhere. Proceeds from advertising & duplication services are directly used for site maintenance, hosting fees and research costs.