DFW Radio/TV Links
NONE OF THE FOLLOWING LINKS ARE AFFILIATED WITH MIKE SHANNON OR THIS WEBSITE!
---
RADIO/TV STATION HISTORY, INFORMATION, NEWS, ETC.:
RadioHeritage.com is a detailed look at nearly everything radio, for both US and Canada. Plenty of historical information and interesting features.
Remember "CBS Radio Mystery Theater"? There's a great website that catalogues all of the episodes in the 70s and 80, and provides access to archived copies of the show! Visit www.cbsrmt.com.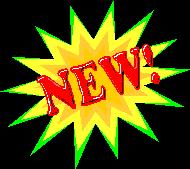 John Lewis Puff has resurrected his tribute to KXOL in Fort Worth! After several years of downtime and fighting to get his domain name back, the new website has even more information and photos than ever.
.
The late Steve Farrington developed a website in honor of the Southern influence on rock radio in the 1970s, along with lots of historical info from the Atlanta market. Steve left us far too soon in April, 2004, but some dedicated radio enthusiasts have kept his one-of-a-kind website alive. Check it out!
Radiophile David Gleason has scanned hundreds of broadcasting magazines, yearbooks, trade publications, etc, and it's all searchable! See the website here.
.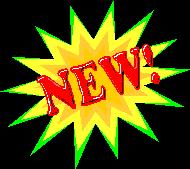 Patrick Jankowiak honors the late Durward Tucker, chief engineer of WRR, on his website. Tucker designed his own transmitter in 1958, and Patrick shows you all the specifications Tucker used...plus his own restoration of Tucker's unit, bringing it back to life after more than 50 years!
Steve Eberhart, longtime Dallas area radio personality, has a thorough examination of the history of KLIF on his website (currently offline.) Great photos, stories, and a "Where are They Now" section.
Former Dallas Morning News TV/radio writer/editor Ed Bark takes his irreverent look at local media to his new website, www.unclebarky.com. Ed tracks the latest changes in the DFW TV landscape.
Andrew Dart unearthed some outstanding photos and memorabilia from the old KRLD-AM/TV. Check out his site at www.akdart.com/vtr/vtr.html.
Historian Chris Huff, formerly of KSCS-FM, provides an intense, year-by-year history of DFW radio history and ratings at dfwradioarchives.info.
Jim Rose, late longtime DFW radio fixture, published "Jim Rose Remembers," a bi-weekly blog about Texas radio, which got ongoing participation from some of the titans of local broadcasting. Look for the link at www.dfwretroplex.com for the Jim Rose Remembers Radio archive.
Scott Fybush maintains an outstanding site on the engineering side of radio and TV, and recently featured a continuing series on the DFW tower arrangements and transmitter sites. See his site at www.fybush.com.
.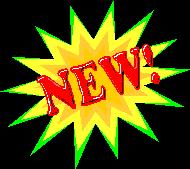 Jason Matisoff offers the definitive website for fans of TV news themes! Music from nearly every market is included, along with audio clips and other information. Check it out here.
Former Star 105 and KQZY jock Bob Nelson maintains a great site on the origins of radio call letters...see his site at www.oldradio.com.
Robert Philpot is the radio/TV columnist for The Fort Worth Star-Telegram, and has kindly plugged KNUS99.com on several occasions (thanks!) See his weekly articles at www.startelegram.com.
www.info-s.com/radio-k.html is another nice site with lots of info on the Texas radio scene.
.
Radio station lists from the 1920s and 30s can be found at nrcdxas.org/articles/192x.txt .
Truett Kimzey was one of the first radio/TV engineers in Texas, and his successful career included station ownership and operating a TV repair shop in Fort Worth for many years. His son John Paul currently co-owns the Crouse-Kimzey Company in Fort Worth, a distributor of commercial audio and video equipment. Their site also contains photos taken by Truett during his hookup of various TSN affiliates in the earliest days of local radio.
...
LAradio.com contains a huge "Whatever Happened To..." section, which contains many former DFW personalities who made the move to LA-LA land sometime in their careers.
Radio Timeline catalogs old Top 40 surveys from around the country, including several from KLIF!
440int.com is another great source for radio station info and a wonderful "Whatever happened to..." radio personality list!
WLShistory.com is a nice tribute to WLS-AM, the Chicago powerhouse that is a DFW favorite for nighttime DXers.
Earlyradiohistory.us contains long-lost information on US radio stations, particularly those in the 1920s that had a very short existence.
Paul Camfield, son of KTVT's Icky Twerp (Bill Camfield,) has an excellent tribute to his father's career and the history of KFJZ/KTVT-TV at www.ickytwerp.net.
Reel Radio is THE source for aircheck traders and for radio station history.
A tribute to the wonderful "Y. Y. Wicky" of the old 7-11 commercials can be found at scotchproductions.com.
RadioUseOnly.com salutes albums that were released, sponsored and sold by radio stations across the US.
Voiceamerica.com is an internet talk radio station, offering internet talk radio shows and popular programs on a variety of topics. You can listen to internet radio broadcastings or host your own internet talk radio show!


PERSONAL SITES-RADIO/TV RELATED:
Kevin McCarthy, KLIF and KNUS jock, talk show host, and current "trusty sidekick" on the "Jerry Reynolds Auto Advice Show" on WBAP (and now syndicated across the US,) has a great website at www.dallasdigest.com, including news and commentary of interest, and a forum for listeners and fans to exchange information.
.
Former KPLXer Jim Tyler and longtime DFW jock Brian Wilson have an irreverent website at www.krud.com with interesting radio history details and some funny tongue-in-cheek approaches to the radio biz.
.
Ron Harper is a veteran of DFW radio...see his site at www.ronharper.com.
.
Betsy Thaggard, known better on DFW airwaves as Kelly Clarke, has a site at www.thaggard.com.
George Gimarc, father of the alternative "edge" format, has an interesting site at www.gimarc.com.
Stuart McRae, best known for his underground radio days at KFAD and KAMC, heads his own firm, McRae Media...check it out at www.mcraemedia.com.
Mick Williams, host of his "Cyber-Line" program, has a website at www.cyber-line.com.
Wyatt Cox, formerly of KXVI-AM, does news features and voiceover work from Las Vegas now; check out www.wyattcox.net.
Joel Folger, local radio programmer and personality, has a consultant business at www.preplinks.com.
.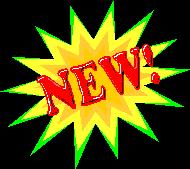 Frank Jolle, that 'crazy cat' from KBOX in the 1960s and now a Hollywood filmmaker, maintains a site at www.shboom.com and a new online radio station at rockhouse.mobi/
.
Larry Thompson, known as "Larry James" on KFJZ-FM, owns a jingle production company. See his site at www.thompsoncreative.com.
.
Brent Alberts, affable jock for KLUV and KZPS in the 1990s (and sometimes known by his alter ego, Big Wally Londo,) has moved out of the market and onto greener pastures in Michigan. Catch up on his activities at www.brentalberts.com.
Onetime DFW jock, Andy Connell, aka "Crash Kelly," has several sites active on the web. Start with crashkelly.com.
Michael James Lucas, former local radio vet, now does commercial voiceovers from his headquarters in Austin, TX...check out his site at www.lucasvoiceover.com.
Local radio vet Danny Owen maintains a website at www.pepventura.com.
.
Lee Woodward, longtime weatherman at KOTV in Tulsa, spent part of the 1950s in the DFW area as a radio announcer. See a tribute to him and Tulsa television on Mike Ransom's website at tulsatvmemories.com.
..
Jim Thomas, perennial DFW personality at KAAM, WFAA, and many other stations, continues his "70s Saturday Night" program on the internet. Find it at www.70ps.com.

---
DFW Radio Forums
.
Radio Discussions website: Click on "Forums", then "Dallas-Fort Worth."
.
---
Books, Audio
. .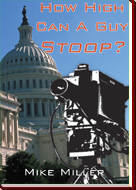 BOOK EXPOSES DARK SIDE OF TV NEWS, INCLUDING WFAA-TV: A former Dallas television reporter alledges in a new book that, during the 1970s, WFAA-TV killed four parts of a five-part series on prostitution, for fear of serious racial repercussions. Former Channel 8 police reporter Mike Miller, in a new book, How High Can a Guy Stoop?, says the riveting series exposed rampant prostitution on Dallas streets and in hotels, but that station lawyers were afraid it would cause an angry reaction from south side viewers because most prostitutes filmed were black.
This and many more stories from the trenches of the newsroom. The book traces Millerís interesting career from a college station in 1959 to an assignment in Vietnam and later to Washington, D.C. where he covered the White House and Congress. At WTTG-TV, Miller worked with Bob Schieffer, Connie Chung, Maury Povich and others who later became TV celebrities.
For more racy excerpts and to buy the book directly from the publisher, go to www.authorhouse.com/BookStore/ItemDetail.aspx?bookid=35723
For a thorough review, check out tulsatvmemories.com/millerbk.html
To purchase the book through mainstream sellers, use these links:
Amazon.com:
http://www.amazon.com/gp/product/142590310X/sr=8-1/qid=1141754662/ref=sr_1_1/102-9444161-6017703?%5Fencoding=UTF8
Barnes and Noble.com:
http://search.barnesandnoble.com/booksearch/results.asp?WRD=How+High+Can+a+Guy+Stoop%3F&z=y&cds2Pid=9481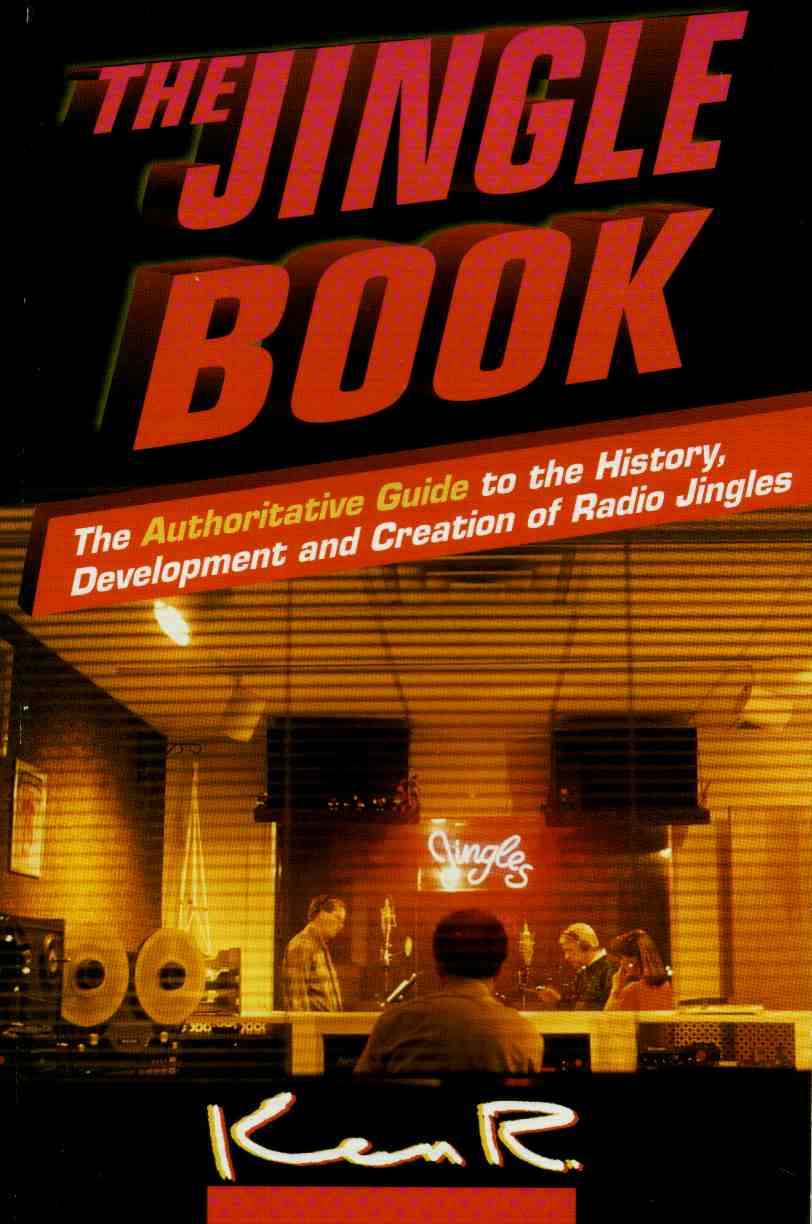 Ken R's salute to the jingle industry, "The Jingle Book," was released in September, 2002, and is filled with great stories about the PAMS days in Dallas, as well as contributions from other jingle producers. Also included is a CD of jingle samples from all across the nation and world. While Ken recently retired to Hawaii, copies of the book (and its successor, Part 2,) can be found online.
.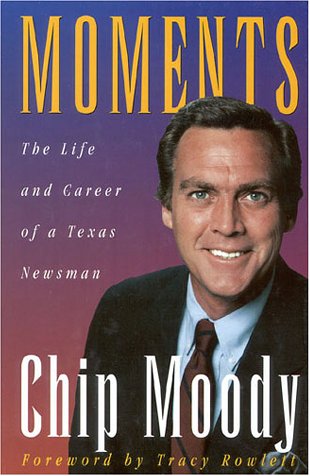 The late Chip Moody left us a wonderful legacy with his book, "Moments: The Life and Career of a Texas Newsman." Chip tells all about his experiences in TV news, and details his fight against cancer and Hodgkin's disease, which ultimately took his life in 2001 at age 54. Lots of great photos from local TV are included. The book was published in 1995, but is still available through Amazon in limited quantities. Since Chip conducted numerous local book signings when his story was published, it's not unusual to find a stray autographed copy at your local Half-Price Books.
.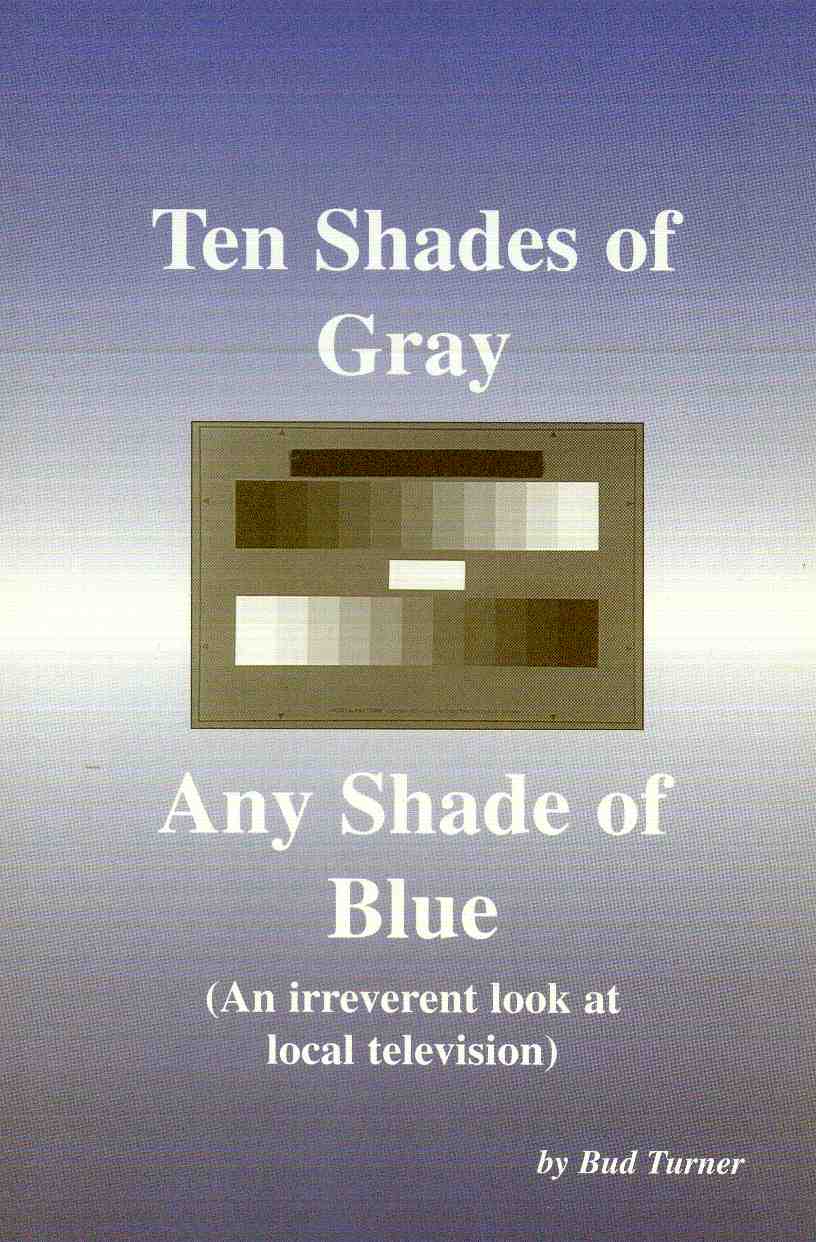 Bud Turner, veteran of KFJZ-TV and KTVT-TV, provides some wonderful insight into his 40 years of broadcasting with "Ten Shades of Gray, Any Shade of Blue." Great historic photos of KTVT, WKY and other stations are included. Check it out at Amazon.
.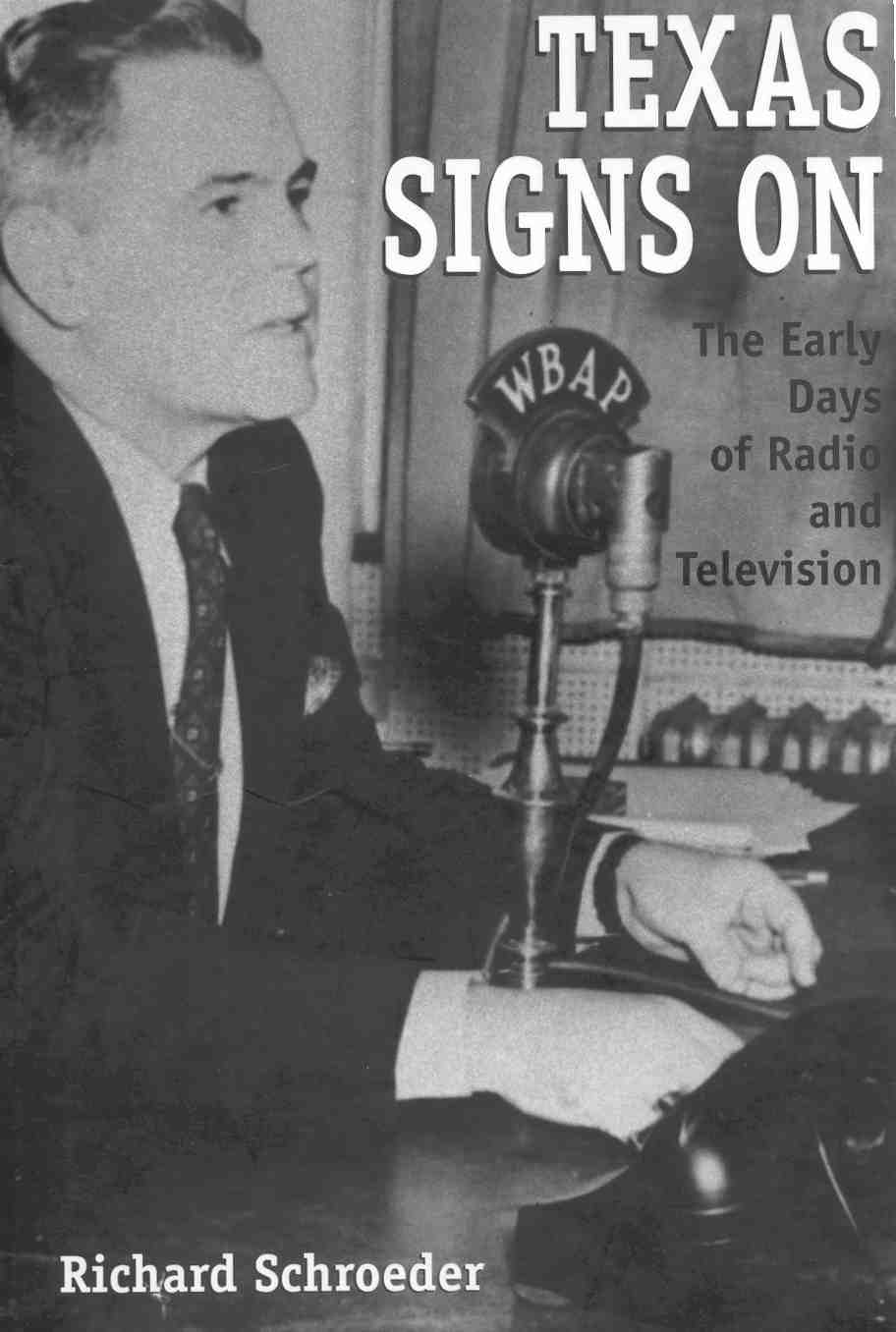 Richard Schroeder provides an incredible, intense history of broadcasting in Texas. What started as a Master's thesis in the early 1980s has culminated into this one-of-a-kind book, and is a must-read for anyone interested in the roots of radio and TV in the state. "Texas Signs On" was a valuable resource for this website, often confirming unclear station information and timelines, and listing a few I'd never even heard of! Schroeder also wrote an all-encompassing history of WBAP-AM and TV, which is available for review at the University of Texas-Arlington Special Collections department. Find "Texas Signs On" at Amazon.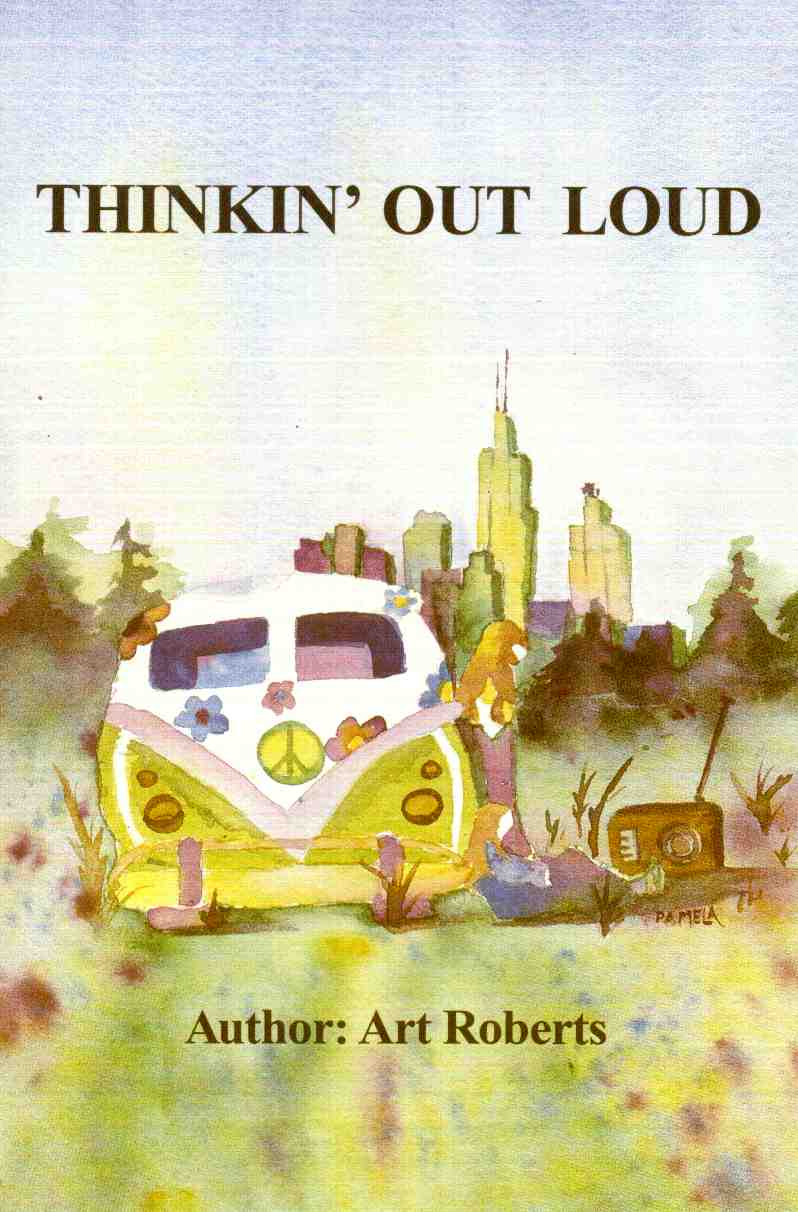 The late Art Roberts left us this outstanding epitaph on his long career in radio, "Thinkin' Out Loud." He details his experiences in the DFW market at KLIF and in Chicago at WLS. The book can be purchased through Art's website, www.artroberts.com.
.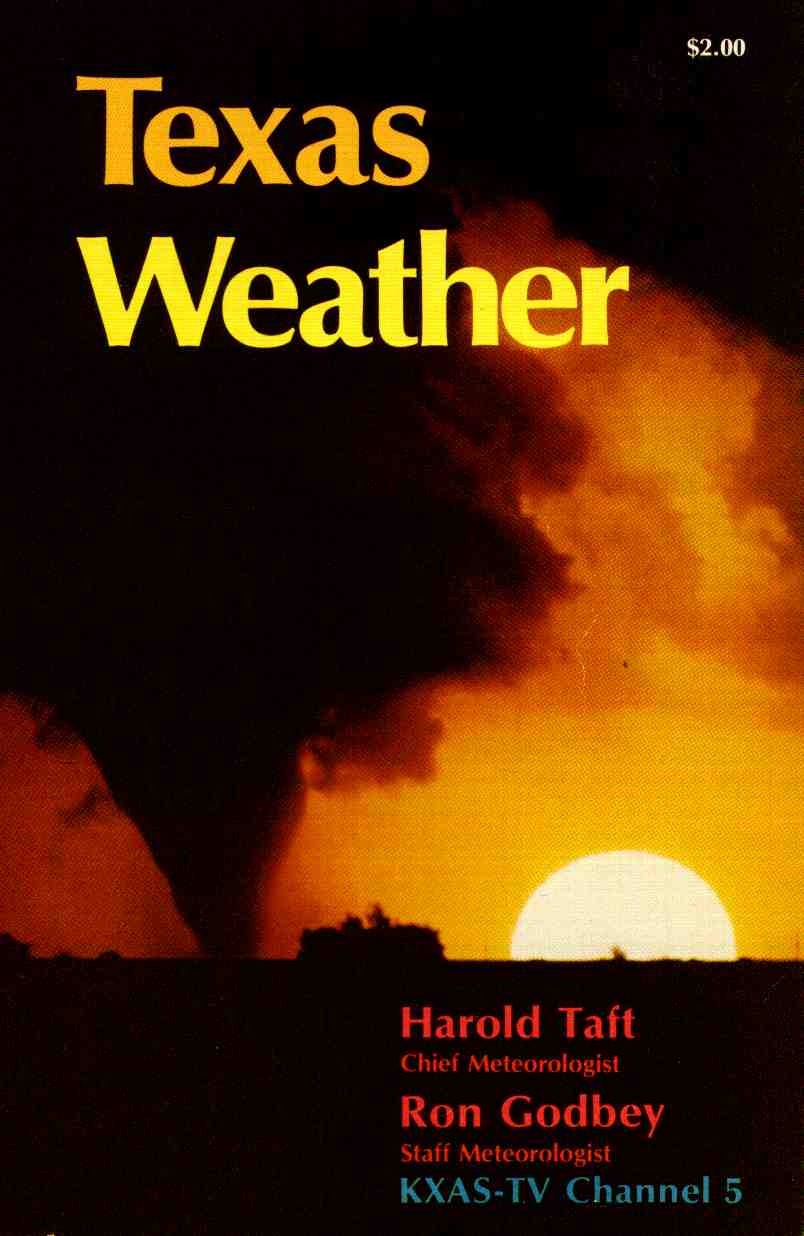 The definitive handbook on the subject, "Texas Weather," was published in 1975 by KXAS chief meteorologist Harold Taft and staff meteorologist Ron Godbey (who is currently a New Mexico senator!) Taft, widely known as "The World's Greatest Weatherman," was a 42-year veteran of the local NBC radio and TV affiliates before his passing in 1991 at age 69. "Texas Weather" is long out of print, but stray copies will sometimes pop up at local used bookstores. Copies of the book were originally distributed statewide, bearing the name of the local NBC affiliate's weathercaster as author in different markets...but rest assured that the text was indeed written by Harold Taft!
.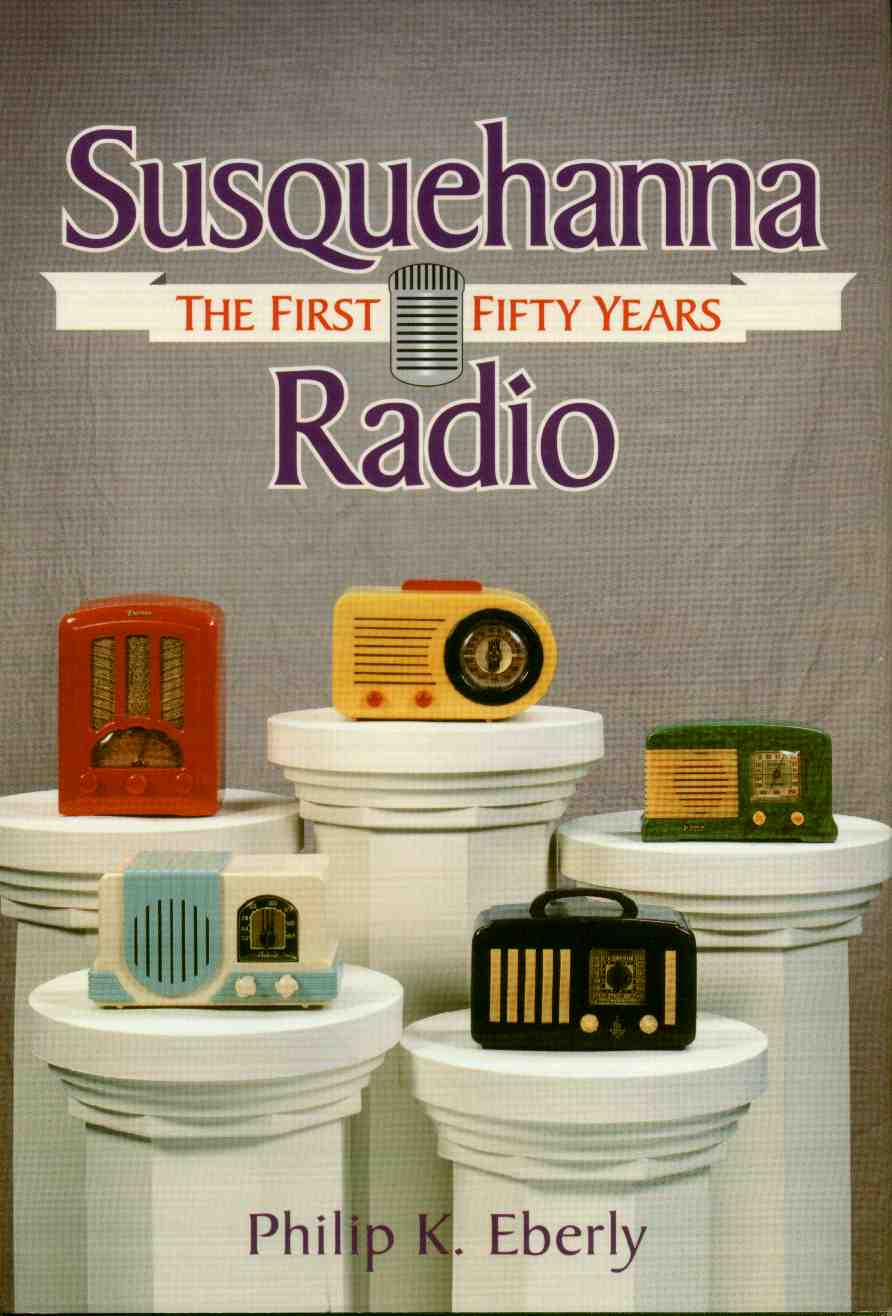 The history of Susquehanna Radio is thoroughly examined in this 1993 publication, "Susquehanna Radio: The First Fifty Years." It is likely out of print now, but a trip to Ebay or Amazon might land you a copy!
.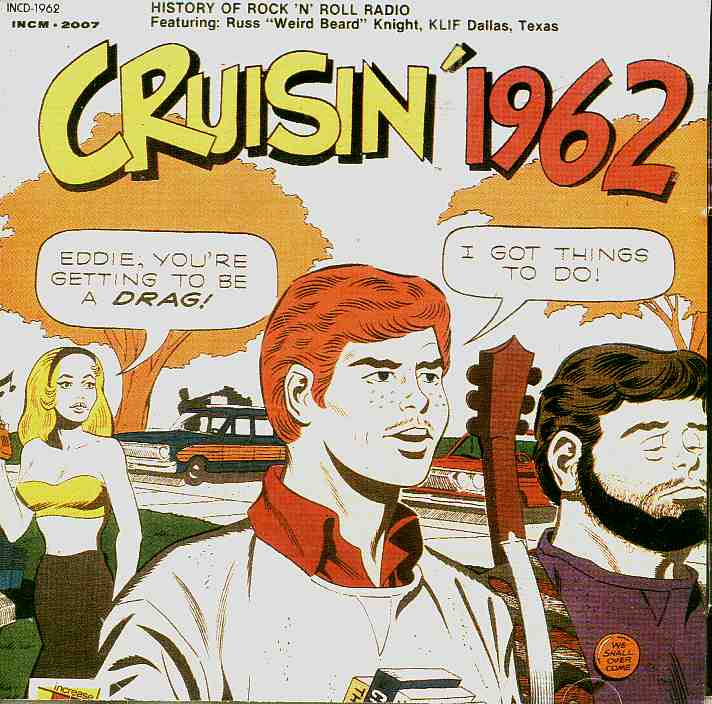 "Cruisin' 1962" is from the "Cruisin'" series of albums/cassettes/CDs released in 1986. This 1962 version contains an authenticated aircheck from KLIF delivered by Russ "Weird Beard" Knight, redone in the early 1970s. If you can find this recording, it will give you the true spirit of the McLendon days. Try www.ebay.com and you might get lucky! Or you can email me to trade airchecks for a recording of it.
..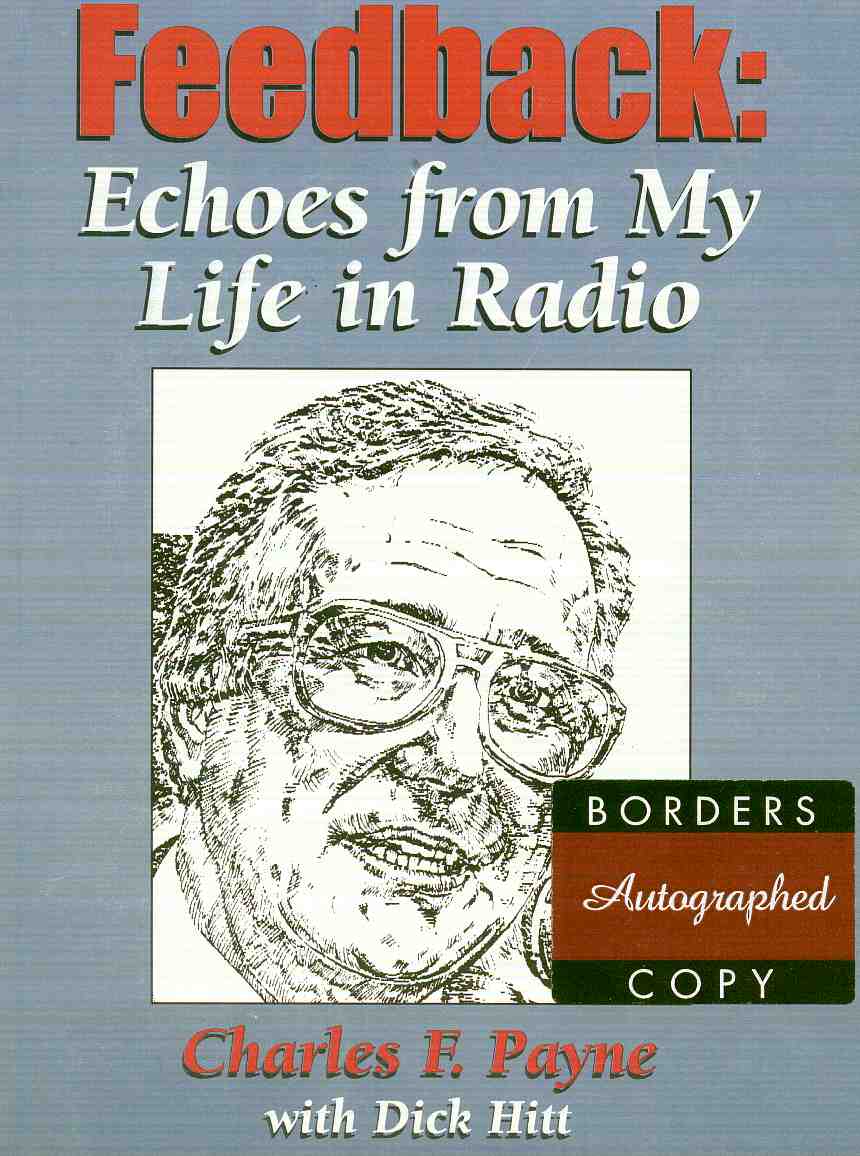 Charlie Payne, radio vet of over six decades and one of the first voices of Dallas' KIXL, tells his life story in his 2000 release, "Feedback: Echoes from My Life in Radio." Payne covers his long career, starting at KAND in Corsicana, through working with Gordon McLendon, to owning stations of his own. Great stuff, and wonderful insight into the earliest days of local radio. Charlie co-wrote it with the late Dallas Times Herald columnist & radio/TV personality Dick Hitt.
..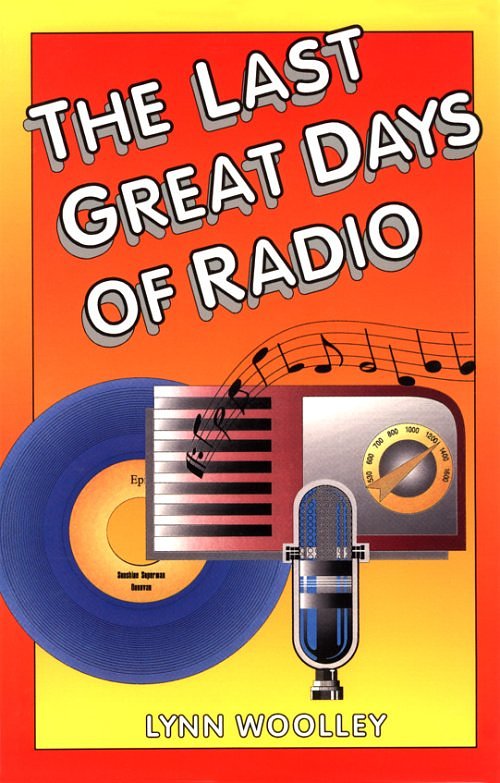 Lynn Woolley's book, "The Last Great Days of Radio" is a must-read for any radio devotee, and especially for any fan of Texas radio. It was released in 1994 and is available through Amazon.com. While I don't support Woolley's wild political views, the book is a great read.
---
Please email me with any dead or updated link information,
or to have your relevant link added!
---
TERMS AND CONDITIONS OF USE
This entire website and its contents are copyright 1984-2022 Mike Shannon. Images are copyright of their respective owners. If you feel your copyright is being infringed upon by its appearance in this website, please email me and it will be removed or credited properly. I am not responsible for errors, omissions, incomplete information, misrepresentations or dead links. Information was gleaned from newspapers, broadcasting yearbooks, magazines, personal recollection, recollections of others and the like. Copying of any or all information or images for use on other websites, in print or for other purposes, is prohibited without permission. Links are provided for the user's convenience; I claim no responsibility for the contents, accuracy or relevance of other sites that may be linked to from this site. This entire website is considered a not-for-profit "fan site," to be enjoyed for entertainment and informational purposes only. Usage of this site and/or any sites, sub-sites or pages or images contained within, however accessed, constitutes your agreement to these Terms and Conditions. If you do not agree to these Terms and Conditions, click here and you will be taken elsewhere. Proceeds from advertising & duplication services are directly used for site maintenance, hosting fees and research costs.