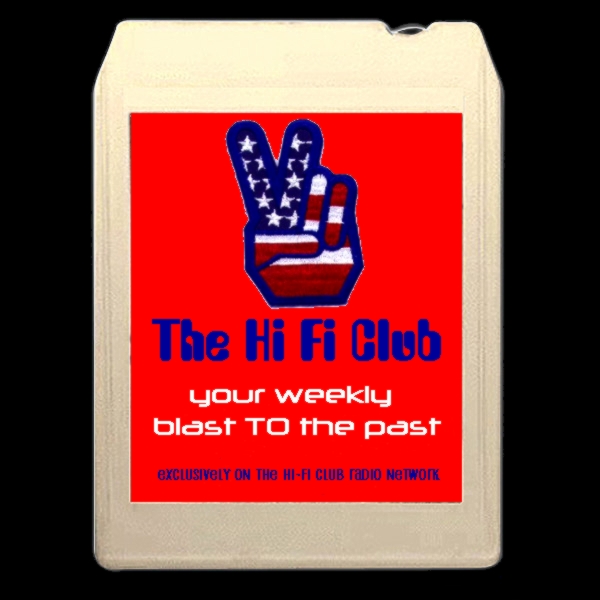 "THE HI-FI CLUB"
AN OLDIES AND NOSTALGIA RADIO SHOW
CLICK HERE FOR PODCASTS


AFFILIATES
LAST UPDATED OCTOBER 2021

CLICK THE

LOGO TO GO DIRECTLY TO THAT STATION'S STREAMING SERVICE OR WEBSITE
BY DAY/TIME:
U.S. CENTRAL STANDARD [GMT -6] (FIRST SUNDAY IN NOVEMBER THROUGH SECOND SUNDAY IN MARCH)
U.S. CENTRAL DAYLIGHT [GMT -5] (SECOND SUNDAY IN MARCH THROUGH FIRST SUNDAY IN NOVEMBER)
SATURDAYS 7AM - 8AM, KDSX-1670 AM IN BONHAM, TX (FIRST AIRING OF NEWEST SHOW)
SUNDAYS 10AM -11AM, KKDJ "ROCK HOUSE" IN LOS ANGELES, CA

SUNDAYS 3PM - 4PM, KKDJ "ROCK HOUSE" IN LOS ANGELES, CA

SUNDAYS 4PM - 5PM, KSGV-95.5 FM IN SEAGOVILLE, TX

SUNDAYS 6PM - 7PM, KPET-105.1 FM & 690 AM AND ON NORTHLAND CABLE - CHANNELS 2 & 6, IN LAMESA, TX

SUNDAYS 6PM - 7PM, KLSR-1650 AM IN ROCKWALL, TX

SUNDAYS 7PM - 8PM, KLDE-104.9 FM AND ON SHORTWAVE FREQ 25.910 kHz IN ELDORADO/SONORA, TX
SUNDAYS 7PM - 8PM, KLDE-105.3 FM IN SAN ANGELO, TX
SUNDAYS 7PM - 8PM, KMBL-1450 AM & 94.7 FM IN JUNCTION, TX
MONDAYS 1AM - 2AM, KKDJ "ROCK HOUSE" IN LOS ANGELES, CA

WEDNESDAYS 11PM - 12AM, KKDJ "ROCK HOUSE" IN LOS ANGELES, CA ("BEST OF")

THURSDAYS 10PM - 11PM, KWJB - 1510 AM & 95.1 FM IN CANTON, TX

FRIDAYS 11AM - 12PM, KWQQ - 106.3 FM & 1610 AM IN FARMINGTON, IA

SATURDAYS 11AM - 12PM, KKDJ "ROCK HOUSE" IN LOS ANGELES, CA (FINAL AIRING OF THE WEEK'S SHOW)

BY MARKET/STATION:
U.S. CENTRAL STANDARD TIME [GMT -6] (FIRST SUNDAY IN NOVEMBER THROUGH SECOND SUNDAY IN MARCH)
U.S. CENTRAL DAYLIGHT TIME [GMT -5] (SECOND SUNDAY IN MARCH THROUGH FIRST SUNDAY IN NOVEMBER)
BONHAM, TX: KDSX - "SUNNY 1670" AM, SATURDAYS 7AM - 8AM (FIRST AIRING OF NEWEST SHOW)
CANTON, TX: KWJB-1510 AM & 95.1 FM - "THE BEE," THURSDAYS 10PM-11PM

ELDORADO/SONORA, TX: KLDE - "OLDIES 104.9 FM" AND ON SHORTWAVE FREQ 25.910 kHz, SUNDAYS 7PM - 8PM
FARMINGTON, IOWA: KWQQ-106.3 FM & 1610 AM - "DOUBLE Q," FRIDAYS 11AM - 12PM

JUNCTION, TX: KMBL-1450 AM & 94.7 FM, SUNDAYS 7PM - 8PM
LAMESA, TX: KPET-105.1 FM & 690 AM; AND ON NORTHLAND CABLE, CHANNELS 2 & 6; SUNDAYS 6PM - 7PM

LOS ANGELES, CA: KKDJ - "ROCK HOUSE," SUNDAYS 10AM - 11AM & 3PM - 4PM; MONDAYS 1AM - 2AM; WEDNESDAYS 11PM - 12AM ("BEST OF"); SATURDAYS 11AM - 12PM (FINAL AIRING OF THE WEEK'S SHOW)

ROCKWALL, TX: KLSR - "LAKE SHORE 1650" AM, SUNDAYS 6PM - 7PM

SAN ANGELO, TX: KLDE-105.3 FM, SUNDAYS 7PM - 8PM
SEAGOVILLE, TX: KSGV-95.5 FM, SUNDAYS 4PM - 5PM

PODCASTS HAVE MOSTLY ENDED DUE TO A CHANGE IN "HI-FI CLUB" FORMATICS (80% MUSIC, 20% TALK.) WE REGRET THAT THE COST TO LICENSE MUSIC FOR PODCAST USE IS PROHIBITIVE (APPX $500 PER YEAR MINIMUM.) HOWEVER, OCCASIONAL TALK-ONLY "HI-FI" SHOWS WILL STILL BE POSTED HERE, ALONG WITH PODCASTS OF SELECT OLDER SHOWS.

BUT...YOU CAN NOW DONATE TO "THE HI-FI CLUB" TO HELP OFFSET ROYALTY FEES
SO WE CAN BRING OUR PODCASTS BACK! JUST CLICK ON THE PAYPAL LINK BELOW.


SORRY, DONATIONS ARE NOT TAX-DEDUCTIBLE, BUT THEY ARE GREATLY APPRECIATED!
AND IF YOU KNOW OF ANYONE INTERESTED IN SPONSORING THE SHOW, PLEASE LET US KNOW - mike@dfwRetroplex.com.
04 AUG 2013 - TRIBUTE TO KIDD KRADDICK (53m) - Biography, recordings, honors, 'things you never knew'
21 MAR 2021 - TRIBUTE TO BUD BUSCHARDT, PT 1 (55m) - Discussion of WFAA's "Sump'n Else," recorded on 9/10/2006





© 2006-2021 The Hi-Fi Club. All rights reserved