ROGER DAVIS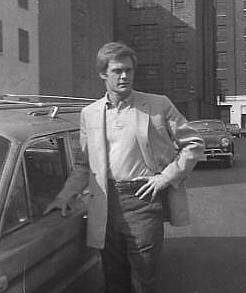 NEWS AND
UPCOMING APPEARANCES
---
APPEARANCES
Of course, all appearances are "scheduled" and are subject to change without notice.
Check an event's website (links provided if available) to find out specifics...
for example, a three-day event does not imply that Roger will be there for all three days.
Charges for admission and autographs may be required, depending upon the terms of the event holder.
None scheduled at this time.
CHECK BACK OFTEN FOR UPDATES!
---
NEWS
Roger was recently interviewed at length about his friendship with Peter Duel, and how everything transpired on "Alias Smith and Jones" after Pete's untimely death. Click HERE
The long-awaited motion picture from Lonetree, "The War Magician," originally to star Tom Cruise, was back on the books for a 2015 release after more than a decade of waiting. However, no activity has been noted, or on other proposed Lonetree productions, "The Samson Effect" and "Just Desserts"
"The Equalizer" finally made it to the big screen in 2014. Lonetree Entertainment (of which Roger is a partner) brought in Denzel Washington's production company to take over the project; Washington appears in the lead role
The books, "The Black Stiletto" and "The Kitchen House," were optioned for movies by Lonetree Entertainment in 2012
Roger participated in two dramatic readings of new scripts written under the "Dark Shadows" name that were released in 2011
Lonetree's "The Naked Truth," starring Leslie Nielsen, was completed and released just months before Nielsen's death in 2010
In 2010, Roger completed construction of all the cutting-edge, multi-million dollar homes within his Hollywood Hills development
No updates on a brand new Roger Davis movie, "Twilight Cowboys," that was to begin filming in 2008
The Robb Report included a feature on Roger and his real estate projects in its Winter, 2007-08 issue
And be sure to check out YouTube for various features and interviews of Roger! Search for "Dark Shadows Reunion" or by his name or series name
---
GO TO:
Biography (offline for updates)
Photo Gallery
Filmography
Six Degrees of Roger Davis
Credits, links and contact info
---
TERMS AND CONDITIONS OF USE
This entire website and its contents are copyright 1999-2017 Mike Shannon. Images are copyright of their respective owners. If you feel your copyright is being infringed upon by its appearance in this website, please email me and the offending image or text will be removed or credited properly. I am not responsible for errors, omissions, incomplete information, misrepresentations or dead links. Information was gleaned from newspapers, magazines, personal recollection, recollections of others, personal records, interviews with Roger Davis, contributions from Roger's fans, Davis-Shannon family records, publicly-available information and the like. I claim no responsibility for the accuracy or completeness of any information shown; if you have corrections or clarifications you'd like to share, please let me know. Copying, lifting, modifying or making a translation of any or all information or images for use on other websites, in print or for other purposes, is prohibited without permission. Links are provided for the user's convenience; I claim no responsibility for the contents, accuracy or relevance of other sites that may be linked to from this site. This entire website is considered a not-for-profit "fan site," to be enjoyed for entertainment and informational purposes only. Usage of this site and/or any sites, sub-sites or pages or images contained within, however accessed, constitutes your agreement to these Terms and Conditions of Use. If you do not agree to these Terms and Conditions of Use, click here and you will be taken elsewhere.