ROGER DAVIS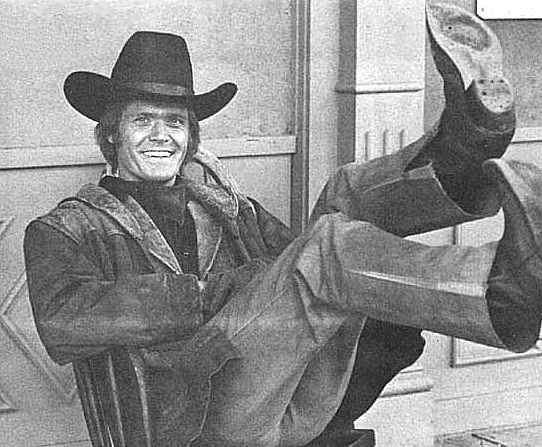 CREDITS, LINKS AND
CONTACT INFORMATION
Thanks to the many fans, family members, websites and friends who have helped out with valuable information for this project, especially Roger Davis for providing recollections, information and photos from his personal collection; webmaster Carolyn, who maintains an outstanding website devoted to "Alias Smith and Jones" (including a wonderful database of historic Roger articles posted here;) dedicated fans Kathy Stevens and Michelle Gussow; "Alias Smith and Jones" enthusiasts Jan Simpson and Renelle S.; "Alias Smith and Jones" biographers Sandy Sagala and JoAnne Bagwell; and the numerous "Dark Shadows" websites that provided specific information on Roger's roles and timelines.
I began work on this project in 1998 after finding very little information on the web about Roger, and nothing out there that put all of his biographical details in one place. Roger and I are cousins, but we had never met until 2000 at a "Dark Shadows" convention. It was always common knowledge in my family that we were related to the Davises, but the specific details were, for whatever reason, kept private by a distant aunt. When she died in 1975, she took the connections and contact information with her. Thanks to the web, I found out about the annual "Dark Shadows" festivals, and flew to California in 2000 specifically to meet Roger for the first time. I'm proud to say that he is as much a pleasant gentleman in person as he portrayed in his many TV roles, and we've kept in contact since.
I have set up an email address for Roger to read comments from fans and friends: roger@rogerdavisonline.com. Please understand that Roger is very busy these days, and a personal response cannot be guaranteed. However, he does enjoy hearing from fans, and your emails will be read!
This site received a long-overdue "refreshing" in May, 2012, to coincide with the new "Dark Shadows" movie. Hopefully, this revised design and inclusion of more seldom-seen photos and hard-to-find information will be helpful to anyone researching Roger's life or the many TV programs and movies he's been a part of. I am always open to suggestions, comments, clarifications and corrections, so please email me if you have any! And thank you for your support.
Mike Shannon, Webmaster
www.rogerdavisonline.com
---
GO TO:
Photo Gallery
Filmography
Biography (offline for updates)
Six Degrees of Roger Davis
News and Upcoming Appearances
---
TERMS AND CONDITIONS OF USE
This entire website and its contents are copyright 1999-2017 Mike Shannon. Images are copyright of their respective owners. If you feel your copyright is being infringed upon by its appearance in this website, please email me and the offending image or text will be removed or credited properly. I am not responsible for errors, omissions, incomplete information, misrepresentations or dead links. Information was gleaned from newspapers, magazines, personal recollection, recollections of others, personal records, interviews with Roger Davis, contributions from Roger's fans, Davis-Shannon family records, publicly-available information and the like. I claim no responsibility for the accuracy or completeness of any information shown; if you have corrections or clarifications you'd like to share, please let me know. Copying, lifting, modifying or making a translation of any or all information or images for use on other websites, in print or for other purposes, is prohibited without permission. Links are provided for the user's convenience; I claim no responsibility for the contents, accuracy or relevance of other sites that may be linked to from this site. This entire website is considered a not-for-profit "fan site," to be enjoyed for entertainment and informational purposes only. Usage of this site and/or any sites, sub-sites or pages or images contained within, however accessed, constitutes your agreement to these Terms and Conditions of Use.If you do not agree to these Terms and Conditions of Use, click here and you will be taken elsewhere.